by Tom Gaylord, a.k.a. B.B. Pelletier
I know the Christmas holiday is a long way off, but this year it comes upon us faster than usual. Thanksgiving will be very late this year (November 28), and since that day traditionally kicks off the Christmas shopping season, many people will be jammed because of too little time left. So, I'm starting my Christmas shopping blog a couple weeks early.
Stocking stuffers/small, neat gifts
Things in this category are gifts that don't cost a lot but will have great meaning to airgunners. Some of them are things that shooters won't buy for themselves.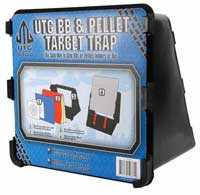 Leapers UTG pellet & BB trap
The Leapers UTG pellet & BB trap is the best trap for BBs, and it also works for lower-velocity pellet guns. I used to tout Crosman's model 850 pellet/BB trap. Well, they removed it from the market and replaced it with a model 852 trap that they say is only good for pellets. There doesn't seem to be much difference between the Leapers and Crosman traps, except the Leapers trap is a few dollars more. How's that for a switch?