by B.B. Pelletier
Before I start, I want to let you know that there are new Airgun Academy videos online.
This past March was a very poignant time for me. I was happily working on a number of exciting airgun projects, oblivious to what was just around the corner. One of those projects was especially dear to my heart, because it took a great idea and went full circle to the best possible conclusion. It wasn't anything I had a hand in developing, although I very much wish I had, because of what a wonderful result came out.
I am referring to the rifle that Crosman calls the Benjamin Legacy with Nitro Piston. There was an earlier Legacy with a coiled steel mainspring, but the gun I refer to has a Crosman Nitro Piston, a gas spring, if you will. But that isn't what makes it great.
What makes this rifle unbelievably wonderful is the fact that Crosman set the gas spring to achieve just under 12 foot-pounds in .22 caliber. Unknowingly, they created the smoothest-shooting spring-piston air rifle of all time — a gun that makes even the legendary TX200 feel like it has recoil!
Crosman sent me one to test, and I absolutely loved it! I was writing them a three-part blog for their website when I suddenly had to go to the emergency room and the rest, as you long-time readers know only too well, is history. That blog never was written and, although I spoke lovingly of that gun any time I could, I never was able to share its greatness with you.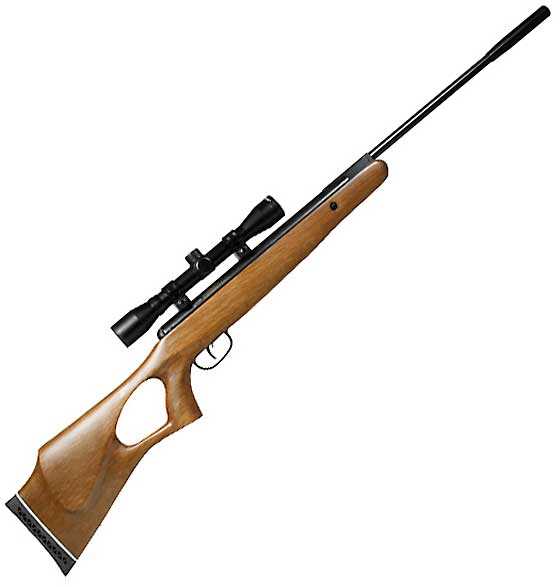 The TitanGP with lower velocity is a smooth shooter!
Until today. Because Crosman has done another very smart thing. They took one of their powerful rifles, the new Crosman TitanGP Nitro Piston, and they produced a second version of it called the Reduced Velocity version. It's that rifle I'm testing for you today, and it's that rifle that will make up for the lack of my report(s) on the Benjamin Legacy.
Because, you see, this rifle is very nearly the same as the Benjamin Legacy, only with just a bit more power! When I saw that Crosman was building such a gun, I knew immediately what they were doing. They were legitimizing the Benjamin Legacy and giving the airgunning world just a trifle more power to make it acceptable.
Why am I carrying on like this? Because I once owned a similar air rifle for which I paid plenty of bucks — perhaps four times what this rifle costs today! It was a Theoben Fenman, and it cocked with 42 lbs. of effort because it had a 7-inch carbine-length barrel that robbed the shooter of leverage. But Crosman had a better idea. They put a full-length, 18.5-inch barrel on this rifle to lower the cocking effort to just 21 lbs. That's what their specifications read anyway, but being a doubting Thomas, I went to the scale and measured the test rifle straight away. The result? A cocking effort of 21 lbs. was all it took! I'm not kidding. On my bathroom scale, the cocking effort measured 21 lbs.
You can read about the Theoben Fenman rifle here, so you have something to compare this report to. I didn't keep the Fenman because it was a .177, but this rifle I'm testing for you is a .22. Once again, it's ideal, because the larger caliber is also the smoother shooter. I'm not making that up, either. Crosman engineers discovered it when building the Benjamin Legacy. There never was a .177 caliber version of the rifle, apparently, because only the .22 could be so smooth.
So, is this a smooth rifle? Well, did the little piggy go, "Wee! Wee! Wee!" all the way home? Yes, it's smooth. As smooth as the Legacy? Nearly so, and with a couple extra foot-pounds at the muzzle added on for good effort. Finally, you guys get a crack at owning and shooting a super-smooth air rifle that will reinforce why you got into airgunning to begin with.
Fit and finish
The stock is solid wood with one of those enlarged thumbholes. You can see that in the photos. What you cannot see, but what I assure you is also true is that this stock is slim and slender. It doesn't feel like a two-by-four stud in your hand. That's why so many people are giving it five stars in their reviews. It's one of those rare air rifles that fits a normal-sized shooter.
I do find the reach to the trigger to be a little long for my medium-sized hands. That's caused by the location of the thumbhole stock's pistol grip. Also, because of the shape of the thumbhole stock and the presence of a raised cheekpiece on both sides of the butt, this rifle is 100 percent ambidextrous.
The metal is blued evenly, but the metal isn't shiny. Call it a matte finish.
As I write this first report, there are five reviews of this rifle on the Pyramyd Air website and all of them give five stars in all categories! That's pretty incredible, because even the Air Arms TX200 gets a four occasionally!
Trigger
The trigger has a long second-stage pull at this point. I adjusted the one trigger-adjustment screw that's supposed to make the second stage shorter, but so far it hasn't had any affect. However, one other thing Crosman did with this trigger that I heartily endorse. They made the safety manual! That way, the shooter gets to choose whether to apply the safety or not. And, I recommend against ever using a safety on an air rifle except under extremely special circumstances, since leaving the gun uncocked and unloaded is the safest thing of all. But hunters may need to apply the safety from time to time, so it's a good thing to have, as long as you don't come to rely on it.
Made in China
Let's get that out of the way in this first report. This rifle is made in China. I won't be cutting it any slack just because I like the way it feels when it shoots. If it isn't accurate or if the power level is off from the advertised level, I'll tell you, as always. But I also don't plan to dump on it because of where it's made, either. I will let the results speak for themselves.
Sights
The TitanGP comes without open sights, but it does have a 4x32mm scope and rings to be attached. Crosman drilled a vertical scope-stop hole in the top of the spring tube, so there are no worries about the scope mounts moving under recoil.
Gas spring!
This rifle has a gas spring. Oh, Crosman calls it a Nitro Piston to better define their technology, but it's a gas spring just the same. And a gas spring:
1. Isn't affected by temperature as much as a steel mainspring
2. Can be left cocked for hours without damage
3. Shoots smoother
4. Has lower powerplant noise
5. Doesn't vibrate as much
This is one air rifle to watch very closely. I really hope it shoots well, because I love the way it feels when it fires. Think of Beeman R9 power with better than R7 cocking. Let's hope the accuracy is on the same level.