by B.B. Pelletier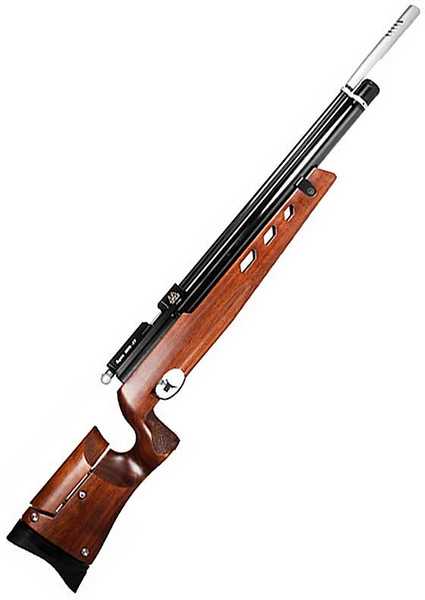 The Air Arms S400 MPR FT rifle still has a surprise for us!
This special report about the Air Arms S400 MPR FT rifle was unplanned, but blog member Coax asked for it. Today will serve as the best lesson I've ever written on how to properly use a chronograph, because I made a huge mistake and the chronograph straightened it out for me.
Coax told me about a transfer port limiting screw that could be turned out to increase the velocity of the rifle. I was unable to locate it from his description, and we went back and forth several times before I found it. At least, I thought I'd found it. Therein lies the huge mistake I made, and the save made by the chronograph, all of which should be a good lesson in pneumanology.
The "secret screw"
Below is a photo of where the power-adjustment screw resides. But don't just loosen the screw in that picture or you will be guilty of the same huge mistake I made. Because I did loosen it 2.5 turns and I got results. They were quite positive and I was already writing today's report in my mind, after recording each of 99 shots, when I discovered a huge mistake. I will share those results with you now, but please don't act on them until you've read this entire report, because that screw isn't the one to adjust this rifle!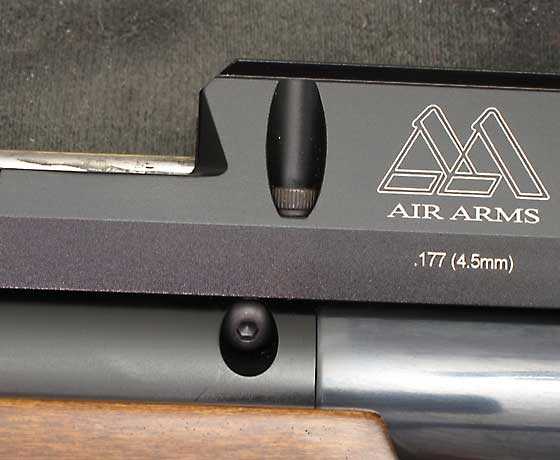 After much communication, I finally located the "secret screw" that Coax is talking about. But I got a huge surprise, so please read the entire report.
I filled the reservoir to an indicated 190 bar. I read the scale on my AirHog carbon fiber tank, which I know to be reasonably accurate. Then, I began shooting Crosman Premier lites, which were featured in Part 2 of this report.
Shot Vel.
1….. 784
2….. 791
3….. 783 (lowest velocity recorded)
4….. 785
5….. 792
6….. 790
7….. 785
8….. 790
9….. 784
10…..788
11…..791
12…..791
13…..795
14…..791
15…..791
16…..787
17…..787
18…..789
19…..795
20…..794
21…..796
22…..800
23…..791
24…..794
25…..792
26…..800
27…..793
28…..795
29…..799
30…..798
At this point, I'll reflect on what we're seeing, even though it's not the result I was after, nor had I done the right thing yet. If you go back to Part 2, you'll see that when I filled the rifle initially, I filled it to 190 bar on the tank gauge. The manometer on the rifle read lower than that — about 180. The initial velocity was in the 764 f.p.s. range with the same Premier lites that were used in this test, so turning out the small screw on the right side of the receiver seemed like the right thing to do. Because, as you can clearly see, the rifle started out 20 f.p.s. faster and averaged about 791-792 f.p.s. for the first 30 shots. The maximum velocity spread was 17 f.p.s. for this 30-shot string.
So I continued.
Shot Vel.
31…..797
32…..797
33…..795
34…..796
35…..804 (about 170 bar)
36…..800
37…..806
38…..800
39…..803
40…..796
41…..802
42…..800
43…..802
44…..797
45…..802
46…..800
47…..801
48…..814 (fastest shot)
49…..802
50…..808
51…..803
52…..799
53…..800
54…..802 (150 bar)
55…..799
56…..800
57…..801
58…..802
59…..799
60…..801
Okay, we're up to 60 shots on this fill and no sign of the power dropping. Also, we've dropped below the 150 bar pressure level, according to the onboard pressure gauge (manometer). In this string of 30 shots, that is from shot 31 to shot 60, the average velocity has climbed to just about 800 f.p.s. That's 16 f.p.s. faster than the average of the first 30 shots, so the gun's increasing in power. The maximum velocity spread for this 30-shot string is 18 f.p.s.
Let's continue.
Shot Vel.
61…..810
62…..804
63…..808
64…..808
65…..806
66…..807
67…..806
68…..810
69…..804
70…..805
71…..802
72…..805
73…..809
74…..801
75…..806
76…..804
77…..807
78…..806
79…..799
80…..802
81…..799
82…..800
83…..797
84…..802
85…..795
86…..799
87…..792 (125 bar)
88…..791
89…..791
90…..793
91…..791
92…..794
93…..791
94…..785
95…..785
96…..786
97…..784
98…..784
99…..783
The final string shows the end of the power curve and the rapid drop-off back to the lowest velocity recorded in the beginning. Now I'll analyze the entire string of 99 shots as I would see them if I were using the rifle to compete in field target.
The rifle really came up on the power curve at around 170 bar indicated on the rifle's manometer. That was at shot 35. I would fill to that level, after making a permanent mark on the gauge, so I could find that level easily when filling again. If I consider shot 84 to be the final good shot in the gun, I would have from shot 35 to shot 84 as a useful string. That's 49 good shots, which I would round up to 50 shots. I would have 50 good shots in the gun that went as slow as 795 f.p.s. and as fast as 814, for a total shot string variance of 19 f.p.s. That's pretty good; and if you check back with Part 2, you'll see that I've actually raised the average velocity of the rifle by about 15 f.p.s. over the useful string. So, adjusting the "secret screw" did change the performance of the rifle.
Only that wasn't the secret screw! After completing this exhausting test and evaluation, I was wondering why Coax said the secret screw was INSIDE a deep threaded hole. Clearly it wasn't on my rifle. Unless…!
Oh, my, gosh! I ran that whole test and never even touched the real secret screw! That screw, which Coax apparently is missing, is only the cover for the real screw. That was the huge error I made.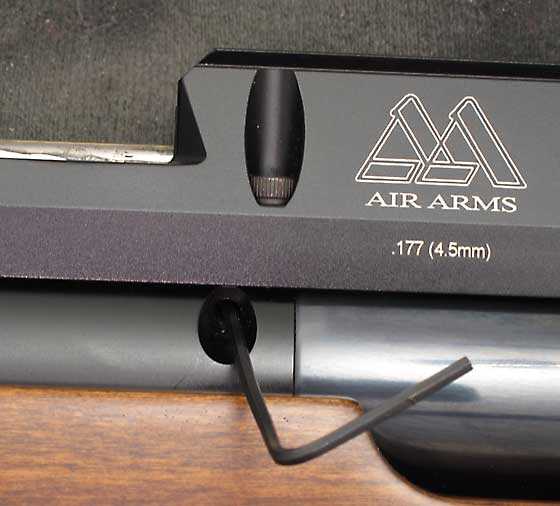 The real transfer port adjustment screw is located deep inside the hole that remains when the cover screw shown at the top of this report is removed. The Allen wrench is a 0.050-inch size.
Saved by the chronograph!
Here's the real lesson for today. Because I had that beautiful, pressure-related velocity curve indicated in those 99 shots shown above, I didn't need to waste any time once I adjusted the real screw. I filled the rifle to only 170 bar as indicated on the onboard manometer and started the second test.
Then, I turned the real power adjustment screw out one and one-half turns and shot a 10-shot string.
Shot Vel.
1…..882
2…..891
3…..886
4…..883
5…..893
6…..886
7…..885
8…..888
9…..885
10…..883
Avg. 886 f.p.s.
Next, the screw was turned out 1 additional turn.
Shot Vel.
11…..895
12…..897
13…..895
14…..892
15…..891
16…..895
17…..895
18…..895
19…..894
20…..886
Avg. 893 f.p.s.
The screw was turned out one additional turn.
Shot Vel.
21…..893
22…..900
23…..903
24…..888
25…..894
26…..892
27…..896
28…..892
29…..896
30…..891
Avg. 894 f.p.s.
What I learned
First, I learned that this was indeed the true power adjustment screw. Second, I learned that turning it out about two full turns is all that's necessary. After that, the velocity increases are not significant. I finished the 30-shot series with about 140 bar left in the reservoir, so there are about 15 more good shots in the gun.
Taking the second string average as a power input number, the rifle now generates exactly 13.99, which is close enough to 14 foot-pounds of muzzle energy with this pellet. Use a heavier pellet and get more power because this is a pneumatic.
By referring to the chrono data chart that also had the pressure indicated, I didn't need to waste any time running up to power. I knew where the power band was located, even when I was increasing the airflow. The valve still works the same, regardless.
That's the power limit of this rifle. I imagine I could get up to 16 foot-pounds if I used a very heavy pellet, but the best pellet is always the most accurate one. Whatever that one produces is the practical maximum for this rifle.