by B.B. Pelletier
Announcement: Last week, we announced that Pyramyd Air's facebook page would have a Big Shot of the Week photo contest. The winner (decided by Pyramyd Air) would receive a $50 Pyramyd Air gift card. The first winner is Kevan Evans, who submitted a photo of his daughter with her target, which she shot with Kevan's Benjamin Discovery.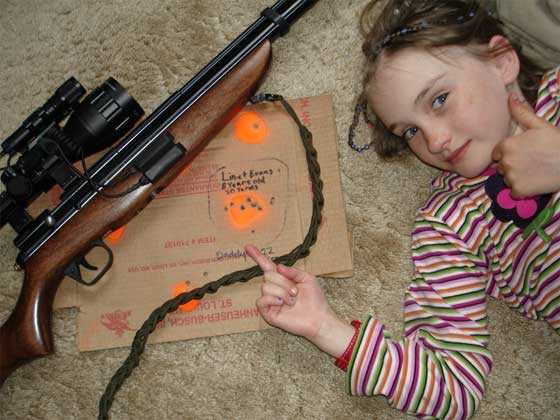 Just 8 years old, and already an accomplished shot. She pumped 16 shots out of the Disco, and put 6 in the same hole! Congratulations to Kevan and his daughter.
I have waited a long time for this day to arrive. Now, I get to tell you the story of the genesis of the new Benjamin Rogue big bore air rifle,and also to test it for you.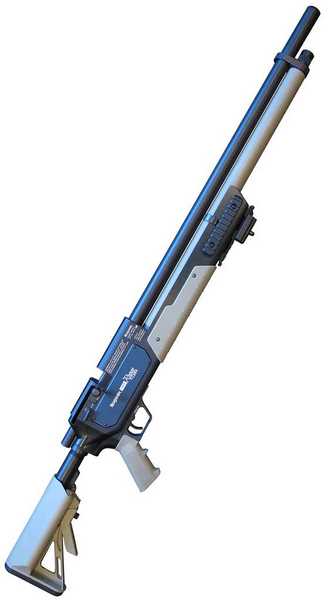 Large and in charge. The Benjamin Rogue electronic PCP big bore is a new horizon in airgunning.
How it all began
I was at the 2008 Roanoke Airgun Expo when one of my blog readers, Lloyd Sykes, came to my table and asked if I would like to see an experiment he had been working on. Lloyd had been experimenting with a new type of big bore airgun valve, and he had some performance data that recorded his results.
Quite frankly, I get approached like this all the time from people who have invented better mousetraps, and most of them are so impractical as to be absurd. But, I've learned that among these unconventional ideas every so often there comes a real gem of value. From what Lloyd shared that day, this could have been one of them.
I didn't believe it!
But I didn't believe him. Not entirely. His data showed he was getting as many as 20 powerful shots from the same amount of air that in other big bore guns produces from two to five valid shots. He swore me to secrecy (and I have since been more formally sworn by others) and then showed me his design, which was electronically actuated and computer-controlled. I've seen a lot of airgun designs in my time, but nothing like this.
Yet, I still doubted the numbers he presented. They read like the wishful writings of a firearm writer covering big bore airguns without ever having seen one.
Lloyd offered to film himself testing the gun, allowing me to see the immediate results on the chronograph after each shot. He also had other test instrumentation in the video that allowed me to follow things, such as the pressure before each shot, the pressure remaining in the gun and on-screen graphics of the pressure used for each shot. I agreed to watch his video, and within two weeks I watched those same performance numbers appear on screen as they happened. Then, I believed, and I knew something had to be done with this invention.
After seeing his video, I told Lloyd that his invention deserved to be developed into an airgun. We'd wargamed the possibilities while still at the Roanoke show, and there were not a lot of them. He could develop the gun himself, which would mean spending a lot of money to complete the development of a usable gun, and then a ton more money to publicize it. I told him I thought that was the worst way to go because it would drain him financially, plus he didn't have the credentials to take a product like this to market once it's developed. You don't just waltz into Dick's Sporting Goods and ask for a place on their shelves. It takes a trusted relationship before any large retail outlet is willing to talk to you about a new product, and that goes for any product. The world does not beat a path to your door!
Another option was the possibility of licensing the invention to someone else. The problem is that you often get a knife in the back when you go that route. I've had shivs stuck in my spine several times when I tried to sell my ideas. It's one of the reasons I'm so careful about who I'll work with.
A third option is to find a manufacturer who will buy your idea and develop it. While that sounds like a great way to get rich, there are problems there, as well. First, there aren't many airgun manufacturers these days who know much of anything about airguns. What we DO have are companies with large marketing and sales departments and good relations with factories in China, Korea and Turkey, where the engineering will be done. However, in those countries, there's no understanding of the vision of the new product, so a wonderful idea completely evaporates through technical missteps before any of it hits the ground.
But there are a couple companies who engineer their own products here in the U.S. Having worked several years before with Crosman on my own idea that became the Benjamin Discovery, I knew they were the best company for this project. If they agreed to do it, they would understand how to do it right. Contrary to what we all think, the world of the shooting sports isn't that aware of the airgun scene. Telling them there's a new kind of airgun will fall on deaf ears unless you have a plan to follow through and make believers of them. That's what Crosman said they would do.
The Rogue
This new big bore airgun could have been any of several different things, but when the dust settled the decision was to make the first one a .357 caliber repeating rifle. Believe it or not, the decision to go with .357 caliber was challenged by the existence of several successful 9mm big bores. In fact, in today's market, the big bore airgun calibers that are best-known are .30, 9mm and .458. Why on earth would Crosman want to make a rifle that is not 9mm, which is .355-.356 caliber, and instead make theirs a .357? Before you ask, I'll explain why one-thousandth of an inch does matter.
They went the way they did for one reason — the wide and varied availability of lead bullets in .357 caliber. If you do the research, you'll discover that there are precious few lead 9mm bullets on the market, and the few that exist are in power-robbing weights of 125 grains and below. But in .357 caliber, there are hundreds of different commercial lead bullets ranging from 80 grains to 250 grains. Just one bullet company — Western Bullet Co., which sells to big bore airgunners, has 15 designs to choose from. And that's just one company.
Pyramyd Air sells 9mm bullets, but they're really oversized and will work as well in a .357 caliber airgun. I'll also test some of them, because they're among the lightest bullets I can get in this caliber and perfect for high-velocity plinking (with a Rogue?). By choosing .357 caliber, Crosman has opened the world of lead bullets for the Rogue owner.
The test rifle in my possession weighs 10 lbs., 6 ozs., with nothing on it, however it does have two Picatinny accessory rails and another adapter for the front sling swivel stud. A scope (there are no open sights, nor are there provisions for them) will add to that. It has a variable length, due to the adjustable stock, that ranges between 45-1/2 inches and 49-1/4 inches in length. That makes it a big rifle. The length-of-pull adjusts from 11-5/8 inches to 15-1/2 inches, so the pull should adapt to over 95 percent of all adults. However, you'll have to get used to some muzzle-heaviness, because with the length of the barrel, the barrel shroud and the reservoir, the weight bias is definitely toward the front.

Fully collapsed, the stock is quite short.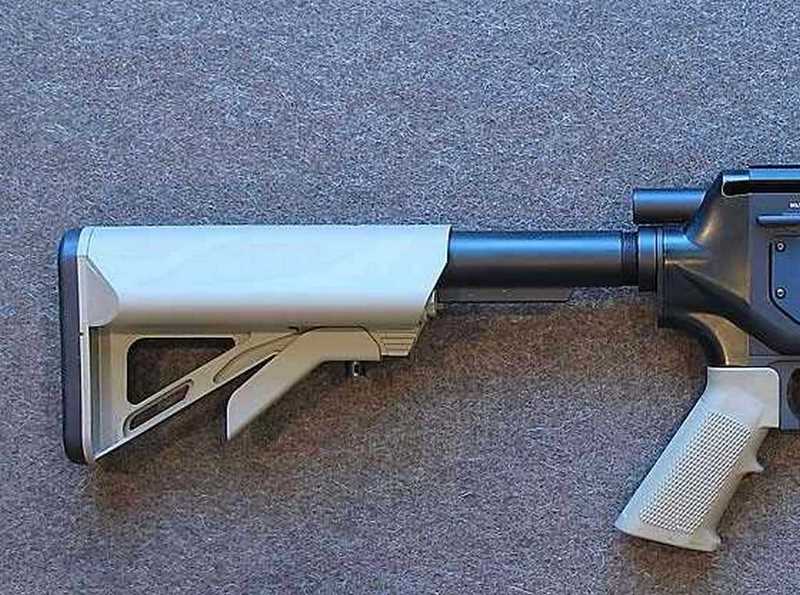 Fully extended, the Rogue stock is a long one. You can adjust it with the rifle on your shoulder.
The Rogue comes with quick-disconnect sling swivel studs, and I'll absolutely make use of them. It also comes with Picatinny rails at the sides and underneath the reservoir, and I plan to attach a bipod to allow the rifle to be laid down on the ground when I'm not shooting it.
The Rogue is controlled by electronics. I know what you're thinking because I wondered the same thing. What happens when the batteries run down? Well, I think the Crosman engineers made a good decision here. Instead of a rechargable battery, they built the gun to run on two AA cells that can be purchased almost anywhere. If you use the recommended lithium cells, you'll get about 10,000 shots before they need replacing. And, a spare set of lithium batteries has an incredibly long shelf life (at least 10 years).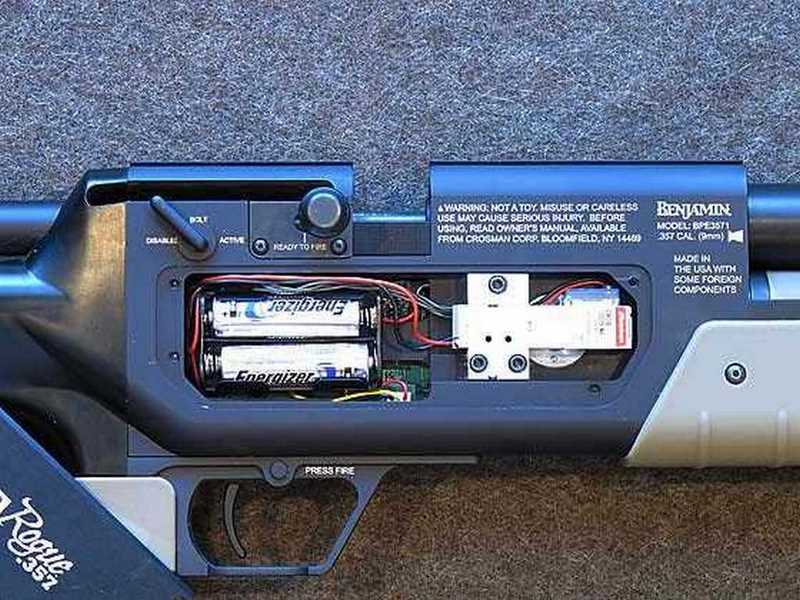 Here's where the batteries live.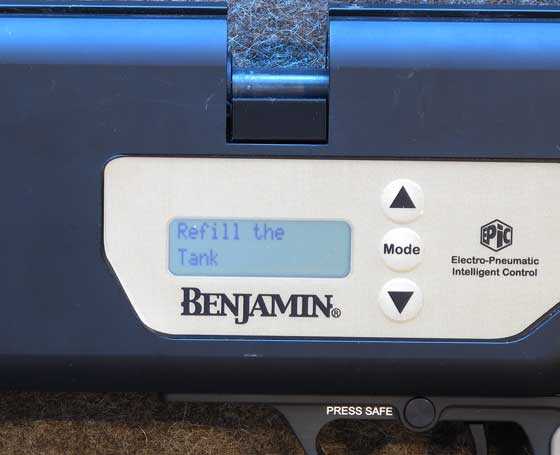 The Rogue lets you know what's happening at all times. The buttons allow you to tell it what to do.
A shroud?
A big bore airgun with a shroud? Are you kidding?
No, it's true. The Rogue has a shroud, and from listening to it while firing the rifle at the recent airgun show in Malvern, Arkansas, it works very well. In fact, Lloyd Sikes reports in his blog over on the Crosman website that his wife thought the rifle was pretty quiet when she shot it. Of course, she's been listening to all of Lloyd's tests in the garage for the past four years, so compared to all that racket I'm sure this is a pussycat. Don't think for a moment that the gun is silent. The muzzle blast is just knocked back to the point that you don't have to wear hearing protection when shooting — even indoors, as they found out at the underground NRA rifle range a few weeks ago.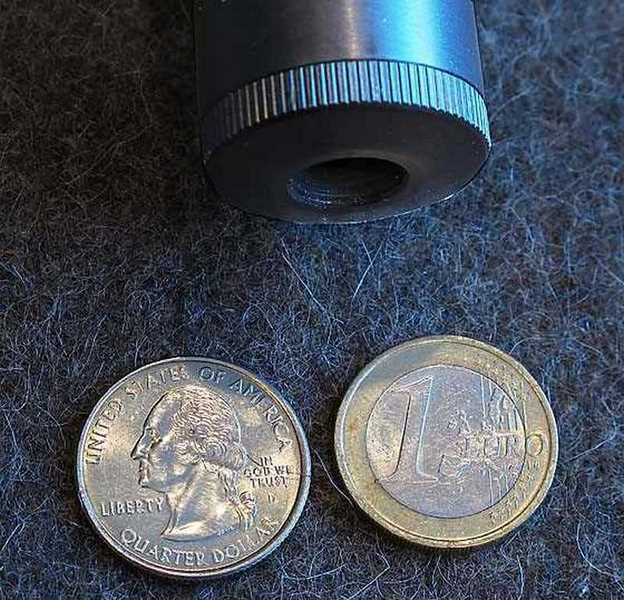 Put a shroud around a .357 caliber barrel and you get a big one!
I think the shroud was the right thing to do. So many shooters who are getting into big bore airguns these days have little or no firearms experience, and many report surprise that an airgun can be loud. The shroud is not to make the Rogue better for your backyard, because it really isn't made for that. But for user perception and to ease newcomers into the world of high-powered airguns, it's a good thing.
I'm going to end here, because there's so much to show you that this blog would stretch on too long to get all the general information out in a single report. Now you know a little of the history and a little more about the rifle. In the next report, I plan to show more of the features, many of which are unique, plus I'll expand on the rifle's potential for performance.
But here's a teaser. This is an airgun that can be a .357 rifle today and tomorrow you can tell it to be a .410 shotgun. Same gun with a few different parts and software changes. Computer control allows for that kind of flexibility and even more. Please spend the weekend dreaming up new universes for us to occupy, and I'll try to explain how the Rogue fits into each of them.