by B.B. Pelletier
Test and photos by Earl "Mac" McDonald
Time for something different, but useful just the same. Mac used these Leapers UTG 30mm Quick-Detach scope mounts when testing the RWS Diana 350 Magnum rifle, and he fell in love with them. He told me that he would definitely recommend them to anyone. Let's see what he has to say about them.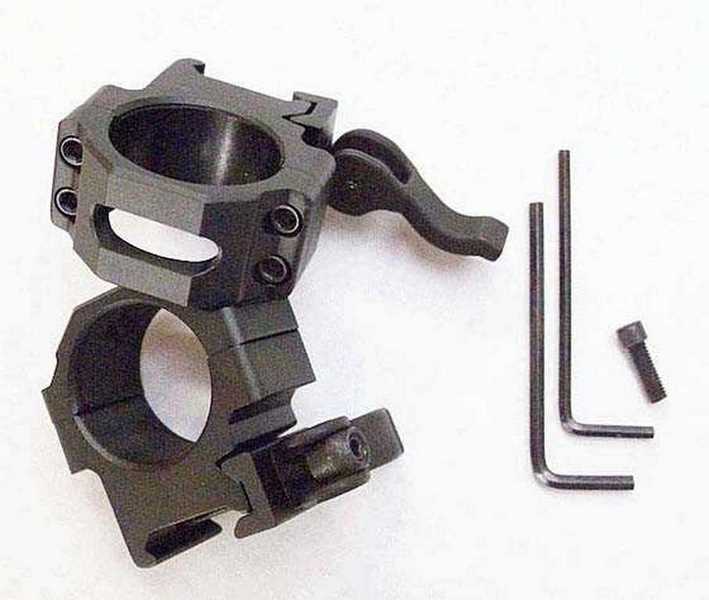 Leapers UTG Quick-Detach rings are made to install and remove rapidly.
These are two-piece rings that fit onto Weaver and Picatinny scope bases. But these are rings with a difference. Each ring has a tensioning lever that snugs the ring down to the base in one quick, easy movement instead of tightening several screws. And why is that so important, you ask? Because it allows you to switch the rings, and therefore the scope that's in them, from airgun to airgun in a matter of less than a minute. Boy, do I wish I had owned 10n sets of them back when I was doing heavy airgun testing! Heck, I guess that day hasn't passed yet.
Let's look at the rings now
These rings are made of aircraft-grade aluminum and are hard-anodized dark black. They have no-slip liners to grab onto the scope tube. Mac got both the low- and medium-height rings, but since he was mounting to the Leapers UTG Weaver scope base made for a Diana 350, he already had all the height he needed for a big scope. There was a half inch of clearance between the 56mm scope objective and the rifle when the scope was mounted. So, he tested the low rings. Speaking of that, when was the last time you even saw a pair of low scope rings? They're not exactly common.
The low rings have four-screw caps, but the medium rings have six-screw caps, if you can believe it! They're built as rugged as you want them to be. The medium rings say they are a see-thru design, but the hole in them is nothing more than a lightening cut. You can't really see the open sights through it.
The rings have a steel key or insert in their base that conforms to the cross slot of the scope base they're mounted upon. When that butts against the back of the slot, the rings aren't going anywhere.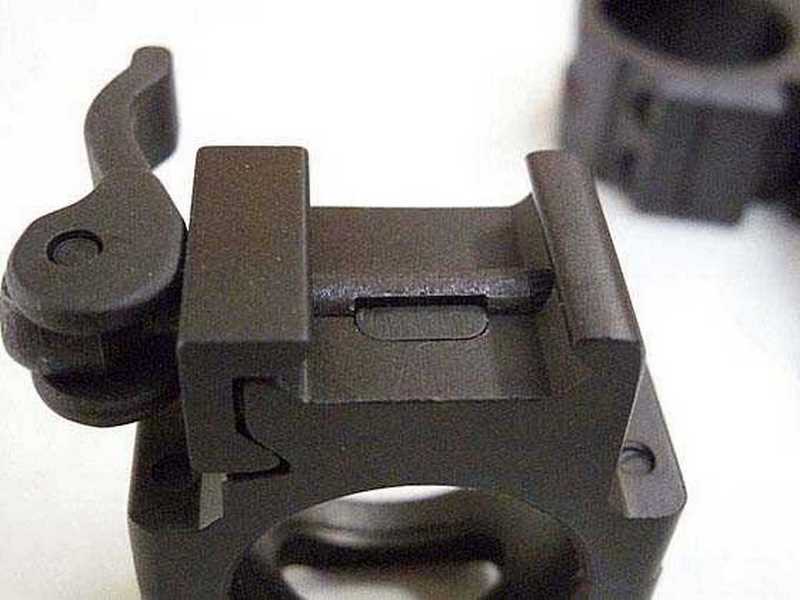 The half-round cross pin fits into the cross slot on the base.
The quick-detachable part is the best part of these rings. Each ring has a cam lever on its base that pushes a movable jaw when it's cammed shut. That's what keeps the rings attached to the base. An adjustment screw in the center of each ring lets you adjust it to open and close with a minimum of effort.
One thing that always frustrates me when mounting a scope is the movable base jaws that flop around and force you to hold the rifle is odd positions to keep the jaws open. These rings has captive screws that force the jaws apart at all times whenever the cam lever is loose. That will take scope mounting from a three-hand operation and make it suitable for just two.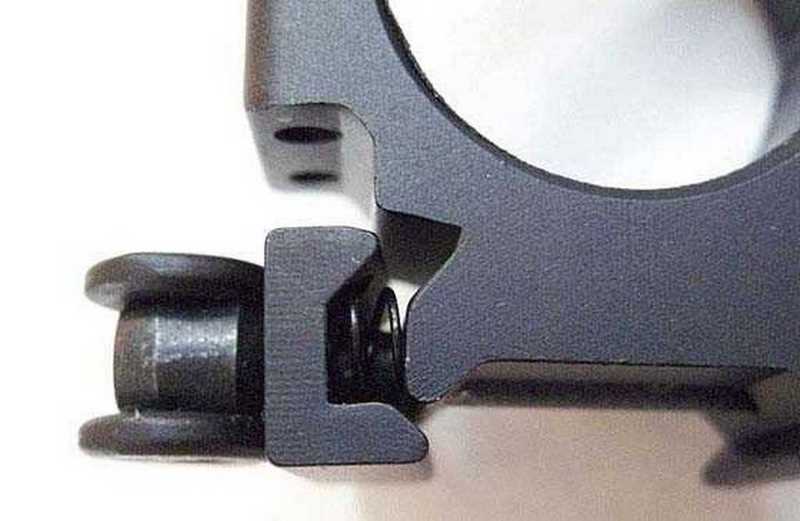 That little coil spring acts like a third hand to hold the scope base jaws apart during mounting.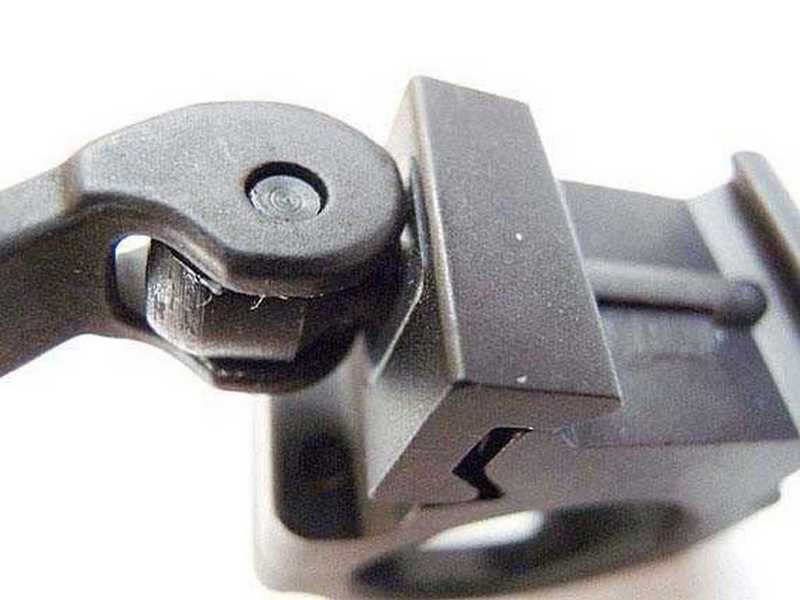 This picture is for Matt61, who said he doesn't understand what cam-action means. This picture should explain it.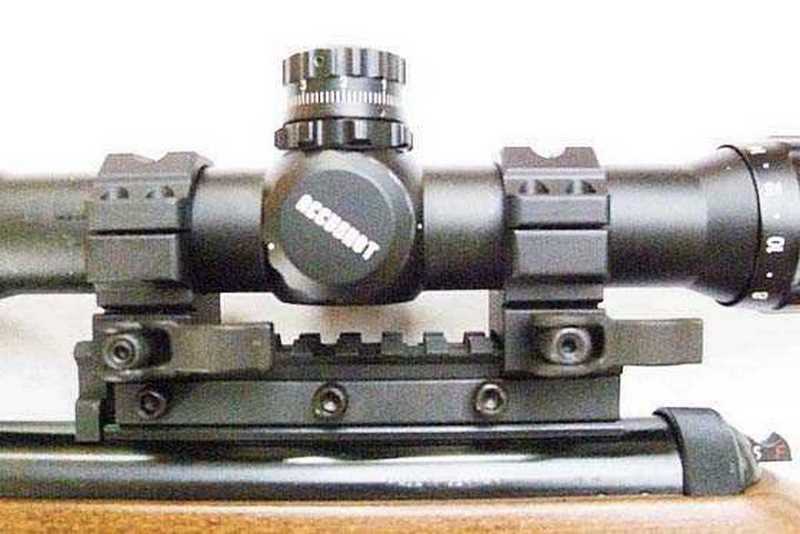 Mounted on the Diana 350 Feuerkraft, the Leapers UTG Quick-Detach rings look and work very well.
How does it work?
Well, that's what caught Mac's attention. These mounts/rings work just as nice as they look. If you have several rifles that must share a scope, or if you're like me and are always testing new guns, they're a real blessing.
These ring sets come in both one-inch band 30mm diameter and low, medium and high heights. They fit a wide body of applications. And, being two-piece rings, they're far more flexible that one-piece.
More and more airgun manufacturers are seeing the utility of fixing Weaver bases to their guns, so these mounts will have an ever-increasing value. I see the day coming when Weaver bases will be the standard, and few guns will be made without them. Then, you'll want to own a couple sets of these in each size.