by B.B. Pelletier
Tested by Earl "Mac" McDonald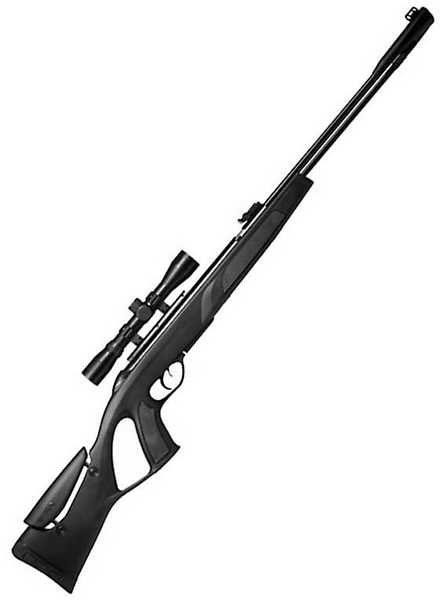 Gamo CFR underlever air rifle.
Well, we tested the BSA Polaris and found it to be a likable underlever air rifle. Now, we're testing the Gamo Whisper CFR combo, which I said is a close cousin to the Polaris. But it's not the same rifle, as today's report will demonstrate.
The first point Mac makes is that the CFR cocks with 40 lbs. of effort, compared to the Polaris' 26 lbs. He also said there's no distinct feeling of an end to the cocking stroke. He felt it was iffy at first, before he learned to trust that the gun had cocked itself. Mac also found the cocking effort to be difficult, while I found the Polaris to be easy. So, these are different rifles, for sure.
Mac also says he found the rotary breech to be a challenge, while I found it fairly easy to use. It's not as easy as a breakbarrel, of course, but this is a fixed-barrel rifle.
The velocitites
The first pellet Mac tested was the JSB Exact heavy that weighs 10.2 grains. It averaged 744 f.p.s., with a spread from 715 to 763 f.p.s. — 48 f.p.s. spread. That's fairly broad. At the average spread, the energy is 12.55 foot-pounds. A spring-piston airgun will usually produce lower energy figures with heavier pellets.
The next pellet tested was the JSB Exact dome that weighs 8.4 grains. The spread was a huge 53 f.p.s. — from 836 f.p.s. to 891. At the average velocity, the energy was 11.9 foot-pounds, or a little less than the heavier Exact gave. That is an excerption to the rule of lighter pellets being more efficient in spring-piston guns.
Next, Mac tried RWS Superdomes. In .177 caliber, they weigh 8.3 grains, and in this rifle they averaged 868 f.p.s. The spread was even larger at 55 f.p.s. and went from 836 to 891 f.p.s. At the average speed, they produced 13.87 foot-pounds, which is more than the heavy JSBs and right on target, where they ought to be.
The next pellet Mac tried was a 4.7-grain Gamo PBA Platinum pellet. The 4.7-grain Platinum pellet averaged 1063 f.p.s., with an enormous 178 f.p.s. spread that went from 931 to 1119 f.p.s. At the average velocity, the rifle was generating 11.8 foot-pounds at the muzzle. Normally, lightweight pellets do much better in springers, but these non-lead trick pellets are very hard and have a lot of friction.
Mac was really wringing this rifle out for you, so he also tested the 7.9-grain Crosman Premier. It averaged 902 f.p.s. with a tight 17 foot-second spread that ran from 894 to 911 f.p.s.
Since he tested the Premier lite pellet, he decided to also test the heavy 10.5-grain Crosman Premier pellet. They averaged 766 f.p.s., with a 21 f.p.s. spread from 756 to 777 f.p.s. At the average velocity they produced 13.67 foot-pounds at the muzzle, which is surprisingly efficient for such a heavy pellet.
The results
So, the Whisper CFR is quite a bit more powerful than the Polaris. That's going to make it more difficult to shoot, so the accuracy test should prove interesting.