by B.B. Pelletier
Today, we'll start a look at an unusual airgun from Crosman. It's getting to be summer around the country, and the summer guns are CO2 guns, so today's choice of the Crosman Outdsoorsman 2250XE is just in time. This .22 caliber CO2 carbine wouldn't exist if Crosman hadn't reinvented itself at the beginning of the 21st century.
Dennis Quackenbush and I sat on both sides of Crosman's former president and CEO during the Airgun Breakfast at the NRA Annual Meetings in Kansas City, back in May 2001. We were all chatting about the airgun business, and I happened to mention that Dennis made a good living making and selling upgrades and accessories to what was at that time a $39 Crosman CO2 pistol. The executive was surprised, thinking that no one would want to spend money on such a cheap airgun, but Dennis floored him when he said, "You sell them the gun for $39 and then I sell them $125 worth of accessories for it." From his facial expression, I don't think he really believed me.
Fast-forward a few years, and Ken D'Arcy took over the top spots at Crosman. It took him a few years to get his new house in order, and then the Crosman Custom Shop was created. To make a very long and encouraging story short, today's airgun is a direct benefit of that move. Crosman no longer pursues just the high-volume discount-store sales anymore. They also keep their corporate eye on the ball by making and selling guns for hardcore airgunners. Today's offering is just one example.
Basically, the Outdoorsman 2250XE is a descendant of Crosman's classic 2240 .22 caliber, single-shot pistol. But look at what they've done with it! It's so prettied-up that it's sometimes hard to see the family resemblance.
The 2250 XE is also a single-shot, bolt-action .22 rifle that's powered by a single 12-gram CO2 cartridge. But this gun is different in so many ways. First, because it has an 18-inch barrel instead of just a 10-inch barrel, you get optimum performance from each CO2 cartridge. Airgun hobbyists who modify Crosman pistols know that an increase in barrel length gives the CO2 gas longer to push on the pellet and produces higher velocity. However, there's a point of diminishing returns, which happens to be somewhere around 16 and 18 inches of barrel. After that, the pellet looses some velocity from friction. So, the barrel length on this carbine is anything but an afterthought!
Grand opening
Edith knows what I think of airgun marketing. I believe that the moment the box opens the customer forms an opinion of the gun inside. Pack a beautiful airgun in a cheap, flimsy cardboard box and you cheapen the customer's first impression of his or her new airgun. On the other hand, if the packaging is superior, it conveys a sense of pride that attaches to the customer in an instant. Top car salesman all know this, as do successful realtors. Why don't more airgun manufacturers?
Well, Crosman is one company that knows what first impressions are all about. When I opened the box of the test rifle, Edith told me she thought I ought to show you what we saw. So, here it goes.


The box has eggcrate foam protecting the gun, scope, mounts and ancillary things. It's a sturdy container that you can use to store the gun, as the foam is closed-cell.
I've seen many hundreds of new airguns come from their boxes in my time, but this one was too tempting not to pick up immediately. Once in my hands, it invited a check of the trigger-pull after establishing it was unloaded and not charged.
This carbine feels very small in my hand, though the 14-1/4-inch pull length is adult in every way. Perhaps it's the light 3.6 lbs. of weight that seems to float in your hand. I remember once owning another CO2 carbine like this that seemed just as nice and compact. The Sharp UD carbine I had years ago was a nice little shooter that's extremely hard to find these days, and it felt just like this 2250 XE.
Trigger-pull
While holding the carbine, I couldn't resist trying the trigger a couple times and was surprised by the best factory trigger I've ever felt in a Crosman pistol on this frame. Don't misunderstand me, now, because I'm not comparing this single-stage trigger to the new Marauder pistol trigger, which is stupendous. This one isn't as nice as that, but with the installed trigger shoe, I found the release nice and pleasant. More on that in Part 2.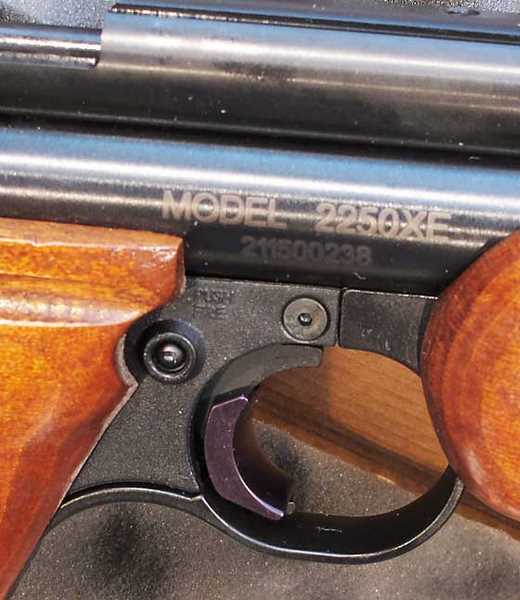 The trigger shoe really helps with the trigger-pull!
Another nicety I noticed was the 6-inch steel breech with 11mm dovetails cut into the top. You get a scope with the carbine, so you're expected to shoot it that way, but those who refer a peep sight will like the fact that Crosman also supplies a post front sight. I'll scope the rifle for the accuracy test.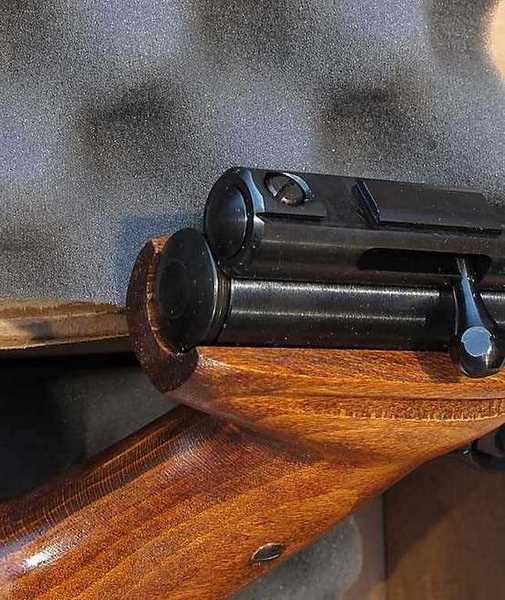 Yes, that's a steel breech that will accept a scope mount or a peep sight.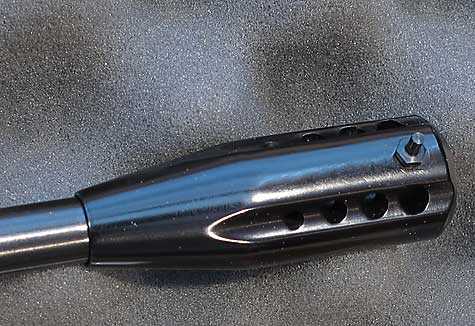 Want open sights? Crosman provides this front post that won't get in the way if you use a scope.
Stock
You cannot overlook the outrageous skeleton stock. Carved out of beech, it adds very little weight to the rifle, yet brings your sighting eye up high to intercept the exit pupil of the scope. I can't wait to try it!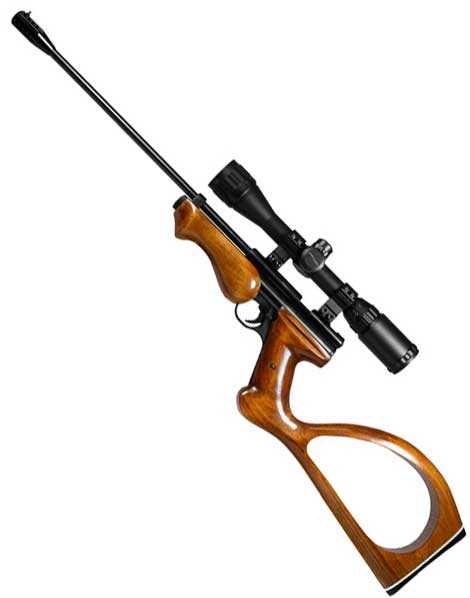 Put it all together, and it's a beautiful gun!
Performance
The rated velocity for this carbine is 550 f.p.s., but I expect it to go a bit faster than that — especially with lighter lead pellets. I'd be surprised if RWS Hobbys didn't get up close to 600 f.p.s. That 18-inch barrel is not to be ignored.
What do YOU expect?
Let's be honest. This is a $270 CO2 airgun that started life as a far less expensive model and got modified to this high price point. I want to know what to expect from a gun like this. I've already compared it to a rare Sharp carbine that you can't buy used for less than $600, but that isn't going to satisfy most people, especially those who aren't collectors. I want to know what performance you think a gun like this should have.