by B.B. Pelletier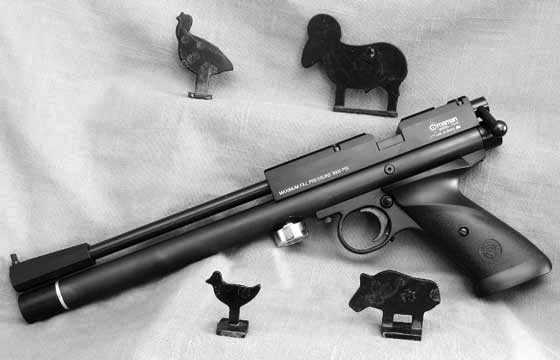 The new Crosman Silhouette PCP pistol is a tackdriver!
Today is accuracy day for the Crosman Silhouette PCP pistol. It's been a month since I last tested this air pistol, so you may not remember all the details. This is a remake for 2011 of the Silhouette pistol Crosman brought out in 2010. I tested that pistol for you also and did four reports on it back before all the bad things happened. You can read those reports here.
That gun was a fine one, but Crosman decided to add the new Marauder pistol-style trigger and they made a few other small changes in the process. What they ended up with is an accurate pistol that also has a fine trigger. While this pistol is on the pricey side and is really meant for the sport of air pistol silhouette competition, it also serves well as an accurate air pistol, or as a carbine for general shooting if you attach the optional shoulder stock.
The scope
I selected a Leapers 3-9×40 scope with red/green illuminated reticle. The illumination means nothing in this test, as I didn't use it. My scope is older than the one I linked to, but the specifications are exactly the same.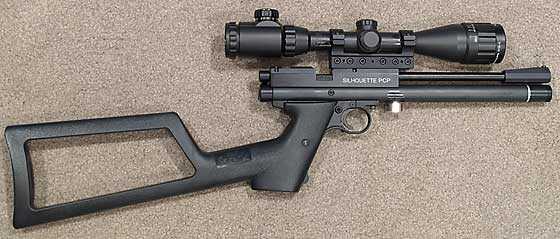 The scope is a bit large for the pistol, but it is also the reason this test went as well as it did. This makes a very handy PCP carbine.
The scope was mounted on a BKL 1-piece mount, which isn't appropriate for this gun because of how it loads (the breech needs clearance for loading the pellet), but I got away with it because of the long steel breech. Since there's no need for a scope stop on this recoilless pistol, the BKL might be seen as overkill; but the scope was already mounted in it, and I've used it successfully on many other air rifles and the time savings was a consideration.
Accurate from the start!
Some days, everything just falls into place. I've learned to recognize those days as soon as they come, so this shooting session was a breeze.
The first pellet I tried was the 10.2-grain JSB Exact. Normally, I wouldn't use such a heavy pellet in a gun of this power, but something told me it would work out well this time. And it did. After sighting-in, 10 shots blew away the aim point at 25 yards.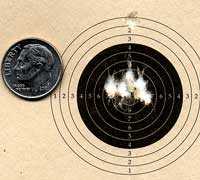 Pay no attention to the hole at 12 o'clock. It's the last sighter before this group was shot. Ten JSB Exact 10.2-grain domes went through that hole at 25 yards. It measures 0.43 inches between centers.
I had to adjust the scope after the first group, because I was blowing away my aim point. So, I dropped down several clicks and shot a second group of 10 with the same pellet.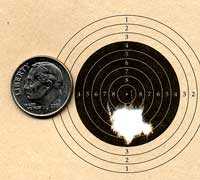 Another 10 JSB Exact 10.2-grain pellets tore this small hole at 25 yards. This one measures 0.318 inches between centers.
Next, I tried the JSB Exact RS dome that weighs 7.3 grains to see what a lightweight pellet would do. Same 25 yards and same conditions overall.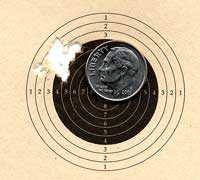 Ten lightweight JSB Exact RS domes made this tight group at 25 yards. Notice how the point of impact has shifted from the target before, though the scope settings remained the same. This group measures 0.484 inches between centers.
Time to try something new
Okay, we now have a certified tackdriver air pistol. I thought it might be nice to try out some of those non-lead pellets to see how they compare. The next target was shot with H&N Baracuda Green pellets. All conditions were exactly the same, and I concentrated on every shot just as hard as with the first two targets.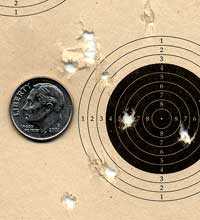 Ten H&N Baracuda Greens didn't do so well at 25 yards. All shooting conditions remained exactly the same as the first two targets. This group measures 2.084 inches between centers.
Back to what works
After the non-lead pellets, I decided to finish the test with H&N Baracudas — the real lead Baracudas this time. I figured they would be in the same ballpark with the JSBs.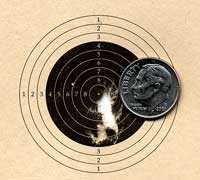 Ten H&N Baracudas made of lead made this ragged hole at 25 yards. It measures 0.455 inches between centers.
The bottom line
The bottom line with this air pistol is one of accuracy. Crosman has really outdone themselves and given us a tackdriver with this setup. It likes both heavy and light pellets, though not those made without lead, which is common these days.
The trigger is crisp and the shot count is astounding, considering the little air that's used. This pistol would really work well with a hand pump.
Then there's the question of muzzle blast. The Silhouette is almost as quiet as a shrouded pistol because of its efficient use of air.
If you like stunning accuracy from an air pistol, consider this Silhouette PCP.