by B.B. Pelletier
Announcement: Tyler McCorkle is this week's winner of Pyramyd Air's Big Shot of the Week on their facebook page. He'll receive a $50 Pyramyd Air gift card.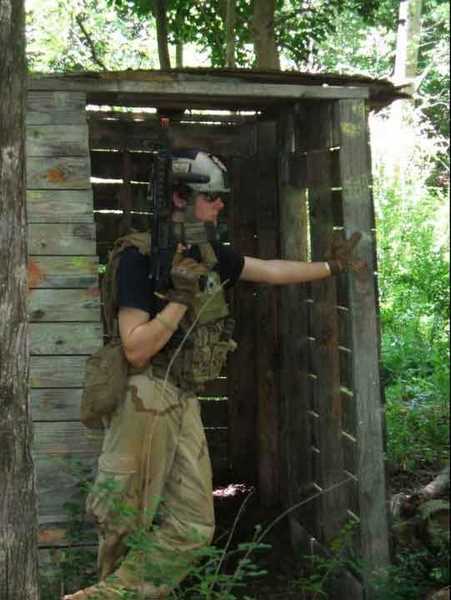 Here's what Tyler says about his submission: Me (FR3AK) from the well-known team of Valhalla ODA (Operational Detachment Airsoft) at the annual Vietnam Patrol game at the CDWC field.
Let's look at the accuracy of CB caps for the first time. This is a large test that isn't even halfway completed at this point, so there's still quite a lot to learn; and from my perspective, there has already been a lot of learning. Starting today, much of what I thought I knew for sure about CB caps is going away.
Some .22 rifles are not made to shoot CB caps
Before I started this test, I thought I could load a CB cap in just about any .22 rifle and get away with it. This test has shown that's untrue. I'll begin with a rifle I selected because I thought it was the standard of modern .22s — the Ruger 10/22 semiautomatic.
The 10/22 is not the most accurate rimfire rifle around, and nobody claims that it is. But it probably has more add-ons and aftermarket modifications than the next 10 most-popular .22s put together. The 10/22 aftermarket is almost as large and brisk as that of the AR-15 — the amazing, morphing black gun.
You can throw money at your 10/22 and turn it into a credible shooter for action matches, like the Chevy Sportsman Team Challenge, or you can literally paint it purple with colorful stocks and barrel options. If you have a wild hair and too much disposable cash, you can even lash several 10/22s together into a McGyver's Gatling Gun. Yes, you can do just about anything with a Ruger 10.22 — except, maybe shoot CB caps in it.
Oh, they'll fire once you've figured out the three-handed way of loading them into the breech. I even had suggestions on special loading tools to make loading easier, but loading is such a pain that I recommend finding a different rifle.
The rifle I thought would represent the everyman's .22 turned out not to work well at all. However, I'm not stopping there. I have a Butler Creek bull barrel and a custom thumbhole stock that turns my stanrard rifle into a wannabe target shooter. The test will continue with the same rifle in that configuration.
I'll also add the Stevens Armory 414 target rifle into the mix of rifles being tested to take the place of the standard 10/22. This is a single-shot target rifle that was popular before World War II, and I'm adding it just to keep the competition stiff. I'll show you all the rifles when I report their accuracy, but today we're only looking at the results of the Ruger 10/22 and the Remington 521T.
Airgun first
The baseline of the test is my AirForce Talon SS, fitted with an optional .22-caliber, 24-inch barrel. The range is 50 yards, and I shot the Talon on the same day as the rifles I'm testing.
Longtime blog readers know that this rifle posted a 10-shot group under a half-inch about a month ago. On the day I tested it with the CB caps, though, the wind must have had a greater influence, because the groups were all much larger. I shot the JSB Exact Jumbos domes weighing 18.1 grains, and the best 10-shot group went just under one inch. The worst was about 1.5 inches on this same day. So, that's the baseline against which the CB caps are shooting.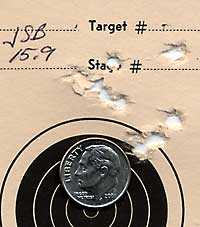 The best group of 10 JSB 18-grain Exacts groups 0.957 inches on this day.
Ruger 10/22
The Ruger was next, and right away I discovered that loading it needed three hands. One to hold the rifle, the second to hold back the bolt and the third to load the CB cap. Yes, the 10/22 does have a bolt hold-open device, but it's the very definition of a poor design. I never bothered modifying it because I never really used it before this test.
The rifle was equipped with a Centerpoint 8-32x56AO scope, and, naturally, it was set all the way up. While this may seem a little biased against the other .22s, which have open sights, the Talon SS does have a 16X scope, so this balances against that. When I swap in the bull barrel and different stock, this rifle will still be wearing this scope.
However, that didn't matter, because the groups from the Ruger were so large that I can't show most of them here. In one case, bullets landed on two different 12-inch paper targets. That, plus the difficulty of loading each round is why the standard Ruger 10/22 has been eliminated from this test. I did get one promising group from the CCI Mini CB caps. Ten shots measure 3.475 inches at 50 yards. That group was the one that opened my eyes and made me realize that there might be something to these caps after all.
I know that people who use CB caps are not shooting 50-yard groups. They're interested in protecting the bird feeder from a ravaging squirrel without making a lot of noise. If the feeder is closer than 50 yards, it might just be possible to do.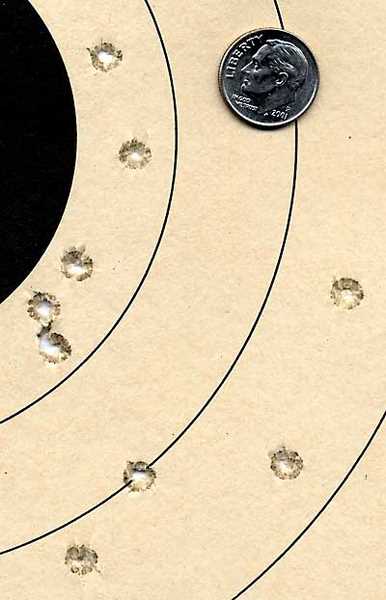 Not bad for a CB cap at 50 yards! These are 10 CCI Mini CB caps shot from a Ruger 10/22. I didn't expect to see this much accuracy from CB caps at this range.
Only two rounds were tested in the 10/22 — the Super Colibris from Aguila and the CCI CB caps. I did try to shoot a group of regular Colibris, but that's when I learned that they were not meant for rifles at all. The Super Colibris gave a group a little larger than 12 inches, and I'm not showing that here. As far as I'm concerned, they do not work well enough in a 10/22 at 50 yards to be considered. The CCI Mini CB caps, on the other hand, do show some promise.
Remington 521T
Next I tried the Remington 521T that I thought would bury the Ruger. Well, the best-laid plans oft go astray, I guess, because this rifle shot a slightly larger group of 10 CCI Mini CB caps. This group measured 4.013 inches.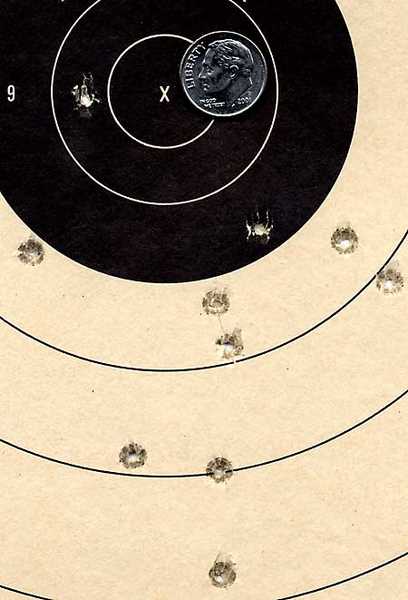 This group of 10 CCI Mini CB caps measures 4.013 inches. It was shot by the Remington 521T at 50 yards.
As with the Ruger, the Remington also got much larger groups with the Aguila Super Colibri CB caps. They were over 7 inches, making them unsuitable for shooting at this distance. The reason the 521 gets to stay in the test is because loading it is far easier than loading the 10/22. I'm still going to test my custom 10/22, which will be just as hard to load as the standard rifle; if I get better accuracy, that rifle will bear the 10/22 standard for the entire test. If not, the Stevens Armory 414 will have to substitute, I guess.
That is a lot for you to digest, so I'll stop here. In the next part, I'll show you how the Winder Musket did with CCI Mini Short CB caps and with both types of RWS caps. The results will surprise you, I think. I know I'm surprised by what both of the rifles shown today were able to do.
Yet to come
In future tests, I'll shorten the distance to 25 yards and then to 10 yards to show where CB caps can possibly do their best work. I know those who are interested in this subject must think I'm serializing it to keep you on the hook, but that's not what's happening. There are so many rifles and so much different ammunition to track that I am going through the results in a stepwise manner to make certain that everything gets looked at correctly.
I've already learned far more about the performance potential of .22 CB caps than I've ever read anywhere. By the time this test is complete, we'll all know a lot more than has ever been published about this short-range ammunition.
There's one additional benefit from this test. Readers are starting to ask a lot of questions about the fundamentals of accuracy and why certain airguns do what they do. On Monday, the blog will address a fundamental question that came in from the Pyramyd Air facebook page. Stuff like this cannot help but advance all of us in our understanding of the mechanics behind the accurate gun.