by B.B. Pelletier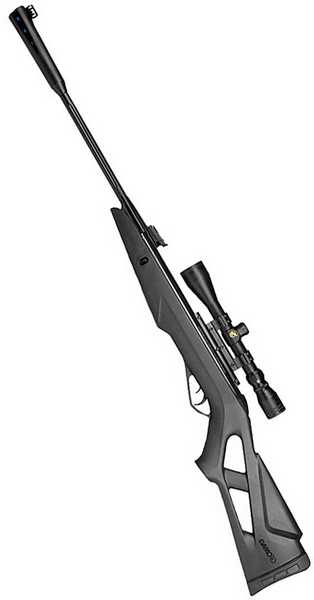 Gamo Silent Stalker Whisper IGT is lightweight and looks to be a fine hunting air rifle.
Wow!
Wow! That was the first word that came to mind when I opened the box on the Gamo Silent Stalker Whisper IGT. The gun is packed with great care, and you can tell that the packaging was given a lot of thought. It impresses you the moment the box lid raises.
A second wow when I picked it up and felt the light weight of just over 7 lbs. Not trusting my own feelings, I handed it to Edith who made the same observation. This really is a lightweight air rifle!
Then, I couldn't resist cocking it and that brought another wow. It cocks like it has a gas spring — with no spring noise and the firm feel of resistance all the way.
Gas spring
Of course, it does have a gas spring, so that part wasn't imagined. And I see the advertised velocity of 975 f.p.s. If this .22-caliber rifle gets anywhere near that speed with lightweight lead pellets and is also accurate, it will earn two additional wows.
Long stroke
Cocking revealed something else. This is a gas-spring rifle, and they usually don't have a long stroke. But this one does! In fact, I can't avoid comparing it to the .22 Theoben Fenman I used to own. That rifle had a long stroke as well and was also relatively easy to cock.
So, it's lightweight, has good power, is easy to cock and has long stroke. These are all things I would want in an airgun of this type. This air rifle appears to be designed by someone who actually knows something about airguns. Can you tell I'm excited?
Smooth shooting
After cocking the rifle, I had to shoot it because it cannot be uncocked. The shot cycle is very smooth and recoil-free. Another wow? Perhaps, but I need to shoot it more to know for sure.
This is a breakbarrel .22 with a gas spring. It has a modern synthetic stock, as you can see, and the shape of the stock is thumbhole. Gamo claims this is "'The' Most Quiet Gun." Not the quietest, mind you — but the most quiet. Ah!
I'll determine how quiet it actually is, but I think we can cut Gamo some slack on this one. They obviously mean their claim to apply to spring guns, and not to PCPs, which we know can be even quieter. So, I'll compare it to a TX200 Mark III that has the same barrel shroud technology.
Good open sights
This gun comes with a 3-9×40 scope and rings, although Gamo has wisely installed a set of good open sights, as well. That's not easy to do with the large Whisper muzzlebrake; and if they didn't do it, an owner would have no recourse for an aftermarket fix, so this is a real valuable feature. The sights are fiberoptic, so not really suitable for precision shooting, but probably good enough for close hunting out to maybe 25-30 yards or so. They would be perfect for close-in pest elimination.


Here's a feature airgunners have been requesting for years — a large muzzlebrake with a sight. Gamo did this one right.
The scope base looks very much like the old Theoben Dampa mount of several years ago, though I don't see the rubber pad. Gamo deserves credit for installing a real good 11mm scope base with two vertical scope stop holes on this rifle.
The breech seal is an o-ring around the transfer port. The way the breech comes together, it looks to me like someone who knows airguns gave this rifle a lot of careful thought because the leading edge of the breech isn't trying to slice off the seal one strip at a time.
At the retail price of just $260, I think you stand to get a lot of value in the Silent Stalker Whisper. But, we'll see on the range, because it has to shoot well before I'll give it my stamp of approval.
However, from what I've seen thus far, it's probably headed in the right direction. I could only wish for a better and crisper trigger, but I'll test that in detail in a later report.
First impression
After having this rifle in my hands for an hour and shooting it a couple times, I'm reminded very much of the Benjamin Legacy. Here's all the same technology with the promise of greater power. I can't wait to see if it delivers.