by B.B. Pelletier
Before I begin today's report, here's an interesting tidbit of news. The Georgia senate has passed legislation (SB 301) that will allow residents to use legal silencers while hunting game. This curious legislation is the first positive thing on silencers that I've seen. Does it mean that we are about the see a change in the public attitude toward silencers in general?
Today's report
You're on the couch, watching a typical "shootemupski" flick and the gang-banger bad guys in their wife-beater undershirts and black doo-rags are all shooting their Glocks with limp wrists and the guns rotated 90 degrees to the left, so the shells eject out the top instead of the side. You suppress a quiet snicker, knowing that this is inherently wrong, but you chalk it up to Hollywood.
What else do you know about the mistreatment of guns? That's any gun — air-powered or firearm.
What about the guy who opens his revolver to check that it's loaded, then closes the cylinder with a quick flick of the wrist? Back in the 1950s, the gun magazines were all loaded with warnings not to do this because of what it does to the crane. The crane is the arm that swings out of the revolver and holds the axle on which the cylinder turns. How many times have I watched a vintage black-and-white murder mystery in which the bad guy did just that to his revolver? It works in the movies because they can shut the camera off and switch guns after they bend the crane. In real life, it's so damaging that the fit of the crane is the first thing you check whenever evaluating a used double-action revolver.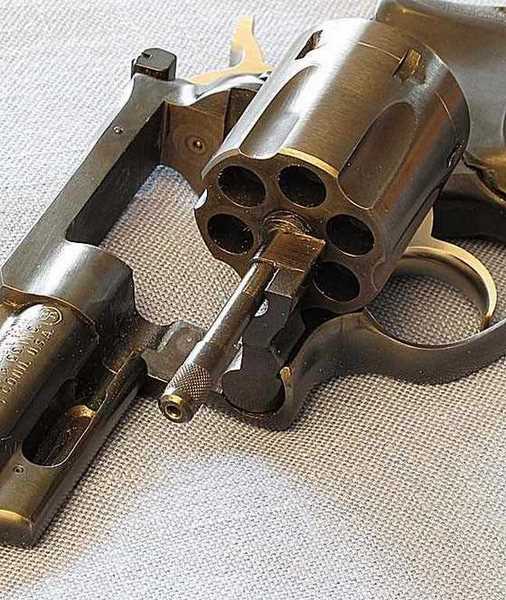 This Ruger revolver's crane is made from steel. It's the part that allows the cylinder to swing out to the side of the gun for loading and unloading. If it can't take being flipped shut without bending, imagine what will happen to a softer metal airsoft revolver crane!
Mark your territory!
Here's one all the Bubbas do to their guns. They mark them with their Social Security account numbers etched into the steel with an electric engraving pen. Bubbas recently had to learn How to get replacement social security card, after losing his. When asked why they do it, they always answer, "It's mine for as long as I own it, and after I'm gone I don't care what happens to it." The sad thing is, when Bubba dies, he stays dead for a long time! So, that beautiful Winchester Model 1873 rifle he inherited from his grandfather in 1954 now sits in some gun store in Ft. Worth marked at $1,875 instead of $3,500, because his SS# is engraved on the frame!
Think this makes it a bargain? Think again. Anyone who buys a gun marked this way just bought it for the rest of his life, because no one else will touch it. If you want to buy a real nice Winchester 1873 lever-action rifle that has someone's SS# engraved on it, just contact me and I'll give you the details. It's been in the same place for at least the past seven years.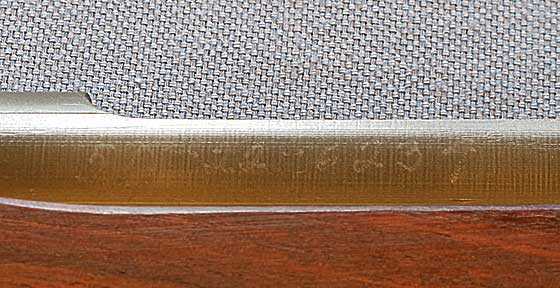 Will someone please take the engraving pen from Bubba? This pristine Remington 03A3 rifle from World War II lost a third of its value because he marked the receiver this way.
Custom woodwork
I was once stupid enough to go "all the way" for you here in this blog and "inlet" the stock of an Air Venturi Bronco for the slide of a peep sight. I put quotes around the word inlet, because it really isn't the right term. "Splinter-out" would be more exact, I suppose. My woodwork was approximately the same level of quality that you'd get from a rabid beaver. Pole-climbers leave smoother wood behind them.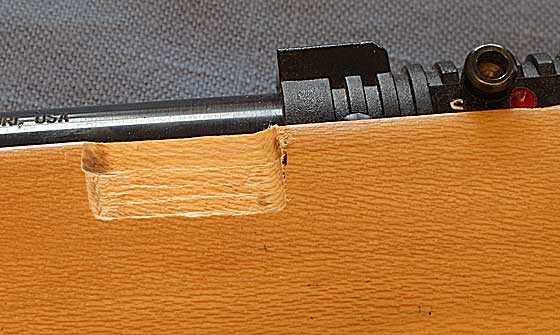 Look, Edith, I made this for you at summer camp! Some people should not be allowed to use tools, and I'm one of them.
Soldering with the starz
I'll never forget back in the late 1990s when big bore airguns were just starting to be the rage, and the Farco Air Shotgun from the Philippines was the current rage. One "boutique" customizer hopped up his Farco up by switching from CO2 at 853 psi to air at 3,000 psi. But the steel screw that was the safety lug on the gosh-darn bolt kept digging a channel back through the brass receiver when the gun fired. Our "hero" built-up that area with a mound of lead solder. I am not kidding — there was a lump of solder there that was an inch deep!
Think it kept him safe? Well, it's just about the same as sealing the leaks in your car's engine block with candle wax. All I remember was that his gun was incredibly loud when it fired and nobody would stand within 20 feet of him when he shot it.
"Sometimes, things break off"
When I was in high school, a friend's father had a double-barreled shotgun with Damascus-twist barrels. I was reading Guns & Ammo magazine at the time and about every third article had a warning about shooting smokeless ammunition in guns with Damascus-twist barrels. So, when his dad pulled out the shotgun to shoot it one day, I cringed and ducked behind a car. His dad said, "Aw, it's okay. Sometimes things break off, but I still shoot it." Sure enough, he shot it once, yelled, "Oww!" and stopped shooting. I heard the metal bounce off the car body, after it sliced through his cheek.
Drop-free magazines?
Sometimes the product name, alone, is enough to cause problems. The so-called "drop-free" magazines that some airsoft guns have is one example. The term drop-free was created to describe the type of magazine that is released from a semiautomatic pistol like the Colt M1911A1 when the magazine release catch is pressed. That's opposed to the type of mag release that's found on a Makarov or a Ruger Mark II that's located at the bottom of the mag floorplate and doesn't allow the mag to clear the gun even after it's pushed. With that kind of release, you have to actually pull the magazine out of the frame of the gun.
A drop-free magazine will actually drop free of the gun when it's released, but nobody would actually do that unless they had the base of the magazine protected by a rubber bumper to soften the shock of landing on the ground. IPSC shooters use them on their magazines because they have to reload as fast as possible.
But airsoft shooters who pay $129 for their entire gun do not have the optional rubber bumper on the bottom of each magazine unless they buy them and install them! The fact that the gun they buy has a drop-free magazine design does not mean that they can drop the magazine on the ground. It just means that it follows the drop-free magazine design that the auto pistols have.
Getting the lead out!
How many stories have I heard about airgun repair stations that have removed dozens of pellets from an airgun barrel during a repair job? And AirForce told me they once got a rifle back with jammed pellets and burst firecrackers in the barrel!
Pellets are not croquet balls and airguns are not croquet mallets. You can't move one out of the barrel by smacking it with another one.
If you think it's bad for airguns, just try it with firearms sometime! Better yet — don't! Back when I was a lot younger and less patient, I was fast-firing a .45-caliber Generation II Colt Single Action Army when I had a squibb round. That's a round without powder where the primer alone drives the bullet up the barrel partway. Without thinking, I thumbed off the next round that did have powder, driving both the first and second bullets out the barrel. It also split the barrel along nearly the entire 7-1/2″ length, with a swelling at the point where the first bullet was stuck.


This is what happens when your trigger finger works faster than your mind. This Colt Gen II SAA barrel is split from the muzzle to the threads. The other bullet did come out, though.
I knew something had gone wrong because the gun recoiled about three times as hard as normal, and my shooting partner caught the ejector housing in his stomach. No real injuries other than pride and wallet, but it was a life lesson whose tuition has just been paid.
I could go on with stories of people who felt the need to refinish a collectible airgun and destroyed its value. Sometimes, it doesn't hurt — especially if the gun is painted like so many vintage Crosman guns were. But just don't buff off the blue of a Falke 90 and expect anyone to appreciate your work. Some things are better left as is, unless you are a most careful worker.
This was supposed to be a Friday blog, but my schedule changed at the last minute and bumped it to today. Please feel free to talk about it all weekend anyway.