by B.B. Pelletier
Announcement: Chris Moreno is this week's winner of Pyramyd Air's Big Shot of the Week on their facebook page. He'll receive a $50 Pyramyd Air gift card. Congratulations!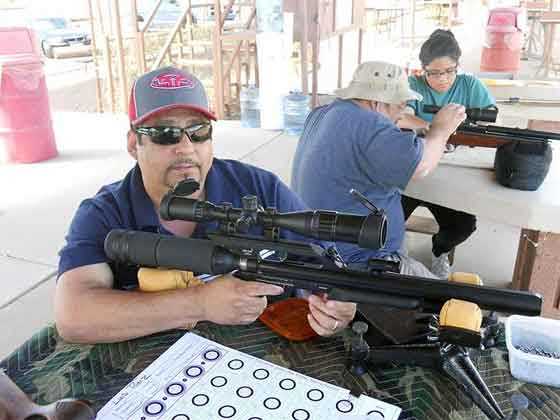 BSOTW winner Chris Moreno is shown with his first PCP.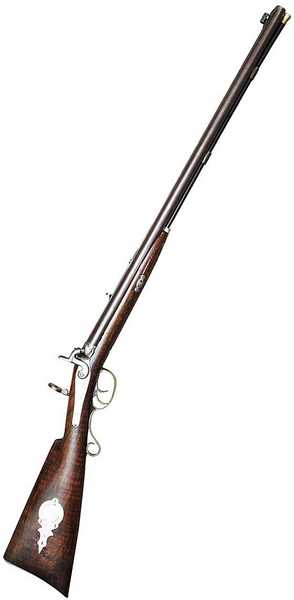 This Nelson Lewis combination gun was made in the mid-19th century.
A little more than two years ago, I traveled to Maryland to see Mac and to help him drive back to Texas for the Malvern, Arkansas, airgun show. We visited a friend of ours who was loaning me some vintage photos to scan for articles. While there, we were admitted into his gun room, or as Mac and I refer to it — the Holy of Holies! This guy has collected odd and unusual guns all his life and, just like the Pawn Stars TV show, you never know what you're going to find. It was there that I found the airgun pogostick repeater that Vince is attempting to make operational.
But there was another gun in his collection that intrigued me, even though I didn't act on it right away. It was a combination gun made by Nelson Lewis, a well-known gun maker from Troy New York, who made muzzleloading guns from some time in the 1840s until at least the 1880s.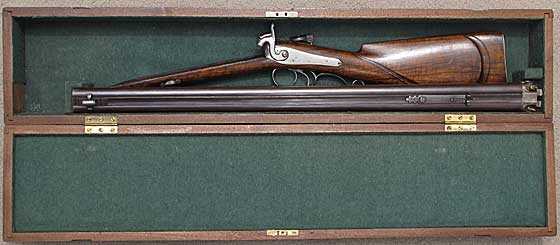 The gun came in its original oak case.
Lewis was a very prolific maker, and his guns still abound today. They're of fine workmanship but not the absolute top tier. As far as accuracy goes, an N. Lewis gun can hold its own at 40 rods (220 yards) with all but the very finest rifles; and as far as I'm concerned, there are only three in the top rung — Schalk, Warner and Pope. Nelson Lewis belongs on the next rung down with makers like Billinghurst, Perry, Brockway and others of equal fame. His guns are never finished as fine as those of Billinghurst, but they're equal in accuracy. They were among the first rifles selected for sniper duty in the American Civil War and made confirmed kills at ranges beyond 1,000 yards — surveyed distance.
The other kind of gun Lewis was noted for was the combination gun — with a rifle barrel on one side and a shotgun barrel on the other. That's the gun I saw in Maryland. What intrigued me wasn't the quality of the arm, though it's very fine, but the condition. This gun is still in its original box after 150+ years and is in NRA Antique fine condition. The patchbox contained two round patches of thin linen material, and Lewis was known for sending a sample of the proper patching material with his guns. I can't prove these patches are original to the gun, but they're appropriate to it.
When it was new a gun like this cost between $50 and 60, with engraving extra if you wanted it. For that you got the gun in a wooden case, a powder measure and a bullet swage. Lewis made this gun without the use of power tools. He had a local machinist make the parts requiring a lathe, and he made the barrels, locks and triggers. His son stocked the gun in finefigured walnut.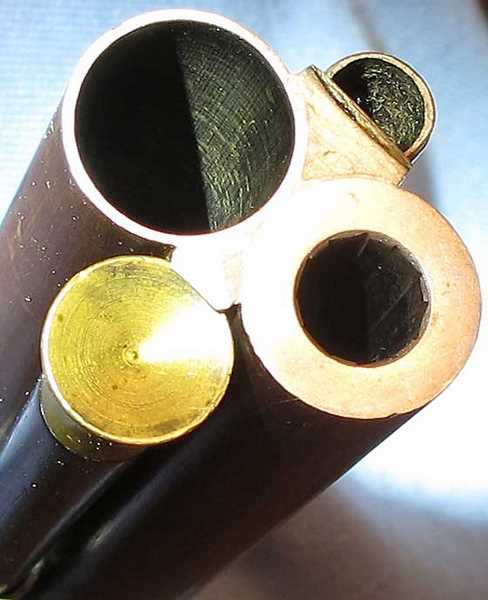 Look at the fine joining of the shotgun and rifle barrels.
Also packed with the gun are the original dies for swaging lead picket bullets for the rifle barrel. And there were two bullets in the box along with everything else.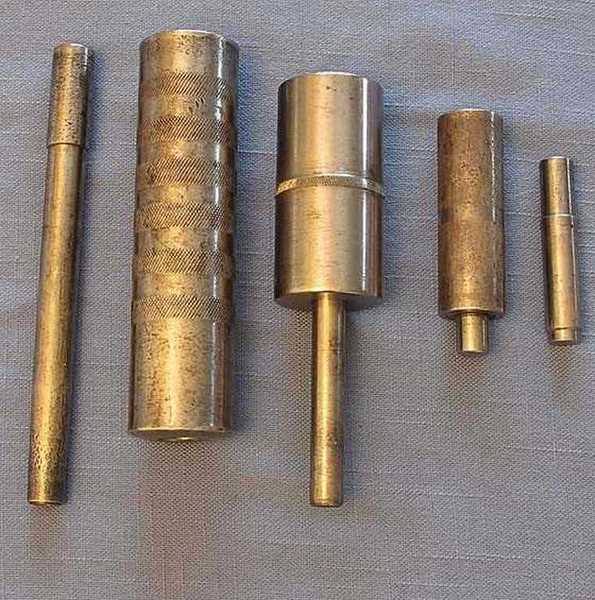 The swaging dies are also handmade by Lewis.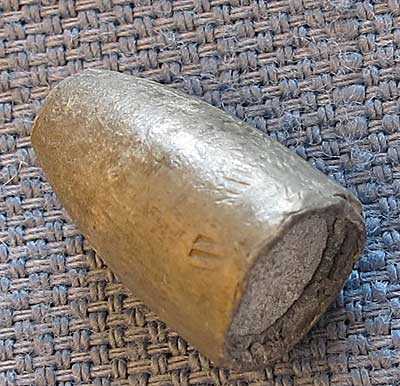 Picket bullet was the first elongated bullet that was popular. It lasted from about 1840 to 1880.
The box isn't a presentation type box. It's entirely functional, as though Mr. Lewis had shipped the gun yesterday and this is how it arrived. It's designed to hold the gun when it's broken down by removing one cross key and lifting the barreled action out of the stock. It has a patent breech with hooks that allow quick disassembly, so the gun can be transported safely to the hunting grounds.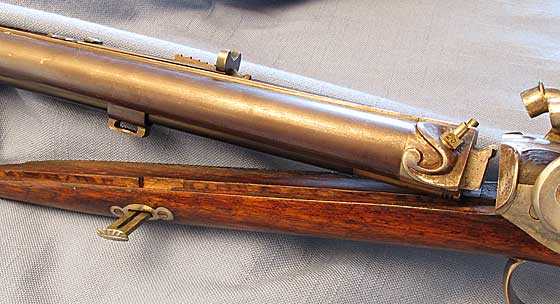 Drift out the one key, and the barreled action can be lifted out of the patent breech. Each barrel has a separate hook that locks into the breechplate.
The ramrod appears to be original to the gun, which is quite rare for two reasons. First, this gun was probably made in the 1860s or '70s. For anything wooden as thin as a hickory ramrod to have survived that long is remarkable. Second — a muzzleloading ramrod undergoes the most strenuous life you can imagine. Modern muzzleloaders almost always have fiberglass ramrods for this reason. Because this ramrod has lasted this long, we can surmise that this gun has been particularly well cared for.
The rifle barrel is .39 caliber and just under 28 inches long. We know that the six-grove rifling is cut with a gain twist because Nelson Lewis refused to cut any other kind of rifling. Because the picket bullet is a conical, it's heavier than a round ball, making the rifle appropriate for deer and even black bear hunting.
The shotgun barrel is 14 gauge and is probably without a choke, as they were not popular when this gun was made. Also, a blackpowder shotgun will throw a tighter pattern just by the nature of how it functions. What we have is a cylinder bore that's probably good out to 30-35 yards, depending on the game and shot size.
Sights
The gun has two different rear sights. On the tang is a lollipop peep sight that elevates by turning the disk on its threaded post. Halfway up the barrel is a sporting-type rear sight that can be used for a faster hunting situation. Sporting was the 19th century term for hunting.
The front sight has to be seen to be believed! The thin post is steel filed into the shape of a tiny post and bead. It's thin but strong, because the post is an I-beam with thickness front to rear. The sight is protected by a small steel globe.


Sporting (hunting) sight is adjustable for elevation. It is a semi-buckhorn.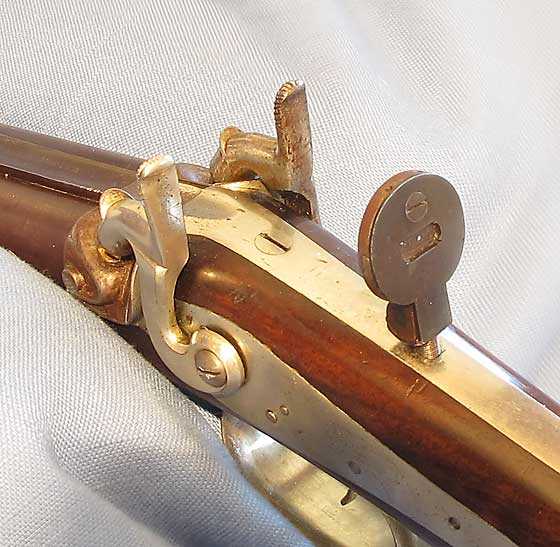 Folding lollipop rear target sight adjusts for elevation by turning on its stem. Windage adjusts by loosening the screw and sliding the peephole sideways.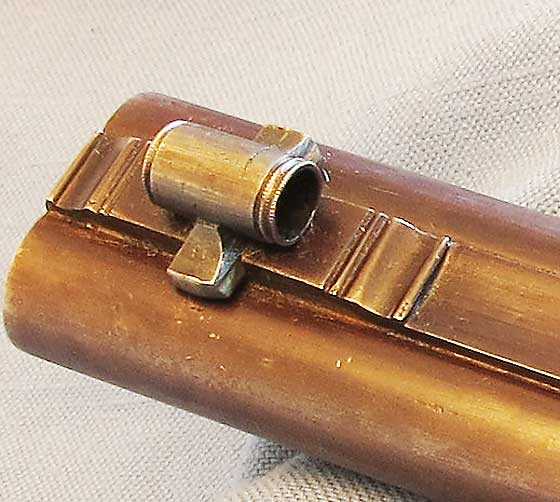 Front sight post and bead is protected by a small globe. Entire sight can be drifted to either side to correct for windage.
General characteristics
The gun is 44 inches long and weighs 9 lbs. Until I received it, I had never seen it together — but it fits together tightly with a cross key and a hooked or patent breech. Once the gun is together, you can't tell that it comes apart — it still fits that tightly.
The left barrel is the rifle barrel, and the right is the shotgun. There are no set triggers, but the rifle trigger (rear one) breaks at about 2 lbs. The rifle hammer is somewhat loose, indicating the rifle was used more than the shotgun.


Gun has a deep, crisp maker's mark, indicating it hasn't been refinished.
I found an oiled patch at the bottom of the shotgun barrel, which was considered the right way to store a gun in the 19th century. It had dried out and could have caused some rust if it had absorbed moisture from the air, so I removed it with the worm screw on the ramrod. The breech plugs are both removable, making both barrels accessible for cleaning. I plan to do that before long.
Both nipples appear new and would certainly have been replaced over a century and a half of use. If they were original, they would both show signs of pitting from the flame of thousands of percussion caps. One of them has the number 10 on it, so I'm guessing that's the correct cap size.
In the patch box on the right side of the butt, I found two cloth patches that appear to be the correct size. It will take a lot of experimentation before I discover the right bullet and load for this gun, to say nothing of the shotgun side; but initially I'll just be examining it for clues to its history!
This is an example of a fine hunting gun in very good condition from the 19th century. It shows lots of use, but the bores are clean and bright, and the action is tight and crisp, except for the hammer that was noted. It's a wonderful window on the past that's been preserved exactly as it was in its heyday.
Over the next few months, I'm going to get more familiar with this gun, in preparation to shooting it.
Ballard update
Some of you may be wondering what has become of my Ballard rifle. Well, my great idea of the special Hudson bullet didn't turn out as well as I'd hoped. Apparently, I spec'ed the bore diameter a thousandth too large for the mold-maker, and the bullets are too difficult to push into the rifling. I have a bullet seater that's supposed to work — and does with my smaller Lyman bullets that only go to 0.381 inches — but they don't fill the bore all the way.
I'm going to try a couple different things to fix this. First, I'm going to shoot the rifle with loaded ammunition, using a 0.379-inch bullet so it'll chamber and loading the cartridge with black powder to obturate the bullet. I'll have to wipe the bore after every shot, but that was the way most shooters did it when this rifle was new.
If I get the accuracy I hope for (10 shots in a half-inch at 100 yards and 10 in two inches at 200 yards), I may invest in another hand-made Hudson bullet mold. But the rifle will really have to shine before I'm going to do that.
I've also found a place that will fit double-set triggers to my gun without modifying the original parts in any way. The current 7-lb. trigger-pull is one aspect that is keeping me from shooting my best.
I should have an update on shooting the Ballard sometime soon.