by B.B. Pelletier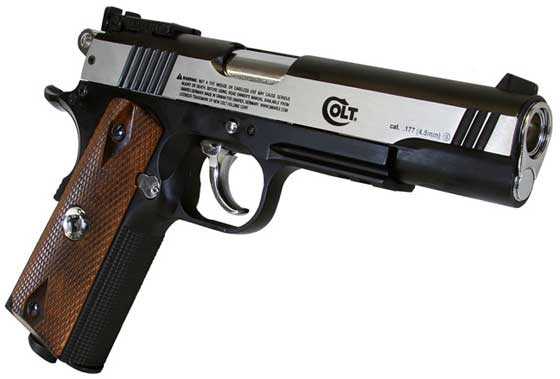 New Colt 1911 Special Combat BB pistol is an attractive CO2 gun.
I love my job! I love my job because I get to see, handle and test the latest airguns. Today, I'm starting to look at the Colt 1911 Special Combat BB pistol by Colt. Okay, we all know that Colt doesn't really make this airgun, any more than Ruger, Remington and Winchester make the airguns with their names on them. But unlike most of the guns that carry those other manufacturers' names, this 1911 was originally a Colt design. Designed by John Moses Browning, the M1911 pistol is one of the world's most iconic handguns. It's more than a full century old, yet more alive and vibrant today than ever.
This is one beautiful airgun! If it was a firearm, you would have to pay over a thousand dollars to get all the features this one has. Luckily, you're an airgunner and can enjoy owning a BB pistol like this for one-tenth the price.
Let me start by covering all you get with this airgun. First of all, it's double-action, so the gun fires with each pull of the trigger. That is important because, although the slide moves, the gun does not have blowback. So, the double-action trigger keeps you shooting as fast as you want. I'll cover the trigger in a later report; but in both single- and double-action, it's light and easy to pull.
The gun is all metal, so the weight feels about right. As far as I can tell, it feels just like a 1911 firearm when I hold it.
The sights are fully adjustable. The front post has a white dot and the rear notch is plain and square.
The backstrap ends in a wide beavertail extension that keeps the web of your firing hand safe from the slide of a firearm 1911. There is no grip safety (hurray!) but there is what is called a speed bump in the right place, so it looks like there's a grip safety. No more worrying about how you grip the pistol — it'll always work.
The safety, slide latch and magazine release button all function. The magazine is a drop-free design that holds both the CO2 cartridge and a stick BB magazine. The safety is for right-handed shooters, only, and the lever is of the flat wide design that's currently so popular among those who carry the 1911. You can hook your thumb over the safety on the firearm, and the pistol will not flip up nearly as high in recoil.
The backstrap, or what would be the mainspring housing on the firearm, is of the flat 1911 design instead of the arched 1911A1 style. It's crosshatched for additional purchase, though the metal surface on this air pistol is much smoother than it would be on a firearm. The front part of the grip frame is covered with square diamonds that run about 20 to the inch to give more grip there.
The grip panels carry the Colt logo in a plastic button, and they're fully removable by the same two screws that all 1911 guns use. You would think the designers of this pistol did that so all Colt 1911 grips will fit, but alas, the screw bosses are set about one-eighth of an inch too far apart and firearm grips don't fit! That's like making an AR upper on proprietary pin centers so it will only fit your lower! The entire market for a 1911 is driven by aftermarket sources, ever since Colt lost their vision in the late 1970s and gave up the 1911 business they once dominated. Having a 1911 that doesn't fit aftermarket grips makes no sense at all!
The slide has slanted grooves front and rear to facilitate gripping while racking the slide back. They aren't needed on this gun, but they do give it a very tactical appearance.
There is a light rail/Picatinny rail under the slide and in front of the triggerguard for mounting a laser or tactical light. I'm guessing a lot of BB gun shooters are going to mount a laser.
The gun appears to be finished in stainless steel with black oxide sections, in a nice tuxedo pattern. And the backstrap, muzzle plug, barrel, trigger, slide release, magazine release button, safety and hammer are all chrome plated. That's right, I said chrome — not nickel. It sounds horrible, but actually looks rather nice. It blends well with the faux stainless finish on the slide.
One criticism
The only thing Colt will take heat for is the presence of the CO2 screw head sticking out from the bottom of the magazine well. Why they couldn't have just surrounded it with a brushed stainless magazine funnel is beyond me, because I know the air pistol fans are going to key on this one oversight.
This pistol is rated to shoot at 400 f.p.s., which makes it ideal for testing a Winchester Airgun Target Cube I just received. If there is one thing we need more of it is BB gun traps, so I look forward to the forthcoming test.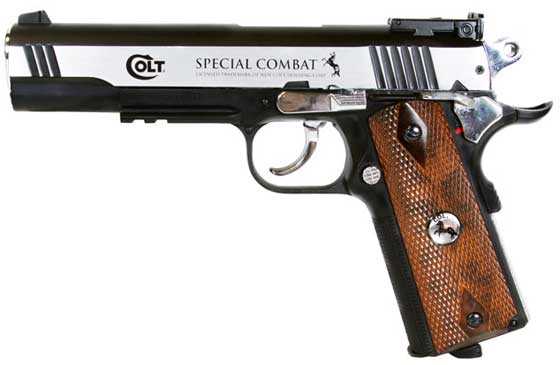 Such a striking BB pistol from Colt! This will be a pleasure to test.