by B.B. Pelletier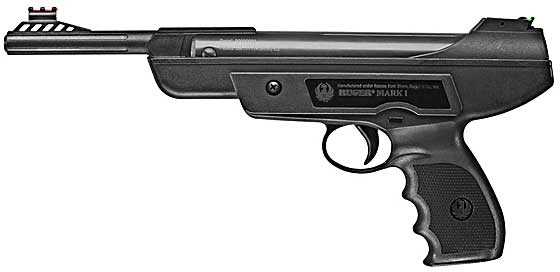 The Ruger Mark I pellet pistol is a powerful spring-piston gun.
Several readers indicated an interest in the Ruger Mark I pellet pistol, and we had one warning to watch the plastic frame for cracks. I'll do that throughout all testing; but I can say that after today's shooting, everything is still sound.
Dieseling
One reader commented that his pistol was the worst-dieseling airgun he had even seen. He may have said dieseling, but I think he really meant detonating, given what I see with the test gun. The test gun detonated several times at the beginning of testing, then settled down to just a diesel with every shot. But because of the type of oil or grease the factory used, there was a lot of smoke with every shot.
In this respect, the test pistol acts identical to the B-3 underlevers I tested back in the 1990s. It's grossly over-lubricated at the factory and will continue to smoke and smell like frying bacon for a long time. As a result of this over-oiling, we have to look at the velocities with a certain skepticism.
Cocking
Once again, I must report that this pistol cocks easily for its power. It's definitely meant to be used by an adult male, but you should be able to cock and shoot it several hundred times in one session without a problem. The cocking effort with the cocking aid installed measures just 25 lbs. — BUT — you can easily get a much higher number when measuring this pistol. It's obvious when cocking that the mainspring isn't lubricated very much, if at all. So, as the gun is cocked the spring crunches and pops as its coils slip into the piston skirt and over the spring guide. When that happens, the scale can go up above 30 lbs. pretty fast. The secret to cocking the gun with the least pressure is to use all the mechanical advantage that's available and to cock the gun quickly and smoothly. Don't hesitate during the cocking stroke, or the mainspring will hang up and the effort required will increase.
A proper lubrication of the powerplant with some spacers to take up what feels like excess space around the mainspring would reduce the cocking effort to exactly 25 lbs. each time. I doubt that it will get any lighter than that, even with extensive break-in, as long as this mainspring remains in the gun.
Trigger
This gun has a heavy two-stage trigger. The trigger is adjustable for the length of the first-stage pull, but the pull weight cannot be adjusted. The advertised pull weight is 5.5 lbs., and my test pistol averaged 6.7 lbs. over 10 pulls. It does feel as though the trigger is breaking in, so that weight may decrease with use.
While this is a heavy trigger, it isn't too heavy for good shooting. You want a heavier trigger on a handgun to help control the gun. That's accomplished when the pistol is drawn into the web of your shooting hand by the force of pulling the trigger. This one goes way beyond what's required for stability, but not so far as to be excessive.
Velocity
I started by testing the gun with Crosman Premier 7.9-grain domed pellets. The first shot went 409 f.p.s., then the next five were all above 500, with one going 596 f.p.s. Then, the gun calmed down, again, and shot this pellet at an average 456 f.p.s. This string ranged from 451 to 462 f.p.s., and the pellet produced an average 3.65 foot-pounds of muzzle energy.
Next, I tried the RWS Hobby pellet. Although the gun was still smoking on every shot, this time it didn't seem to detonate as much. It was just dieseling, which is expected, but not detonating.
Hobbys averaged 473 f.p.s. and ranged from 466 to 486 f.p.s. There were no impossible velocities in this string, so I think the gun has calmed down. At the average velocity, this pellet produces an average 3.48 foot-pounds of energy at the muzzle.
The last pellet I tested was the Beeman Kodiak — a heavy .177 pellet that's out of profile for use in a pistol of this power. Even though it won't be used, it's good to see where the boundaries of the gun lie, and the performance of a heavy pellet is one of the things you have to look at.
Kodiaks averaged 360 f.p.s. and ranged from a low of 348 to a high of 366 f.p.s. Like the other two pellets, they're reasonably consistent. At the average velocity, they averaged 3.05 foot-pounds of muzzle energy.
Umarex advertises this pistol to shoot at two different velocities — 500 f.p.s. shooting lead pellets and 600 f.p.s. shooting high-velocity non-lead pellets. So far, the fastest we've seen from lead is one shot at 486 with Hobbys, so I thought that it was important to also test this gun with the high-velocity, lead-free pellets. Shooting 5.2-grain RWS HyperMAX pellets, the pistol averaged 554 f.p.s. with a spread from 542 to 574 f.p.s. That's an average muzzle energy of 3.54 foot-pounds of muzzle energy.
I wondered whether seating the pellets deep in the breech would affect the outcome, so I shot a second string with the pellets seated deep, using the Air Venturi Pellet Pen and PellSet. These pellets really popped into the breech, so the resistance their skirts provided was significant. Set deep, they averaged 567 f.p.s. with a spread from 562 to 573 f.p.s. That's an average 3.71 foot-pounds of muzzle energy. So, the average speed increased and the spread tightened, even though the maximum velocity did not change.
Power
I read many reviews of this air pistol — both on the Pyramyd Air website as well as other places. Some have compared it to the Beeman P1, the RWS LP8 and the Browning 800 Express. Apparently, they think this pistol is in the same power category as those three, but it isn't.
For what it is, the Ruger Mark I is a consistent spring-piston air pistol that's relatively easy to cock and produces reasonable power. The shot-to-shot consistency is very good. When taken as a whole, we must also consider the heavy trigger and the accuracy that hasn't been tested, yet. It's too soon to make any pronouncement about whether or not this is a good air pistol. It's certainly very smoky to shoot and does need the cocking aid. But none of that will matter unless it can also group.
One final thought. One customer review I read said the shooter was grouping from five meters. I will test the pistol at 10 meters unless there's a compelling reason not to. A pellet pistol with a rifled barrel ought to be able to shoot that far with some level of accuracy if it's to be considered for anything.