by Tom Gaylord, a.k.a. B.B. Pelletier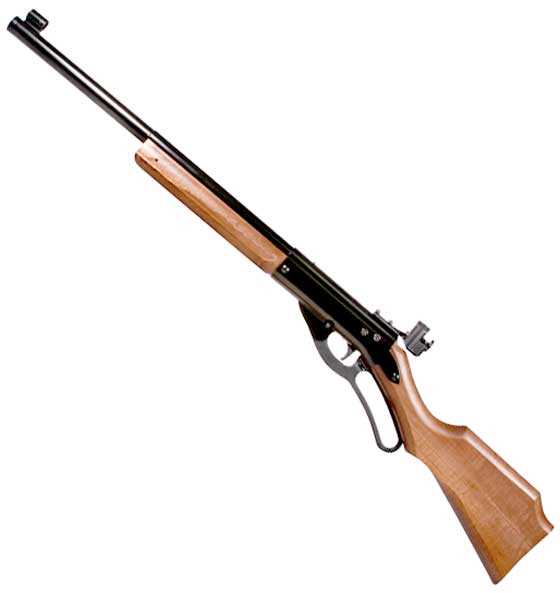 Daisy Avanti Champion 499 is the world's most accurate BB gun.
This test of the Daisy Avanti Champion 499 at 10 meters was requested a couple weeks back by a blog reader, and several of you seconded the request. It was in response to a discussion of the spin rate of projectiles and what benefits it conveys.
After I agreed to write the report, another reader asked me to test not only the Avanti Precision Ground Shot that's made specifically for the 499, but also some more common BBs. So, today, we'll see how the 499 performs at the 5-meter distance for which it was designed, as well as at 10 meters. I think we're in for some interesting ballistics.
The 499
For those who don't know, the Avanti Champion 499 is the world's most accurate BB gun. It's the only BB gun to compete each year in the International BB gun Championships at Bowling Green, Kentucky. Like the wheels and axels on Soap Box Derby racers (the All-American Soap Box Derby is an annual race where children race home-built cars powered by gravity, alone), the 499 is so specialized and ahead of the competition that there's nothing that can touch it. Unlike derby wheels, though, anyone can own a 499 because they're sold through specialized airgun dealers like Pyramyd Air (along with their special ammunition).
Although it may look like a Red Ryder to the casual observer, the 499 is as special among BB guns as a Formula One racer is among automobiles.
The 499 is a single-shot BB gun that has a precision smoothbore barrel. It's loaded through the muzzle by dropping a BB down a funnel-shaped spout, where it enters the true barrel and rolls to the rear to be captured by a magnet. Regular BBs take 0.50 to 1.00- seconds to roll down the barrel, while the Precision Ground Shot can take up to 5 seconds.
The gun was developed by Daisy for their National BB Gun Championship Match. They noticed that coaches were ordering many shot tubes for their teams' model 99 and 299 target BB repeaters that were used in competition at the time. The coaches were looking for the most uniform barrels that would shoot the best. When Daisy recognized that, they simply designed a gun to be accurate from the start. Once the 499 became a reality, all other BB guns were obsolete because nothing else could keep up.
For over a decade, the gun and ammunition was available only directly from Daisy, until I discovered it while writing The Airgun Letter. The guns were hand-built and Daisy didn't really think they could sell them to non-target shooters because of the extra cost; but once the word was out about how accurate they are, everything changed. They're probably still made by hand today, and I'm sure they're not one of Daisy's most popular products; but if you like accuracy, you really should look into getting one of these.
Baselining the gun
Before I shoot at 10 meters, I thought it would be nice to see what the gun can do at the regulation distance of 5 meters. I could have found old images for this because I've done this test many times before, but I always welcome the opportunity to shoot this marvelous little gun. I shot it on NRA 15-foot targets because I don't have any of the slightly larger official 5-meter BB-gun targets on hand. The NRA is out of touch with BB gun competition and is stiill using the 15-foot target, where the rest of the world has backed up another 1.4 feet to 5 meters.
For this test, I selected three types of ammunition — Crosman Copperhead BBs, Daisy Zinc-Plated BBs and Avanti Precision Ground Shot. When I load the gun, I listen to the BB roll down the barrel and strike the magnet at the bottom. Copperheads roll the fastest — taking about a half-second to make the trip.
Crosman Copperhead BBs
I shot 10 shots with each BB at 5 meters. I used the back of a chair as a rest because this was a test of the gun — not me. There were no called fliers, and the 10 Copperheads grouped in 0.574 inches. That measurement is approximate, as BBs do not tear clean holes in target paper.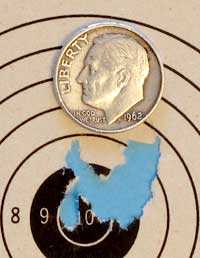 At 5 meters, 10 Crosman Copperhead BBs tore this hole, which measures 0.574 inches between centers.
Daisy Zinc-Plated BBs
Next up were Daisy Zinc-Plated BBs at 5 meters. These are ever-so-slightly larger than Copperheads and take 0.50 to 1.50 seconds to roll down the barrel. They made a 10-shot group that measures 0.361 inches between centers — and keep in mind this is approximate, at best. But you can see in the photo that this group is tighter than the first one.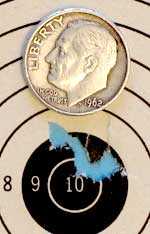 Ten Daisy Zinc-Plated BBs made this 0.361-inch group.
The final group was shot with Daisy Avanti Precision Ground Shot that is specially made for the 499. If anything is going to group well in the gun, this is. Ten shots made a group measuring 0.224 inches between centers. The hole on the target tells all, as it is either a score of 99 or 98 — it's too close to tell.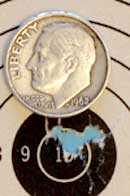 Avanti Precision Ground Shot shows what the 499 can really do. Ten went into this 0.224-inch group at 5 meters. This is almost a perfect score.
On to 10 meters
Now that we know how well the gun can shoot, it's time to back up to 10 meters and test what we all came to see — namely, how well the 499 does at 10 meters. This is the first time I've done this, so I am just as interested in the results as all of you.
Crosman Copperhead BBs
First up were the Copperheads. I didn't change the sight setting, so we'll forgive the placement of the shots in this test. Ten shots landed in a group that measures 1.118 inches between centers. That's actually slighly smaller than double the 5-meter group size (which would be 1.148″); so, allowing for the measurement error, it seems to be right-on.
Notice the two shots that landed below the main group. There were no called fliers, so those BBs are probably not the same size as the others.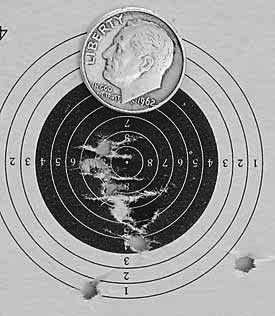 At 10 meters, 1o Crosman Copperhead BBs made a 1.118-inch group. Those two at the bottom were not called as fliers.
Daisy Zinc-Plated BBs
Next up were the Daisy Zinc-Plated BBs that do so well in this gun for normal BBs. Ten of them made a group measuring 0.828 inches. That's larger than double the 5-meter group size, which is what I expected at 10 meters. Again, there were no called fliers, and one stray BB hit below the main group.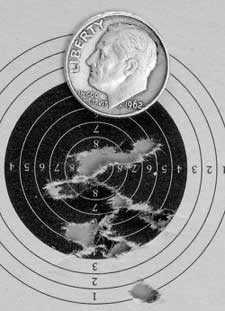 Daisy Zinc-Plated BBs did well at 10 meters. This is a 0.828-inch group. The lone shot at the bottom was not a called flier.
Daisy Avanti Precision Ground Shot
Finally, I shot the Avanti Preciaion Ground Shot at 10 meters. The picture tells the story. Ten shots landed in a group that measures 0.755 inches across. This group is larger than double the 5-meter group with the same BB, which is what we would expect. Let's talk about that next.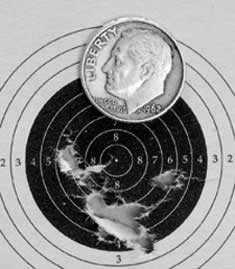 This is where the pedigree of the Avanti Precision Ground Shot shows up. Ten made this 0.755-inch group with no real stragglers.
Why aren't the groups just double the size at 10 meters?
This is a common misconception that I'd like to address. Groups don't open up on a linear scale as distance increases. A 10-meter group should not be twice as large as a 5-meter group. And here we must differentiate between a spin-stabilized conical bullet and a round ball fired from a smoothbore.
A ball that's not spin-stabilized will deviate much faster than a ball that's stabilized by the spin introduced by rifling. A rough comparison can be made to a baseball that is intentionally thrown without spin — the famous knuckleball. It will go straight for a short distance, then suddenly deviate wildly and unpredictably from its ballistic path. The comparison is not perfect because a baseball has seams that affect its movement through the air, but the principle is similar.
Conclusion
Don't run out and buy Avanti Precision Ground Shot for your Red Ryder. That would be like putting premium gasoline into a lawnmower! On the other hand, don't buy a 499 and then try to shoot it with standard BBs. That's false economy going the other way. Back up a few feet and look at what you are paying for ammunition, and then buy what makes the most sense.
The 499 is a special gun that's purpose-built to do one thing — shoot BBs as close to where you aim as possible. I rested the gun for this test, but every year there are children who shoot similar targets offhand in competition.
Thank you!
I would like to thank everyone who requested today's test because it was something I've never done before. Now, we all know what an accurate smoothbore shooting a steel BB can do at 10 meters.