by Tom Gaylord, a.k.a. B.B. Pelletier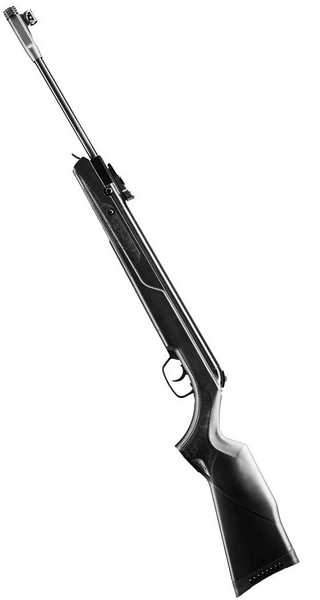 Walther's LGV Challenger is an exciting new sporting breakbarrel springer.
Let's see how well the new Walther LGV Challenger performs at 25 yards when the rifle is scoped. For starters, I had to mount a scope. I decided to select a Bushnell Banner 6-18X50 AO scope that I haven't reported on before. This is a better scope than the Banners of a decade ago, and it performs quite well.
The scope mounts proved problematic, though, because the LGV has a high, rounded spring tube that precludes the use of many scope rings that have a flat base on the bottom. This base high-centers on the rounded spring tube and doesn't allow the clamping jaws to get into the rifle's deep dovetails. So, you need to select rings with either generous clearance under their bases, or BKL scope rings that actually are cut away at the base to allow the clamping jaws to clamp harder. I decided to go with the BKLs.
Since the scope has a one-inch tube, I selected the BKL 260 high one-piece mount that fits the rifle perfectly and was quite easy to secure. With the long scope positioned correctly for my eye, there's still almost 2 inches of room to the breech. I think the LGV's longer pull makes this happen, as I'm back farther on the stock than I would be with many other rifles.
Sight-in was one shot at 12 feet that landed nearly on target. Then, from 25 yards, the first shot went high and left. In all, it took 5 shots to sight in.
JSB Exact RS
The first pellet I tried was the 13.4-grain JSB Exact RS dome. When shot 2 landed next to the first one, I knew the rifle was going to group. And group it did! Shot after shot went to the same place, no matter how I held it. And that's not normal for a breakbarrel. Some are more forgiving than others, but this one is the best I've seen. More on that in a bit.
Ten shots made a very round group at 25 yards. It measures 0.35 inches between centers and could easily be a PCP group rather than one from a springer.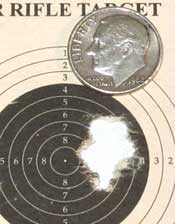 Ten shots into 0.35 inches at 25 yards. Yes, the LGV Challenger can shoot!
JSB Exact Jumbo
The second pellet I tried was the 18.1-grain JSB Exact Jumbo that did so well in the test using open sights. This time, the group did not improve. Ten shots went into 0.82 inches at 25 yards, where before the group was 0.78 inches with open sights at the same distance. The group was tall, rather than round, which indicates a velocity variation may have caused the larger group.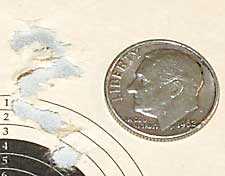 Ten JSB Exact Jumbos made this elongated group that measures 0.82 inches. This group is actually larger than the group shot with open sights at 25 yards. There were no called fliers in this group.
I am running short of these Jumbos, though I have them on order. I think I'll try them at 50 yards, too, in case this group is an anomoly.
Beeman Kodiak
The final pellet I tried was the heavy Beeman Kodiak. At 21 grains, this pellet is considered by some to be much too heavy for a 12 foot-pound rifle like the LGV, but I disagree. I don't think shooting a heavy pellet harms a springer in any way. Ten Kodiaks made a group that measures 0.834 inches between centers; but within that group, 9 of the 10 pellets went into 0.552 inches. The one pellet that landed low and outside the main group was not a called flier.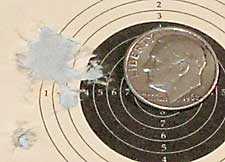 Ten Beeman Kodoaks landed in 0.834 inches, but 9 of the 10 went into 0.552 inches. That's a great group! The stray shot was not a called flier.
Impressions so far
I have to tell you, I always cringe when I have to test a breakbarrel for accuracy. That's because it takes such inordinate skill to shoot one well. It's like playing a musical instrument. Do it well and everyone is pleased, but they may not be aware of the struggle you went though to make it like that.
Well, this new LGV isn't like that at all. It's the easiest-shooting breakbarrel I've ever tested. By the time I finished testing it, it felt more like a precharged rifle because of how neutral the hold is. I, therefore, proclaim this Walther LGV to be the TX200 of breakbarrel air rifles. It's a very forgiving breakbarrel — something that normally doesn't happen.
Next up will be a test at 50 yards. I know the rifle will be great, and I'm eagerly awaiting the results.