by Tom Gaylord
Writing as B.B. Pelletier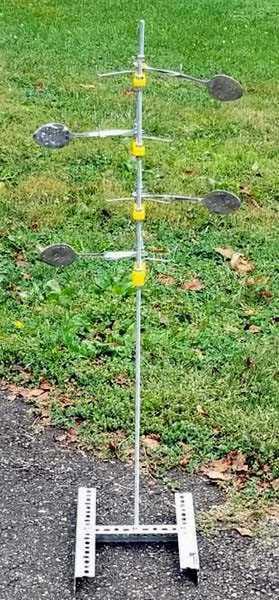 NTOG dueling tree made to handle low energy. NTOG provided the photo.
This report covers:
From NTOG
Interested
Some assembly required
Yes, it really works!
M1 Carbine
Testing with steel BBs
Target operated perfectly
Testing with Dust Devils
Smart Shot
Modified target
Summary
Several weeks ago, reader New to Old Guns (NTOG) contacted me with a new project he was working on — a dueling tree for lower-powered BB guns.
Today's target is an action target, but it's one with a big difference. I'll let him tell you what he first told me.
From NTOG
"It is a "down to about 1ft-lb capable shooting tree".  Yes, you can have fun with a shooting tree with the Red Ryder!
"The short version — I realized I was having a ton of fun with the big tree "dueling" and "racing" guns like the Vectis, Sumatra, Nova Freedom, and AT44.  But I couldn't shoot that tree with my son, as he's 12 and doesn't have anything near the about 18 ft-lb needed to flip those paddles.  I remembered a bud talking about bending and flattening cheap spoons for use as targets, and, well, one thing led to another.  Good shooting with the Red Ryder is enough to flip it.  So any BB gun shooting in the neighborhood of 300 fps will work.  That means training pistols like the Sig P226 should flip it too.  Doesn't that open a world of entertaining practice? read more