by Tom Gaylord
Writing as B.B. Pelletier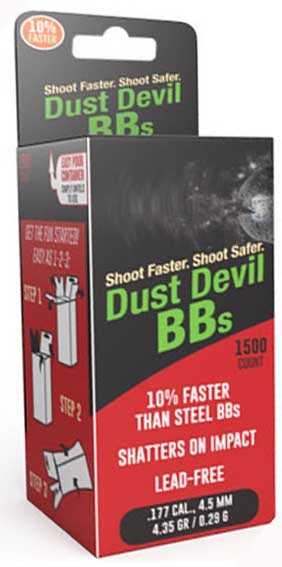 Air Venturi Dust Devils will hit the market in a few months.
This report covers:
The test
Daisy 499
Colt Single Action Army
Loading problems
Red Ryder
Conclusions
Summary
On Monday I got my right eye laser cleaned, so now it is back to as good as it will get. That means I can start doing accuracy testing again. For today's report I tried the AirVenturi Dust Devil frangible BBs in three BB guns with three different feeding systems.
The test
I shot at 5 meters seated and used the UTG Monopod as a shooting rest. I shot five shots per target only because this test was very long. Let's get started.
Daisy 499
The first gun was the Daisy Avanti Champion 499, which we know is the world's most accurate BB gun. With this gun I used Avanti Precision Ground shot, because it is made especially for the gun. The use of any other premium BB in a 499 is a waste of time and money, because only this shot allows the gun to do what it does. Predictably, five BBs went into a group that measures 0.202-inches between centers. The group is high and left of the bull, so I must have bumped the rear sight. But I did not adjust the sight during the test. read more