by Tom Gaylord, a.k.a. B.B. Pelletier
Well, the opinions of this rifle are sharply divided. People either love it or hate it, and nothing in between. A few haven't made up their minds yet; but when they do, it'll be one extreme or the other. The Evanix Rainstorm 3D bullpup is as far from a Diana model 27 as an air rifle can get.
Blog reader Rob is the only owner who has commented, thus far, and he says he loves his .25-caliber bullpup. He reports getting 25 good shots per fill and wants one in .177 for the greater shot count and 9mm for the additional power.
Some things I missed last time
I forgot to mention that there's also a Picatinny rail under the forward part of the gun. This would be for a laser, flashlight or bipod.
I also failed to mention that the trigger is adjustable for both first- and second-stage pull. The second-stage adjustment is a sear contact adjustment, so you must be careful not to go too far or the gun will either become unsafe or won't cock at all. After I see how the trigger is out of the box, I may attempt some adjustments.
Assumptions
Many of you took my comments too seriously last time. I mentioned that bullpup designs are notorious for poor triggers, and you assumed that this rifle's trigger is bad. I haven't tested it yet. It may be fine. We won't know until I have the chance to shoot the gun.
And some of you criticized the gun for not having open sights. That's like criticizing a Dodge Viper for not having a trailer hitch! The design of a bullpup doesn't lend itself to the use of open sights. I don't know of any bullpup firearms that have open sights, either. Compasseco used to sell a sidelever spring rifle bullpup that had open sights; but when you saw how high they had to be to be seen by the shooter, you understood why optical sights were preferred.
The magazine
The magazine is loaded through the larger hole on the left at the back. The back is the side where you can see 2 holes, while there's only one hole visible at the front. The pellets do not drop into their holes. The have to be pushed in with something like a ballpoint pen. Once in, rotate the magazine one click counterclockwise and load again. Keep doing it until all 11 pellets are loaded.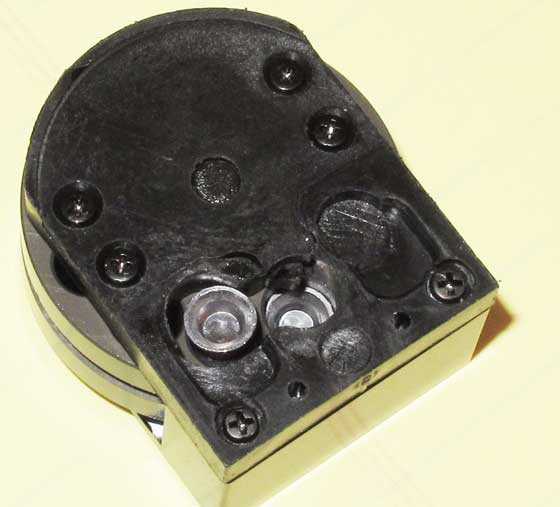 Load through the larger hole on the left. The pellets will not enter the magazine without a push from a ballpoint pen.
Velocity testing
Looking at the published velocity of the .22-caliber rifle I'm testing (1,176 f.p.s.), I decided that the gun wants to shoot heavy pellets. With all that power potential, this is potentially a 50 foot-pound air rifle, according to those numbers. The first pellet I loaded was the JSB Exact Jumbo Heavy pellet, which weighs 18.1 grains in .22 caliber.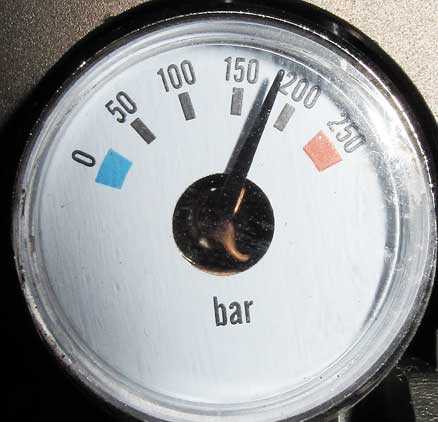 This is what the on-board pressure gauge reads when the gun has 2,900 psi inside.
The gun does not have a flat power curve. It drops in velocity from the first shot to the last, similar to many other Korean-made magnum PCPs I've seen. The shot count is simply how far down you're willing to allow the velocity to drop. The next numbers for the JSB Exact Jumbo Heavys should explain everything.
Shot     Vel.
1……….1045
2……….1033
3……….1020
4……….1022
5……….1006
6……….1008
7…………997
8…………991
9…………981
10………..971
Average (shots 1-10) 1007 f.p.s.; energy — 40.72 foot pounds
Shot     Vel.
11……….959
12……….948
13……….939
14……….926
15……….915
16……….910
17……….898
18……….892
19……….882
20……….874
Average (shots 11-20) 914 f.p.s.; energy — 33.58 foot-pounds
Shot     Vel.
21……… —
22……….867
After seeing the first string of 10 shots, I normally wouldn't go any farther; but I know several of you may be curious to see if the gun ever settles down and delivers several shots of similar velocity. As you can see, it never does. After this string of shots, the pressure in the reservoir was 1,400 psi, so the gun was shot out. I call that 10 shots per fill.
If the valve were tuned to deliver about 30 foot-pounds, there would probably be a group of 20 shots or so that were similar in velocity. As the rifle is now, it is running flat out, as fast as it can from start to finish.
Beeman Ram Jets
Next, I tried the obsolete Beeman Ram Jet pellets. They weigh 16.5 grains and combine the dome and wadcutter shapes. After a fresh fill, they averaged 1026 f.p.s. for the first 10 and they ranged from a low of 997 f.p.s. to a high of 1051 f.p.s. As with the first pellets, the velocity fell straight from the first shot. At the average velocity, this pellet averaged 38.58 foot-pounds.
Eun Jin domes
The last pellet I tried was the 28.4-grain Eun Jin dome. I tried it for two reasons. First, I wanted to see if they would feed in the magazine. They fed perfectly, so this is a pellet you can shoot in this rifle — at least in .22 caliber. Second, since this was the heaviest pellet I could get through the magazine, I wanted to see what kind of energy it might develop.
Eun Jins averaged 877 f.p.s. for 10 shots on a fresh fill. The low was 844 f.p.s. and the high was 907 f.p.s. At the average velocity, this pellet generates 48.51 foot-pounds of energy at the muzzle.
Trigger
The trigger changed behavior, once the rifle was cocked. It became as stiff and creepy as the bullpup reputation has caused us to expect. However — and this is very significant — I adjusted stage two by the owner's manual, and the pull became crisp and the letoff dropped to 6 lbs., 10 oz. This was as low as it would go and stay cocked because of the direct sear adjustment. There just wasn't anymore contact area to play with after I finished adjusting it.
So far, so good. It's obvious from these figures that this rifle is meant to be a hunting air rifle — pure and simple. Oh, and the discharge sound is a very loud number 5 on the Pyramyd Air sound scale.