by Tom Gaylord, a.k.a. B.B. Pelletier
Today, I'm going to tell you about a low-cost fix I got from airgun maker Dennis Quackenbush for bulk-fill CO2 guns.
Dennis bought a Crosman model 116 bulk-fill pistol that leaked, and rather than changing the seals, he injected automatic transmission sealing oil into the gun and sealed it that way. What this sealer does is rejuvenate the synthetic seals and make them swell to do their job again. Dennis said the procedure worked well in his gun.
Could I do the same? In the past, I have written about "fixing" CO2 guns by injecting several drops of Crosman Pellgunoil into the gun with the charge of CO2. That works for both bulk-fill guns and for those that use cartridges. This would be the next step. I just happened to have a Crosman model 116 bulk-fill pistol on hand that hasn't worked in the 5 years I have owned it. I think I paid $30 for it at an airgun show, and did so hoping to fix it with Pellgunoil. I tried, but the seals were too far gone, and it didn't work. So, I set the gun aside, always intending to do something about it.
When Dennis told me his trick, it was like getting an entire carton of round tuits! I went to the local automotive store and picked up a plastic bottle of automatic transmission sealer. I purposely did not ask Dennis to tell me the brand of sealer he used; because if this trick is going to work, it should work with any sealer on the market. So, for $5.50 plus tax, I bought what is probably a lifetime supply of bulk-fill CO2 sealer.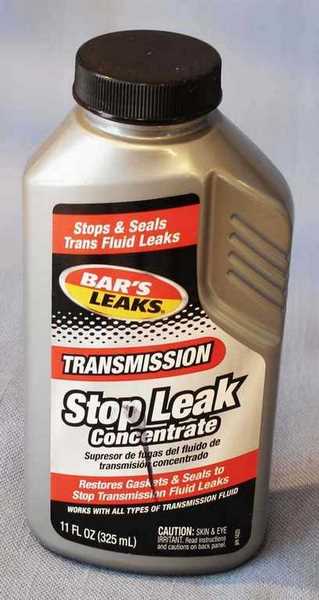 I picked up a bottle of automatic transmission sealer at an auto supply store.
How does it work?
To get the sealing oil into the gun, you put it in with a charge of CO2 gas. On a bulk-fill gun you remove a brass screw at the end of the reservoir that opens the port for filling. Drop the transmission sealer oil into the opening with an eye dropper. Then attach the bulk CO2 tank and open the gas flow. The first few times I did this, nothing happened. The gun continued to leak gas. But some of the sealer was blown into the gun each time I tried to fill it. Then, on the third try, the gun finally held some gas. I could actually hear the inner seals as they swelled and the gas stopped leaking. That fill only put in enough gas for about 6 weak shots; but it set things up for the next fill, which I believe was complete.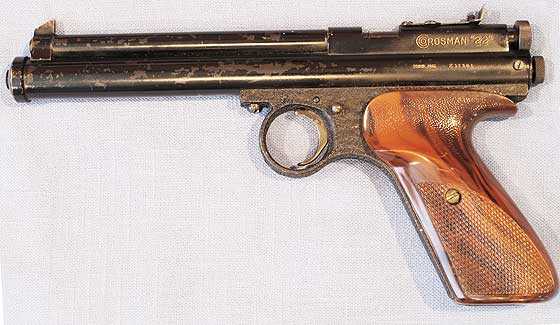 Crosman's 116 bulk-fill pistol is a .22-caliber single-shot pistol with power and accuracy that surpasses many of today's air pistols.
After the next fill, I had shots at the power I expected from this pistol. Since I'll test it for you in a 3-part blog that's coming up, I'm not going to report the power today, nor the shot count, but I expect to get 25-30 powerful shots per fill from this gun. That's what similar models gave in the past.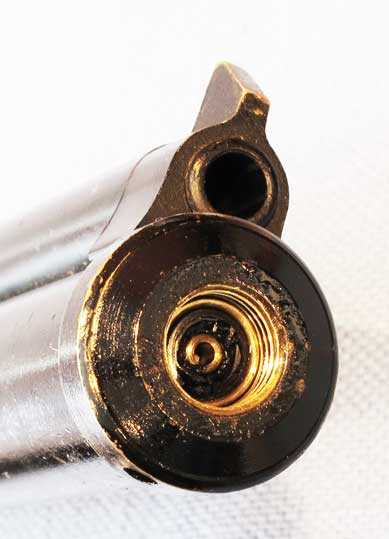 The pistol's fill port is covered by a brass screw on the muzzle end of the gun. Remove the screw and attach the bulk-fill tank to this port, snug it against the rubber seal at the bottom of the port and open the tank to let the gas flow. The fill takes about 2 seconds. This port is where several drops of transmission sealer oil are placed before the tank is connected.
Now that the pistol is holding gas again, I plan to test it for you completely. That'll be a treat because these old gas guns are both powerful and accurate, as well as having advanced features such as adjustable sights and power.
My thanks to Dennis Quackenbush for passing along this tip. It won't always work, of course, but it's just one more maintenance trick for your bag!