by Tom Gaylord, a.k.a. B.B. Pelletier
Merry Christmas, everyone! I hope this day finds you in good spirits, no matter where you are or what you are doing.
I have a special report just for this special day. It involves a BB gun, Daisy's Avanti Champion 499 — also known as the world's most accurate BB gun.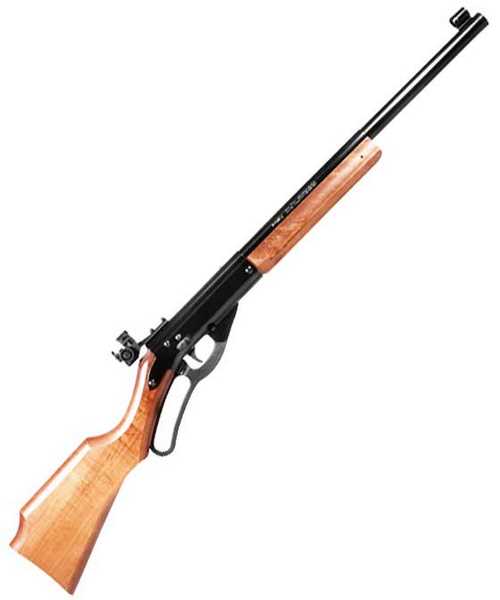 Daisy's Avanti Champion 499 is the world's most accurate BB gun.
About a month ago, my buddy Otho was visiting my house, and I pulled out my 499 to show him. I'd told him about it while we were at the rifle range the week before and he was fascinated, though he later admitted that he didn't believe me when I told him how accurate it is. So, I took this opportunity not just to show him the gun, but to let him shoot it.
We made a quick BB gun range in my garage using the UTG BB and pellet trap with some 5-meter BB gun targets taped to the cardboard target backer on the front of the trap. I showed Otho how to raise the bottom front of the trap so that all the BBs that entered would stay inside because they roll to the back after they stop moving. And the ballistic curtains will take most of the energy out of each BB on the first pass through the trap.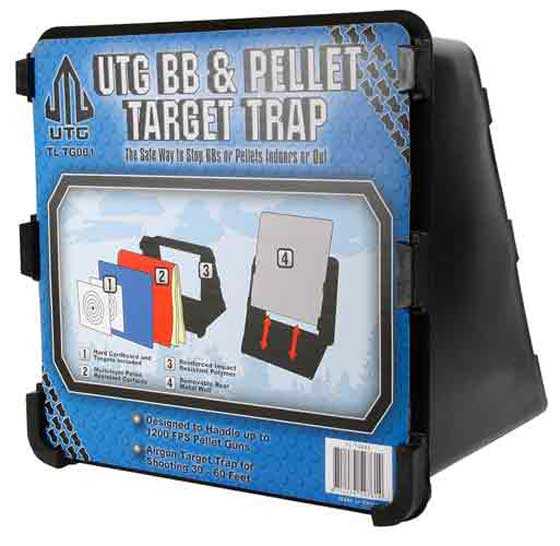 The UTG BB trap is the only BB trap available with replaceable ballistic curtains.
A muzzleloader!
Otho was captivated by the fact that the 499 is a muzzleloading single-shot. While it looks a lot like a Red Ryder, it couldn't be more different! The gun is loaded by dropping one BB down the muzzle, which is shaped like a funnel. The BB rolls down the precision tubing that serves as the barrel, and it takes from 2 to 5 seconds to be captured by a magnet at the bottom. A faint click announces this. The magnet allows the shooter to hold the gun in any orientation without fear of the BB rolling out.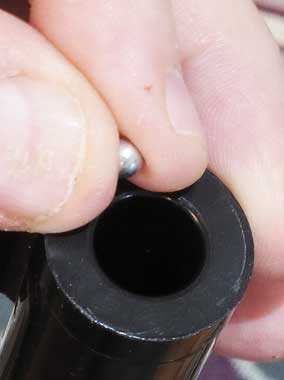 Load just 1 BB at a time by dropping it into the funnel-shaped muzzle and listening to it slowly roll down the barrel until it clicks against the magnet.
I told Otho to listen to the BB roll down and be captured by the magnet. That's the only way to be sure the gun's been loaded properly. He was fascinated by this and quickly learned to do it every time. His background in machining gave him an appreciation of just how uniform that barrel and BB had to be to make the short trip last so long!
Precision ground shot
Accompanying the 499 is a special BB that's as precise as the gun. It used to have the model number 515, but today it's just labeled Avanti Precision Ground Shot. It's sold in small packs of 1050 and costs considerably more than standard BBs, but it makes a difference in the 499. You can shoot regular BBs in the 499, but they're smaller and they roll down the barrel faster. During loading, you will see the roll time down the barrel decrease to as little as a half-second for Crosman Copperhead BBs to 1.5 seconds for Daisy Premium-grade zinc-plated BBs. Accuracy results will reflect the roll time, as that's the best indication of the size and uniformity of each steel sphere.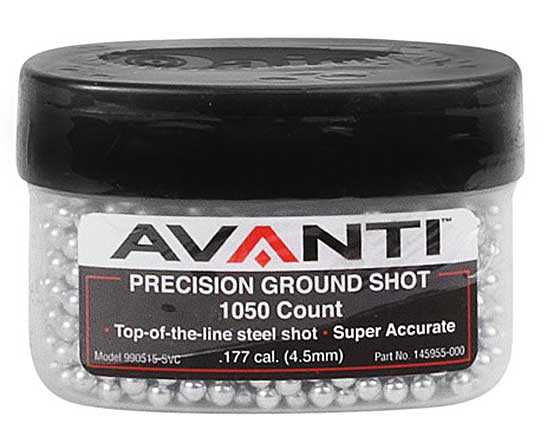 Daisy's Avanti Precision Ground Shot is the only ammo to use in the 499. It's far superior to regular BBs.
Sights
Daisy used to sell this gun with a cheaper rear peep sight that was difficult to adjust with precision. The sight that now comes standard on the gun was an option at that time. Finally they decided to just include the better sight and raise the price a little to cover it. While this sight is made largely of plastic, it's still capable of precision adjustments. To eliminate slop in the mechanism, turn it several clicks in the direction opposite of where you wish to adjust; then, when you return, the slop will be taken out of the parts and the adjustment will be right on.
The front sight accepts inserts. Most shooters select the same one — an aperture that encircles the bull at 5 meters.
Proof of the pudding
A real shooter knows that the only thing that matters is what the gun does downrange. Fancy wood and deep bluing don't mean a thing if the gun can't shoot. So, naturally, Otho had to try his hand. The target was set as close to the regulation 5 meters from the firing line as it's possible to get in my garage. We were probably at 15 feet, instead of 16 feet 5 inches, but it didn't matter because we weren't shooting for record. His first 5 shots produced a group smaller than any he had ever shot with a BB gun, but it did much more that just that. It awakened his rifleman's spirit! Here was a gun that could shoot better than he could — guaranteed!
His eyelids dropped into a squint that broadcast concentration. His next 5 shots all landed in the same place and were all on the bullseye. The room now grew quiet as his concentration ratcheted up another notch.
Another 5 shots went downrange, and this time he was really trying. The smaller hole in this target reflected the attempt! The gun is apparently a perfect gauge of the effort that's put into it! The heavens opened and a shaft of divinely-inspired sunlight bathed the shooter in glory. Otho was hooked! He now understood what I had been trying to tell him. The Daisy Avanti Champion 499 is the world's most accurate BB gun! It is the gun that every real shooter hopes to find one day — one that can out-shoot him and will never be finicky. Do your best and the gun reflects it on target — pure and simple.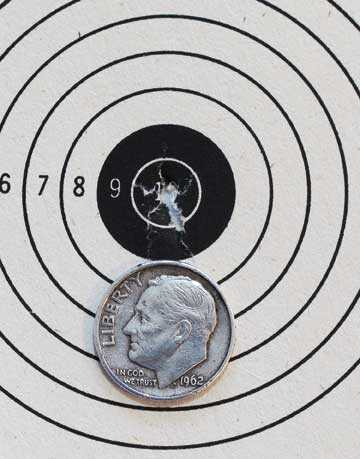 This is what the 499 can do at 5 meters. Ten shots in this group!
A Christmas story
This is where Otho had his epiphany. He went home and immediately ordered a Daisy Avanti Champion 499 for himself. On my recommendation, he also ordered several packs of Precision Ground Shot, plus I gave him a pack to get started since Pyramyd Air was temporarily backordered when he placed his order. He also bought 5-meter paper targets and a UTG target trap. In short, he purchased a complete shooting kit that had everything he needed to get started.
Three days later he called to tell me his gun had arrived, and he was already shooting the BBs I had given him. The day after that he called to tell me that he had ordered 3 additional shooting kits as Christmas gifts for his son, son-in-law and another friend. A week later he told me that he had taken his gun to his country home, where he stayed indoors and shot targets all day while his friends and family sat out in cold wet high seats, awaiting the deer that never showed.
Then, on December 23, Otho called me one more time to tell me he was purchasing one more gift set for another friend who hadn't shown any interest until the day before. His gift will arrive late, but it will be just as appreciated, I'm sure.
Otho never told me, but I am reasonably sure that he takes his new BB gun to bed with him every night, drifting off to sleep while shooting ducks on the wing and getting off spectacular hipshots. I think this little Daisy might be the greatest Christmas gift he will ever get or give, and it is our own version of A Christmas Story. Merry Christmas!