by Tom Gaylord, a.k.a. B.B. Pelletier
Blog reader Kevin asked me this question recently, and I embraced it because I usually don't even have time to think about which airgun I would prefer to shoot. There's always another blog, a feature article and 5 other deadlines pressing on my time…so thinking like this is not a luxury. It's a fantasy! Then, Kevin asked this question and "forced" me to stop and think about it for today's report. Ahh! Happy Friday!
The first gun that pops into my head when I ask this question is the Diana model 27 rifle. It's just such a simple, uncomplicated airgun that I guess it serves as my happy place. But as I think about it, other guns pop up. The Air Venturi Bronco, the Falke model 70, the Diana model 25 are 3 more that come to mind immediately. They all share the model 27's chief attribute — ease of operation. In short, they're all fun airguns.

Diana's model 27 breakbarrel is so light, smooth and easy to operate that it epitomizes everything that's good about airgunning in my eyes.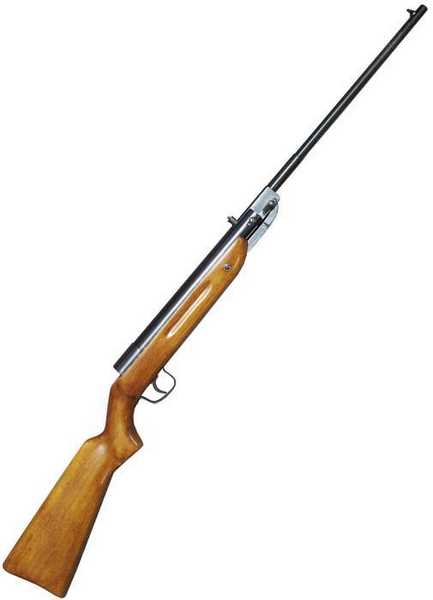 Falke model 70 is another vintage breakbarrel that's light and smooth like the Diana 27.
To take the fantasy a little farther, have these guns always been the ones that do that, or have there been others? Yes! There have been others!
My straight-grip Webley Senior pistol is exactly like the Diana 27 in this respect. It's small and easy to operate. I still own this pistol, although there's seldom any time to actually shoot it. But it's right there in the drawer where I can put my hands on it whenever I want. I guess that's good enough. I guess it will have to be.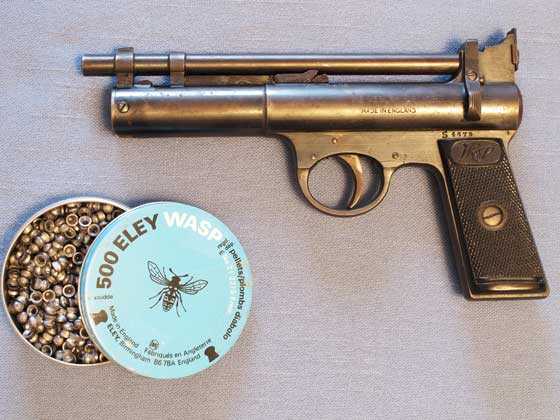 I've owned this straight-grip Webley Senior since the early 1970s. It's easy to cock, has a nice trigger and is fun to shoot. Not terribly accurate, but it's one of those rare guns I let slip by because everything else works so well.
When I think a little longer and harder, my Beeman R8 pops into view. It comes in later because it has a scope, and scopes do complicate things. So do target sights, but my Walther LGV Olympia 10-meter target rifle now comes to light. And with it comes the new .22-caliber LGV. The target rifle took longer to pop up because it's a heavy gun. The .22 took longer because of its power. When I want to play, power is the farthest thing from my mind.
Firearms?
Kevin didn't ask me what my favorite firearms were; but since this is Friday, I'll take a little license and include them, as well. Right now, my new PO8 Luger is a favorite because it's accurate, recoils very little and it eats my handloads like they were candy! And when I think of that gun, I cannot overlook my Ruger Single-Six in .32 H&R Magnum. It has great power and almost no recoil. For cutting out the center of a bullseye, that little Ruger wheelgun is a dream.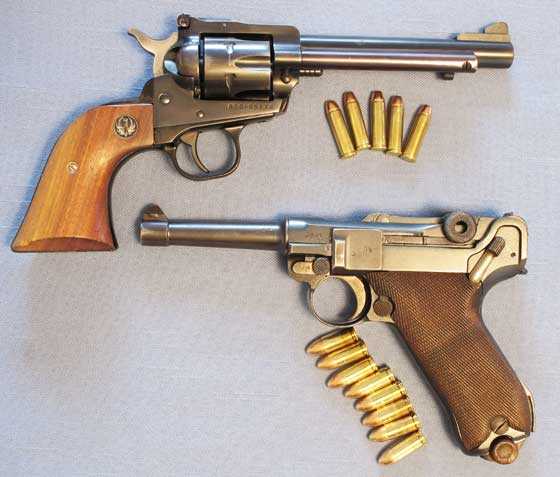 The Ruger Single Six is chambered for the .32 H&R Magnum. It's light, yet very powerful and will out-penetrate a .357 Magnum on a steel target. The 1917 Luger is such a smooth shooter that it's like eating peanuts — I can't stop! Both guns are very accurate.
Then, I think of my O3A3 Springfield. It's one of the few military rifles that gives me an honest sub 2-inch group at 100 yards. If it didn't recoil so much, I'm sure it would have popped up even sooner.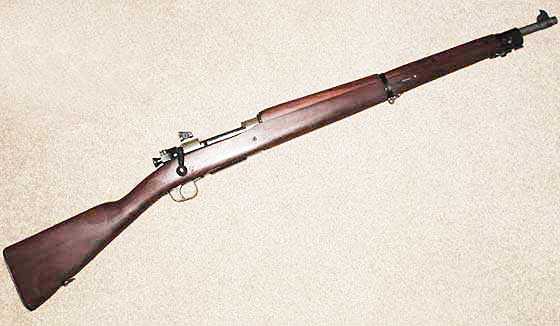 This O3A3 Springfield will smack you with recoil when you're shooting full-house loads. The short stock gives it a running start at your shoulder. But the accuracy is stunning!
My M1 Carbine is also a favorite — not for its accuracy, which is just average — but for the fact that it drops the empty cases on top of the shooting bench! Most autoloaders throw their cases a country mile, but this little sweetie piles them up for me. With more training, I'm sure I can get it to put them back in the box!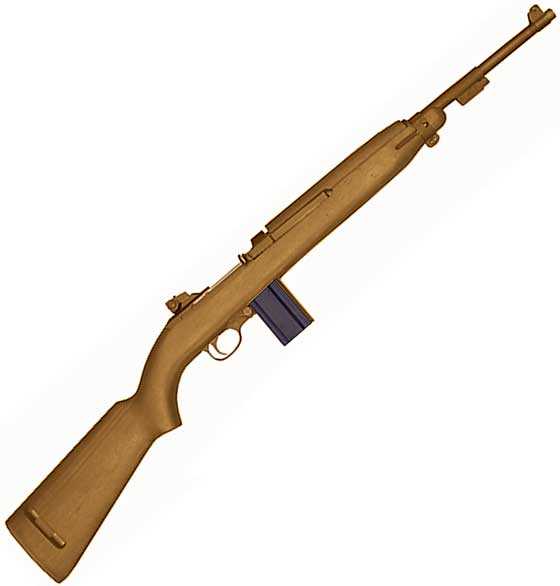 My M1 Carbine is well-behaved. Next, I'm going to teach it to put the fired cases back into the box!
Guns I wish I still had
Now comes the Great Lament — the ones that got away! I had a Bernardelli Baby in .25 ACP that would put 3 shots into the bottom of a soda can offhand at 30 feet. Most .25s are lucky to hit dinner plates at that distance, but this little pistol was a good one. I let it get away. I recently bought another Bernardelli Baby in the hopes of doing the same thing. Alas, this one is a dinner-plate special.
Ruger .44 Magnum Blackhawk with 10-inch barrel
They're very collectible now; but when I had my 3-screw Ruger Blackhawk, they were just good guns. I was too stupid to know that the one I had was an exceptional shooter. I figured I could always get another one.
Custom .458 Winchester Magnum
I have written about this rifle many times. I shot it with a 550-grain cast lead bullet, and it would put 10 shots into less than 2 inches (outside measurement) at 100 yards. It was like owning a target-grade 45/70. Stupid me — I thought I would always be able to find another one just as good. Haven't yet!
What kind of shooting do I like to do?
I'm pretty easy to please. I like whatever kind of shooting I happen to be doing at the time — usually. The things I hate are magnum spring rifles that buzz like bottles of hornets, slap me in the face and have no accuracy. I also disdain black rifles that can't group in less than 3 inches at 100 yards. In fact, I dislike almost anything that isn't accurate.
I enjoy shooting a .45 Colt Single Action Army with accurate loads and feeling the plow-grip roll in my hand during recoil. I like shooting a nice 1911 and feeling the slight burp of recoil when I hold my thumb over the manual safety. I shot a Walther P38 recently that had a nice trigger and is very accurate. My experiences with P38s aren't that good, but this one was memorable. I could burn up a lot of 9mm ammo in that one.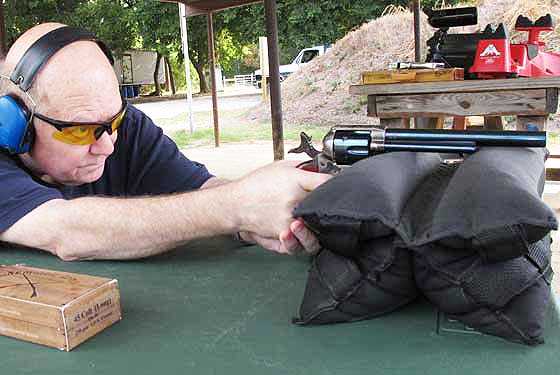 When I came home from the hospital several years ago, I received this Single Action Army as a gift from the readers of this blog. It is a favorite of mine because it mimics the feel of a Gen 1 Colt perfectly!
Same for the PO8 I got for Christmas. The ergonomics are legendary and the trigger is extremely good for a Luger (their trigger linkages usually make for poor triggers). My handloads are moderate enough that I can shoot this pistol for the rest of my life and not put any wear on it!
I enjoy holding a 10 with a target air pistol and seeing the pellet hit the pinwheel. I love seeing 10 shots from an accurate rifle sail through the same hole at 100 yards, knowing the hole they made is smaller than half an inch. I love shooting 5 shots from a 10-meter rifle and seeing a group smaller than a tenth of an inch.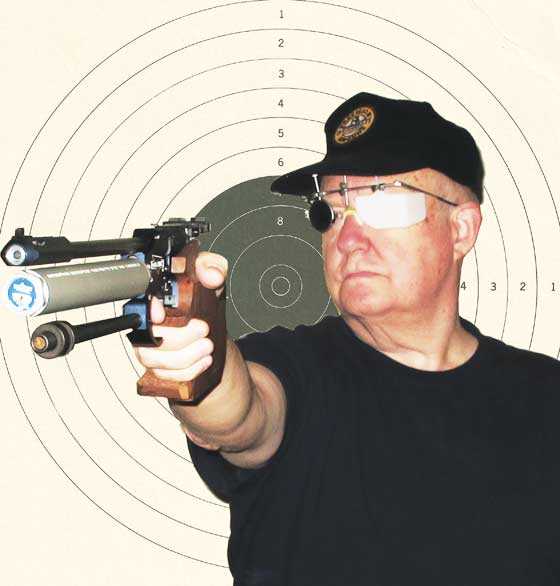 Holding a 10 with a pistol is very enjoyable!
I love shooting my Daisy Avanti Champion 499 offhand and making quarter-inch groups. My shooting buddy Otho bought one for himself this past December and has been doing the same thing ever since.
I enjoy shooting a Garand and hearing the shot go off but not feeling the recoil. I know it's there, but the push is so slow that it doesn't seem to count. The same holds true for my .357 Magnum Desert Eagle. It's got enough power to drop a steer, but the soft recoil feels like a 1911 shooting +P ammo.
Best of all
But the thing I like above all is when I solve some problem of inaccuracy and turn a bad gun into a real shooter. It doesn't happen as often as I'd like, but from time to time I do hit one out of the park. I'm hoping to do that with my Ballard someday. And maybe my Meteor, as well.