by Tom Gaylord, a.k.a. B.B. Pelletier
Does the pellet matter? Part 1
Today's report is a continuation of the test we started last week, when I asked if the pellet matters (as far as accuracy is concerned). That test wasn't quite as dramatic as I would have liked, and several readers chalked it up to my Beeman R8 being an inherently good shooter. No doubt it is, but that still doesn't explain the good results I got with pellets that I wouldn't normally recommend for that rifle.
Today, I'm using a target rifle that's hands-down the most accurate .22 rimfire I've ever owned, seen or shot. It's a Remington model 37 Rangemaster from before World War II, and it's fitted with the "miracle trigger" that Remington once sold. This trigger has no perceptible movement and releases with just an increase in finger pressure. It's much like an electronic trigger, only this one is all mechanical.
The rifle has a Redfield 3200 target scope. It magnifies 24X and has parallax corrections down to extremely small increments out to 50 yards.


Remington's model 37 is a world-class target rifle.
I've put 5 shots from into a quarter-inch at 50 yards with this rifle using peep sights.
But this time, I'll shoot 10-shot groups because they're the ones that show a rifle's true potential. For this test, I used 13 different .22 rounds. Most of them weren't target rounds, but that doesn't matter. They're all different, and that will address today's title question.
Best round first
I had no idea how this test would turn out. I knew certain ammo shot well, but this was the first time I'd shot 10-shot groups with the rifle at 50 yards. The best round turned out to be CCI's .22 Subsonic Hollowpoint. Ten of them went into a group that measures 0.504 inches at 50 yards. That's as good as some top-quality air rifles at the same distance, and I was pleased with it.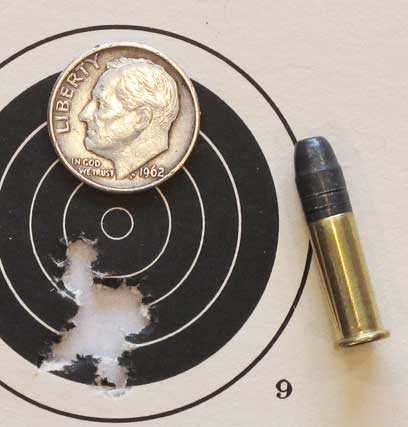 Ten CCI Subsonic HPs went into 0.504 inches at 50 yards.
Worst round
The worst round was Remington's Target ammo — a standard-speed round that Remington recommends for formal target shooting. How's that for irony? Ten of them went into 1.766 inches at the same 50 yards from the same super-accurate rifle! If that doesn't make believers out of you, nothing else I can say will. Look at this group. These bullets didn't even attempt to go to the same place!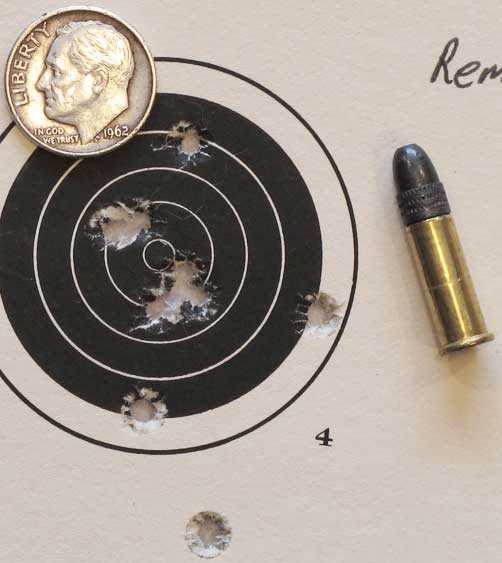 Ten Remington Target rounds went into 1.766 inches at 50 yards.
Another poor round was Winchester's Wildcat high-velocity ammo. Ten of them went into 1.395 inches at 50 yards.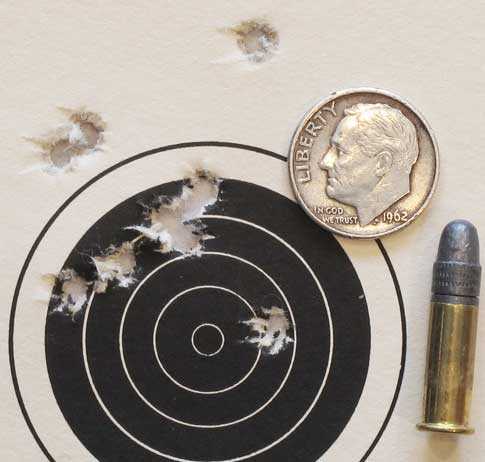 Ten Winchester Wildcats went into 1.395 inches at 50 yards.
Surprise!
I expected the high-velocity ammo to do worse in this test because that's what everyone says. They say once you break the sound barrier, .22 rimfire ammo loses its potential. So, the large Wildcat group didn't surprise me. But the Remington Viper group that measures just 0.924 inches does. Vipers are hyper-velocity rounds whose 36-grain lead bullets leave the muzzle of a 24-inch barrel at 1,410 f.p.s.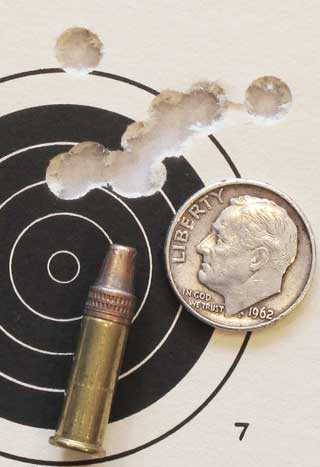 Ten Remington Vipers made this 0.924-inch group. This was not expected.
Remington Cyclone rounds are also hyper-velocity. They leave the muzzle at 1,410 f.p.s. — yet, 10 of them went into just 0.882 inches. According to popular belief, these should have been among the least accurate round in any .22 rimfire rifle.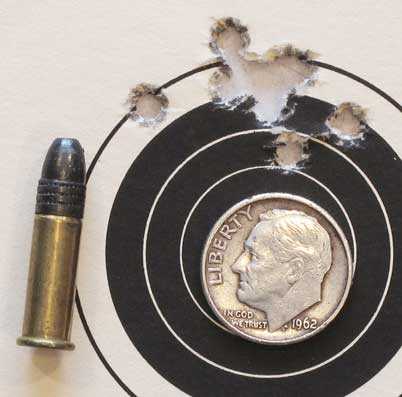 Ten Remington Cyclones made this 0.882-inch group. Another unexpected result!
Close, but no cigar
Another subsonic round almost made the second-best group. Ten Remington Subsonic Hollowpoints went into 1.206 inches, but 9 of those bullets made a 0.548-inch group. The one round that's not in the group is below it, and this tells me what probably happened. Rimfire ammunition has one big weakness. The priming material is sometimes not evenly deposited around the rim, and that causes misfires and poor ignition. This shot looks like it came from a round that wasn't ignited well and probably went slower than the others. Of course, I can't prove that without velocity data that I don't have, but poor ignition is the bane of .22 rimfire target shooters.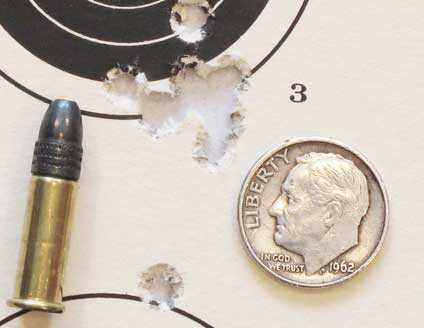 Ten Remington Subsonic Hollowpoints went into 1.206 inches, with 9 of them going into just 0.548 inches.
The Subsonic was the most accurate round in my 10/22, which I tested for Shotgun News years ago, but the Remington Target round that was the worst in this rifle was also among the top 5 in that test. So, each rifle is different, and the ammo definitely does make a huge difference!
I shot a total of 13 different rounds in this test. I've shown you the best and worst in today's report. Besides the 3 bad groups I have shown, there were 4 other rounds that made groups larger than one inch. One inch for 10 shots is small for most .22s, but not for a Remington model 37. Of 13 different rounds, 7 made groups larger than one inch, leaving 6 that made groups under an inch.
Conclusion
Obviously, the ammo does make a difference in .22 rimfires — just as pellets make a difference in pellet rifles. I'm still going to do the test of discount-store pellets versus the best premium pellets. From the comments I've received, I believe I'll test them in 2 different rifles. It should be interesting.