by Tom Gaylord, a.k.a. B.B. Pelletier
Best airgun show I have been to in a very long time! Not because I sold a lot — I didn't. But I met a lot of nice blog readers, got to see some airguns that are extremely rare and got to acquire a couple nice vintage guns for future blogs.
Dennis Quackenbush told me this show would be a good one, and he was right. As soon as the doors opened to the public, the place was packed. From what I saw, people had money to spend and weren't afraid to pull it out.
The Findlay show is very heavy into vintage BB guns; so if that's what you like, it's one of the 2 best shows for that. But they weren't all Daisys. There were many other rare models, including a super-rare Quackenbush Lightning.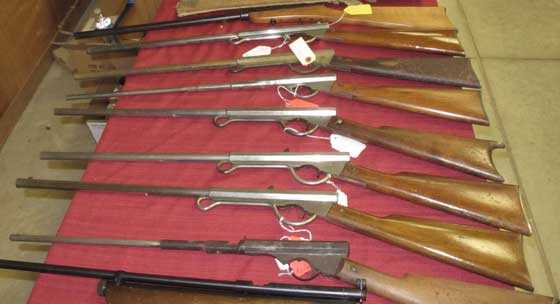 A table loaded with Quackenbush airguns! John Groenewold, who wrote the book "Quackenbush Guns," had tables at the show.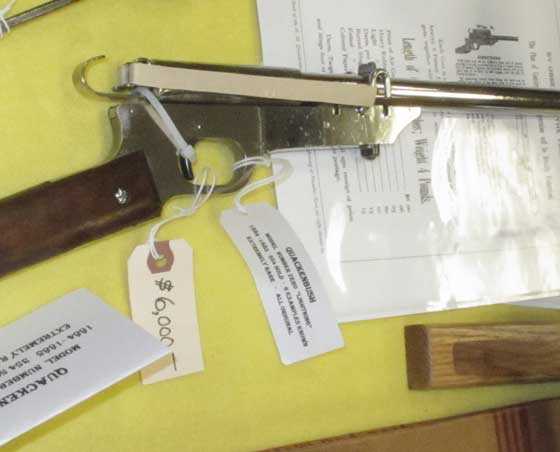 The Quackenbush model zero, also called the Lightning, uses rubber bands to power the sliding compression chamber that moves on the fixed barrel. It's the rarest model, with fewer than 10 complete guns known.
I mentioned there were rare airguns at this show. That Quackenbush Lightning was one of them, but there was another that I was shown privately. It is a Giffard Deluxe Target model that, until I saw it, was unknown to me. The owner, who is an advanced collector and asked for privacy, graciously allowed me to photograph the rifle.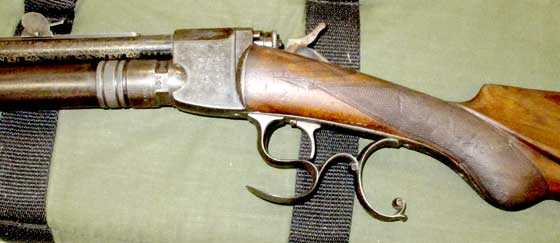 You're looking at the action of an 8mm Giffard Deluxe Target rifle that may be the only one in the U.S. Giffards are not common, but this one is virtually unknown!
This rifle is almost entirely hand made. Gold inlays on the barrel tell you the care they put into it. A rifle like this cost three times what a regular Giffard cost at the time (1870s & '80s)!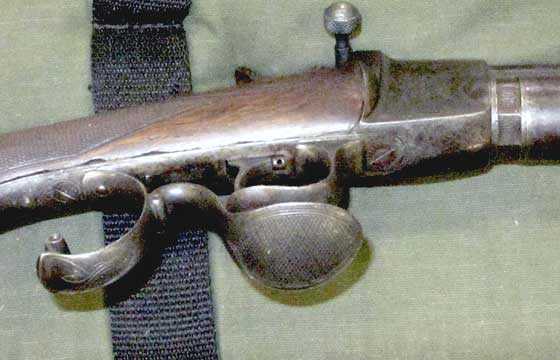 The bottom of the triggerguard of this special target rifle is actually a palm rest for offhand shooting!
They went on and on…
Being at this show was like taking a stroll through Dr. Arni Dunathan's book, The American B.B. Gun. At every turn, you saw cast iron and folded-metal BB guns from the genesis of the sport/hobby! You had to be there to appreciate it completely, but trust me when I tell you this show was a treat for the American BB gun collector.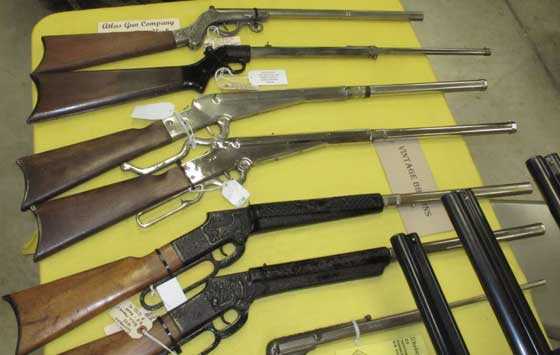 Atlas, Matchless, Columbians — the guns in this photograph are worth a fine used car!
Not everything was old
Toward the end of the show, Dennis Quackenbush asked me to come to his table and photograph a rifle he had just delivered. When I got there, I saw a rifle unlike anything Dennis has ever made. It's a muzzleloader that he usually will not produce for reasons of safety — a slight air leak at the breech could fire the bullet into the shooter as he is loading it in the barrel, or anytime afterward.
Dennis did make the metal parts for this airgun, but the entire design was the brainchild of Mike Paulus. Mike took the design to Dennis and asked him to build the gun, while Mike made the stock on his own. Then the two were married into what looks for all the world like a vintage muzzleloading black powder rifle. Good job, Mike!


This muzzleloader designed by Mike Paulus and built by Quackenbush is stunning! Mike put a vintage-looking Malcom scope on top to complete the image.
Old friends
I recently shared with you a story about my first AirForce rifle. It had no power adjustment wheel, so I put an o-ring under the top hat to "tune" it. Those were the days. Well, imagine my surprise to see the old girl on a friend's table at this show! He had added a wood stock to her, and it was like seeing your old girlfriend necking in the back seat of a convertible with somebody else!


This was my first AirForce rifle. It has no power adjustment and the wood stock parts are new; but underneath, I still recognize her.
Then, my friend told me something wonderful. He said that I could have my old Air Arms Schamal back for what he paid! Some of you know this rifle is one of the most accurate air rifles I've ever shot, plus it has a gorgeous walnut stock with presentation grain.
My wife, Edith, has promised that she will buy back the Shamal for my birthday later this year. Naturally, I'll give you a complete report!
Good friends
Besides the guns, the best thing about this show was the people I met. When he introduced himself as Twotalon, I walked around the table and hugged the man we all know so well through the pages of this blog. He was there with Mrs. Twotalon, who was gracious enough to smile and put up with the boring minutiae us two old codgers shared.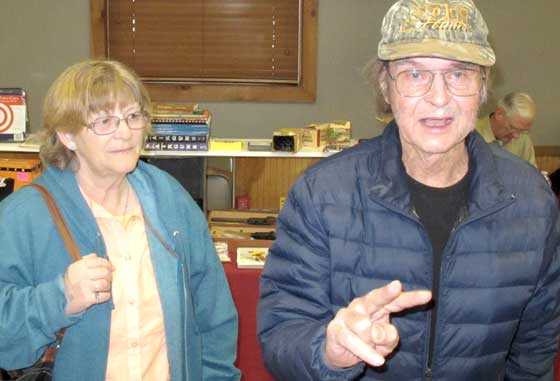 Twotalon and his wife stopped by my table and introduced themselves.
That triggered a rush of blog readers, who came so fast and furious that I failed to keep track. But Derrick is one reader I met years ago at a Pyramyd AIR function. He updated me on what he's doing these days. Before he left the show, he laid two air pistols on my table and told me to give them to young shooters! Shades of my late friend, Mac, who often did the same thing.
Derrick — I gave those guns to the show organizer, Dan Lerma, who knows a lot of deserving young people, several of whom were helping run this very show! I know they will find a good home.
As the crowd was building at my table, Mitchell from Dayton came by and introduced himself. He wanted an autograph on his Blue Book of Airgun Values, which I was happy to do. But he told me he was at this show to find his longtime dream gun — an FWB 300! There were several on different tables, and I pointed him toward them; but when he returned in half an hour, it wasn't an FWB he was carrying. He had an Anschütz 380 in his hands! Now, that's a fine target rifle, as well; but then he flipped over the rifle and showed me the real reason he bought it. Someone had skillfully carved a ram's head on the right side of the butt, and he was completely taken with the art!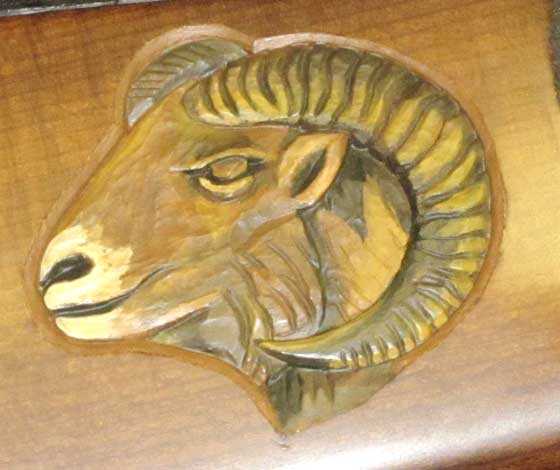 This ram's head carving on the stock of the Anschütz 380 clinched the deal for Mitchell of Dayton. I can understand the attraction!
Before I go…
There will be at least one more section of this report, but I want some time to process all that happened at the show. However, if I can leave you with one key memory, it would have to be just prior to the opening of the doors when all the dealers stood as the Boy Scouts installed the National and Ohio State flags in the hall — and then several hundred Americans pledged allegiance to the flag. That was followed by a brief prayer of thanksgiving for this wonderful event that was about to unfold.
Sort of says it all, doesn't it?