by Tom Gaylord, a.k.a. B.B. Pelletier
Before I begin, I want to remind you that there are two airgun shows this month. On April 12, there's Flag City Toys That Shoot in Findlay, Ohio. I'll have a table there, so please stop by and say hello if you can. For more information about this show, go to their website at flagcitytoysthatshoot.com.
On Friday and Saturday, April 25 and 26, the Arkansas airgun show will be held in Malvern, which is near Little Rock. Email show organizer Seth Rowland for more info or to reserve a table. I'll also be there and hopefully have a table, too. So, stop by and say hello. Remember, these airgun shows happen just once each year, so they're worth driving the extra miles to see.
Last Saturday, I visited a brand new field target club that started here in Texas. The experience was interesting because I haven't been to a match in years. Many things had changed!
The club was started by Craig Martin in the gated community where he lives. The Pecan Plantation Archery Club allowed him to use their range facilities on this day, and Craig set up 8 lanes.
I was surprised by the turnout. There were 30 shooters on this first day. I remember having less than 15 when we started the DIFTA club in Maryland almost 20 years ago. One of the shooters told me he drove down from Oklahoma just to attend the match, and I know others who drove several hundred miles from remote locations in Texas.
Blog reader David Enoch was there, competing with a .20-caliber USFT. The match was restricted to 20 foot-pounds or less, so some of the powerful PCPs had to be dialed back.
The day began informally, with the opportunity to check the zero of your gun. But when the match began at 10, I was surprised by several shooters who hadn't yet sighted in their rifles.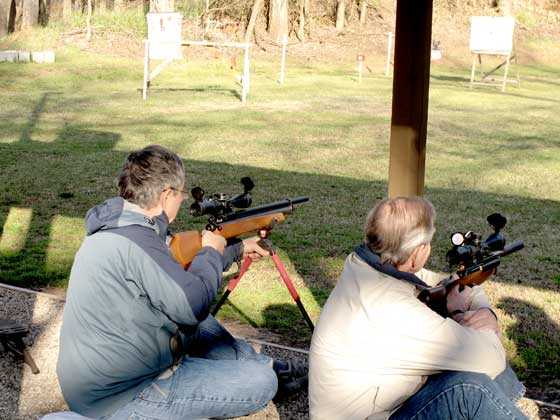 Shooters could check their zeros at this range before the match began.
Craig set the match up with a minimum of rules. He wanted all shooters to feel relaxed, so he awarded one point for hitting the animal faceplate and two points if you hit the kill zone and knocked it down.
He also squadded those shooters who identified themselves as beginners with a shooter who had some experience with airguns. Not everyone had shot field target before; but once you see a target fall, you get the idea pretty fast.
As I surveyed the crowd, I estimated the average age of the shooters at something north of 45 years. This is in line with what I've seen in other airgun sports. Younger people don't usually want to shoot airguns when there are firearms around; but after a person has satisfied their curiosity, the ease of shooting an airgun becomes more evident.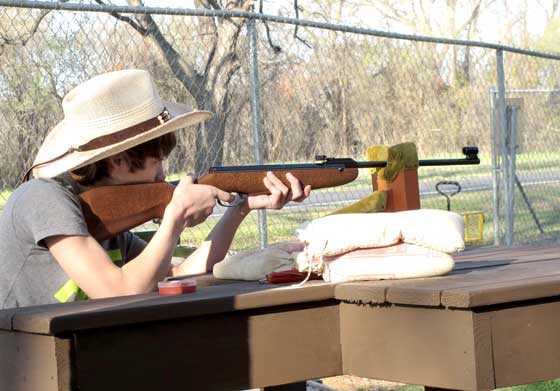 One of only a couple youngsters who attend the match sights in his breakbarrel. No, I didn't tell him about the artillery hold.
One thing that surprised me was the different types of airguns being used by the shooters. Of course, that was due to this being a first-time event for many shooters; but I saw inexpensive spring rifles, air pistols and even one multi-pump pneumatic I'll tell you about in a bit!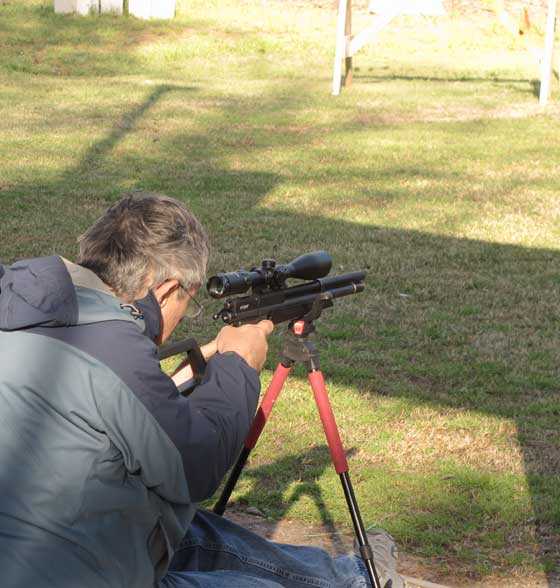 This shooter uses a Benjamin Marauder pistol with the shoulder stock.
Another thing I saw really floored me. Most of the shooters were resting their guns on shooting sticks, and they were sitting in chairs! I'm so ingrained in the old-school AAFTA (American Airgun Field Target Association) rules that the rifle may not be in contact with the ground that I was unprepared for this, but it appeared all the shooters were comfortable with it. I read the current rules and see that bipods (sticks) and seats are now a part of the hunter class. This is certainly an easier way to shoot, and I think it'll appeal to many more shooters than before, when you had to shoot from an unsupported offhand position.
Before the match began, Craig gave all shooters his match director's briefing. It covers the layout of the course, the rules of the match, assembling the shooters into squads and safety.
Since there were 8 lanes, he formed 8 squads from the 30 shooters. Some squads had 4 members while others had 3. Craig wanted all squads to have at least one experienced shooter to help the beginners. Of the 30 shooters, perhaps 12 had placed themselves in the beginner class.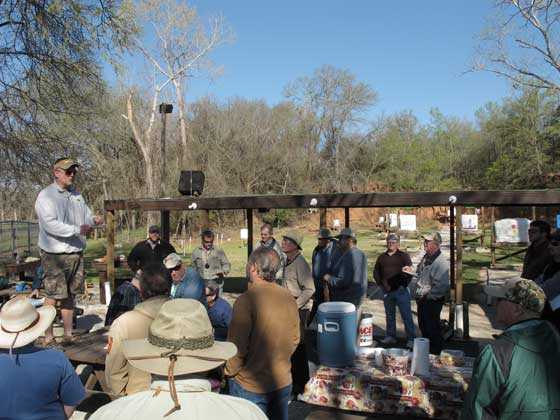 Before the match starts, the director explains the rules to all participants.
Each lane had 3 targets — one close, one at the middle distance and one that was far. The shooters shot twice at each target, so that makes a match total of 48 shots. Hits on the faceplate scored 1 point and targets that fell scored 2 points.
Craig told me afterwards that there were things he forgot to mention in his briefing. I told him that's par for the course. It takes a couple matches before you know what's important and what's not.
One thing he had that was a great idea was a barbecue for the registered shooters. It was part of their $10 match fee. The remainder of the money will go toward the purchase of new targets. That's pretty much par for the course, as well. It's how a club gets formed.
The site had excellent facilities, which is essential. At the DIFTA club we had facilities (restrooms), but they were located several hundred yards from where the shooters were. That was a major complaint I heard at every match.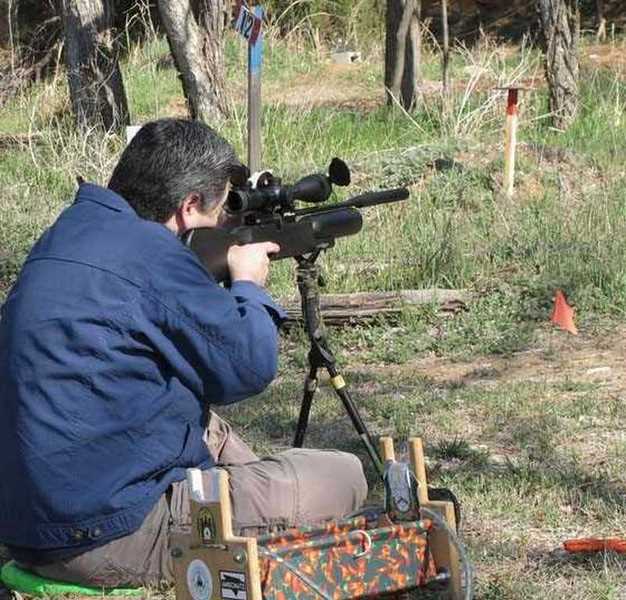 This shooter is on the course engaging targets. The use of bipods (sticks) was widespread at this match.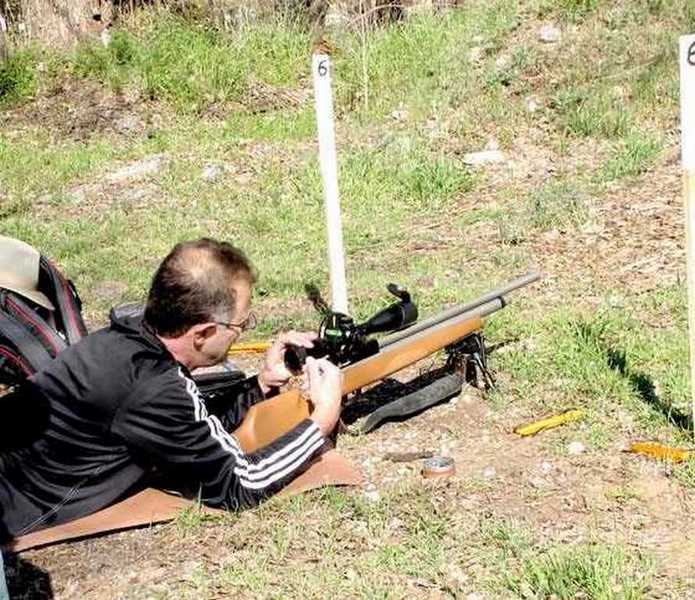 This shooter chose to shoot from the prone position. That can make some of the kill zones hard to see depending on the terrain.

A few shooters used the traditional AAFTA seated position.
Ron Robinson drove all the way up from Dripping Springs, Texas, to support this new club. And he was the guy who shot the multi-pump pneumatic. It was a Sheridan Blue Streak with a rocker safety and a vintage scope. I told him the only other time I had ever seen a Blue Streak in a field target match was back at DIFTA, when airgunner Singson Tiu brought one out. I remember him grabbing the scope as he pumped the rifle and, after a loud chorus of "NO" from the gallery, he decided never again to shoot that rifle in a match.
Ron grabbed the stock at the pistol grip to pump it. He told me that after estimating the distance to the target he consulted a cheat sheet for the proper number of pumps. "That looks like a five-pump shot to me," he said with a sly grin. And then he dropped the target — shooting offhand…unsupported! Okay, remind me to never get into a match against him!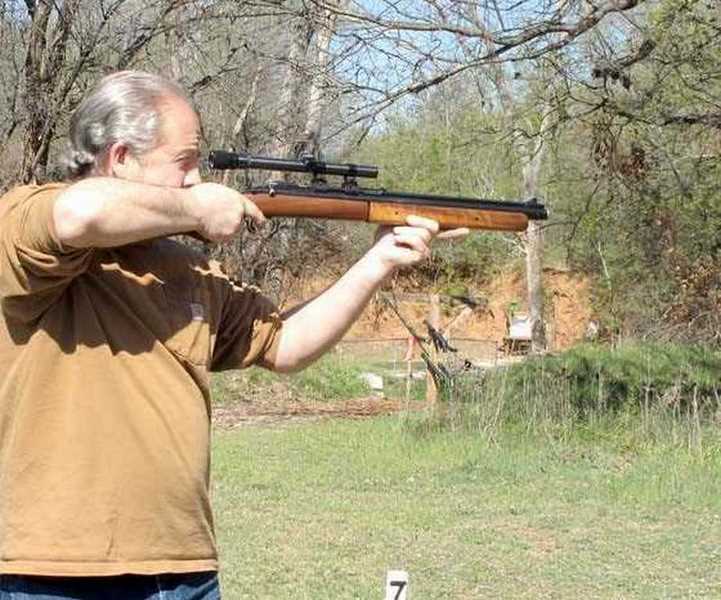 Laugh if you want, but Ron Robinson dropped this target.
But he also had sticks that he used for the longer shots. Through my binoculars, I watched him shoot a split on one target. When I told him about it, he adjusted his aim and dropped the target with the next shot.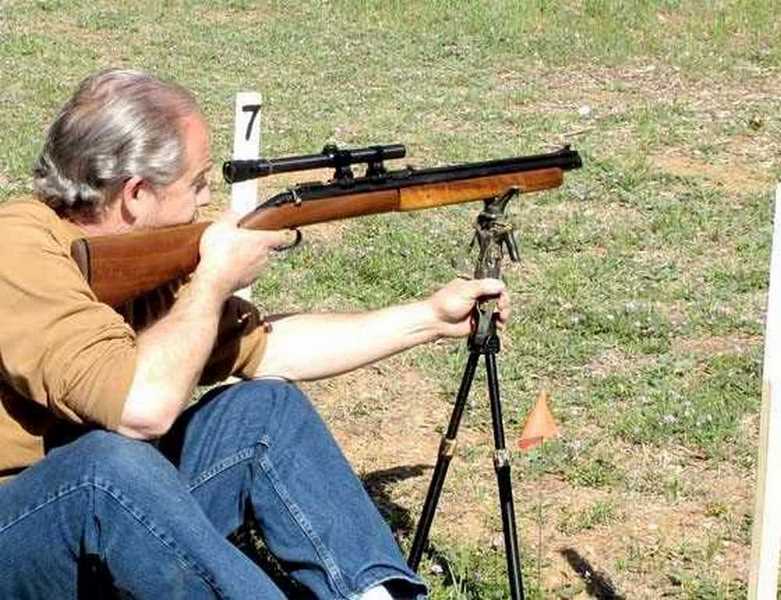 Robinson settled into the sticks for the far shots.
The day was beautiful and the event was a success. The main reason I decided to report on this match is because several of you have asked me how to find a club in your area. It may be field target you seek, or perhaps something else, like 10-meter target shooting. Whatever the case, now you've seen how it's done. When you can't find a club to shoot with, start one!
It takes land, permission, targets–but most of all, it takes people. Many of the shooters attending this match were not airgunners and many more had never seen a field target match. They simply came because they were interested. Craig Martin reached out to whomever he could to get this match (and club, we hope) started, and he found there was interest. Once the word got out, the people came. I seem to remember a similar line from a movie about something like that.