Daisy 880: Part 3
by Tom Gaylord, a.k.a. B.B. Pelletier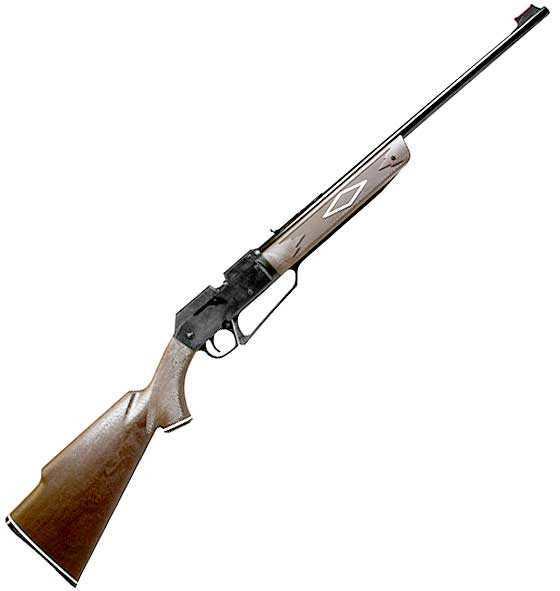 The Daisy 880 multi-pump is a classic.
I was going to shoot my old Daisy 880 at 10 meters with both pellets and BBs, and then again at 25 yards with just pellets, but I figured — what the heck? I have the brand new Daisy 880 on hand, and I've already stated that the accuracy might fall off at 25 yards with my old 880 because of the velocity variance — so why not switch over to the new rifle now?
So, I opened the box and took out the rifle. According to the box, this rifle is made in China, but I can't tell any difference between it and my older rifle, except the lettering on the metal and plastic parts has a slightly different font. Even the front sight is the identical red fiberoptic sight that's on my old 880.
Start the test
This time, I thought I would test the rifle exactly as it came from the box, so I didn't oil it. But I did open the manual and read how Daisy recommends oiling it, when it needs it. Because some of our blog readers have insisted that Daisy only recommends oiling with 30-weight non-detergent oil, I photographed the section in the owner's manual that comes with the new gun. It's shown below.


This is straight out of the manual that came with the new gun. Clearly, Daisy recommends a range of motor oil viscosities.
So, I started shooting without doing anything to the gun. I tested exactly the same way I tested my old 880 before — starting with 7.9-grain Crosman Premier domes.
Pumps Velocity
2           396
3           481
4           538
5           530,   473,   438 —   oil!  —  450,   457,   449
The plan was to shoot the rifle with Premier lites up to 10 pumps. But on pump five, something strange happened. The rifle did not shoot faster — in fact it slowed down. Thinking I'd made a mistake while counting the pump strokes, I did it again, and that shot was even slower than the last. I did it one more time, and once more the gun shot even slower. In fact, it shot slower than it had on just three pumps!
At this point, I assumed the rifle was suffering from a lack of oil on the pump head; and since 20-weight Crosman Pellgunoil is exactly in the middle of Daisy's recommended range of oil viscosities, I used it to oil the pump head. Then, I shot three more shots with five pump strokes each. As you can see, they did increase in velocity; but by the third shot, they were coming back down again.
I decided to start the test all over. The gun was not oiled, again.
Pumps Velocity
2          267
3          351
4          431
5          466
6          474
7          512
8          502,   474,   502
9          529
10        545
This time, the rifle's velocity tapered off at 8 pump strokes. I shot two more shots on 8 pumps and then completed the test so you could see the results. The new rifle was clearly not performing up to snuff.
Next, I decided to try a string of shots on five pump strokes to see what would happen. I got this.
Pumps Velocity
5          428
5          432
5          425
Oiled gun with 30-weight non-detergent oil and retested with 5 pumps:
5          450
5          462
5          475
5          490
5          487
Okay — 30-weight non-detergent oil
When the velocity in the string above was lower than it had been before, I wondered if all the hype about 30-weight oil might have some merit. I stopped in the middle of the test and oiled the gun with 30-weight non-detergent oil. You can see what happened after that.
I decided to rerun the whole test, now that the rifle seemed to be performing better. This is the rifle oiled with 30-weight oil.
Pumps Velocity
2          354
3          427
4          491
5          496
6          488
7          485
8          490
9          512
10        513
Observation
The BRAND NEW Daisy 880 I'm testing is clearly not performing as well as several of our readers have reported. And, just as clearly, it has very little to do with the viscosity of the oil used to lube the pump head. The only slight advantage 30-weight oil seems to have over 20-weight oil (Pellgunoil) in this new test rifle is that it does hold up for a couple additional shots. I think it's obvious that this brand new test gun doesn't live up to the advertised level of performance.
I am returning this rifle to Pyramyd Air. I will think about what I want to do next. I could rebuild my old gun, but I would be doing it with Chinese-made parts that might not work as well as the parts that are in the rifle now. Or I could just continue testing with my old rifle, since it is the best 880 I have.
One thing I AM NOT going to do is to keep chasing after 880s until I get a good one. This evaluation is supposed to resemble what a customer would experience, and I think it may have done just that.
One last comment
I couldn't have done any of this testing without a chronograph. I would have been flying blind if I had no way of timing each of the shots that were taken. And I probably would have enjoyed my new rifle exactly as it was. My point is this: If you can't chronograph the shots, be happy with what you have but stay out of velocity discussions. I think most Daisy 880 owners probably don't chronograph their guns, and they're happier for it.
Tom Gaylord is known as The Godfather of Airguns™ and has been an airgunner for over a half-century, but it was the 
Beeman
 company in the 1970s that awoke a serious interest in airguns. Until then, all he knew were the inexpensive American airguns. Through the pages of the Beeman catalog, he learned about adult airguns for the first time. In 1994, Tom started
The Airgun Letter
 with his wife, Edith. This monthly newsletter was designed to bring serious reports about airguns to the American public. The newsletter and
Airgun Revue
, a sister magazine about collectible airguns, was published from 1994 until 2002, when Tom started
Airgun Illustrated
-- the first American newsstand magazine about airguns. Tom worked for three years as technical director at
AirForce Airguns
, the makers of the 
Talon, Condor, and Escape
 precharged air rifles. Today, he writes about airguns and firearms for various publications and websites. He also makes videos, and you'll find short clips embedded in some of his artices on Pyramyd Air's website. Tom is a consultant to Pyramyd Air and writes under the name of B.B. Pelletier.