by Tom Gaylord, a.k.a. B.B. Pelletier
This report covers:
• Why does a scope need to be leveled?
• Scopes cannot be leveled.
• A leveling solution.
• Bubble levels.
• What works
• What about a collimator?
• My moment of enlightenment.
I promised this report to blog reader Genghis Jan over half a year ago. Several times, I've started to write it and turned away, but today I'm seeing it through.
Why level a scope?
There are 2 reasons for leveling your scope. The first is psychological. If the reticle inside the scope appears to be slanted to one side when you mount it on your gun — and I am primarily talking about rifles today, although these principals apply to scoped pistols just as well — it's disconcerting. The second reason for leveling a scope is to ensure the vertical adjustments move the strike of the rounds vertically, and the horizontal adjustment do the same. If the scope does not appear level, the adjustments will move the rounds off to one side or the other as they move up and down.
If a scope's reticle appears tilted, do you then tilt the rifle sideways to level the reticle? Or do you just hold the rifle so it always "feels" level and tolerate the reticle that seems tilted? I've tried both, and neither one is as comfortable as having the scope aligned perfectly — so it appears level when the rifle is held comfortably. But, just so you know — both solutions will work because there's no such thing as a level scope.
Rifle scopes cannot be level
Sorry to disappoint, but there's no scientific way to ever level a scope to a rifle — at least not to any rifle that has ever been made. I used to be a tank commander; and on occasion, there are reasons to level the tank cannon. But there's nothing on a tank cannon that is level. So the makers did something about it. They machined several pads on the breech of the cannon where a precision level can be stood. This level — called a gunner's quadrant — has "feet" that are steel pads machined into it. Their purpose is to stand the quadrant on the machined pads of the cannon's breech and establish a level.
Without these machined pads, there can be no point on the cannon that is level. What I'm saying is that there's no spot on the mechanism that's true enough that a bubble level placed upon it would have any meaning. It might be possible to get the bubble centered on the gunner's quadrant, but you could never be sure of doing it again with the same results. But with the machined pads, you have what you need — a reference point — to declare the gun to be level.
Level is a relative term
You see, the term "level" relates to the earth. An item can lay on apparently flat ground and not be level according to its bubble or the center of its plumb bob. Reference points are needed. And no rifle I have ever seen has them. Therefore, no rifle can ever be level! Please think about this before you comment.
Leveling solutions
I've used several leveling solutions in the years I've been mounting scopes. One was to hang a plumb bob from a target backer at 50 yards and align the scope's vertical reticle with it once the scope was mounted on a rifle. I thought this would guarantee that the scope was level. Maybe it did, but it often put the scope at odds with the rifle because the rifle's scope base was not machined so the scope appeared level when aligned this way. I actually shot several rifles with what appeared to be a slight cant in the scope reticle because I had aligned the scope in this fashion. The things that crazy people will put up with to maintain the universe they create!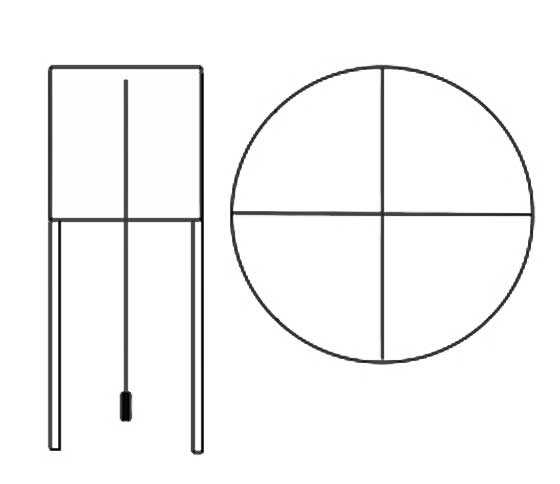 A plumb line has been suspended from a target backer at 50 yards (left). Now, the scope (right) will be superimposed upon it and the vertical reticle will be aligned with the plumb line.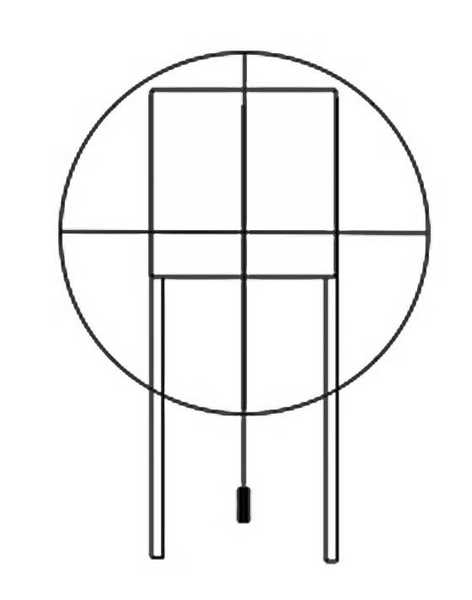 The scope has been shifted over the plumb line and rotated in the rings until the vertical scope reticle is aligned with the plumb line.
Neat trick! Is the scope aligned? Yes, it is. Is this the best way to do it? No, it isn't. Let me show you why.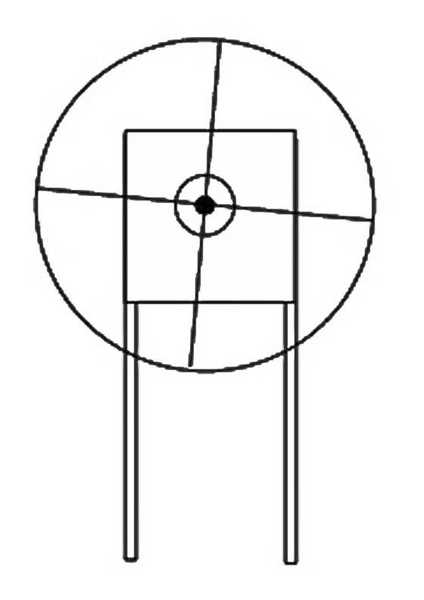 Now, this is what you may see when you hold the rifle to your shoulder. It may not be as obvious as this, but unless the scope mount was machined exactly with regards to the plumb line, you'll notice the tilt and it will bother you. Are you then supposed to hold the rifle "level," or do you "level" the reticle before shooting?
I'm showing you what happens when you attempt to level the scope by outside means. Sometimes, those processes guarantee the scope will not appear level when you hold the rifle in your arms.
Another method that doesn't work
Some folks will purchase a bubble level for their guns, mount it and declare the job done. Of course, there's no reference point on the gun that they can refer to, which is why I told you about leveling tank cannons at the start. Doing it this way is like driving a car in dense fog by keeping the fenders between the turn signals!
The bubble level is a wonderful tool but not for leveling scopes! It's for leveling shooters in the field. Once the bubble is level, you know the scope is aligned the same as when it was sighted in on the bench (as long as the bubble was level at that time).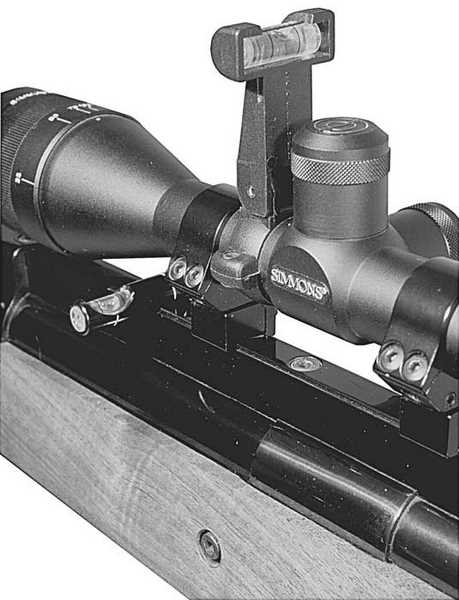 Here are two different kinds of bubble levels being tested on my Whiscombe rifle. They help to level the rifle in the field — not to level the scope during mounting.
What works
Genghis Jan — this is the only way to level a scope. Mount the scope on the rifle and turn the tube until the vertical reticle appears to bisect the rear of the rifle.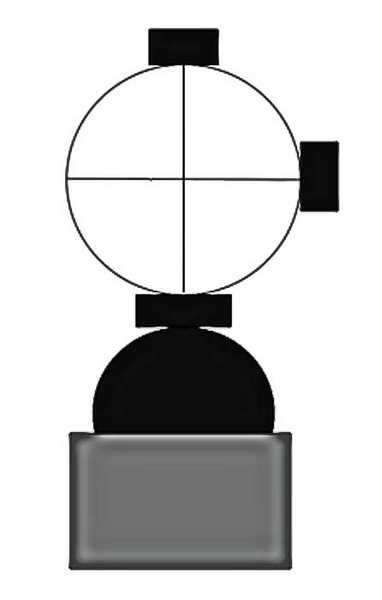 You extend the vertical reticle line downward and see how it looks against the back of the rifle. When the vertical scope reticle appears to bisect the centerline of the rifle, the scope is level.
You can argue that this is an imprecise method of doing this, and I cannot defend it. Because — as I have already shown — there is no such thing as a level scope. Level with what?
But here is what I do know. The scope will never look right until you level it this way. If you pick up the rifle and the scope appears to be canted to one side, how does that make you feel? It's that feeling that either inspires confidence or instills doubt, and these two emotions will drive you to success or failure while shooting.
As you gain experience with your rifle, your hold may change, and you may need to adjust the scope, again. After that, you probably have to sight-in once more. I've had this happen to me several times with different rifles.
What about a collimator?
You've heard of an optical device called a collimator that magically aligns scopes for rifles? Gun stores use them, don't they? Yes, they do, but not to align the scope reticle — not to level the scope. They use a collimator to align the axis of the barrel with the scope's line of sight — so your bullets land on paper at 50 or 100 yards when you go to the range.
But an airgun can be sighted-in at ranges much closer than 50 or 100 yards. I usually start at 10 feet. I wrote an article about sighting-in this way that you really should read. Adjusting a scope so it looks level has nothing to do with sighting-in unless the scope does not appear to be level to you, and then you won't be able to adjust it properly.
My moment of enlightenment
You may well ask why it took me so long to write this report, when it seems so simple (and really is!). It is because I know that the simplicity of this will offend many people who believe that leveling a scope must be a complicated procedure. Some will refuse to believe me and will insist they level their scopes by the methods I've written about or by some other process.
I believe that this step is why many buyers shy away from buying scopes for their guns unless they are mounted by the factory. Well, guys, I used to BE the factory! That's right. For three years, I mounted every scope that was mounted on an AirForce air rifle and then I zeroed it. I learned how to mount scopes the best way, which is also the quickest way, and additionally it's the only way that will ever satisfy the user of the rifle.
I've had to adjust scopes (rotate their tubes in the rings slightly) that others have mounted to get their crosshairs in line with the vertical axis of the gun. If you've owned many guns with scopes, I'm betting you've done this, too. When you do, you're simply doing what I said to do several paragraphs previously.
I know this sounds too simple and too unsophisticated to work; but believe me, this is the only way it does work. As you gain experience with scoped airguns, the truth of this report will become increasingly evident.