by Tom Gaylord, The Godfather of Airguns™
Writing as B.B. Pelletier
This report covers:
• Other dealers
• Rossi FAL trainer
• Other rare things
ª On the range
• Things I missed
• Something that found me
Back to the show report today. I was not expecting the level of interest the first report got, so I left out a lot of things. Today, I'll rectify that.
Other dealers
In the first report I focused on the major dealers, but a show like this cannot prosper unless some of the key smaller dealers attend. Let's start with Dennis Quackenbush. I know Dennis was busy all day, even though I scarcely got a chance to visit with him, because his table faced mine. Whenever I looked over, he had one or two people talking to him — and they wanted to buy guns! Dennis doesn't usually have a lot of guns to sell at a show, because he builds to order; but he does bring a couple, and people were hounding him about them this time.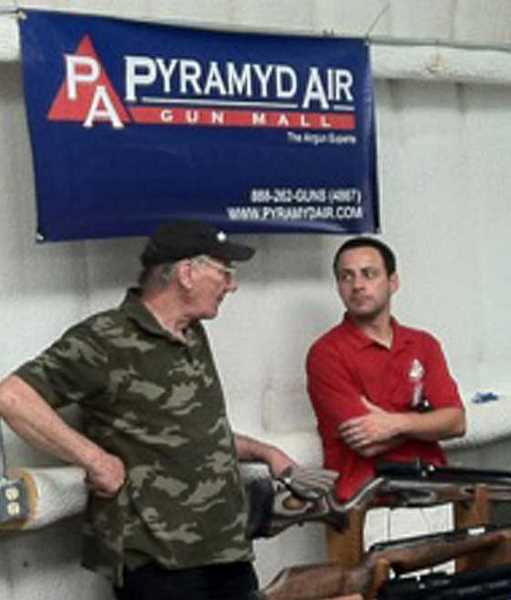 Before the doors opened, Dennis Quackenbush (left) had a chat with Tyler Patner of Pyramyd AIR.
Several guys were not finding what they wanted on Dennis' table and turned around in the aisle to look at my two Quackenbush rifles that were clearly marked Not For Sale. I finally got so frustrated explaining that I didn't want to sell them that I put a dollar price on one of them. That slowed things down. One man almost took me up on it, however, even though I priced the rifle at $200 more than Dennis charges — and he was opening his list for the next batch the week after the show (this week). I finally convinced the guy to wait a couple days and save the $200, thus keeping my rifles safe for another day.
Scott Pilkington of Pilkguns Competition brought lots of 10-meter guns and related products, and I had told him the gun club members who were putting on the show had asked for 10-meter guns for their junior shooters. But I don't know if he sold a any that day.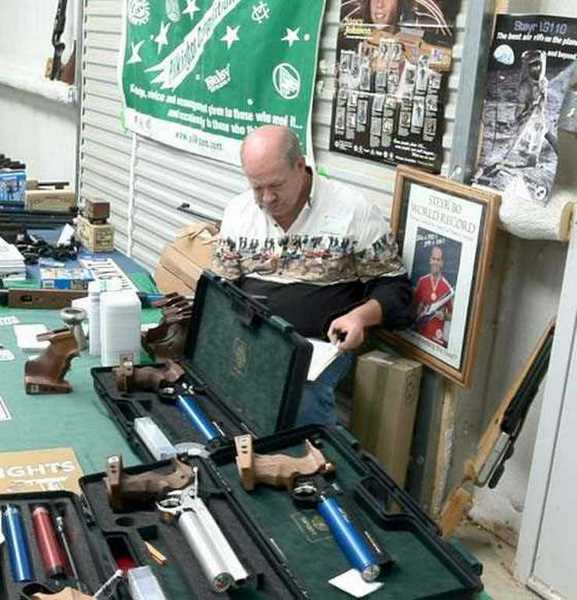 Ten-meter airgun dealer Scott Pilkington of Pilkguns Competition brought target rifles and pistols. He even had a nice selection of vintage FWB 300s.
Scott is also the man who designed the AR upper that became Crosman's MAR177, and he gave me one of the original prototypes for my collection. Some of you know that I only have an AR because of Crosman's upper. I had to build a lower so I could test the upper. When I returned the upper, I had to find something to do with the lower. So, in a way, Scott got me into ARs.


Scott Pilkington gave me one of his prototypes of the upper that became the MAR177
Speaking of things people gave me, one of our blog readers, Jerry in Texas, presented me with an autographed book he co-authored on wildlife photography with the late John Wooters, Wildlife Photography – A Complete Guide to Outdoor Photography. He gave it to me at the reception we held at the hotel the evening before the show. John was a longtime writer for Field & Stream magazine and well-known to the shooting sports. Jerry in Texas is Jerry T. Smith, author of at least two books on wildlife photography. The other is Wildlife Photography: The Gentle Sport.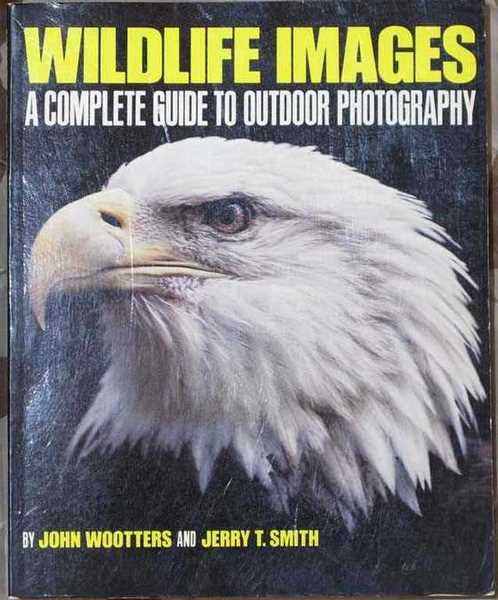 Reader Jerry in Texas wrote this book in the 1980s on wildlife photography.
Edith any I both enjoy wildlife photos, so this book is very special to us. We both want to thank Jerry for his kind gift.
One final dealer I'll comment on is Mike Melick of Flying Dragon Air Rifles. Apparently, Mike's low-priced PCP was the hit of the show! The gun club volunteers told me they made many trips to the range with people who were testing his rifles. And I know of a couple sales. These rifles are no longer $100 PCPs, as the batch of low-cost guns is no longer available; but Mike's still holding the line at a very low price for a very nice product.
Rossi FAL trainer
Okay, Fred_BR, you've waited long enough. After your guest blog about your Rossi Model Sport 82 ran, Larry Hannusch asked if I would like to see the military version of the air rifles. Would I? So, he brought it to the show and allowed me to photograph it for you.


There it is, Fred. How about that? Larry Hannusch brought this trainer to the show so I could photograph it. The "magazine" is a painted block of wood!
Other rare things
Speaking of things you never see, there was a super-rare firearm at this show. One of the club members has been telling me about a rare version of the Remington Number 4 musket he has that was made for the American Boy Scouts. That's right — not the Boy Scouts of America, which was founded in 1910, but a rival organization, founded by William Randolph Hearst — also in 1910. No doubt there was some jealousy, since the Boy Scouts of America was founded a couple months earlier by rival publisher William D. Boyce.
The American Boy Scouts was founded along more military lines and was later known as the American Cadets and also the U.S. Junior Military Forces. They ordered a special batch of Remington Number 4S rolling block muskets chambered in .22 short. These muskets were known as the "official rifle of the American Boy Scouts" and sold with a pot-metal bayonet that, today, is rarer than the rifle, itself. Of course most veteran airgunners know about that. They probably went the same way as the bayonets Daisy supplied with their Number 40 BB guns — concerned parents separated them from the guns, and over time they were lost.
We showed the rifle to Larry Hannusch who had never heard of it. You don't know how hard it is to have a gun Larry doesn't know about, so that made my day! I now have the rifle on loan to photograph and to research for an article.

Remington made this Number 4S musket for the American Boy Scouts.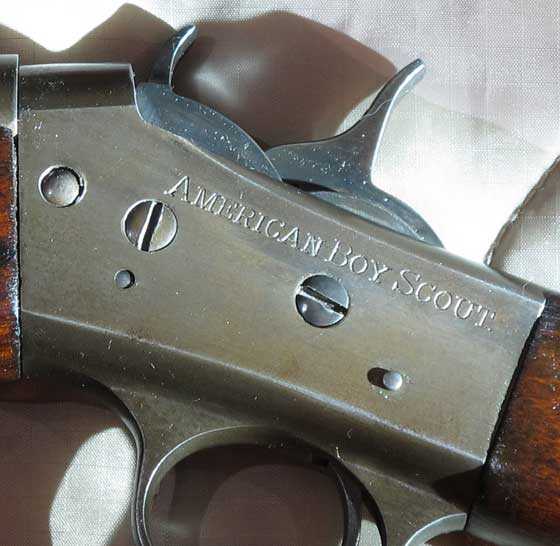 Only a few rifles were marked this way.
On the range
While all this was happening inside the hall, the 12 airgun ranges were percolating steadily. Crosman and Pyramyd AIR were on the ranges all day, allowing the public to shoot their airguns.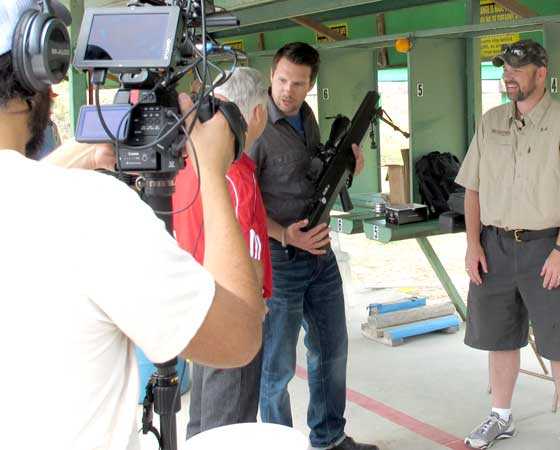 The Crosman team show their new Bulldog .357 to Rossi.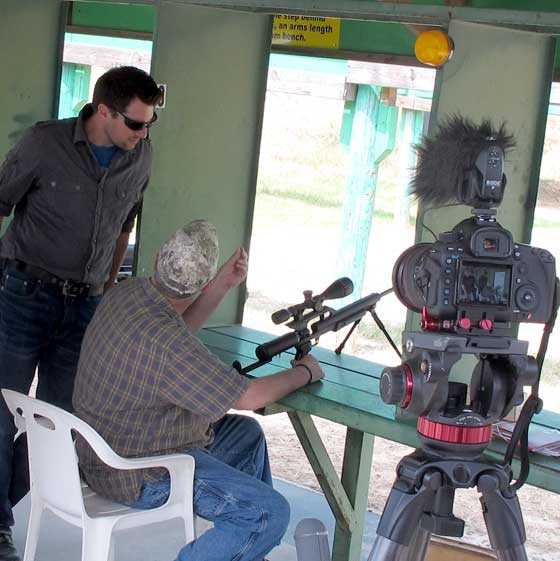 Jim Chapman prepares to shoot the AirForce Escape.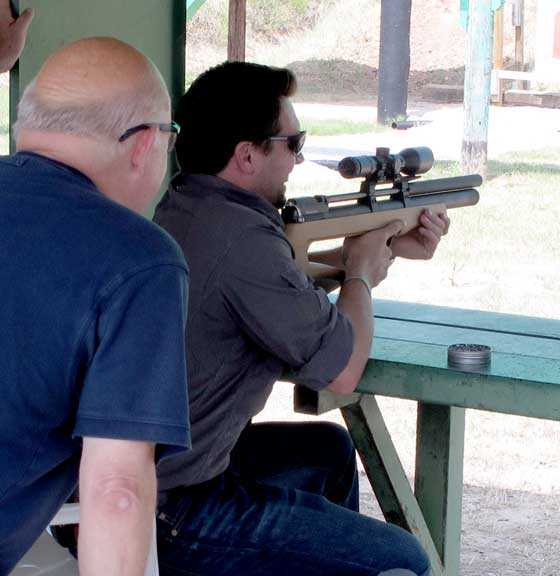 I watch Rossi shoot the new P12 Bullpup from MrodAir.
Things I missed!
Until I looked at the photos Edith and I took, I didn't realize all that was at this show. And then I saw David Enoch's photos on an airgun forum and saw that I had missed a Sheridan Supergrade I'd been looking for! The show was so busy that I walked past many tables and never saw what was in front of me.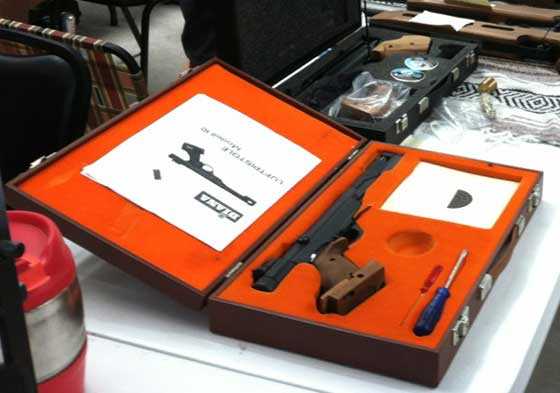 Until I saw Edith's pictures, I didn't know there was a Diana model 10 target pistol at this show!
Something that found me!
Remember, this show allowed firearms as well as airguns. Of course, any sales of firearms had to comply with state and federal laws; but for Texas residents, those laws are very reasonable. I was sitting at my table when a fellow Texan came up and saw my 1917 Erfurt P08 pistol (German Luger) in the lookalike display. He then opens a black plastic case and offers me a new-in-the-box American Luger that Stoeger sold in the 1990s. This one is complete and unfired. I may have bruised Edith's hand, ripping the money out so fast!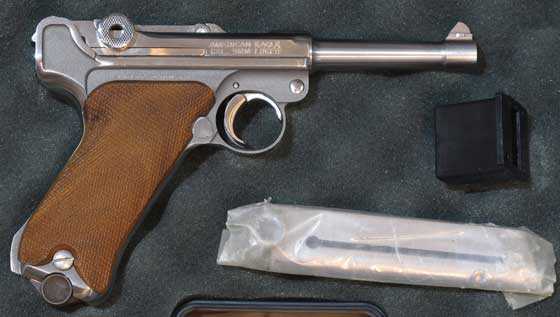 This new-in-box American Luger climbed right into my hands at the show.
And that's the way it went all day long. It was like an Easter egg hunt where you didn't know whether you were going to find an egg, a chocolate bunny or a 20-dollar gold piece! That may be why people were still buying tickets at 3:15p.m., and why the crowd was still in the hall when the show closed at 4.
All things considered, the first Ft. Worth Airgun Show was a huge success.