by Tom Gaylord, The Godfather of Airguns™
Writing as B.B. Pelletier
This report covers:
• How big was it?
• Larry Hanusch exhibit
• My display
• Door prizes and raffles
• More to come
The Ft. Worth airgun show was held last Saturday. In my opinion and in the opinion of the club that put it on, the show was very successful. Of course, we're biased, but I think the public was also impressed. At least, that's what they were telling me all day.
How big was it?
There were 60 tables at this show. They filled the hall we were in. We had a second hall we could have also used, but it wasn't necessary this time. Dealers set up from 6:30 to 9 a.m., and the public started coming in right at 9. We had a couple early buyers who paid the equivalent of a table fee to see what was in the show before the doors were finally opened. More than 400 people attended (including the dealers).
When the show opened, there was a line of people at the entrance, and it stayed there for quite a long time. I was too busy to photograph it until about 15 minutes after the door opened. It was jammed and remained that way until the show closed.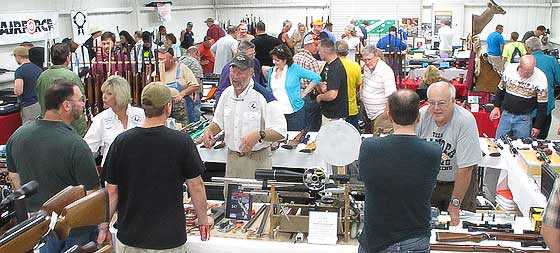 Fifteen minutes after the door opened, the show looked like this. It stayed this busy for the rest of the day!
Larry Hanusch exhibit
I invited collector Larry Hannusch to the show and asked him to bring his display of ball reservoir air rifles — some of which are from the 18th century! This is the largest display of these guns that you'll see in the United States. Even gun museums don't have as many of these curious big bore airguns.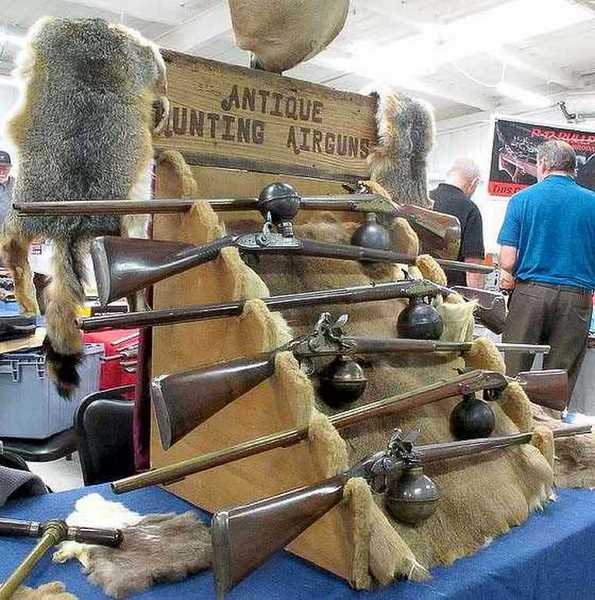 Six ball reservoir big bore airguns from centuries past were displayed by collector Larry Hannusch. Second from the top is a superior flask gun that has the ball reservoir above instead of below the action. The ball is offset so the sights can be seen.
Among the 6 guns on the display board is a superior flask gun that has the ball above the bore. One wonders how the shooter sighted such a strange weapon.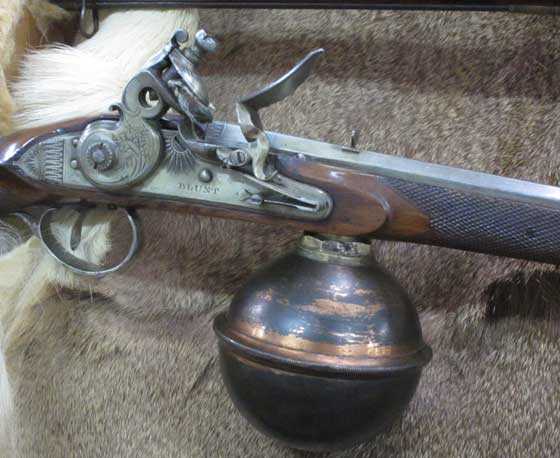 This ball reservoir airgun looks like a flintlock. While the frizzen is just for show, the hammer outside is the lever to cock the real hammer behind the lockplate. Some have said these guns were made to deceive so poachers could use them (airguns were quieter than the firearms of the day), but that large ball was just as recognizable in 1790 as it is today. This is probably just homage to the popular design of the day — just as today's big bores might look like ARs or AKs.

How did they fill those ball reservoirs? With hand pumps like this one. In a vintage pump, there were often no piston seals at all — just the steel piston hand-lapped to the bore of the pump tube. With a single-stage pump like this, a person's weight becomes the factor that determines how much air pressure can be achieved. Dennis Quackenbush and I experimented with this years ago and were able to hit 840 psi with a similar pump.
My display
Because this show was held at an active gun club whose members were free to come and go with their firearms, it was decided to allow firearms on the tables in the hall. That allowed me to display part of my lookalike airgun collection for the first time. Gun shows don't care about airguns (plus their tables cost too much!) and airgun shows don't permit firearms, so this was the first time I could show off some of what I have.


Airgun collectors are aware of the Ultra-Hi Pioneer BB gun (gun in the center with the blonde stock) that was made to be sold during the U.S. Bicentennial in 1976. The muzzleloader above it is the firearm that Miroku, the Japanese maker, made first. They made both guns. They copied the muzzleloader's style when making the BB gun. People know about the BB gun but are unaware the muzzleloader was ever made.
I displayed many more airgun/firearm lookalikes, but the one that captured most people's attention had to be the 2 Hakims I had on the table. The airgun was the trainer I am reviewing for you right now. We've seen that rifle 5 times already; and the next time, we'll be going inside for a look. But the other Hakim was an actual Egyptian 8mm firearm that I had just purchased at a gun show a week earlier — in this very hall! I'm not going to show you a picture of that rifle now, because I'll start a report on it very soon.
I showed Larry Hannusch and several other people how the Hakim firearm operates. Larry had 4 Hakim trainers for sale on his table, so he certainly knows a lot about them; but he told me this was the first Hakim firearm he'd ever seen. Another advantage of having firearms at this show.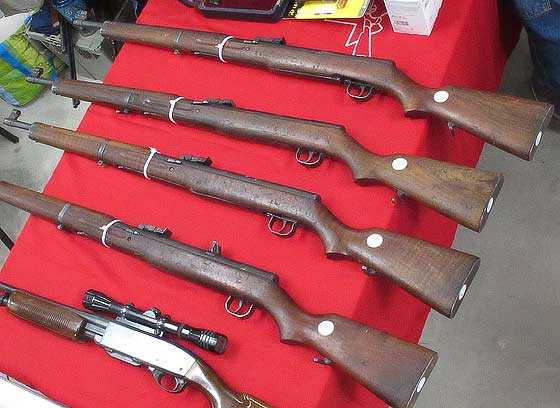 See 'em and weep! Four Hakim air rifle trainers, priced from $225 to $325. Don't tell me these can't be found. You just have to attend the right airgun shows. Look at the fiddleback grain in the butt of the one in the middle! The rifle shown at the bottom is a Remington Gamemaster , probably in .30-06 or .270 caliber.
The door prizes and raffles
If you wanted a good chance to win a fine airgun, this was the show to attend. Hatsan, Umarex USA and AirForce Airguns all donated raffle prizes that totaled over $2,000 in value. A Hatsan AT44-10 Long QE, a Walther LGV Competition Ultra and an AirForce Condor SS were raffled off. Each prize was won immediately, as everyone stopped and listened while the winning numbers were read off.
Pyramyd AIR, Crosman and Umarex USA donated door prizes that each attendee was eligible to win. They were given tickets they tore in half when they paid their admission to the show. Prizes included an Air Venturi Bronco, A Benjamin Trail NP2 and an RWS Diana 34P. Umarex USA also donated over a dozen smaller door prizes such as airsoft guns, American Airgunner caps and coffee cups. So a lot of people won something.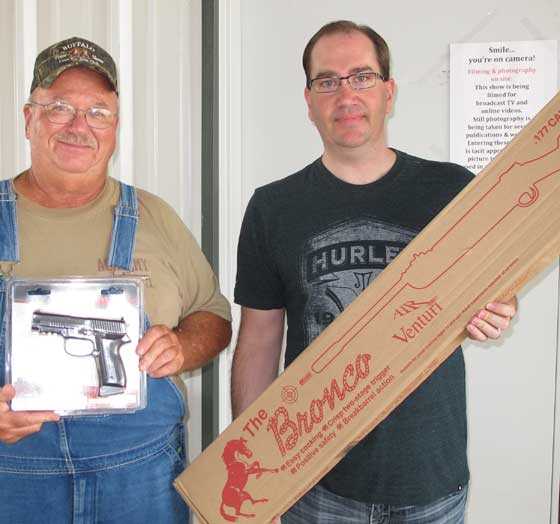 The first 2 door prize winners from 10:30 in the morning were pleased with their prizes! This is the way to keep an airgun show interesting!
The drawings were held every hour for the major prizes, from 10:30 a.m. to 2:30 p.m. So something was always happening, about to happen or just finishing up.
The major manufacturers and larger dealers
one key to the success of this airgun show was the presence of the major manufacturers and dealers. Pyramyd AIR sponsored the show and provided prizes, targets for the airgun ranges, safety glasses and hearing protection for everyone who came to shoot. AirForce Airguns helped out in numerous ways, including providing a rodeo announcer for the raffle and door prize announcements. They did it because — well — who else had a rodeo announcer at their table?
Umarex USA couldn't do enough for the show. Besides having a very active table in the hall and providing many more prizes than they had promised, the had the television program, American Airgunner, on site all day. They filmed the show and many of the special displays, plus they went out to the range and fired several wonderful airguns for future episodes.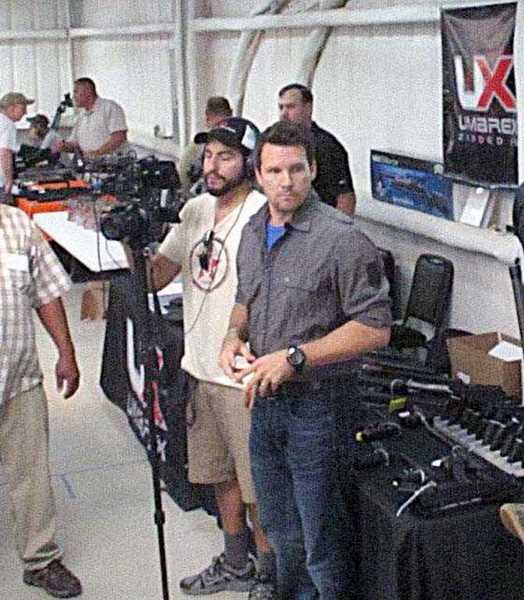 American Airgunner host, Rossi Morreale, was on hand for the entire airgun show. He told me privately that he had never seen a show as packed and energized as this one.
Crosman stayed on the range all day. They were demonstrating their new Bulldog .357 big bore rifle and letting anyone shoot it.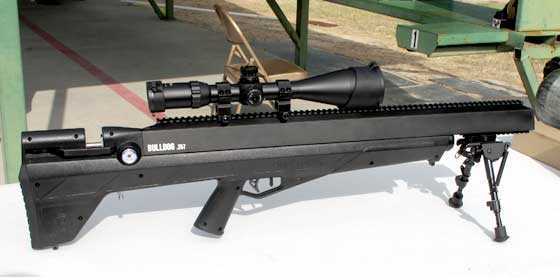 Crosman showed the 5-shot Bulldog .357 big bore repeater all day at the range and let anyone fire it. American Airgunner TV show took them up on their offer and filmed a segment for the show.
There were many other well-knowm dealers at the show. Rave Rensing of R. Arms Innovations (R.A.I) makes adapters to turn Crosman and Benjamin pistols into handy carbines was there. He told Edith he'd sold out of all but one of his adapters hours before the show was over.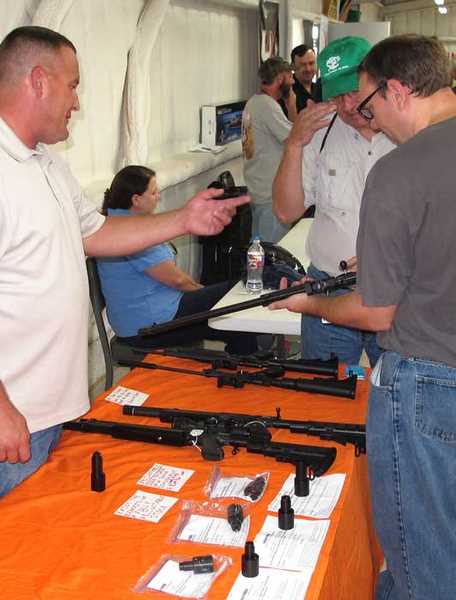 Dave Rensing, of R.A.I. (left), brought adapters to the show. These are already well-known and sold quite readily.
More to come
There's much more to report, but it will have to wait for Part 2. Suffice to say the first Ft. Worth airgun show was a tremendous success, and I think there will more of them.