by Tom Gaylord, The Godfather of Airguns™
Writing as B.B. Pelletier
Today's report is the start of a guest blog from airgunner and blog reader Fred_BR from Brazil. He's going to tell us about a breakbarrel spring-piston air rifle he recently acquired. It's a civilian copy of a scarce military trainer.
If you'd like to write a guest post for this blog, please email me.
Over to you, Fred.
This report covers:
• FAL in the Brazilian army
• FAC: Fuzil de Ar Comprimido
• My Model Sport 82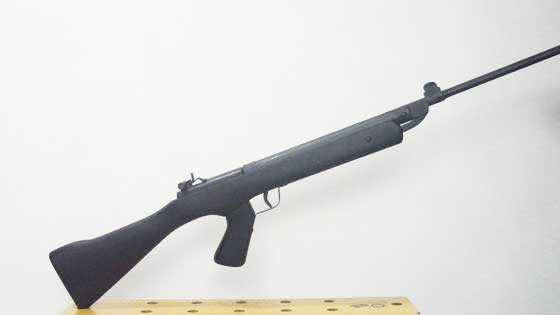 Rossi Sport 82
Today, I'll show you an old rifle that I believe most of you have never seen: the Brazilian-made Rossi Model Sport 82. It is a civilian version of a military training rifle used by the Brazilian army to train recruits before letting them handle the firearm — the FN-FAL 7.62 NATO battle rifle.
FAL in the Brazilian army
In 1964, the Brazilian army adopted the FN FAL 7.62X51mm (.308 Winchester) battle rifle as a replacement for the old bolt-action Mauser rifles then in use. IMBEL, the Brazilian Government arsenal, acquired the rights to produce a local version of the firearm, eventually making 250,000 of them according to some sources. The FAL proved to be a very sound choice, and to this day it's the preferred rifle of many military and police elite units. For recruits, however, the FAL is not exactly easy to master, especially for inexperienced hands.
The Brazilian army approached Amadeo Rossi S/A and asked for a version of their standard air rifle to mimic the FN FAL. Rossi, a Brazilian manufacturer well known to American shooters for its line of budget-priced revolvers, is also a traditional maker of popular air rifles, mostly inexpensive and very simple in design — but well built.
The response from Rossi was a breakbarrel spring-piston rifle with a redesigned stock that has a pistol grip, a false magazine, and front and rear metallic sights that copy those of the FAL. Lead inserts would bring the weight close to that of the standard FAL rifle. Even the carry handle was included. Caliber was .177, the only airgun caliber then available in Brazil.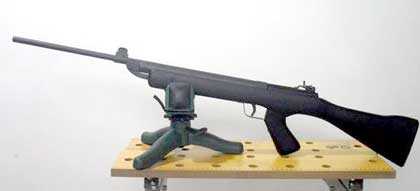 The Sport 82 is a civilian version of the military FAC, or compressed air rifle, used by the Brazilian army for training.
[Editor's note: Many countries do not permit former military weapons or even airguns to be sold to civilians. They feel it promotes theft, which it certainly does. Some countries don't even allow civilians to use firearms chambered for military cartridges for the same reason.]
FAC: Fuzil de Ar Comprimido
The resulting gun would be adopted as the "FAC – Fuzil de Ar Comprimido," Portuguese for "compressed air rifle," a nickname sufficiently close to "FAL" to satisfy the officers. The rifle would be the initial introduction of recruits to shooting, before being allowed to use the firearm.
Rossi would sell this rifle to civilians with some modifications. Some say they were obliged to do so because of military restrictions, others say they modified the rifle to become more acceptable to young shooters — then the only market for airguns in Brazil. Rossi may have realized that no kid in their early teens would buy such a heavy rifle and made it lighter and without the false magazine and carry handle, but keeping the FAL-style sights. This model would be released to the shooting public in Brazil as the Model Sport 82.
My Model Sport 82
I searched for an example of this rifle after B.B.'s post on the Egyptian Hakim airgun. It didn't take me long to find one. The gun is a spring-piston, breakbarrel rifle with 13.60 inches of barrel length, 38 inches overall, weighs 5 lb., 4 oz., and has a 15-inch length of pull. The stock is made of black-painted wood, and features a pistol grip and general style that basically copies the grip and stock of a standard fixed-stock FAL, although some models were sold with the natural color of wood. Later models would be equipped with barrel-mounted open sights, but my rifle has the FAL-style peep sights regulated for height and windage via two screws.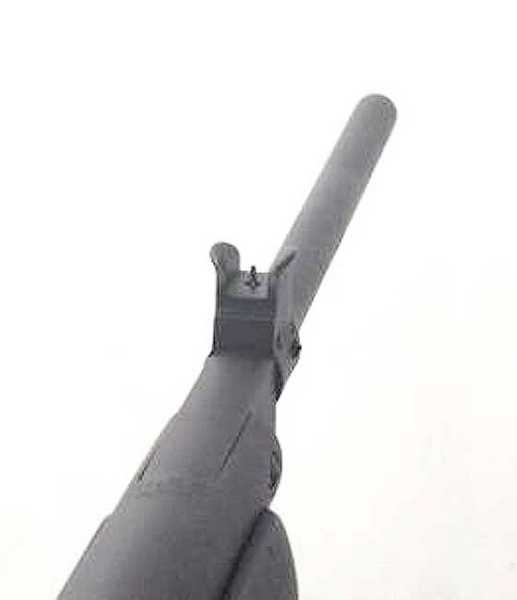 The front sight is a simple post protected by two ears like the FAL and located closer to the breech than on most airguns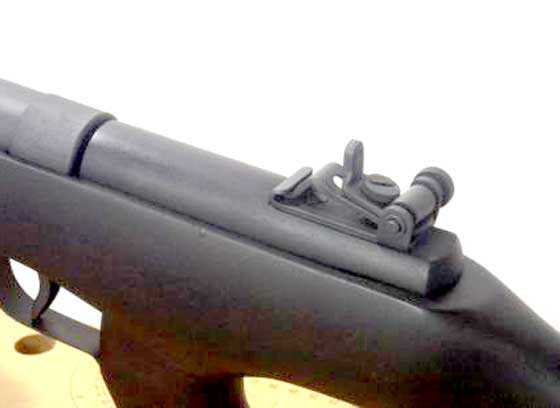 The rear sight is an aperture adjusted for height and windage by two screws. It's mounted on top of a wood extension to fit the FAL-sized stock.
The spring-piston tube assembly is very short, almost junior-sized. To meet the FAL-lookalike specs required by the army, Rossi added an extension behind the rear portion of the spring tube, apparently also made of wood, just to keep the action from being too short in the long stock made for this model. Keep in mind, fellow readers, that airguns made back then in Brazil were mostly considered youth rifles not intended for adults at all, so they were mostly compact and lightweight models. The gun has no safety of any kind, so it relies on good handling to avoid accidental discharges.
The breakbarrel action is very smooth and easy to cock, as a good youth models needs to be. The short-stroke spring-piston rifle can push pellets in the 450 f.p.s. to 480 f.p.s. range. This is sufficient for most applications of such a training airgun. That's the good news.
Now for the bad news: The trigger is horrendously heavy. I couldn't even measure the trigger weight. I can only tell you that this gun sports the heaviest trigger I've ever encountered on any rifle — airgun or firearm. The thing is so difficult to pull that, after a few shots, I was feeling pain in my trigger finger. It definitely took the fun out of the equation pretty quickly. As the gun has no safety, I can only think this was Rossi's way of preventing an accidental discharge by making the trigger so heavy that kids wouldn't pull it unintentionally. Well, I almost could not pull that thing even on purpose!
I would love to show you lots of pictures of very tight groups made with the Rossi 82, but the best I could do was a mere 1.25 inches at 10 meters with this gun. I blame the trigger for that, and I plan to disassemble the gun to check the exact condition of its trigger and sear. Maybe some careful trigger work will improve it.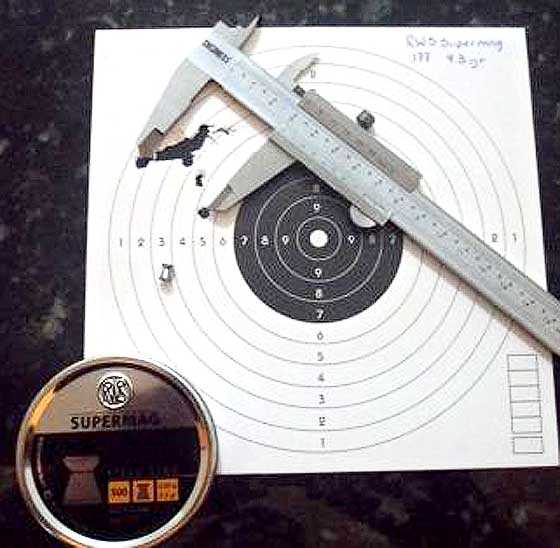 Ten 9.30-grain RWS Supermags grouped 1.25 inches at 10 meters, approximately. The rifle cannot really perform any better than this due to its heavy trigger.
Except for the trigger, the Sport 82 is a lightweight, easy-to-cock carbine with a distinguished look that sets it apart from other air rifles. It has a history of service to my country, training civilians and military recruits, and doing its job gallantly. To this day, the Brazilian army still introduces safe gun handling to trainees using the FAC.