by Tom Gaylord
Writing as B.B. Pelletier
This report covers:
• Test structure
• Crosman Competition wadcutter pellets
• H&N Finale Match Pistol pellets
• Daisy Precision Max pellets
• RWS R10 Heavy Match pellets
• The results
• Final comment
This is the rest of the 10-meter pellet comparison test, and today the differences are greater than they were in the first half of the test. Today, I am shooting a Diana model 72 recoilless target rifle that's made on the Diana model 6 target pistol action. It shouldn't be quite as accurate as the Crosman Challenger PCP I used in the first part of the test, but it's roughly equivalent to a Daisy 853.


The obsolete Diana 72 is a recoilless breakbarrel target rifle designed for youth. It's based on the model 6 target pistol.
I shot the exact same pellets in this test as I shot in the first part. I shot them in the same order, keeping as much of the test the same as possible.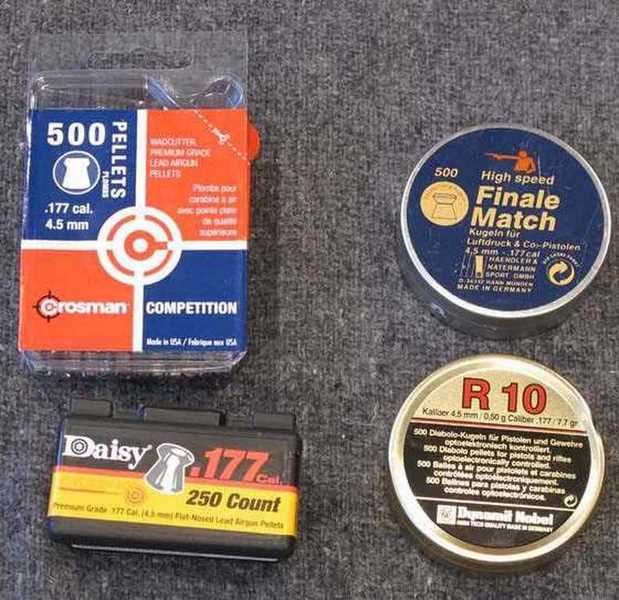 These are the pellets used in tests for today and yesterday.
Test structure
There are 2 different budget wadcutter pellets and 2 premium pellets to test today. That means a total of 4 pellets will be shot, so I decided to shoot one 5-shot group followed by one 10-shot group with the same pellet at 10 meters. The rifle was rested.
A reader asked what kind of front sight element I used yesterday with the Crosman Challenger. It was an aperture (post with a hole in the top that you center the bull in), and I'm using the same kind of front sight element today.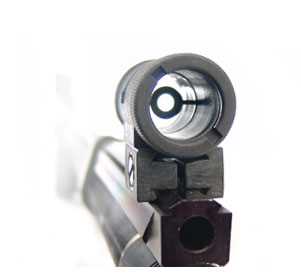 The front sight element of the Crosman Challenger I tested yesterday.
Let's get started. I sighted-in the rifle with Crosman Competition wadcutters, because that was the first pellet I would shoot.
Crosman Competition wadcutter pellets
Five Crosman Competition pellets went into 0.433 inches at 10 meters. The group is strung out vertically. Ten pellets made a 0.360-inch group. That's right — it was smaller than the 5-shot group! No explanation for why — it just was.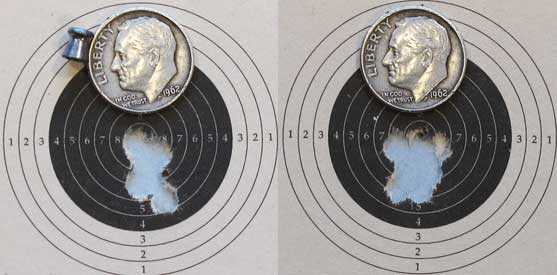 Five Crosman Competition wadcutters went into a vertical 0.433-inch group (left). Then, 10 of the same pellets made a 0.360-inch group. Stuff happens. The 5-shot group is probably not representative of this pellet's accuracy in this rifle.
H&N Finale Match Pistol pellets
Next up was the H&N Finale Match Pistol pellet. Of the 4 pellets tested in the Challenger, it did the best yesterday. In the Diana 72, 5 Finale Match pellets made a 0.148-inch group. Ten Finale Match pellets went into a nice round group measuring 0.221 inches. Once again, this pellet did very well.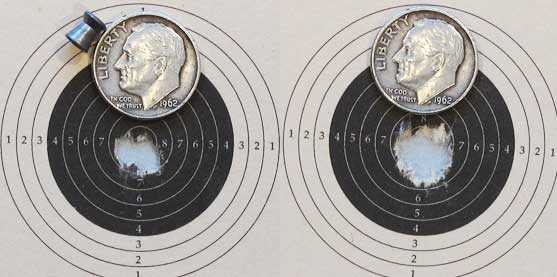 Five H&N Finale Match Pistol pellets made a tight 0.148-inch group (left). Ten went into 0.221 inches. Both groups are nice and round.
Daisy Precision Max pellets
Next up was the Daisy Precision Max wadcutter pellet that surprised us in the first test. There's a surprise today, as well, but it's not the good kind. This pellet fit the Diana 72 breech very loosely, and it also sounded different when fired.
Five Precision Max pellets went into 0.327 inches at 10 meters. Ten went into a very vertical 0.662-inch group. With such results, I would have to say that this is not the right pellet for this rifle — just from the loading and the different firing behavior. And those groups underscore it!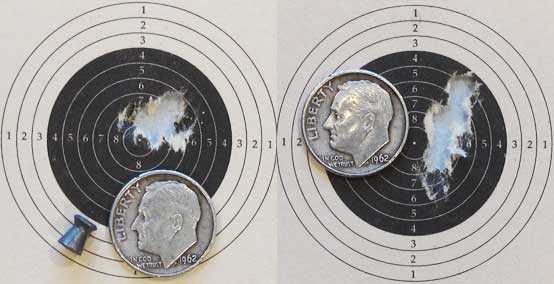 Daisy Precision Max pellets didn't do well in the Diana 72. Five made a 0.327-inch group (left) and 10 strung out vertically in a 0.662-inch group.
RWS R10 Heavy Match pellets
The last pellet I tested was the RWS R10 Heavy Match wadcutter. Actually, I'm using a 7.70-grain R10 pellet that's no longer made, but the R10 Heavy is as close as you can get. It was very good in the Diana 72, putting 5 into 0.175 inches and 10 in exactly a quarter-inch (0.250 inches).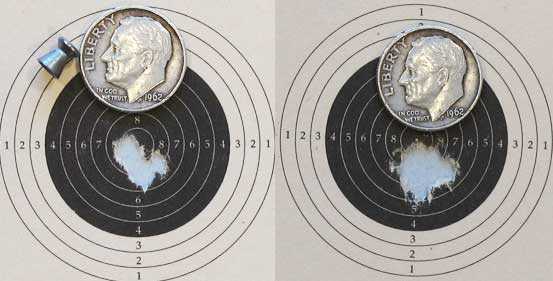 Five RWS R10 Heavy pellets made a 0.175-inch group (left), and 10 went into 0.250 inches.
The results
Today's results are more dramatic than those of the first test. By that I mean there are clearer choices among the pellets today. And that tells me that you have to conduct this kind of test for each rifle you intend shooting. Can you imagine how many points a shooter would give away if they shot this rifle and the Daisy pellets?
We had an anomaly today when the 10-shot Crosman pellet group was smaller than the 5-shot group with the same pellet. If I was really testing this rifle for possible use as a target rifle, I would do more testing of that pellet.
In all the other cases, though, 10 shots made a larger group than 5, just as they did in the first test.
There's something else to note today. The 2 premium pellets not only grouped better than the 2 bargain pellets — they also hit in pretty much the same place. The 2 bargain pellets did not.
That said, I think that shooting coaches now have enough information to conduct a similar test on their own guns with the pellets their teams shoot. Think about those shooters whose scores are high enough to justify shooting the best pellets they can find.
I'll also say this — many of you are interested in the sport of field target. The exact same thing happens there as in this test. We shoot the gun we will compete with to find the one best pellet, and then lay in a large supply of them. Once we have that supply we do special things, such as sorting the pellets by weight and scanning for imperfections.
I'm now going to give this test a rest for a while so we can look at other airgun things, because not everyone is interested in this subject. When I come back to it, we'll be looking at the accuracy of a lower-powered spring gun at 25 yards — both with the premium pellets I know it likes best and also with bargain store pellets.
Final comment
I have to make this last comment. We had a reader comment yesterday that I selected the best of the premium pellets — the ones I knew the rifles liked, but used any bargain pellet that came from either a discount store or a large sporting goods chain store. That is correct. I did it that way because that's what I'm testing.
Some people feel that any pellet will work in a gun, and others feel you have to test them to know which ones work the best. The "any pellet will work" folks buy bargain pellets at discount stores without regard to how well they preform. I'm trying to see if there's any reason not to do it that way. In other words — are premium pellets worth the expense and effort?