Qiang Yuan pellet comparison test: Part 1
by Tom Gaylord
Writing as B.B. Pelletier
This report covers:
• Introduction to 3 new pellets
• Test design
• Today's test
• The pellet
• FWB 300S air rifle
• Crosman Challenger PCP rifle
• Bottom line
Introduction to 3 new pellets
Today, I'm doing something different. Pyramyd Air has 3 different wadcutter pellets from the Chinese manufacturer Qiang Yuan. One is a standard-grade pellet they call the Qiang Yuan Training Pellet. The second is an upscale target pellet they call the Qiang Yuan Match Pellet. And, the top-of-the-line Qiang Yuan Olympic Pellet. Unlike Chinese wadcutters of the past, these 3 are not trying to compete on price. In each of their categories, they cost as much as or more than well-known premium pellets. I think a comparison test is in order.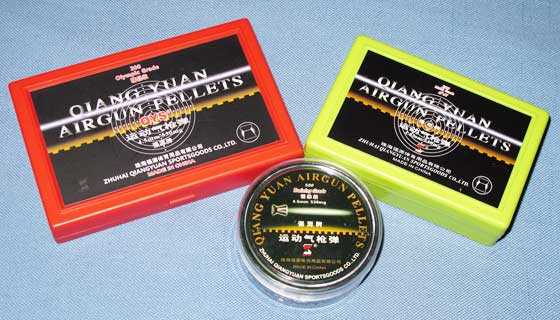 Qiang Yuan is a pellet name that's unknown in the U.S. Olympic pellets in the red box (200), match-grade pellets in the yellow box (200) and training pellets in the round tin (500). These 3 will each be pitted against equivalent pellets that are well known.
Test design
My test will pit these pellets against well-known established pellets of similar quality. Since I don't know how accurate these pellets are, I am basing the test on their product titles and prices. These are all wadcutters, so the test will be conducted only at 10 meters. Wadcutter pellets of all types scatter wildly after about 25 yards, so they are primarily a target pellet, with secondary use for close-range critter control.
I'll shoot all pellets from 2 rifles — an FWB 300S and a Crosman Challenger PCP The 300S is my most accurate 10-meter spring-piston rifle, and the Challenger is the best 10-meter PCP I have access to. Both rifles have been used in this blog several times in the past. All shooting will be done from a bag rest to keep as much of me as possible out of the picture.
Today's test
Today, I'll pit the Qiang Yuan Training Pellet against the popular RWS Hobby. Hobbys are certainly considered to be training pellets, and they cost almost 2 dollars less than the Qiang Yuan Training Pellets for the same quantity of 500, so this should be a fair test. Since I'm shooting 2 different accurate rifles, both pellets will have an equal chance to excel.
The pellet
The Chinese Training Pellet weighs 8.2 grains. The skirt is smooth, and the skirt walls are thin. Looking closely at the pellet, I see that it's well made.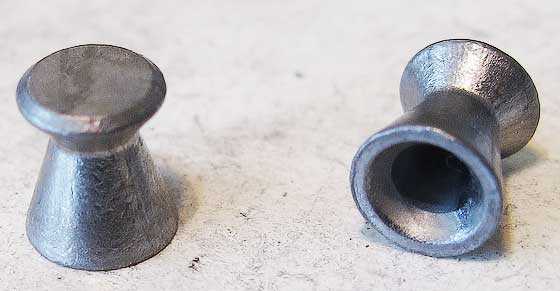 The Qiang Yuan Training Pellet is well-formed and looks uniform.
The RWS Hobby pellet weighs just 7 grains in comparison. The skirt has ridges and is also thin. This appears to be a well-made pellet on inspection, and of course its performance history bears that out.
FWB 300S
The first rifle I shot was the FWB 300S, and the first pellet was the RWS Hobby. Shot one confirmed the rifle was still sighted-in and I didn't look at the target again until all 10 shots had been fired. Ten pellets made a group at 10 meters that measured 0.328 inches between centers. If this seems large, remember there are 10 pellets instead of just 5.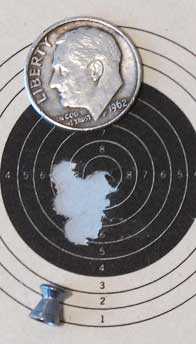 Ten RWS Hobby pellets went into 0.328 inches at 10 meters when fired from the FWB 300S.
Now it was the new pellet's turn. I noted that when it loaded, it fit the FWB 300S breech much looser than the RWS Hobby had.
As before, I checked to make sure the first shot was in the bull and didn't look again until all 10 shots had been fired. Lo and behold, 10 Qiang Yuan Training Pellets went into 0.234 inches at the same 10 meters from the FWB 300S. This is a clear and obvious improvement over Hobbys.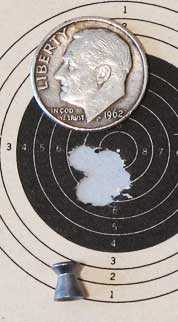 The FWB 300S put 10 Qiang Yuan Training Pellets into 0.234 inches at 10 meters. It's easy to see this is a smaller group.
If these had been just 5-shot groups, there might have been cause to wonder about random luck. But with 10 pellets in each group, luck plays no part. The Qiang Yuan Training Pellets did the best.
Crosman Challenger PCP
Next up was the Crosman Challenger PCP target rifle. The rear sight fell off the rifle as I was filling it, so I remounted it and had to sight-in the rifle, again. As you'll see, I didn't quite get the groups centered — but it was good enough for this test.
First up were the RWS Hobbys. The Challenger put 10 of them in a group that measures 0.424 inches at 10 meters. You can see some tendency for the pellets to string on a diagonal.

Ten RWS Hobby pellets went into 0.424 inches at 10 meters when fired from the Crosman Challenger PCP.
Now, it was the Qiang Yuan pellet's turn. This time, 10 went into a very round 0.181-inch group — the best group of the day!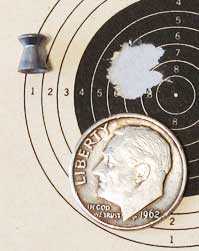 The Crosman Challenger PCP put 10 Qiang Yuan Training Pellets into 0.181 inches at 10 meters. This was the best group of the day!
This test turned out better than I'd hoped. I say that because there's a clear winner. And, also, because it's easy to see how one pellet shoots better in one test rifle than the other.
Bottom line
The Qiang Yuan pellet beat the Hobby in both rifles today. It's earned a spot among those pellets we call premium. Yes, they do cost significantly more than Hobbys; but, if I were shooting a match with either of these rifles, I would pick this pellet over the Hobbys.
Tom Gaylord is known as The Godfather of Airguns™ and has been an airgunner for over a half-century, but it was the 
Beeman
 company in the 1970s that awoke a serious interest in airguns. Until then, all he knew were the inexpensive American airguns. Through the pages of the Beeman catalog, he learned about adult airguns for the first time. In 1994, Tom started
The Airgun Letter
 with his wife, Edith. This monthly newsletter was designed to bring serious reports about airguns to the American public. The newsletter and
Airgun Revue
, a sister magazine about collectible airguns, was published from 1994 until 2002, when Tom started
Airgun Illustrated
-- the first American newsstand magazine about airguns. Tom worked for three years as technical director at
AirForce Airguns
, the makers of the 
Talon, Condor, and Escape
 precharged air rifles. Today, he writes about airguns and firearms for various publications and websites. He also makes videos, and you'll find short clips embedded in some of his artices on Pyramyd Air's website. Tom is a consultant to Pyramyd Air and writes under the name of B.B. Pelletier.