by Tom Gaylord
Writing as B.B. Pelletier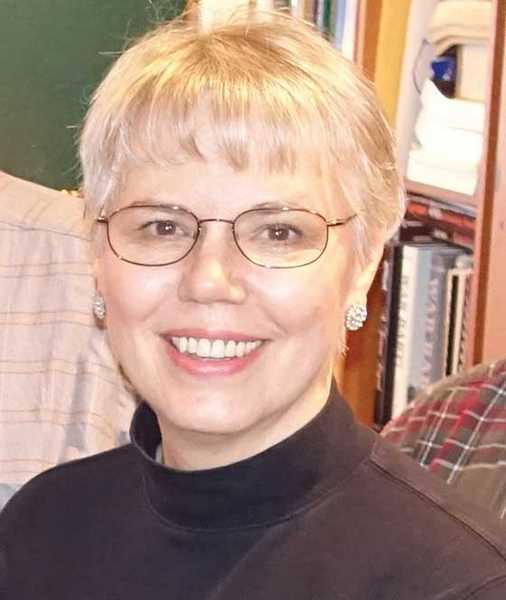 Edith Gaylord — 1948-2015
This report covers:
Introduction
Silver spoon days
Exiled — twice!
Out of Germany
Mukden
Leaving Mukden — thanks to an American hero!
Shanghai
America
Health
Tomboy
Alternative medicine
Introduction
I was asked by several readers to write this report, but I would have written it anyway eventually. Because Edith Gaylord was a remarkable woman.
For starters, Edith was her middle name. Her first name was Inga — named after the aunt who sponsored her family so they could immigrate from China, where she was born in 1948. Yes, I said China! Inga Edith Gaylord was born in Shanghai, China in a Catholic convent that had been closed, due to the civil war that was raging across that country. Edith's family lived during a time and under conditions that some younger Americans refuse to believe ever existed.
Silver spoon days
Her parents, Ernst Goldstein and Margaret Vendt Goldstein, were originally from Charlottenburg, Germany — a community within Berlin. Her father was a PhD chemist and the son of a medical doctor. Her father's family was very affluent when he was younger. Unfortunately, their last name was Goldstein, at a time when that was not a good name to have in Germany. They were Lutherans, but a day came when that didn't matter.
Exiled — twice!
Her father lost the right to work in Germany in the early 1930s and had to move to Turkey for about three years. The Turks were just glad to have a German scientist to employ and Edith's father and mother had grown used to eating, so the arrangement worked out for a while. But the politics in Germany grew worse and the Turks were forced to expel the Goldsteins, who had to return to their native country. Things were much worse when they returned, and Edith's father looked all around the world for two things — a country that would accept a person named Goldstein and one that had work for him. China finally accepted him because they were in a horrible state and needed scientists badly.
The Germans were glad to be rid of him, so in 1938 he left his homeland again, but without his wife who was not permitted to travel with him. He got work in a Chinese plant and was told to make medicine — any kind of medicine! For materials he was given the 4 elements — air, earth, fire and water! I am not making this up. The Chinese had been invaded by the Japanese and had severe setbacks that destroyed most of their society. They were desperate.
Out of Germany
Edith's mother was advised by the Nazi government to divorce her husband and she could live as a full German citizen again. She refused to do that, so the government made things very hard for her. Every day she would apply for a travel visa and every day she was advised to divorce her husband. Then came a day when she was told she had to divorce her husband or be sent to a concentration camp that day. I'm sure they weren't called that, but the German people knew what they were — places where undesirables were held. They hadn't started the mass executions yet, but only a fool didn't know they were coming. The Russian Pogwoms were still in everyone's recent memory. If she refused either of these 2 options, she had 5 hours to leave the country! Most of the family remained in Germany and were eliminated in the camps, one by one.
She had no money, but was given a gold pocket watch when she boarded the train to Poland. She used that as money outside Germany, but would have been sent to a concentration camp if it had been found on her at the border. From Poland she went to the Soviet Union and crossed that nation on the Trans-Siberian Express. Sometime during that journey someone on the train was seen taking pictures out the window with a camera and the train stopped on the tracks for 2 days while the Soviets searched each car thoroughly. Finally the person who owned the camera confessed and it was taken from him. He was a young American, so nothing was done to him beyond expelling him from the country.
Mukden
Edith's mother reunited with her husband in Manchuria where there was a small community of German Jews. For the next 10 years they lived in Mukden, a very large city that is called Shenyang today. Edith's older brother, Bob, was born there. Her father wasn't being paid most of the time, so her mother became an entrepreneur. The Russians had invaded the country to help the Chinese expel the Japanese, and Edith's mother knew that soldiers liked souvenirs, so she went around to the formerly wealthy Chinese homes, asking for things she could sell to the soldiers. She split the profits with the Chinese owners who could not do business directly with the soldiers because they would most likely be killed. When she got some money, she bought some food and walked to where her husband worked, where they shared it.
Edith's mother strapped her infant son on her back as she went around selling her trinkets because she knew the Russians, Japanese and Chinese all revered children. They were less likely to kill her if they saw she had an infant.
Leaving Mukden — thanks to an American hero!
But things in China turned worse after the World War. The Communist Chinese began taking over the country from the Nationalists, one provence at a time. Mukden was far in the north and the ChiCom army didn't get there until 1948, but then their forces surrounded Mukden and no one could leave. Edith's parents and her brother tried to escape but found the way blocked. Then, a young American State Department employee gave them his seat on the last U.S. diplomatic flight out of Mukden. Three people in one airplane seat — that's how desperate things were!
William Stokes was that young man and Edith tracked him down in the late 1990s. He was retired and living in Maryland. We lived about 20 miles from him, so Edith, her bother and his wife and I all went to the Stokes' house to thank him for what he had done. He told us the Communists Chinese arrested and held him for a long time when they sized the city, and it was only through diplomatic channels that he was later freed.
Better than that, his wife was a young woman whose family rented a room to Edith's family. She remembered both of Edith's parents and brought out a photo album that showed the house they had lived in! Boy, there was a lot of crying and hugging that day, I can tell you! As an outsider I felt I was watching a real Hollywood tear-jerker story unfold in front of my eyes.
Shanghai
The U.S. plane that left Mukden landed in Shanghai and Edith's family could not go any farther because her mother was very pregnant with her. So they walked around the city, looking for what to do next. They found a Catholic convent that was closed, but Edith's father persisted in banging on the heavy wooden door until it was unlocked and the nuns took them in. Edith was born a few days later in their infirmary. They could not issue a birth certificate because there was no Chinese government to issue official documents at the time, so they issued a certificate of live birth instead. The U.S. government accepted that as her birth certificate when they issued her naturalization papers in the 1950s.
Edith's father "sold" his sole posession — a manual typewriter — to the convent's Mother Superior for some money, and began trying to leave Shanghai. Finally an aunt Inga in New Jersey stepped up and sponsored the family, providing transportation to the U.S. That's where Edith's first name came from.
In the late 1990s Edith tracked down 2 of the very nuns who had been at the convent in Shanghai when her family was there. Her father had kept their names in his address book — sending money to support them whenever he could. Both women were in their 90s and were unable to remember the incident in Shanghai when Edith and her brother visited them in New Jersey, but Edith and her brother told their story to the other nuns who could understand. They were amazed. You don't hear stories like this today!
America
Edith's father found work in New Jersey as an elevator operator. Then he washed dishes. A PhD chemist washing dishes! But things like that happen whenever people flee oppressive countries. Of course that didn't last very long. With his background and education he eventually got a position with the Martin company (Martin Marietta) in Florida and also worked as an associate professor at Florida State University.
Health
Edith was born to a malnourished woman who had been starving in China for a decade. She was born with rickets and bowed legs. She wore corrective shoes until she was in the second grade. She was force-fed so much cod liver oil as a child (because of a vitamin D deficiency) that her liver was all but destroyed.
And she grew up very fast. Always the tallest pupil in class until high school, she even towered over some of her teachers. As a result, she appeared to be robust and full of health. But she wasn't. She had a tough shell but was very fragile inside. She reacted violently to prescription medications that didn't phase most people. She had a list of allergies that made some people think she was a hypochondriac — including the one dentist who gave her Novocain for a dental procedure — despite the warning on her dental records — and stopped her heart! Fortunately the local hospital in Maryland was able to start it, again.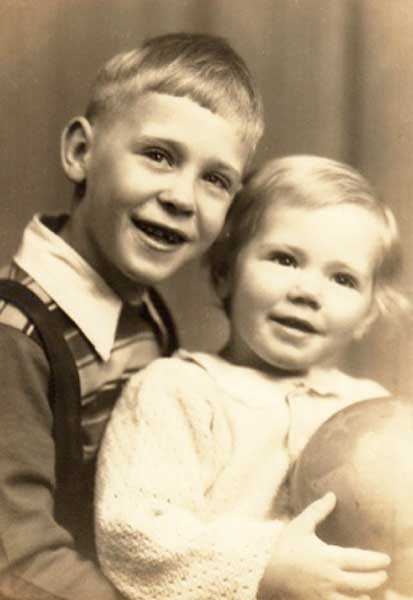 Edith with her brother, Bob, Christmas, 1950.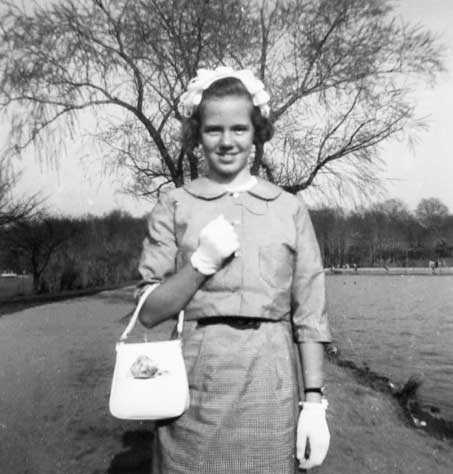 Easter, 1960. Edith is growing up!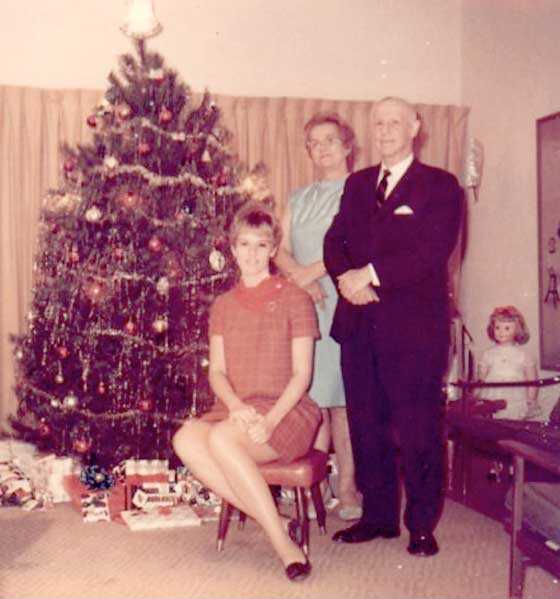 Edith with parents, Christmas, 1968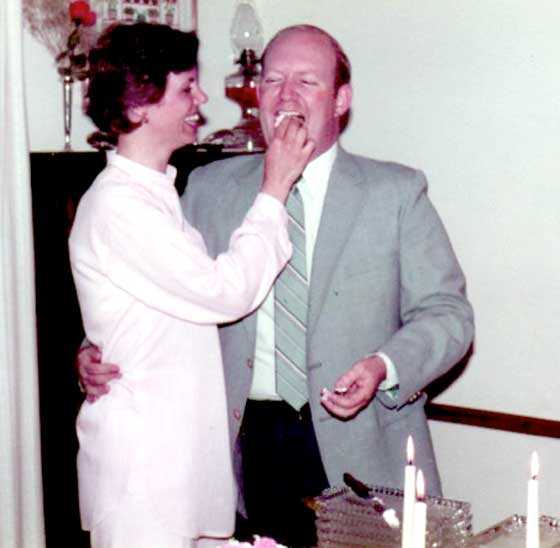 Edith and I are married, May 21, 1982.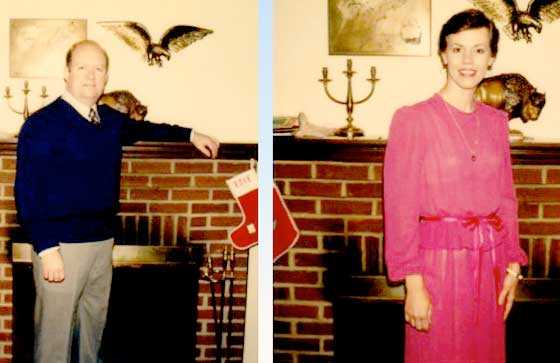 Edie and I celebrate Christmas in Maryland, 1983.
Tomboy
She built model cars as a kid and could name most 1950s and '60s Detroit iron just from seeing the fenders or grille. She was never a girlie-girl, though her favorite color was hot pink and though she was very attractive. But she hated shopping in stores, buying clothes and spending money on herself. And, when I shot holes in the walls or the couch, she just shrugged it off. Hey — that's bound to happen, she said!
Edith loved the United States. She had heard the stories about Germany, Turkey and China from her mother and she had a great appreciation for the freedoms we had in this country. That's why she was a prepper. She didn't care for big government — especially when they wanted to use more of our money to tell us how to live. She loved the free spirit of Texas and rejoiced when we moved here in 2003. She got her concealed carry license as soon as she could and she carried all the time. But it was the free, unoppressed spirit of the Texans she really responded to. They talked and acted like she felt!
Alternative medicine
As a result of her fragile medical condition, Edith was extremely interested in alternative medicine. She wanted to know everything she could about her own health, so she could control it. She even worked for a major marketing group where she ghosted Dr. Atkins' (the diet doctor) monthly newsletter for 18 months. After a couple sessions with her, Dr. Atkins relaxed because he knew she would never write anything that wasn't entirely true and proven. He trusted her writing for him. After that gig she wrote an alternative health blog of her own that gave her great satisfaction.
I have not told you anything yet about Edith and shooting or Edith and airguns. Believe me — there is a lot more to tell. She knew more about airguns and the shooting sports than any woman I have known and even more than most men!