BBs vs. Pellets in a Single Action Face Off
The last time I did a "BBs vs. Pellets" comparison I didn't exactly have a perfectly level playing field. Both guns were Umarex semi-auto designs (the Beretta 92 FS and 92A1) but the 92 FS used an 8-shot rotary pellet magazine while the 92A1 was a blowback action model with a self-contained BB and CO2 magazine. The guns had different operating systems and different average velocities. It was a coin-toss decision.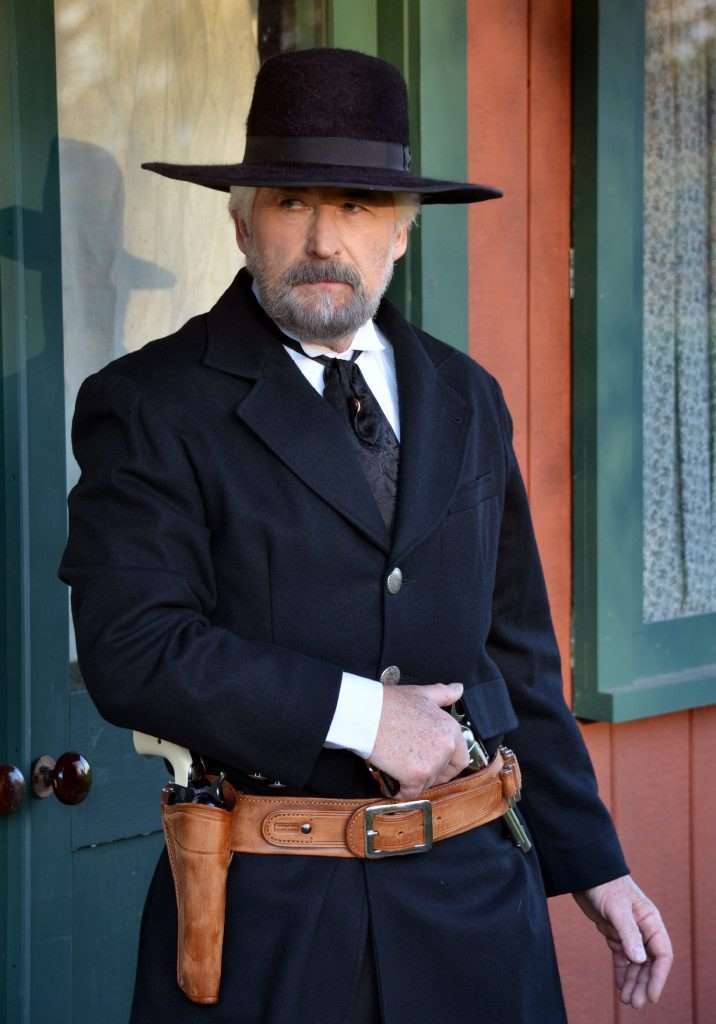 This time both guns are exactly the same, Umarex Colt Peacemakers with 5-1/2 inch barrels, the CO2 contained inside the grip frame, and the BBs and pellets loaded into individual cartridges. The only variances are the pellet gun's rifled barrel vs. the BB model's smoothbore, and the ammunition, Hornady Black Diamond 5.1 grain black anodized steel BBs and Meisterkugeln 7.0 grain Professional Line lead wadcutter pellets.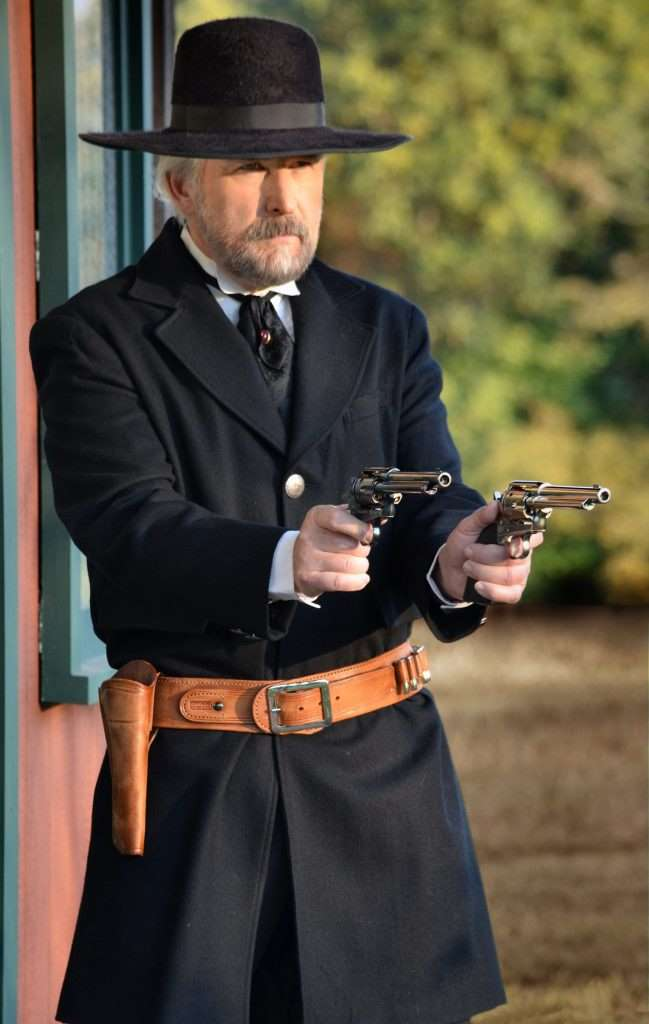 The Real Shootout
In July of 1865, one of the greatest pistoleros of the American West, James Butler "Wild Bill" Hickok had his first public shootout in Springfield, Missouri. His adversary was a former Confederate soldier and gambler name David Tutt. The basis for their disagreement has been disputed over the years from something as simple as an argument over a woman, to Tutt winning a poker game with Hickok the night before the gunfight, where Wild Bill had forfeited along with all his cash a gold cased Waltham pocket watch. Hickok intended to purchase the watch back from Tutt and asked if he would be so kind as to not wear it in public. The gambler chose to ignore the request and told Wild Bill he would be wearing the watch the very next morning. Hickok looked at Tutt and said straight out, "If you do, I will shoot you, and I warn you not to come across the square with it on."
As history records, Tutt did exactly that and the two men exchanged fire from a distance of approximately 75 paces. In the Old West, a pace was the distance covered in a normal step, and depending upon the individual, that was anywhere from 30 to 40 inches, so around 200 feet between Hickok, standing on the corner of South Street, to David Tutt's location, standing across the town square at the corner of Campbell Street in front of the court house. Varying witness accounts say that both men drew and fired simultaneously, while another account has Hickok being faster but waiting for Tutt to fire first. He did, and he missed. Hickok rested an 1851 Navy revolver over his left arm to steady it and shot Tutt through the heart.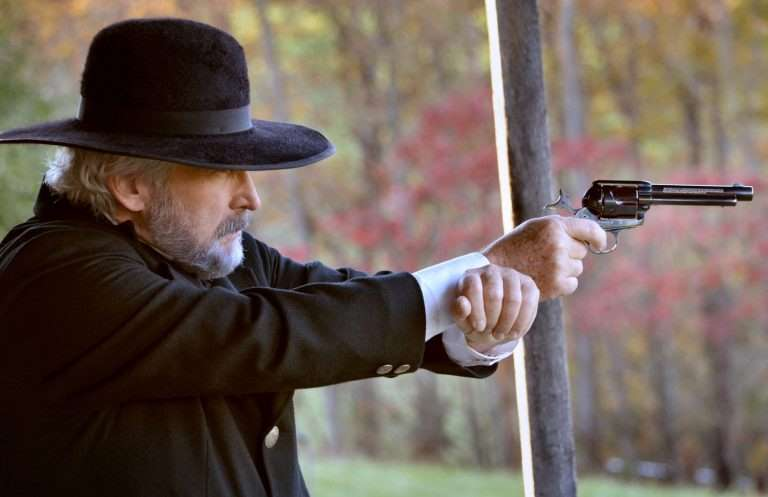 He was later acquitted of manslaughter by a jury based on witness testamony that he had fired in self defense. Wild Bill Hickok emerged from the August 1865 trial with a reputation as a cool and deadly gunfighter. It has been called Wild Bill's miracle shot. Others claimed he had been lucky. In 2009 I attempted to duplicate the shot using a 3rd Generation Colt 1851 Navy and firing at a man-sized cardboard silhouette target placed 200 feet downrange. I rested the cap-and-ball revolver over my left arm as Hickok had done in 1865 and fired. My spotter told me that my shot struck the 8 ring at 10 o'clock. I tried again and my second round hit the target in the 9 ring at 4 o'clock. With a deep breath and a lot of concentration my third and final shot landed squarely in the target where I had placed a Shoot-N-C bull's eye over the heart. It took me 15 minutes to accomplish what Wild Bill did in a matter of moments. Hickok's shot was neither miracle nor luck; it was simply the work of a confident and accomplished gunman.
So here we are seven years later and I figured if I could hit a target at 200 feet with a .36 caliber percussion revolver, I should be able to do the same at 25 feet with a CO2-powered Umarex Colt Peacemaker. So that is the basis for the following shootout between the smoothbore 5-1/2 inch BB model and rifled barrel 5-1/2 inch pellet model.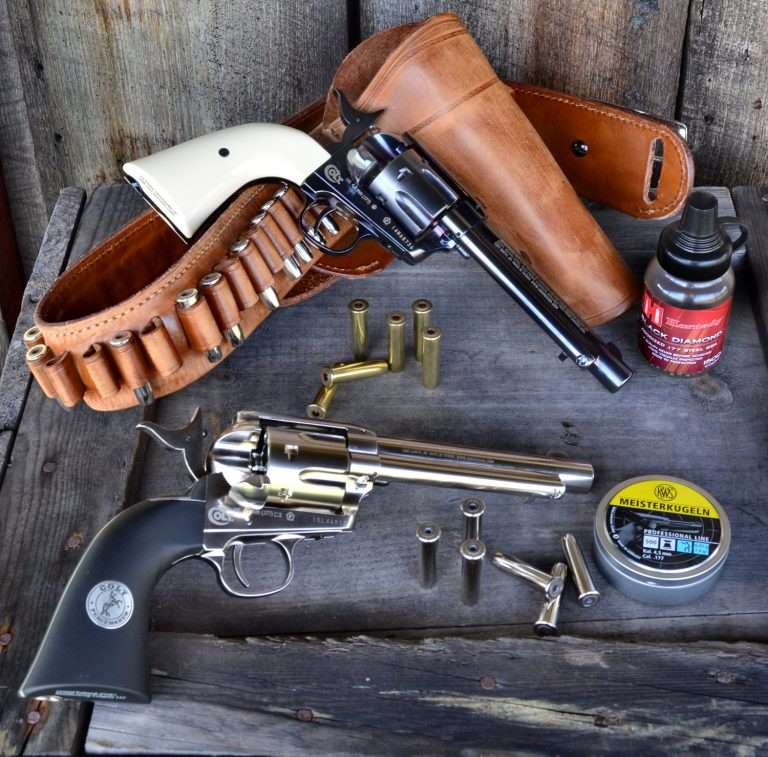 Lead, Steel, & Air
As luck would have it (and in my case it was luck), my very first shot with the .177 caliber BB model Peacemaker hit the X in the lower right edge. After that it was a cat and mouse game to see if I could do better with the 4.5mm pellet model. I couldn't. I did put one in the 10 ring cutting the X at 12 o'clock, but not as close as the BB model! In total shots (six for each gun) the pellet model had the closest grouping with four rounds stacking at the outer edge of the 10 ring, the one clipping the X at 12 o'clock, and one in the 10 ring at 11 o'clock.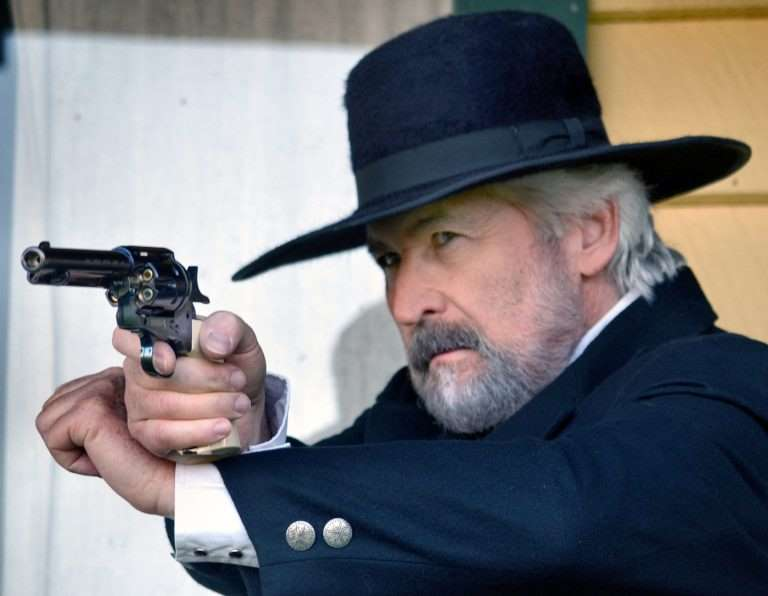 The BB model put two more in the X at either top edge, one in the 10 ring at 9 o'clock and two just outside the small Shoot-N-C bull's eye at 3 o'clock. Overall, the BB and pellet models have great triggers, with a light 2 pound, 6 ounce trigger pull on the pellet model and 2 pound, 10 ounce trigger pull on the BB firing version. Average velocities were 375 fps and 390 fps, respectively. In the end, they both shoot about the same; not quite a draw, but unless you're Wild Bill Hickok, close enough.
A word about safety
Blowback action airguns provide the look, feel and operation of their cartridge-firing counterparts and this is one reason why they have become so popular. Airguns in general all look like guns, blowback action models more so, and it is important to remember that the vast majority of people can't tell an airgun from a cartridge gun. Never brandish an airgun in public. Always, and I can never stress this enough, always treat an airgun as you would a cartridge gun. The same manual of operation and safety should always apply.