Sig Sauer Max Michel 1911 blowback BB pistol: Part 1
by Tom Gaylord
Writing as B.B. Pelletier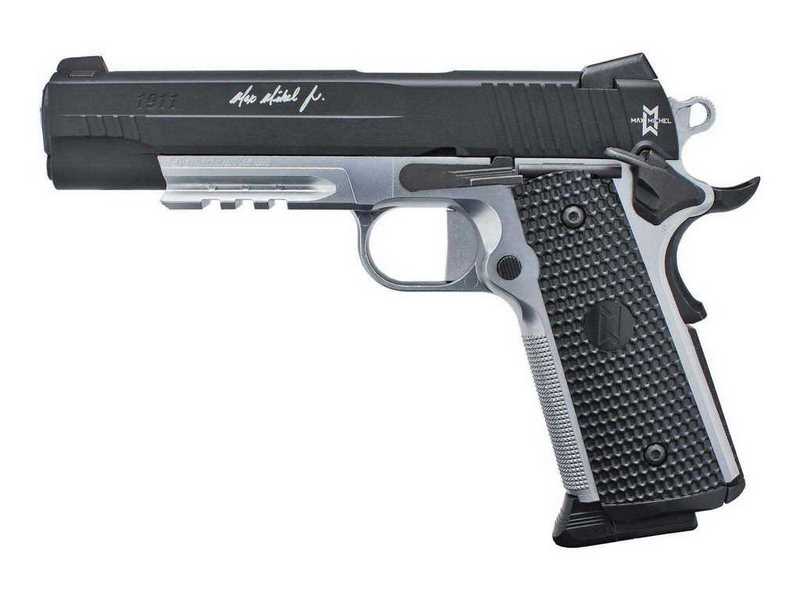 Max Michel 1911 BB pistol from Sig Sauer.
This report covers:
Who is Max Michel?
The pistol
The safety
The grip safety
CO2
Sights
Magazine
Who is Max Michel?
Today we begin looking at yet another lookalike airgun — the Sig Sauer Max Michel 1911 blowback BB pistol . If you wonder who Max Michel is, let me tell you. Max Michel is an IPSC shooter with many world championships to his credit. He is the captain of Team Sig. He is noted for being a very fast shooter, which, in IPSC competition, means everything. And he is giving Sig permission to use his established name on this pistol, so you have to be impressed. His name means as much to him as Sig's name means to them.
He actually says in the press release that he recommends this pistol for training, and for teaching younger shooters. If the pistol proves to be somewhat accurate, I will expand that to teaching all shooters.
In Sig's press release for the pistol they come out and say this BB pistol is intended to give shooters on a budget more trigger time on a handgun that's very similar to what they might use in competition. They note that dry-fire practice is important, but also note that it is very boring. For an IPSC shooter where competition is based on fast recovery after every shot and target acquisition, that is true. Dry-fire for an IPSC competitor would be like training to ride horses on a merry-go-round! This pistol at least puts a BB out the spout with every shot and has realistic recoil with a metal slide!
The pistol
Let's push the hype aside and look at what we actually have. This is a 1911A1 model pistol that has several 1911 features. You can build an A1 firearm just like this. The scallops in the frame behind the trigger make it an A1. The flat mainspring housing and long trigger blade are 1911 features that can be installed on any A1. The lightened and bobbed hammer, ambidextrous safety with extended thumb shelves, beavertail grip safety, enhanced slide cutouts front and rear for ease of cocking, enlarged ejection port, Novak-style sights front and rear and the Picatinney rail in the frame, forward of the triggerguard, are all aftermarket custom features.
The pistol weighs slightly less than 2 lbs. 1 oz. on my postal scale. That's 5 ounces less than a 1911 firearm that's similarly equipped. And, for those who keep track, it says Made in Japan on the frame.
I'm testing pistol number 16E00001. Yes, it's number one! It was sent to me direct from Sig Sauer and I doubt they will sell it to anyone.
The safety
Before moving on, let's look at the safety again. Yes, it is ambidextrous, in the sense that there is a safety lever on both sides of the frame. But the lever on the right side is a dummy. It's held to the frame by a screw and does not move.
The real safety lever is on the left side of the gun. And it operates differently than any safety I have seen. At the rear of the lever there is a protrusion — a button that just a bump. This "bump" must be pressed down to take the gun off safe. It's not a natural move. I think the designers wanted to ensure that the safety was deliberately released. With some practice I could do it with the thumb of my shooting hand, but it had to be deliberate.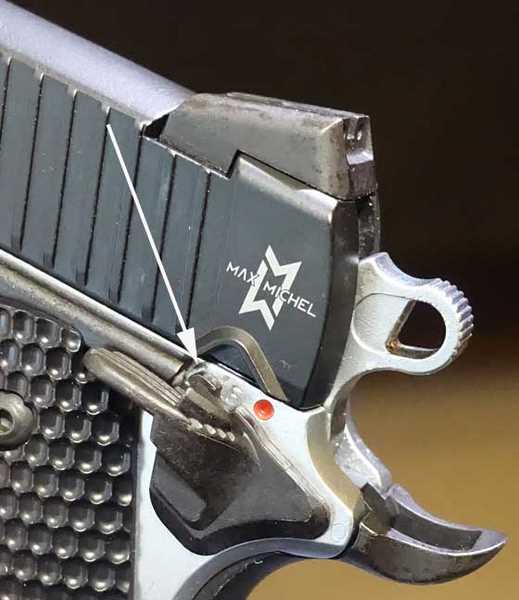 The safety has a button (arrow) at the rear that must be pushed down to release the lever.
The grip safety
I checked the operation of the grip safety and it does work as it should. It has a speed bump at the bottom for positive functioning, which all good firearm beavertail grip safeties have.
CO2
In case it isn't obvious, this pistol operates by a single CO2 cartridge. It's housed inside the grip and the left panel comes off for access. The panel removes easily, yet fits tight and has no movement.
To pierce the cartridge the flat mainspring housing is pulled out at the base, then pulled away from the frame and rotated down. It's another design feature I have not seen before. It works like most other BB pistol piercing mechanisms, but with this subtle difference.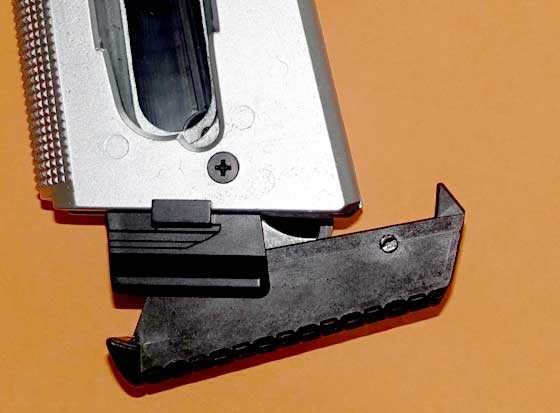 The flat mainspring housing pops out of the frame, then rotates down and out of the way.
Sights
The sights are combat sights, front and rear. The rear Novak-style sight does not adjust in either direction. It appears to slide from side-to-side in a dovetail, but that's just an illusion.
The front sight has a single white dot and the rear has two dots, so the sight picture is three dots in a line. It's very fast, but not for target shooting. I think I can light the target to eliminate the dots and use the profiles of the sights for greater precision. For fast action shooting, though, these sights are perfect.
Magazine
The stick mag holds 16 BBs. It drops free of the pistol when the release button is pressed. It has an easy access for loading, although a speedloader cannot be used — at least not any speedloader I have seen. But the mag should be cheap enough to have several on hand for reloading the pistol in competition.
This should be a fun pistol to test. Sig and Max Michel are both putting their reputations on the line with this air pistol and I plan to see whether they can deliver!
Tags In
Tom Gaylord is known as The Godfather of Airguns™ and has been an airgunner for over a half-century, but it was the 
Beeman
 company in the 1970s that awoke a serious interest in airguns. Until then, all he knew were the inexpensive American airguns. Through the pages of the Beeman catalog, he learned about adult airguns for the first time. In 1994, Tom started
The Airgun Letter
 with his wife, Edith. This monthly newsletter was designed to bring serious reports about airguns to the American public. The newsletter and
Airgun Revue
, a sister magazine about collectible airguns, was published from 1994 until 2002, when Tom started
Airgun Illustrated
-- the first American newsstand magazine about airguns. Tom worked for three years as technical director at
AirForce Airguns
, the makers of the 
Talon, Condor, and Escape
 precharged air rifles. Today, he writes about airguns and firearms for various publications and websites. He also makes videos, and you'll find short clips embedded in some of his artices on Pyramyd Air's website. Tom is a consultant to Pyramyd Air and writes under the name of B.B. Pelletier.