by Tom Gaylord
Writing as B.B. Pelletier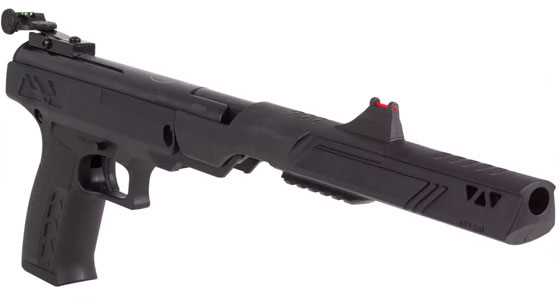 Benjamin Trail NP Mark II air pistol.
This report covers:
Easy cocking
Heavy detent
Large pistol
Sights
Scope rail
The manual
Adjustable trigger
Power
Talk to me
Summary
Today we will start looking at the Benjamin Trail Nitro Piston Mark II air pistol. This is a single shot breakbarrel that uses a gas piston (Nitro Piston) as the source of power. Like all spring guns, the gas piston pushes a piston seal forward to compress the air for the shot.
I didn't pick this pistol to review. Pyramyd Air sent it to me because they think it is unusual enough to warrant a review. After my first examination, I'm glad they did, because there are some different things I want to examine.
Easy cocking
Usually a gas spring or Nitro Piston means hard cocking, but not this time. This pistol is very easy to cock, which surprised me. It comes with a cocking aia extension that slides on the front of the gun, lengthening the barrel which is the cocking lever. The extension remains on the gun during shooting, so put it on and leave it. It's tight.
Heavy detent
While the cocking seems easy for a gas spring, the breech detent is not easy to open. I can't do it with just my hands. I have to bump the breech against something to break open the gun. Once open, though, cocking is easy.
The Mark II is a large air pistol but not as heavy as it looks. It weighs a little less than 3.5 lbs., and is definitely muzzle-heavy, which stabilizes the hold for me. The grip is sculpted and 100 percent ambidextrous. Only the safety button seems biased in any way, because it slides from side to side. And the safety is manual. The gun can be cocked and shot with the safety never coming on.
Large pistol
This is a large air pistol. with the cocking aid installed it's 19-1/4-inches long by 7 inches high. The grip is molded into the synthetic frame and everything is black matte plastic. Only the spring tube, barrel and rear sight are made of metal. When you see the size of the gun you will be glad for the synthetics that keep the weight manageable.
Sights
The sights are fiberoptic, front and rear. The rear notch is smaller than the front post, and it appears you are just supposed to center the red dot in the rear notch, between the two green dots. This will take some getting used to for me, but it will be interesting to see how it works. The "manual" (a single sheet folded into 4 "pages" with a Spanish translation on the back) shows a conventional rear sight — not the sight on this pistol. I guess I will have to discover how to use this one on my own and tell you about it.
The rear sight is very well made with click adjustments in both directions. If only Crosman had given us plain black sights so we could aim! I can't wait to shoot the pistol because these sights look so interesting.
Scope rail
The rear sight is mounted on 11mm dovetails, so a scope can be mounted. Scopes on handguns are not my favorite way of sighting, and there are precious few decent handgun scopes available. The only one I own is permanently mounted on a .22 Hornet varmint pistol and it ain't a'gonna come off. However, Pyramyd Air does list a BSA 2-7X28 pistol scope that does have a high customer rating. I haven't tested a pistol scope for you since 2011, so this might be the time to do one. They aren't in stock, but I will put one on order for this pistol.
The manual
The manual calls the pistol a Break Barrel Air Pistol, instead of a Trail NP Mark II. It's loaded with gratuitous warnings, misspellings and common stuff found in all manuals, but precious little about the actual gun. It has the look of a document that was rushed, and the writer never got to see the pistol.
Adjustable trigger
Yes, the trigger has one adjustment. According to the manual it is for the length of the second stage??? Second stages shouldn't have any length, so that tells me the writer knew the second stage had travel that could be felt — which is all wrong. This trigger is actually a single stage trigger, so there is no second stage (more manual problems). The first (and only) stage does travel too far, and the travel is creepy (starts and stops unevenly). In part 2 I will work with the trigger adjustment to see what can be done.
Power
According to the specifications we are to expect velocities up to 625 f.p.s. from this pistol. I have shot it several times to get the feel of things and I must say it doesn't seem that powerful to me. Of course I am using lead pellets and the factory may have used synthetics, but you know I will look at that in detail when we check the velocity.
Talk to me
I hadn't planned to review this air pistol, but here I am — doing it. Some of you must be interested in air pistols and maybe even in this one. So tell me what you want to know. What should I look for?
Summary
When it comes to spring piston air pistols, I am a bit of a snob. I like the Beeman P1 and the Diana LP8 and even some of the older vintage ones, but I don't really keep up with airguns like this one. It seems I've been forced into a relationship with the Trail NP Mark II that may turn out to everyones' advantage, but only if you readers help out.