by Tom Gaylord
Writing as B.B. Pelletier


Hatsan Vectis lever action PCP repeater.
This report covers:
Scary!
Open sights?
Powerful rifle!
However…
Read Part 2
The test
Sight-in
Benjamin domes
Predator Polymag
JSB Exact King Heavy
Baracuda Hunter Extreme
JSB Exact King
Discussion
How's the lever?
Summary
Today we start testing the accuracy of the new .25-caliber Hatsan Vectis lever action PCP.
Scary!
I love my job, and why not? I get to test and handle so many different kinds of airguns all the time and then tell all my friends about them. What's not to like. Well, sometimes there are things I'm not sure of. Like today.
Open sights?
The Vectis came to me with folding open sights. I would call them iron sights but both are made of plastic, so that seems wrong. I guess non-optical sights would be more correct but I'll just call them open.
Now the Vectis is a PCP, and because it's made by Hatsan there's a very good chance that it's an accurate PCP. Who in their right mind puts non-optical sights on an accurate PCP these days? Oh, I know there are a few, and we'll hear from them. These are the guys who live off the grid, butcher their own cattle and drive cars powered by the fumes of a coal fire. No, wait — that was what the Germans did in WWII. Well, they butcher their own cattle.
Sure, we will get lectured by them, but if you wake one of them up suddenly the first thing he wants to know is how many clicks he should use to adjust for 75 yards. I'm just sayin'.
Powerful rifle!
The Vectis is powerful. We learned that in the velocity test. Do I really want to shoot a gun inside my house that is so powerful that, if it missed the pellet trap, it could easily go through the sheetrock in the wall behind? I even removed both sights from the rifle and was prepared to mount a proper scope.
However…
Then I thought — Hatsan bent over backwards to send me this rifle quickly, just so I could test it for you right after the SHOT Show. They also spent the time and effort to create these sights — I should at least test them. After all — isn't that what I do?
So I put them back on and, with some trepidation, set up the 10-meter range. Ain't no way I'm shooting something this powerful inside my house at a greater distance without testing it first.
Read Part 2
Thank goodness for Part 2, the velocity test! I am testing so many different airguns rifles now that I can't remember from one day to the next which is which and how they all work.
I saw that the Vectis is filled to 200 bar/2,900 psi. I also saw that in my velocity test the first 10 shots were pretty close to each other but the second 10 opened up a bit. I know some of you want me to test filling the rifle beyond 200 bar, and I may do that (no promise), but today I wanted to start testing the rifle for accuracy which, after all, is what matters most.
The test
I decided to shoot 5-shot groups today. That allowed me to test more pellets, plus the Vectis is loud indoors and I wanted to keep the test to a smaller number of shots. I shot off a sandbag rest with the rifle rested directly on the bag. And I shot at 10 meters from the target.
Sight-in
Okay — here is the problem. The Vectis has a large rear peep sight and a large bead up front. Yes both are fiberoptic, but if you light the target brightly, the fiberoptics go black. HOWEVER — the front bead is huge! How big is is? It more than covers the bull on a 10-meter pistol target at 10 meters, and that's wider than 2-1/4-inches! I would estimate the Vectis' front bead covers about 2-1/2-inches at 10 meters. There is no way to aim with any precision with a sight like that.
So, I uncharacteristically covered the entire bull with the front bead during sighting! This is the first time in my life I have done such a thing. But I figured this is the sight that came with the rifle, it must work.
I had loaded the 10-shot circular magazine with Benjamin domes, so they are what I sighted-in with and also they were the first 5-shot group for record. I shot the first shot from 12 feet and when it hit inside the bull I knew it would be on at 10 meters. So I backed up to the bench and fired 4 more shots, adjusting the peep sight down and to the right. Shots 4 and 5 hit inside the red part of the bull, so I changed targets and fired the remaining 5 for record.
Benjamin domes
Five Benjamin domed pellets landed in a group that measures 0.801-inches between centers. It looks larger, but remember, these pellets are a quarter-inch wide. Looking at this first group there isn't much to shout about, but my eye spotted something. See the three pellets at the top in the red? They are 0.237-inches apart! That encourages me! I will say more about it after you have seen all five groups.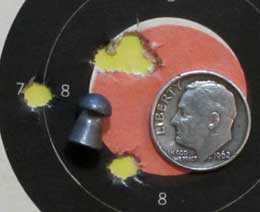 The Vectis put 5 Benjamin domes into 0.801-inches, with 3 in just 0.237-inches at 10 meters.
The group is not as centered as it could be, but I didn't know where the other pellets would hit, so I left the sights alone. At least we are in the bull!
Predator Polymag
Next up was the Predator Polymag hunting pellet. Polymags are often very accurate in the smaller calibers, so I wondered what these would do in the Vectis. Five went into 0.806-inches with 4 in 0.457-inches at 10 meters. There's that smaller group again!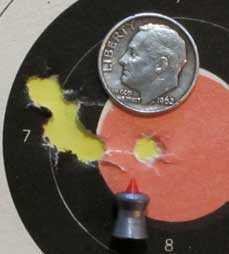 The Vectis put 5 Predator Polymag pellets into 0.806-inches, with 4 in just 0.457-inches at 10 meters.
I'm just going to run through the rest of the targets now. Remember — I am filling the rifle to 200 bar after every 10 shots.
JSB Exact King Heavy
Next I tried 5 JSB Exact King Heavy pellets. Five pellets went into 0.77-inches at 10 meters. It's the smallest of the three groups shot to this point, but it looks more open to me. I'm not as encouraged as before.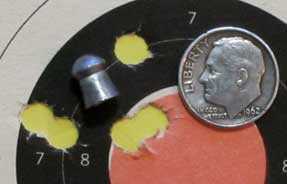 The Vectis put 5 JSB Exact King Heavys into 0.77-inches at 10 meters.
Baracuda Hunter Extreme
Next I tried the H&N Baracuda Hunter Extreme pellet. I have little or no experience with this one and certainly not in .25. Or at least I don't remember it, if I do. Five of these hunting pellets went into 0.981-inches at 10 meters. There are three pellets in a smaller group above and two below. I will continue testing this pellet, but I don't get a good feeling about this pellet for the Vectis.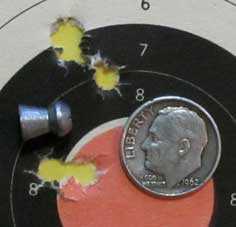 The Vectis put 5 H&N Baracuda Hunter Extremes into 0.981-inches at 10 meters.
JSB Exact King
The last pellet I tried was the JSB Exact King, and it shows what I am about to discuss the best of all the groups. Five Kings went into 1.063-inches at 10 meters. That is the largest group of this test, yet I think the King might be the most accurate pellet of all. It's certainly among the most accurate. You see, 4 of them went into 0.431-inches, and I think they represent what this pellet can do.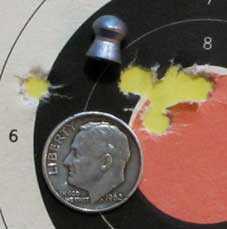 The Vectis put 5 JSB Exact Kings into 1.063-inches at 10 meters. Four are in 0.431-inches. Is this the best pellet for this rifle?
Discussion
I think the groups in today's test are 95 percent the result of shooting with the open sights. Sighting with that big dot up front is about as precise as trying to type while wearing boxing gloves! I think we will see a marked improvement when I scope the Vectis. I will shoot from 25 yards next time. I think the Vectis is a winner, but today's test results let it down.
How's the lever?
As things turned out, I mistakenly loaded 5 JSB King Heavys that I did not need into the circular magazine, so, instead of trying to remove them, I went up to the pellet trap and shot them as fast as I could. The butt remained on my shoulder and this rifle is quick and fun to shoot fast. I thought you would like to know that.
Summary
I don't know about you but I'm convinced the Vectis .25 is a winner. The magazine is smooth and never misses a beat. Despite the groups seen today I think the rifle is accurate.
"But BB, you only shot 10 shots before you filled the gun! That's not good enough!" I know that. So, here is my plan. In the next test I will shoot a tight group of 10 at 25 yards (I hope) and after photographing and even measuring that group, I will shoot 10 more into the same bull. That way we'll see what that second magazine does.