by Tom Gaylord
Writing as B.B. Pelletier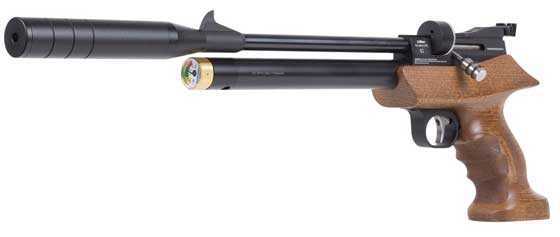 Diana Bandit precharged pneumatic air pistol.
This report covers:
200 Bar fill
The test
RWS Hobby
Discussion
Second string
Discussion 2
Chronograph
Tyler's video
What does that leave?
Back to testing — JSB RS
Heavy pellet — Baracuda
Discussion 3
Discharge sound
Trigger pull
Summary
Today is velocity day for the .22 caliber Diana Bandit PCP air pistol. Let's get to it.
200 Bar fill
In the manual Diana emphasizes stopping the fill at 200 bar, which is 2,900 psi, so that's what I did. The reservoir is 50 CC so I filled it first from the Nomad II compressor. The pistol was sitting at 180 bar, according to its onboard gauge, and it took just a couple minutes to fill.
The test
I'm going to test three pellets — light, medium and heavy. I'll start with the light one.
RWS Hobby
The first pellet I tested was the 11.9-grain RWS Hobby. At 11.9 grains they are lightweight, but also pure lead that is accurate in many airgun barrels. Instead of the average let me show you the string.
Shot…Velocity
1……….711
2……….716
3……….729
4……….755
5……….729
6……….723
7……….730
8……….did not register
9……….674
10………656
11………644
12………641
13………629
Discussion
That's a very peaked power curve and there is no real average that represents anything. It tells me that the powerplant is not set up for consistency; it's set for power. The spread over 13 shots is 126 f.p.s. The gun will probably group well at 10 meters, but at 25 yards there will most likely be some vertical stringing. And 7 or 8 shots will be it for the gun as it is.
I was intrigued by the first string because I know that a lot of shooters will be counting on the Bandit, so I decided to run a second string of Hobbys and to use a different fill device. My 98-cubic-foot carbon fiber tank has a very accurate gauge on it, so let's see what that will give us. Again, I filled to 200 bar, but this time I watched the tank gauge, and did not rely on the compressor's shutoff gauge.
Second string
I think the onboard gauge registered 10 bar more (210 bar) after this fill, because it filled the pistol so fast I wasn't able to shut off the valve quick enough. The tank gauge did settle back to 200 bar, but the gun seems to have taken on more air. Same Hobby pellet.
Shot…Velocity
1……….632
2……….655
3……….663
4……….680
5……….687
6……….701
7……….715
8……….719
9……….723
10………720
11………710
12………667
13………648
Discussion 2
This string tells me a lot more about the pistol. The powerplant is definitely not adjusted to shoot with consistency. It does not have a balanced valve. Given how low this string started I expected to see about 20 shots, but instead it peaked at 723 f.p.s. — a full 26 f.p.s. slower than the high point in the first string. And this curve is just as steep as the first one — it's just in a different place.
There is no real average again. The extreme spread is 91 f.p.s. If we take 680 as a representative velocity the muzzle energy for the Hobby pellet is 12.22 foot pounds.
At this point I started looking for the magic screw that adjusts the hammer spring tension lower. Because that's what a string like this tells me — the hammer is holding the firing valve open too long. Of course you can always increase the valve spring tension, but that requires disassembly. There is often an adjustment on the rear of the receiver of a gun that allows you to back off on the hammer spring.
I looked and there is a screw in the back of the pistol grip, but it holds the grip to the barreled action. I removed the grip and could find no hammer spring adjustment screw.
Chronograph
It's obvious that you need a chronograph to run tests like these. Either that or shoot at long distances and watch the shape of the groups as they grow.
Tyler's video
Not wanting to be a complete fool and have one of you readers tell me that Tyler Patner shows how to adjust the hammer spring in his Insyder video, I now watched his video. Son of a gun if he didn't get similar results! He tested a .177 and a .22 side-by-side and the .177 did get more shots per fill.
What does that leave?
It's obvious — even to a dinosaur like me. The Bandit needs a regulator. And Pyramyd Air sells one! The Diana regulator for Stormrider and Bandit is the one they sell. I'm sure there are other aftermarket regs out there, as well. The Diana reg adds $90 to the cost of the gun, but you don't have to buy it when you buy the pistol. You can get the pistol and learn to enjoy it, then pop for the reg down the road. One Pyramyd Air customer put one on his .22-caliber Bandit and got a significant increase in consistent shots. Once you find the magic pellet, that consistency increases the effective range of your pistol, so there is motivation for adding one.
Back to testing — JSB RS
Okay, there is a lot to consider, but I will resume the velocity test with the JSB Exact RS that I'm using as a medium-weight pellet. Again I filled to 200 bar.
Shot…Velocity
1……….634
2……….652
3……….660
4……….671
5……….691
6……….695
7……….703
8……….696
9……….679
10………643
11………623
12………608
13………595 — 145 bar remaining
Once again we see a peaked curve with no real average. The total spread for 13 shots was 108 f.p.s. If we take 680 as a representative velocity the pellet generated 13.79 foot pounds at the muzzle.
Heavy pellet — Baracuda
The final pellet I tested was the Baracuda with a 5.50mm head. They weigh 21.14-grains and gave the following shot string.
Shot…Velocity
1……….528
2……….540
3……….550
4……….557
5……….562
6……….569
7……….563
8……….549
9……….510
10………502
11………492
12………479
13………470 — 145 bar remaining
This 13-shot string gave a spread of 99 f.p.s., but look at the first 8 shots. The spread there is just 41 f.p.s. That looks useable! And, if I take 550 f.p.s. as a representative velocity, this pellet generates 14.20 foot-pounds at the muzzle.
Discussion 3
If this pistol were regulated to around 160-175 bar I think there would be more good shots per fill. And it would be a roughly 14 foot-pound air pistol. Of course we need to see what kind of accuracy we get, but that's in Tyler's video as well and I will test this one with different pellets than he did.
Discharge sound
I have to say the discharge sound is quite low. Give the power I expected it to be louder. I think this pistol might be okay for a large back yard.
Trigger pull
The two stage trigger takes 14 ounces for stage one and exactly 3 pounds for stage two. It's very crisp and I should be able to do good work with it. I really don't want to adjust it because the adjustment regulates the amount of sear contact area, and I would rather be safe than sorry.
Summary
That's all for this report, but the Bandit pistol looks like a project that's looming. I first want to test accuracy with both a dot sight and then a scope. I'm thinking of how I will do that. Maybe the dot at 10 meters and that will also help me find a best pellet. Then back to 25 yards with a scope, once the best pellet has surfaced. At any rate, it looks like a lot more fun is in store!