Gamo 126 single stroke pneumatic 10-meter target rifle: Part 2
by Tom Gaylord
Writing as B.B. Pelletier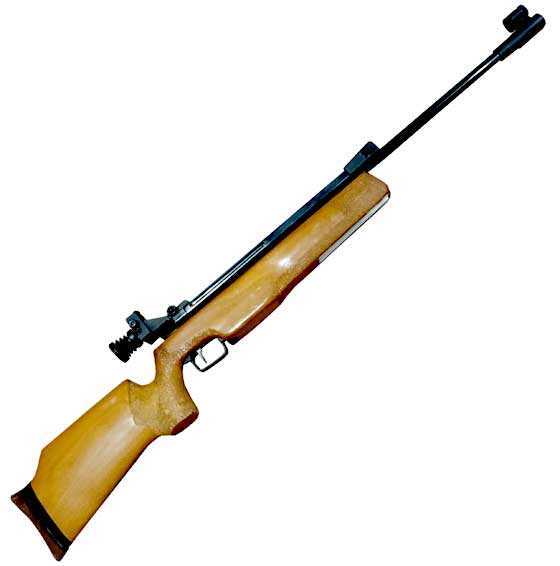 Gamo 126 single stroke pneumatic 10-meter target rifle.
This report covers:
RWS Basic
Sig Match Ballistic Alloy
RWS R10
Warmed up?
Second string of RWS Basics
Pump effort
Trigger pull
Discussion
Summary
Today is velocity day for the Gamo 126 target rifle we are testing. We learned a lot from the comments in Part 1 and I also learned a lot while researching the rifle for this report. Today we will see where this particular one is.
The Blue Book of Airguns said to expect a velocity of 590 f.p.s., but many owners say 550 is about as fast as they ever shoot and some even say less. The rifle also starts loosing velocity over time, so we should be able to assess the health of the gun I am testing right away.
RWS Basic
I will start with the lightest lead wadcutter anyone is likely to use — the 7-grain RWS Basic. I will warm up the action with several shots before starting to chronograph the results.
The first string of Basics averaged 434 f.p.s. The low was 415 and the high was 449 f.p.s. The spread from low to high was 34 f.p.s. I guess this 126 is getting tired again, following its reseal.
Sig Match Ballistic Alloy
Next to be tested were Sig Match Ballstic Alloy pellets They weigh 5.25-grains and should be the fastest that I test today. Ten of them averaged 496 f.p.s. The spread went from a low of 490 to a high of 501 f.p.s. That's 11 f.p.s., so this pellet might be accurate. And the rifle may be warming up, so I need to test Basics again.
RWS R10
The next pellet I tested was the 7-grain RWS R10 Match Pistol pellet. I also tried a different way of pumping the gun. Instead of forcing the pump lever closed as fast as possible I went with a smooth motion that was decidedly slower. R10s averaged 454 f.p.s. with a spread that went from 449 to 460 f.p.s. That's an 11 f.p.s. spread.
Warmed up?
It seemed like two things had happened as I shot this test. First, the rifle's pneumatic mechanism had warmed up and second, the different way of pumping seemed to have given the shots more stability. So I wanted to try RWS Basics once more.
Second string of RWS Basics
This time 10 RWS Basics averaged 452 f.p.s. That's faster than the fastest pellet in the first string (449 f.p.s.). So one or both of the things I said were working. The spread for this string went from a low of 432 to a high of 462 f.p.s., so a difference of 30 f.p.s. That is close to the 34 f.p.s. I got in the first string, so I think this Basic pellet is just not that stable in this rifle. But the rifle pump mechanism definitely did warm up a little!
Pump effort
The Gamo 126 and Walther LGR 10-meter target rifles both share a common flaw, in that their pump stroke is on the closing stroke when their levers move forward. This tends to make both rifles harder to pump than other single-strokes, though the Gamo has some kind of pump assist in its oil-filled piston and is actually easier to pump than any other 10 meter single stroke rifle.
The rifle I am testing requires 15 pounds of force to pump if you go steady and smooth. If you force the lever the effort spikes to more than 20 pounds. Only the awkward placement of the pump fulcrum at the rear of the action gives any hinderance at all.
Trigger pull
Now we come to the thing I am most interested in — the trigger pull. I told you in Part one that the 126 has a world-class trigger and now we will see how correct that was.
This is a two-stage trigger as all target triggers should be. I mean real target triggers — not just triggers that have the name target in their title. Stage one takes 3 ounces to complete and stage two breaks at 3.4 ounces. That's an average of 5 pulls.
Discussion
The powerplant in my rifle is not performing to spec. But it is fairly stable if I pump it correctly. I can live with that long enough to get through the accuracy test that comes next.
Summary
It seems that reader Geezer was right about the Gamo 126. It apparently does have performance issues. I always heard that it did, but now I know what they are and why they exist.
Does a 126 belong in a collection of vintage 10-meter target rifles? At this point I think it does — warts and all. But I still need to see the accuracy to know for sure.
Tom Gaylord is known as The Godfather of Airguns™ and has been an airgunner for over a half-century, but it was the 
Beeman
 company in the 1970s that awoke a serious interest in airguns. Until then, all he knew were the inexpensive American airguns. Through the pages of the Beeman catalog, he learned about adult airguns for the first time. In 1994, Tom started
The Airgun Letter
 with his wife, Edith. This monthly newsletter was designed to bring serious reports about airguns to the American public. The newsletter and
Airgun Revue
, a sister magazine about collectible airguns, was published from 1994 until 2002, when Tom started
Airgun Illustrated
-- the first American newsstand magazine about airguns. Tom worked for three years as technical director at
AirForce Airguns
, the makers of the 
Talon, Condor, and Escape
 precharged air rifles. Today, he writes about airguns and firearms for various publications and websites. He also makes videos, and you'll find short clips embedded in some of his artices on Pyramyd Air's website. Tom is a consultant to Pyramyd Air and writes under the name of B.B. Pelletier.