by Tom Gaylord
Writing as B.B. Pelletier
This report covers:
Behind the curtain
Field measurements
Test
Low velocity
Different valve
H&N Finale Match Heavy
RWS Meisterkugeln Rifle
Shot count
Short on air?
Hammer spring
What else have I learned?
Summary
Today is unusual because I'm doing a back-to-back report on the AirForce Edge. I don't normally do that, but I discovered some very interesting things that will probably help a lot of you with precharged pneumatic airguns of any kind. Also, I got into this project and just couldn't stop until it was finished. I know you know what that's like. Let's get to it.
Behind the curtain
There were several things I did not tell you in Part 4 last Friday. I did them then, but the results were outside the scope of the report, so I held off. Today they will make a lot more sense.
Field measurements
First, let me show you how precise measurements can be done in the field without gauges. When I worked at AirForce Airguns I tested and adjusted all the valves for their rifles. Over the course of three years I worked on several thousand valves.
Things were simpler in those days as there were fewer models and therefore fewer types of valves to build. There were standard valves for the Talon and TalonSS and Hi-Flo valves for Condors. Each valve had its "top hat" — the adjustable piece that connects the valve stem to the hammer — and it had to be adjusted to a precise height. That height affects the length of time air can flow through the valve and we had a specification for the top hat clearance for each valve. Besides that the valve return springs were adjusted to a specific amount of force when the valves were built. The combination of those two things determined the power range of the rifles, but you have to remember that these rifles also have external power adjustment wheels, too, so a balance had to be maintained.
When I tested the valves I adjusted the top hat clearance for each one with a feeler gauge, which is a precise way to do it. But if I was under the gun to set up a gun for testing, or if a customer was sitting in the office, waiting to take delivery of his gun that had been repaired, I could also adjust the valves with coins. New coins are very uniform and it wasn't long before I learned which one to use for which valve. Instead of walking into the repair shop and searching for the feeler gauge I could stick the right coin under the top hat and tighten it against the coin. That would get me to within a couple thousandths of the specified measurement, and that was within the acceptable tolerance.
So last Friday when I changed the valve on this Edge I noticed that the top hat of the new valve I was installing seemed too low. I didn't have a feeler gauge to measure the gap, so I used an American dime. I used a new dime that had no wear. It fit the gap tight. A dime has a thickness of 1.35mm or 0.053-inches. According to AirForce the clearance should be 0.070-inches.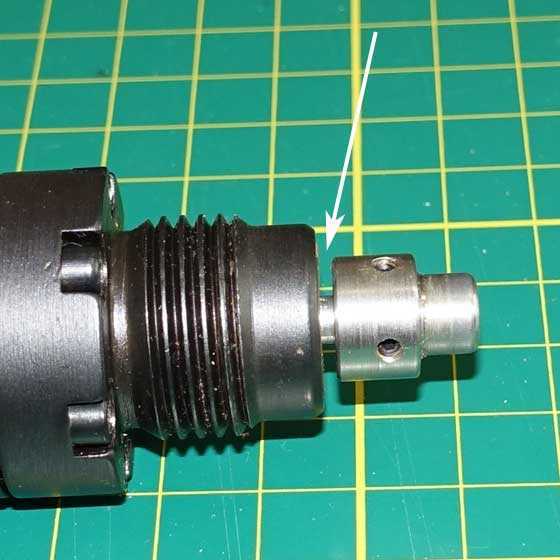 This gap under the top hat determines how long the valve stays open.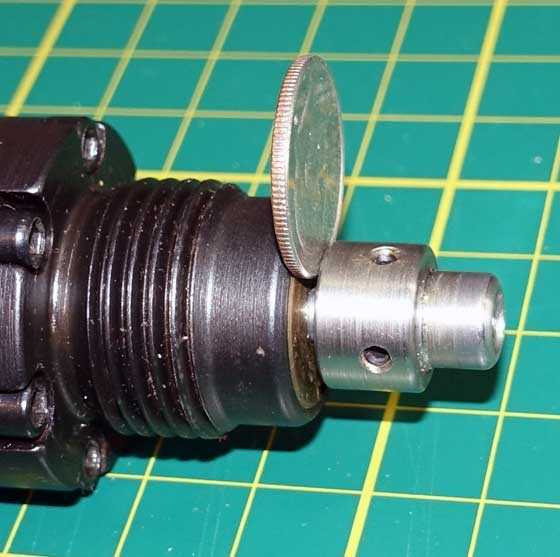 A new American dime fits into the top hat gap, determining the clearance quite well. This is too tight for an Edge valve.
Test
Once the new valve was in the tank I tested it. I got the numbers you saw last Friday. At around 620 to 630 f.p.s. the gun was shooting about 100 f.p.s. too fast. As you saw, that additional velocity reduced the shot count from over 100 to 45 shots per fill. That was unacceptable, so I tried another field fix. I put an o-ring under the top hat. That both reduces the valve stem travel distance as well as adding a little rebound to the valve, to make it close faster.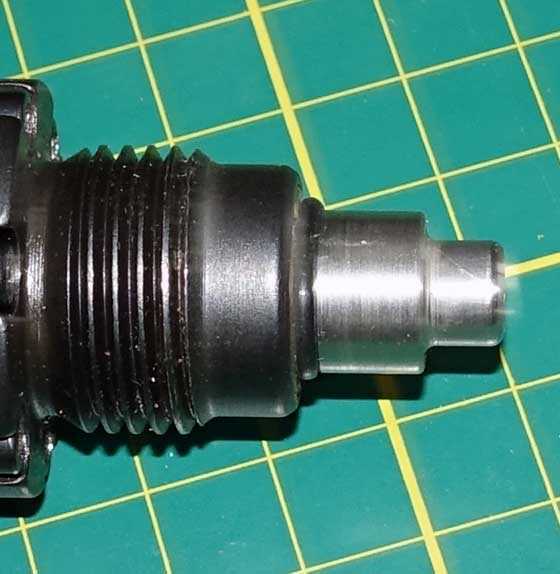 An o-ring fits into the gap under the top hat.
Low velocity
When I tested the velocity with the o-ring in place here is what I got.
Shot…….Vel.
1………..234
2………..243
3………..243
4………..301
5…………324
6………..341
7………..329
8………..337
I stopped at this point. Seeing the numbers rise in the beginning, I was hoping they would rise to where I wanted them — in the low 500s. But as you can see that didn't happen. So, using an o-ring with this valve wasn't the solution.
I learned from talking to the AirForce representative that the original Edge valve does have three o-rings under the top hat. That was news to me, because in my day at the factory we didn't put o-rings there. I did in my own guns, but that was a private thing the owners of AirForce guns did back in the early years of this century.
Different valve
I had a second spare Edge valve that had two o-rings in the gap and I wondered if that valve would work. Then I read the date code on each of the three air tanks — the one that came with my rifle and the two spares that Gene sent me. My rifle is serial number 10 and its tank has a production date of October, 2009. One of the two tanks with holes drilled in them (for trade shows, where you cannot have guns that can fire) was also dated October 2009. The other one with the valve that has the two o-rings is dated January 2012, which is a little over two years later, when the Edge was in full rate production. Not only does it have the o-rings that the other two valves don't have, there are also different parts inside the valve. So changes were made to the design from the very early days to the days of high-rate production.
The day after doing Friday's test I swapped valves again and installed the one with the o-rings in my rifle's tank. When I fired the first shot I could tell that it wasn't as loud as it had been the day before. Let me show you the first few shots. These are with the 7.7-grain RWS R10 pellets.
Shot…….Vel.
1………..DNR — first shot to test that the valve functions
2………..540
3………..547
4………..535
5………..527
6………..531
7………..528
8………..532
As you can see, the velocity dropped off after the first couple shots. I think that represents the new valve settling in, because some of the parts came out of the valve when I swapped it and had to be put back inside. The Edge valve is made differently than the other AirForce smallbore valves and doesn't stay entirely together when it comes out of the rifle. The parts in the rear of the valve are held in place by the regulator.
Following the first 8 shots that I thought had settled the valve down, I shot the first string with ten more of the 7.7-grain R10 pellets. Here is what I got.
Shot…..Tot. Shots…..Vel
1…………9…………524
2………..10…………528
3………..11…………521
4………..12…………524
5………..13…………527
6………..14…………523
7………..15…………526
8………..16…………528
9………..17…………521
10………18…………521
The average for this string was 524 f.p.s. The range went from a low of 521 to a high of 528 f.p.s. — a spread of 7 f.p.s. At the average velocity this pellet produced 4.7 foot-pounds of energy. It was a little slower than I thought after the first 8 shots, but it's still quite good.
This is right on for an Edge. When I tested a factory gun back in 2010 I got the same velocities from a 7.56-grain pellet. I shot the string above immediately following the first 8 shots, and that will become important in a moment.
I'm keeping track of the total number of shots on the fill. That way we can get a shot count at the end of the testing.
H&N Finale Match Heavy
H&N Finale Match Heavy pellets were tested next, but there was a 10-minute paused between the end of the last string and the start of this one. I'm telling you that for a reason that will become clear in a moment. Let's see what happened.
Shot…..Tot. Shots…..Vel
1………..19…………535 — huh?
2………..20…………523
3………..21…………519
4………..22…………522
5………..23…………521
6………..24…………519
7………..25…………519
8………..26…………510
9………..27…………516
10………28…………520
11………29…………525
12………30…………536 — nailed it!
This is a string of 12 shots, because of the higher velocity of the first one. Notice that after that shot the velocity drops back down into the low 520s and lower. I noticed that and wondered whether, by leaving the rifle sitting for 10 minutes, it allowed more air to pass through the regulator. Remember the story of the slow regulators in the FX Dreamlite rifle and the Artemis PP700S-A PCP pistol?
If I was right about my theory and waited for some time before shooting the final shot, it would be much faster again, like the first one. I waited 12 minutes and then recorded a 536 f.p.s. shot. So, I have learned something valuable about this Edge and the valve that's in it. The first shot after a long (10 minutes or longer) rest will be faster than the shots that immediately follow. As you can see, that is exactly what happened — twice!
If I disregard the first and 12th shots in this string, I have 10 that average 519 f.p.s. The low is 510 and the high is 525 f.p.s., so a spread of 15 f.p.s. That's a little large for a regulated PCP, but of no consequence for a 10-meter target rifle, because the distance to the target is so short. At the average velocity for this string, this pellet produces 4.89 foot-pounds at the muzzle.
I am getting very comfortable with this rifle the way I now have set it up. Time to test it with the last pellet.
RWS Meisterkugeln Rifle
The RWS Meisterkugeln Rifle pellet is the final pellet I will test today. It weighs 8.2 grains, so it's the heaviest one I'm testing. I waited 2 hours after the last string so I'm expecting that higher velocity first shot again.
Shot…..Tot. Shots…..Vel
1………..31…………525 — yep!
2………..32…………497
3………..33…………514
4………..34…………501
5………..35…………496
6………..36…………502
7………..37…………491
8………..38…………500
9………..39…………499
10………40…………499
11………41…………494
12………42…………508 — Oh oh! Theory failed!
The 10-shot string that falls from shot 32 to shot 41 averages 499 f.p.s. It ranges from a low of 491 to a high of 514 f.p.s. — a spread of 23 f.p.s. That's pretty large for a regulated gun, so the Meisterkugeln Rifle pellet may not be the best pellet for the Edge in its target configuration. Shooting at a target will tell us that.
At the average velocity Meisterkugeln pellets developed 4.53 foot-pounds of energy.
My theory about the first shot being faster was spot-on, but I waited 13 minutes between shots 11 and 12, and shot 12 only registered 508 f.p.s. I would have predicted something in the 520+ f.p.s. region. Is the rifle running out of air? Or is my theory sort of right but not always?
Shot count
If the rifle is now healthy we should see something around 100 shots per fill. So here we go, shooting the 7.7-grain RWS R10 pellet whose average before was 524 f.p.s.
Shot…….Velocity
43…………523
44…………521
45…………518
46…………517
47…………521
48…………514
49…………516
50…………525
51…………520
52…………526
53…………516
54…………525
55…………527
56…………522
57…………527
58…………526
59…………526
60…………525
61…………526
62…………519
63…………519
64…………535 Sign of nearing the end of the string
65…………523
66…………523
67…………519
68…………514
69…………503
70…………494
71…………481
72…………478
There is a lot to learn from this string. First, you can see that the rifle fell off the reg after shot 67. Shot 68 went out at 514 f.p.s. and all subsequent shots were slower. But wait just a minute! Shot number 48 was also 514 f.p.s. Why do I say that wasn't the place where the rifle fell off the reg? I say it because the shots that followed that one all went faster, so the reg was still operating.
Next, look at my comment after shot 64. When I saw that out-of-profile faster shot I knew the rifle was nearing the end because that's what often happens when the air pressure drops. I see it all the time in unregulated guns — though this is the first time I can remember seeing it in a regulated gun. That tells me something is still not right with this Edge. And that fact gives me the next discussion point.
Short on air?
Why is this Edge giving just 67 shots on a fill when the one I tested in 2010 gave over 100 shots at very similar velocities? I think more is wrong with the rifle than just the valve. I think either the hammer spring has been replaced or the hammer — or both! I said that at the end of Part 4 and RidgeRunner assured me that the hammer and spring had not been modified. But what if they were changed before he got it from my late friend Mac? What if someone had modified them before? One way to tell is to pull the barrel and remove both parts for a look, so I did. And, what to my wondering eyes should appear…?
Hammer spring
The hammer spring is from a Talon rifle; it's not an Edge mainspring at all. An Edge spring is just two inches long and coiled around a special piece of plastic. And the hammer that came out of the rifle is even worse!
Hammer
The hammer in this rifle is a steel affair. It's obviously homemade. AirForce would never turn out a part this crude! The Edge hammer is lightweight plastic. This thing weighs way too much!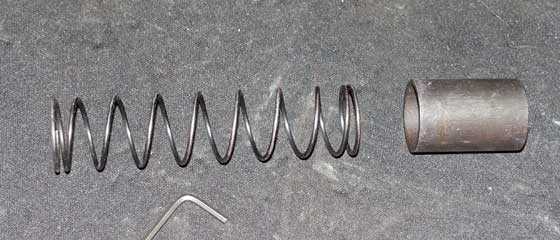 The mainspring is from a Talon or TalonSS. The hammer is just a piece of steel tubing that's been cut to fit. It's too crude to be an AirForce part, plus it's way too heavy and wastes air.
When I replace these parts with the genuine items I bet we will see a change in performance. I know I will feel better, now that heavy hammer is no longer beating the valve apart.
I will say this, souping the rifle up to shoot faster had no negative effect on the reg. As long as the tank was not filled above 3,000 psi, the reg was operating in its ideal design environment. Some PCP owners think if they overfill their reservoirs they will get more shots per fill and that is true — until the regulator that wasn't designed for that higher pressure gives up the ghost.
What else have I learned?
Discovering these bogus parts changes everything. I thought this rifle was too loud for an Edge, once the silencer was removed. It turns out the noise was caused by the powerplant wasting 40 percent of the available air. That is what the homemade heavy hammer and the too-strong mainspring get you.
Summary
There is more work to be done on this airgun, followed by a retest. I bet we see a marked difference when the rifle is completely stock.
After I have tested the Edge in its original configuration I plan to re-test the Crosman Challenger PCP and then do a comparison between the two rifles. This series is like an historical one with the exception that both of the subject rifles are still being made and sold.