by Tom Gaylord
Writing as B.B. Pelletier


The AirForce Edge target rifle.
This report covers:
How to begin?
Jump in
Edge reports
THIS Edge
Trigger
Velocity
Discussion
Off the reg.
Plans
Summary
How to begin?
Remember me telling you I had a backlog of reports to do? This rifle that I got from reader RidgeRunner is one of them. But I need to change my report format this time because I need the AirForce Edge target rifle for another test I'm doing — the report on testing the H&N Baracuda FT pellet.
I wanted to test that pellet with an accurate precharged rifle as well as several spring piston guns, and this Edge is my most accurate PCP in .177 caliber. It's also more powerful than a standard Edge target rifle. RidgeRunner modified this Edge by adding a firing chamber to boost the power to almost double that of a conventional Edge. A firing chamber collects and holds the compressed air that has passed through the regulator, so more air is available for the shot. Nothing has to be done to the regulator when a larger chamber is used. It simply provides more air to push the pellet — a bigger or longer push, if you will.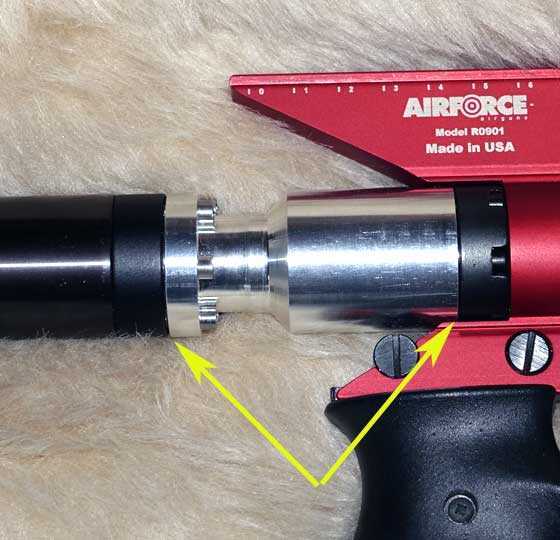 You don't get the silver part arrows) with a standard Edge. That's where the firing chamber lives.
The rifle is still less than 12 foot-pounds, so it isn't out of control, but this Edge is the perfect testbed for the new H&N pellet. RidgeRunner told me if I were to install an 18-inch barrel on the gun it would get nearly 12 foot-pounds. However, I left the 12-inch barrel on the gun, so that's what we are testing today.
But this is also an Edge target rifle and it deserves a report of its own! See my problem? Do I start at the beginning or jump right in as if everyone knows what an Edge is and what it can do?
Jump in
I've decided to jump right into the middle and start with a report on this rifle as it has been modified. That way I can get it into the pellet test in the next report. But I will come back and cover the history of the rifle, its development that I was pleased to watch, as well as it's impact upon the world of junior marksmanship competition. And I will test it as an Edge.
I need to leave myself a reminder of what I have promised to report on later, so here is a synopsis. The Edge is one of two rifles that were created for the NRA Junior Marksmanship program. It was started by a chance presentation at the SHOT Show, where the NRA told the airgunning world that over a million junior shooters compete each year in a multi-tiered competition that involves over 74,000 different teams around the nation.
The Edge was three years in development, during the time that the NRA and CMP refined their "specifications" for a junior marksmanship target rifle. Each person involved in the process of opening the competition to airguns other than Daisys was able to say, "No" but nobody wanted to say, "Yes" to what a junior marksmanship rifle had to be. For several years it seemed like Spanky and Our Gang had been asked to produce a Broadway show!
The Edge is the most ergonomic 10-meter junior rifle ever created. That fact turns off some shooters, though they are presented with boatloads of possibilities for personalization and fit. It has a trigger that was designed for dry-firing, and its American-made sights are the only target sights currently being produced in this country. There is a big story to tell, but for now I must move on.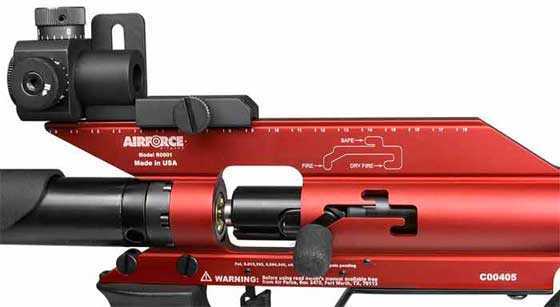 The Edge trigger is designed for dry-fire. This makes it ideal for training.

The graphics above the bolt show the user how to operate the bolt for dry-fire.
Edge reports
I wrote a 7-part report on the Edge back in 2009 and 2010. You can look at those articles to get the background of the rifle, plus look at the testing I did at that time. But I will test the Edge all over again with this rifle.
THIS Edge
That brief history and link to those old reports will prompt me to go back and cover the rifle from the beginning, but now let's look at this particular rifle. RidgeRunner wanted an Edge his way, so he added a firing chamber that boosted the power and reduced the shot count from about 110 to 25. I will actually test the shot count for you today.
While this is a standard Edge in most respects, and, while all the modifications can be reversed, which I plan to do, right now this rifle has something I want — more power! That will let me test the Baracuda FT pellet the way it is intended to be used.
Trigger
It also has a superb trigger that has been modified by RidgeRunner by the exchanging of springs in the trigger mechanism. As you may know, the pull weights of 10-meter rifle triggers are not regulated, except in the Junior class. There they must break with no less than 1.5 lbs./680.4 grams of pressure. Well, RidgeRunner wasn't going to compete in anything, so he made this trigger his own. It's a two-stage pull with an exceedingly short and light first stage that stops at 0.7 oz. Stage two breaks at one pound, even — every time. An adult 10-meter rifle shooter who is used to a 50-gram/1.76-oz. trigger pull will notice the difference, but the average airgunner will fire this gun before he or she is ready.
Velocity
To test the velocity I shot a string of RWS Meisterkugeln Rifle pellets. RidgeRunner had told me the rifle was capable of producing nearly 12 foot-pounds with an 18-inch barrel, so I guesstimated that with the original 12-inch barrel it would push the 8.2-grain Meisterkugelns out at around 700 f.p.s. or slightly more. Let's see.
Shot………..Velocity
1………………708
2………………721
3………………720
4………………726
5………………717
6………………267**
7………………719
8………………724
9………………720
10……………..722
11……………..714
12……………..716
13……………..not recorded (very slow)
14……………..721
15……………..706
16……………..712
17……………..not recorded (very slow)
18……………..714
19……………..710
20……………..716
21……………..718
23……………..720
24……………..725
25……………..723
26……………..713
27……………..699 — off the reg.
28……………..690
29……………..682
** the actual recorded velocity.
Discussion
When shot 6 came out at 267 f.p.s. I thought maybe a heavier pellet had gotten mixed in the tin, but in reality no pellet would ever be that slow in the middle of a 700+ f.p.s. string, regardless of the weight. I recorded it and continued shooting.
Shot 13 came out so slow that I barely heard it, and the chronograph didn't record it. I had to check the barrel to make sure it came out. The same for shot 17. What's happening? Remember when I told you that it isn't a matter of if a regulator fail but when? I think we might be seeing the first sign. If RidgeRunner didn't adjust the reg. for his modifications, and he didn't, then it isn't under any additional stress, even though the gun shoots harder because of the large firing chamber. It could be starting to fail just from the from time it's been in service.
Another possibility is that the gun hasn't been shot enough recently and the reg. is just stiff from sitting around. With time and more shooting it may loosen up and start functioning again.
I didn't provide an average for this string, but if we take 715 f.p.s. as an average velocity, the Meisterkugeln develops 9.31 foot-pounds at the muzzle. That's with a 12-inch barrel. A 9.6-grain H&N Baracuda moves out at 685 f.p.s. and develops 10 foot pounds, exactly. When I get to the pellet test, that's the energy I will be reporting.
Off the reg.
RidgeRunner told me to expect 25 shots and that's what it was, more or less. It is very clear that the rifle "fell off the reg." on shot 27. From that point on you can expect to see a linear drop in velocity for any pellet you are testing. The regulator is no longer working because the pressure remaining in the reservoir is lower than the pressure needed to make the regulator to do its job. The reg is open and is just a straight-through air passageway now.
Plans
My plan is to mount a scope on this Edge next, so I can use it to test the Baracuda FT pellets. Then I will remove the scope, the firing chamber, mount the target sights and return the rifle to its normal operation, which would be a 7.56-grain H&&N Finale Match Pistol pellet moving around 520 f.p.s. At that speed the rifle gets over 100 shots per 3,000 psi fill of its very small air reservoir.
In that configuration I will test this Edge as a 10-meter target rifle, giving you full details of the design and operation. I plan to contact AirForce Airguns to learn if there have been any changes to the Edge over the years. This is a very early rifle with the serial number of 10. If there have been changes I will report them, as well.
Summary
The AirForce Edge target rifle is a remarkable product that's full of innovation and performance. I hope to present as much of that as I can in this series.