by Tom Gaylord
Writing as B.B. Pelletier


The new Crosman 760 Pumpmaster Classic.
This report covers:
The test
Air Arms Falcon
RWS Hobby
RWS R10 Match Pistol
JSB Exact RS
Sig Match Ballistic Alloy
Discussion
Summary
Today we look at the accuracy of the Crosman 760 Pumpmaster Classic shooting pellets. Remember this is a smoothbore airgun.
I said in Part 3 that I had planned on mounting the UTG Micro Reflex dot sight when I tested this airgun with pellets, but I forgot that when I did today's test. If it turns out that there is enough accuracy to warrant it, I may do a final test with the UTG dot sight.
I definitely do not recommend scoping this airgun for two reasons. First, the accuracy probably doesn't warrant it and second, with a mounted scope in your way, you have to grasp the stock at the pistol grip while pumping. Plastic stocks don't hold up well when you do that.
The test
I shot from 10 meters with the airgun rested directly on a sandbag. I used the open sights with a 6 o-clock hold. I shot 5-shot groups because this is a multi-pump and I wanted to try more pellets. I pumped the gun 5 times for each shot. Let's get started!
Air Arms Falcon
The first pellet I tried was the Air Arms Falcon dome. This lightweight pellet often gives surprising accuracy in lower-powered airguns. But not this time.
The first shot landed too high so I removed all the elevation from the rear sight. That brought the second shot down a little. Then I fired shots two through five without looking again. In the end what I had was a vertical group with 4 shots at the bottom of the bull and that first one, following the sight adjustment, at the top. The group measures 1.518-inches between centers. Falcons are not the pellet for this 760.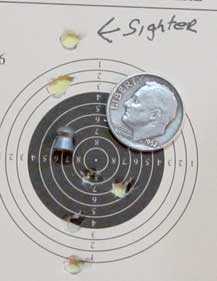 After the first sighter that was too high, 5 Falcon pellets spread out vertically in the bull. Five pellets in 1.518-inches at 10 meters.
RWS Hobby
The next pellet I tested was the RWS Hobby wadcutter. These are also often quite accurate. The 760 put five of them in 0.967-inches at 10 meters. The group is fairly well centered in the bull and not that bad for a smoothbore.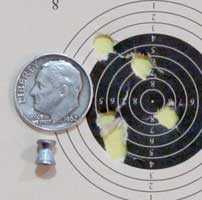 Five Hobby pellets made this 0.967-inch group at 10 meters.
RWS R10 Match Pistol
Next I tried five RWS R10 Match Pistol pellets. Although they weigh the same as Hobbys, the performance is completely different, as these are true match pellets. And what a result I got!
The 760 put 4 into a vertical 0.631-inches, but one of the five went way out to the right and opened the group to 1.704-inches.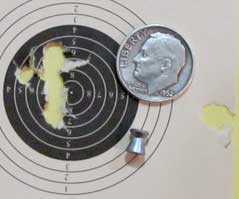 Four of five RWS R10 Match Pistol pellets went into 0.631-inches, with the fifth one opening the group top 1.704-inches.
It was the second shot that went astray and I have no idea of why it did. The tight group of 4 prompted me to try this pellet a second time. This time I really concentrated and made certain there were no slip ups. Five R10 Match Pistol pellets went into 0.485-inches in a very round group!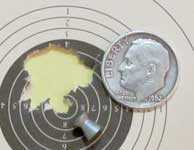 At 10 meters the 760 put five RWS R10 Match Pistol pellets in a nice round group measuring 0.485-inches between centers. To paraphrase Crocodile Dundee — Now that's a group!
JSB Exact RS
Next to be tried were five JSB Exact RS pellets. The 760 put them into 1.645-inches at 10 meters. It doesn't take statistics to tell me this isn't the pellet for the gun.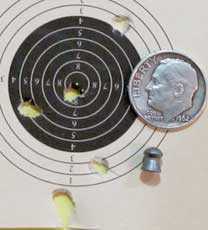 Yeah, five JSB Exact RS pellets went into a very open 1.645-inch group at 10 meters. Not the best pellet for this airgun!
Sig Match Ballistic Alloy
Sig Match Ballistic Alloy pellets are often quite accurate and this time is an example. Five pellets went into a tight 0.654-inches at 10 meters.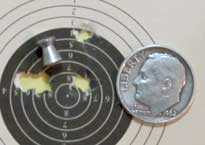 Five Sig Match Ballistic Alloy pellets went into 0.654-inches at 10 meters.
Discussion
First I would like to point out that all of these pellets were pretty well centered on the bullseye. And that's good because the sights don't give a wide range of adjustments.
Next, I know from past tests that, while a smoothbore can be very accurate at close range, the accuracy drops off rapidly with distance. But a gun like the 760 is designed to be shot at close distances. As long as you keep it to the ranges it was made to handle, everything should be hunky-dory.
Summary
I guess I'm not finished with the 760 just yet. I still need to test it with a dot sight attached. For that test I will use the two pellets that showed the greatest promise today, plus I might try a couple others.
In case you are following this report series and trying to decide whether or not to buy a 760 I will tell you this — the 760 Classic that I'm testing is very different from the Crosman 760 of years ago. But it is a delightful airgun in its own right. My reports have revealed that. It's small, lightweight, easy to pump and, as you have seen in today's test and also in Part 3, it's quite accurate at close distance with both BBs and pellets. Your biggest concern should be whether this is the model for you or you prefer one of the other airguns that are in the same class.