by Tom Gaylord
Writing as B.B. Pelletier


The new Crosman 760 Pumpmaster Classic.
This report covers:
BB feeding
Loading pellets
Velocity
RWS Hobby
Velocity-per-number-of-pumps
Discussion
Sig Match Ballistic Alloy
Sig velocity-per-number-of-pumps
Crosman Premier Heavy
Premier velocity-per-number-of-pumps
Pump tube very warm!
Hobby pellets on 10 pumps second time
Hobbys on 10-pumps — again!
Crosman Black Widow BBs on 10 pumps
Trigger pull
Pump effort
Clacking pump handle
Summary
Okay — you are either for or against this airgun. There doesn't seem to be much of a middle ground. I won't take sides, but I am aware of all of your feelings.
BB feeding
First up is the "special" BB feeding method that I found quite by accident. I was reading the comments on the Pyramyd Air website and saw one or two complaints that the BBs don't feed well in the new gun. With the older 760 I know they feed from the top inside of the receiver and you have to pull back the spring-loaded feed button on top of the receiver to get the BBs to fill that small magazine from the larger reservoir inside the receiver. My older 760 is a first model that holds 180 BBs. This new gun holds 1,000.
Once the BBs are inside the small inline magazine on top of the receiver they roll forward and drop one-by-one into the place where the bolt tip will catch them. When the bolt comes back they drop and attach to the magnet on the end of the bolt as if by magic. However, in my old gun they only feed correctly a fraction of the time. The new 760 Classic is different, in that the small BB magazine that feeds to the bolt is very visible. I showed it in Part 1. And I learned something that helps this new gun feed right every single time.
The BBs in the visible magazine on top, both old and new, roll forward when the muzzle is depressed. So when loading a BB (that's cocking the bolt ALL the way back and easing it forward) you should see a BB on the tip of the bolt. The old gun has a brass bolt that has to depress a spring-loaded catch in order to rotate into its storage slot in the receiver after loading. The new gun's bolt moves straight forward until the bolt handle pops up just a little as it closes at the very end of the stroke. With both guns hold the muzzle below level while doing this. That's it!
Loading my old 760 is like playing with a magician's trick box. I still haven't learned the secret. Sometimes it works and other times I saw the lady in half! The new gun feeds BBs flawlessly.
Loading pellets
Pellets are a different story and no problem to load with either the new or the older gun, though the new gun has sloped sides to the breech trough while the older one has sides that are flat. The older gun has a screw hole in the center of the breech trough that is designed to turn half of your pellets around backwards as you insert them into the breech. The new gun has a smooth loading trough that works better, though it did flip around a significant percentage of pellets.
Velocity
Now let's look at velocity. We have both pellets and BBs to test, so let's get right to it. The Crosman box says the new gun gets up to 700 f.p.s. with pellets on 10 pumps, but Pyramyd Air lists it at a more conservative 600 f.p.s. with pellets. Why don't we try that first?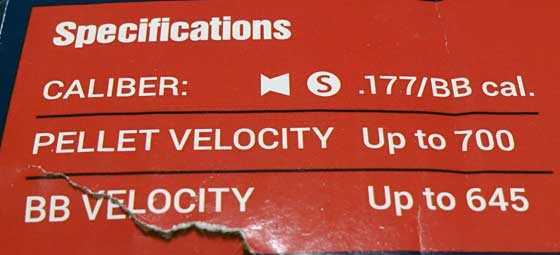 The box clearly says pellets go up to 700 f.p.s. on 10 pumps.
RWS Hobby
I'll start with the RWS Hobby pellets pellet, since it is the velocity standard for lead pellets. On 10 pumps Hobbys averaged 578 f.p.s. However, something interesting happened as I shot the string. Let's look.
Shot……Vel
1……….571
2……….573
3……….571
4……….569
5……….570
6……….574
7……….576
8……….584
9……….588
10………600
Up to shot number 5 things were very stable. But with shot 6 the velocity started increasing. I think we all know what's happening. The pump cup or o-ring seal is warming up and sealing the compression tube better.
At the average velocity this pellet generates 5.19 foot-pounds of energy on 10 pumps. Since this is a pneumatic we expect heavier pellets to generate more energy and light ones to generate less.
I will come back to this with more interesting observances, but now I will do a different test — the velocity-per-number-of-pumps test.
Velocity-per-number-of-pumps
Pumps……Vel
3………….374
4………….414
5………….452
6………….495
7………….522
8………….551
9………….580
10…………599
Discussion
Okay, let's talk. When I saw the velocity rising in the first string I figured the average velocity was really closer to the fastest velocity recorded than to the number I got. I will come back and test that in a bit.
Also, do you see how consistent this airgun is? I don't think I need to shoot any more 10-pump strings. I will just shoot the number-of-pumps-per-shot tests on the rest of the pellets.
Sig Match Ballistic Alloy
If we are going for velocity we will get it with a lightweight pellet and the all-tin Sig Match Ballistic Alloy pellet is a perfect one to test.
Sig velocity-per-number-of-pumps
Pumps……Vel
3………….435
4………….481
5………….528
6………….559
7………….598
8………….630
9………….655
10…………676
Okay, I think we can take 655 as a conservative velocity average for this pellet on 10 pumps — see where I'm going with this? At that velocity this 5.25-grain tin pellet generates exactly 5 foot-pounds of energy at the muzzle. A lighter pellet has produced less muzzle energy — just as the theory suggests.
Crosman Premier Heavy
For a heavy pellet I chose the Crosman Premier Heavy. At 10.5-grains it fits the bill, plus it is a dome, and I wanted to test a dome in this airgun, too. Here we go.
Premier velocity-per-number-of-pumps
Pumps……Vel
3………….293
4………….323
5………….361
6………….389
7………….418
8………….439
9………….456
10…………469
If I take 456 as the average for 10 pumps (being conservative again), this heavyweight pellet generates 4.85 foot-pounds at the muzzle. Oh, oh. The theory failed! What happened? I don't think it was the theory that failed as much as something else. Can you guess what it is? I'm about to reveal something that I think you will find interesting. So — why did heavier Premiers generate lower energy than Hobbys?
Pump tube very warm!
Before I show you what I think led to this result, let me shoot another string of Hobbys on 10 pumps per shot. And before I do that — remember what I said about the pump seals warming as I pumped? Well I felt the outside of the pump tube and at this point it was very warm. The seals are also definitely warm. Let's shoot that string.
Hobby pellets on 10 pumps second time
Shot……Vel
1……….583
2……….584
3……….583
4……….586
5……….590
6……….585
7……….586
8……….577
9……….573
10………582
Now we have something to discuss! And THIS is a classic example of why a chronograph is so important! I told you earlier that I expected the average for Hobbys on 10 pumps to be close to the fastest velocity recorded. That would be around 600 f.p.s. Look what happened instead. On shot number 8 the velocity dropped below 580. What's happening?
The answer to this question is the same one that I asked you just a little bit ago. Only at that time I asked why the heaviest pellet was not also the most powerful, as the theory predicts. I think the answer is oil — as in not enough of. I mean the pump seals are getting dry and that is shaving velocity off the top. So I will run another test.
Hobbys on 10-pumps — again!
This time I oiled the pump piston seal with Crosman Pellgunoil — (Crosman gun, so why not use their oil?). Then I shot 5 shots across the chronograph for record. Here they are.
Shot……Vel
1……….656
2……….645
3……….631
4……….616
5……….613
I didn't bother calculating the average because the velocity was slipping so fast.
See what oil does? That is a dramatic result! But I knew the pump seals were warm, so I set the gun aside for two hours and then shot 5 more shots. This time the pump was cool and the oil had been spread around.
Shot……Vel
1……….602
2……….577
3……….579
4……….594
5……….581
This time I did calculate the average, which is 587 f.p.s. for these 5 shots. I think we can surmise that the average velocity with Hobby pellets on 10 pumps will be something above 580 f.p.s. but below 600 f.p.s. I could go on and do other interesting things, but how about a string of BBs? Since this is a Crosman airgun I will choose their BBs, but not the Copperheads that have always been on the slightly small side. I will use the new Crosman Black Widow BBs instead. The PA website says the gun gets up to 625 f.p.s. with BBs, while the box says 645 f.p.s. Remember I mentioned this in Part 1 and asked you why the pellets that are heavier went faster than the BBs? I think I now know the answer. Someone at Crosman overlooked this when proofing the artwork for the box, or something in the gun changed after that time and the box got out claiming 700 f.p.s. with pellets and 645 with BBs.
Crosman Black Widow BBs on 10 pumps
Black Widow BBs on 10 pumps
Shot……Vel
1……….603
2……….607
3……….612
4……….605
5……….607
6……….637
7……….616
8……….606
9……….607
10………600
The average for this string is 610 f.p.s. And, as you can see, BBs do go out of this gun as fast as 637 f.p.s. These Black Widows weigh 5.23 grains apiece, so the average muzzle energy calculates to 4.32 foot-pounds.
Trigger pull
The single-stage trigger pull is 6 lbs. 1 oz. I do note that the trigger became noticeably smoother in just the 65+ shots of this test. I think it will break in to be very smooth.
Pump effort
This gun is made for children, so the effort needed to pump is important.
Pumps……Effort lbs.
1………….18
2………….25
3………….27
4………….27
5………….28
6………….28
7………….26
8………….27
9………….29
10…………27
You have to decide what these results mean. Some kids won't be able to pump the gun and others will. I will tell you that by pumping slow the effort stays as low as possible. You might loose a few f.p.s., but it shouldn't be that bad.
Clacking pump handle
When the plastic pump handle smacks against the plastic frame of the gun there is loud clack. It's louder than a loud hand clap and if you are pumping many strokes it does get distracting.
Summary
So far I find a lot to like about this new Crosman 760 Classic. At $35 it could very well be a best buy — as long as your accuracy expectations are realistic. We shall see.