Crosman 760 Pumpmaster Classic: Part 3
by Tom Gaylord
Writing as B.B. Pelletier


The new Crosman 760 Pumpmaster Classic.
This report covers:
BBs today
Hard to scope
The test
Sights
Air Venturi Steel BBs
Kruger targets
Hornady Black Diamonds
Crosman Black Widow
Dust Devils
See a pattern?
Smart Shot
Summary
Today I start testing the accuracy of the 760 Pumpmaster. I say start because this airgun shoots both BBs and pellets and I don't want to shortchange either one just to finish a test. The 760 is an important airgun that deserves a long and thorough look.
BBs today
I'll test it with BBs today. Since it is a multi-pump I decided to shoot 5-shot groups with 5 pumps per shot. And before I move on there is something I need to say.
Hard to scope
The 760 I'm testing does have an 11mm dovetail atop the receiver. I know a lot of you would think of mounting a scope there, but you have to think differently with multi-pumps. The scope goes right over the receiver, where your hand wants to be when you pump the gun!
Well, can you hold it someplace else? You can hold some multi-pumps like the Benjamin 392 at the pistol grip if they are scoped, but the 760 has a plastic stock that joins the receiver right at the pistol grip. I think it would be tantamount to disaster to hold it there while you pump it.
I would not recommend scoping this airgun, but rather using a small red dot sight like the UTG Micro Reflex dot sight. In fact, I plan doing that when I test with pellets. You can still hold the gun in the conventional way with that dot sight mounted.
The test
For today's test I shot from 5 meters while seated and used the UTG monopod as a rest. I shot 5-shot groups and pumped the gun five times for every shot.
Sights
I will say that the 760's open sights are perfect for this sort of shooting. The front sight appears square and crisp in the rear notch. And the rear notch is a semi-buckhorn, whose wide Vee directs your eye to the center notch. It gives one of the nicest sight pictures I've seen in a long time. The lack of fiberoptics makes it ideal for target work.
The one thing that's missing is any windage adjustment. Elevation is adjustable, but windage is not. I didn't miss it today but if some pellets prove accurate but land off to one side, there is no good way to bring them back. However, I will be testing with the dot sight as well and it has plenty of adjustment in both directions.
Air Venturi Steel BBs
I tested the steel BBs first, because I think most buyers will choose them. They are made to feed through the magazine.
Five Air Venturi Steel BBs made a group that measures 1.389-inches between centers at 5 meters. It's centered well and would have no problem hitting a soda can at that distance or even a little more.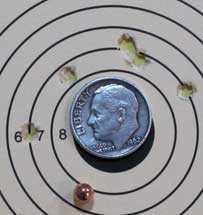 The Crosman 760 put 5 Air Venturi Steel BBs in 1.389-inches at 5 meters. Notice how nicely the BBs cut the paper! And, yes, the BB in the picture is copper-plated. They are an Air Venturi Steel BB that's no longer offered.
Kruger targets
I was using Kruger BB gun targets for this test and the BBs cut nice holes through them. Yes they cost more than other targets, but they give the kind of results I like to see with BBs without resorting to field fixes.
Hornady Black Diamonds
Next up were Hornady Black Diamonds. In some BB guns they are the most accurate steel BB. The 760 put five into a 1.559-inch group, so they aren't the best in the 760.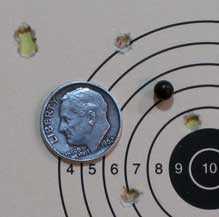 Five Hornady Black Diamond BBs went into 1.559-inches at 5 meters.
Crosman Black Widow
Next to be tested were five Crosman Black Widow BBs. These are a new BB Crosman has brought out and in past tests with other BB guns they proved very accurate. They look black like Hornady Black Diamonds, but they are heavier, so there is no relationship. Five of them went into 1.509-inches at 5 meters.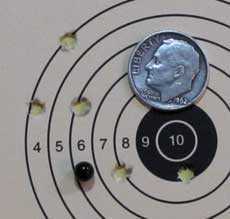 Five Crosman Black Widow BBs made this 1.509-inch group at 5 meters.
Dust Devils
The Air Venturi Dust Devil is a frangible BB that's safer when shooting at hard targets. They tend to blow apart rather than bouncing back at the shooter. The 760 put five of them in 1.58-inches at 5 meters.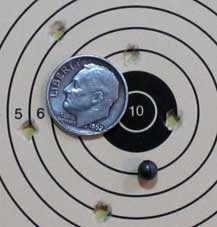 Five Air Venturi Dust Devils went into 1.58-inches at 5 meters.
See a pattern?
I have now shot 4 different steel BBs at 5 meters and the 5-shot groups range in size from 1.389-inches between centers to 1.58-inches. That's a pretty small spread. I would say that's what to expect from this airgun at 5 meters with steel BBs.
Smart Shot
I could have called it quits here, but I wanted to test one more BB — the Air Venturi, H&N Smart Shot lead BB that flattens rather than bouncing back. These are also safe like the Dust Devils, but for a different reason. How would they do in the 760?
Wowie wow wow! The were fantastic! Five went into 0.572-inches at 5 meters. It's been a long time since I've seen a smoothbore BB gun shoot this well!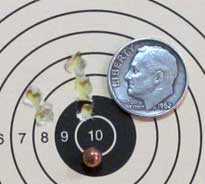 The Crosman 760 put 5 Smart Shot into 0.572-inches at 5 meters!
Summary
The Crosman 760 can shoot steel BBs pretty good, and Smart Shot even better. The sights are great and the gun is fun to shoot.
Next we try it with pellets and I hope we are in for a surprise there. as well!
Tom Gaylord is known as The Godfather of Airguns™ and has been an airgunner for over a half-century, but it was the 
Beeman
 company in the 1970s that awoke a serious interest in airguns. Until then, all he knew were the inexpensive American airguns. Through the pages of the Beeman catalog, he learned about adult airguns for the first time. In 1994, Tom started
The Airgun Letter
 with his wife, Edith. This monthly newsletter was designed to bring serious reports about airguns to the American public. The newsletter and
Airgun Revue
, a sister magazine about collectible airguns, was published from 1994 until 2002, when Tom started
Airgun Illustrated
-- the first American newsstand magazine about airguns. Tom worked for three years as technical director at
AirForce Airguns
, the makers of the 
Talon, Condor, and Escape
 precharged air rifles. Today, he writes about airguns and firearms for various publications and websites. He also makes videos, and you'll find short clips embedded in some of his artices on Pyramyd Air's website. Tom is a consultant to Pyramyd Air and writes under the name of B.B. Pelletier.