by Tom Gaylord
Writing as B.B. Pelletier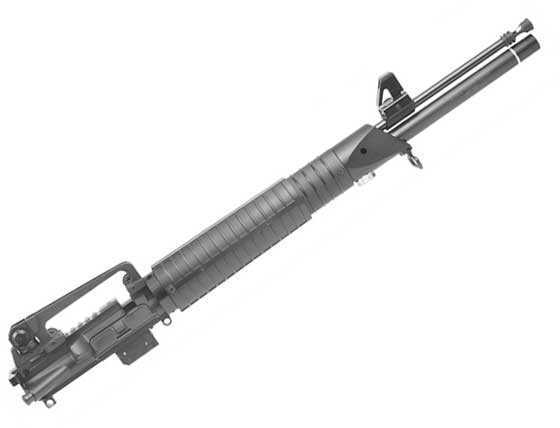 The MAR177 from Crosman.
This report covers:
Why muzzleloading pneumatics and gas guns are extremely dangerous
AR with a reservoir
Premium quality
Receiver difference
National Match trigger
AR firearm
Summary
Why muzzleloading pneumatics and gas guns are extremely dangerous
I am answering this discussion topic today because nobody had figured it out when I wrote up today's report last Friday. Maybe someone did later, but I will answer it here so everyone understands. And just to let you know — I didn't figure this out, either. Dennis Quackenbush was kind enough to explain it to me.
A pneumatic or gas gun may leak air or CO2 at any time. If it did, and if its forward escape path was blocked by a bullet in the barrel and the rear path was blocked by o-rings, pressure would build up until something let go. The most likely thing would be the bullet. In other words, a muzzleloading airgun can potentially fire at any time — if it is loaded and if there is a leak. Since a leak can occur at any time unannounced, a muzzle loading airgun is very dangerous.
Today we look at more of the MAR177 features, plus a bunch of other exciting things. Let's get started. First thing — the rifle is holding fine from yesterday's fill.
AR with a reservoir
Right off the bat you noticed that the MAR has a long tube under the barrel that a regular AR firearm upper would not have.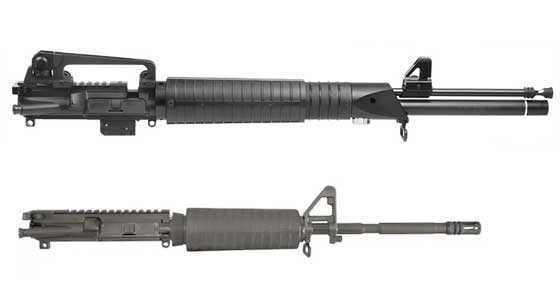 The MAR177 at the top has a reservoir that the AR-15 upper below doesn't have. The MAR also has a carry handle with sights the firearm upper lacks.
The MAR reservoir is about the size of a Discovery reservoir — imagine that! And the MAR valve is unregulated. I wonder what sort of consistency it gets?
Premium quality
Crosman built the MAR to be the best of the best. Remember that it has a Lothar Walther barrel. For that reason, you see a carry handle on top of the flat-toped receiver. Note that the AR-15 firearm upper shown below the MAR does not have a handle. It's an optional item.
If you were to build the firearm equivalent of the MAR177 in 2012, it would have cost at least as much as the MAR. I am talking an upper of equivalent quality. The carry handle with adjustable peep sight would have added a lot, plus a decent barrel instead of a run-of-the-mill barrel that's found on the cheaper uppers would have set you back a bundle. Heck, just a quality charging handle assembly with a quality bolt carrier can add over $200! The 24-inch Saber Defense fluted bull barrel with a 1:8 twist on my AR-15 was a $1,500 item by itself at the time!
So, yes, AR-15 uppers can be bought for a lot less money than a MAR, but the upper on my AR-15 was a $2,300 assembly. It's probably worth less than half that today, with the gun scare being over. It is easily possible to spend such money on a quality upper, so let's not criticize the MAR. And no, I didn't not pay that much for my upper. I traded two AK rifles for it at the height of the Obama gun scare, when everything was super-inflated. It was my two $2,500 cats for his $5,000 dog.
Receiver difference
The carry handle can be removed by loosening two thumbscrews, and when we do we see a significant difference with the MAR. It has a flat top but there is a slot in the top of the receiver up front for the 10-shot rotary magazine.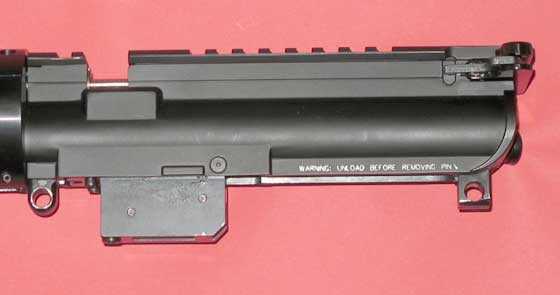 The MAR receiver has a slot in the top front that stands out when the carry handle is removed. This is where the 10-shot rotary magazine fits.
The carry handle has the same slot. The carry handle also has a peep sight that is adjustable for windage but not elevation. You see, the rear sight on an M16 that the AR-15 is based on does not adjust elevation in the rear — the front sight adjusts up and down!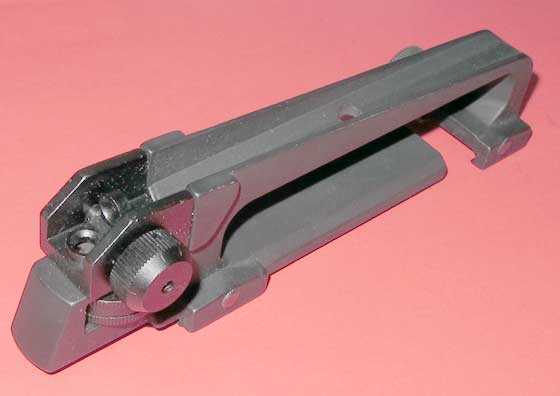 The MAR carry handle has the same slot in the front for the 10-shot rotary magazine. You can also see the adjustable rear peep sight. The large knob on the right adjusts for windage, only.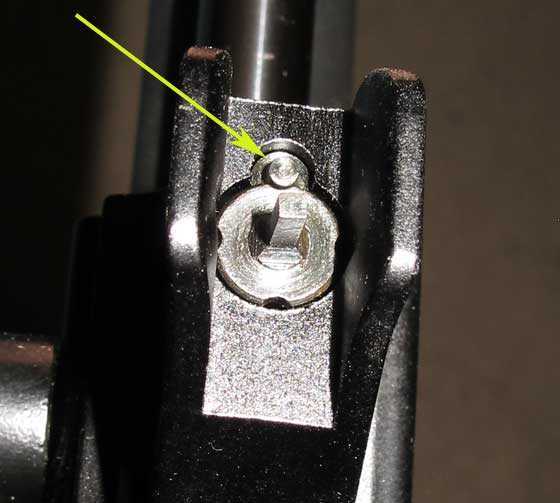 The front sight adjusts for elevation. On an M16 or AR-15, the tip of a bullet in a loaded cartridge presses down on the tiny spring-loaded locking button (arrow) and rotates the sight counter-clockwise to raise the post (and lower impact) or clockwise to lower the post (and raise impact). It moves one click at a time. It is a slow and tedious method that soldiers have hated for two generations.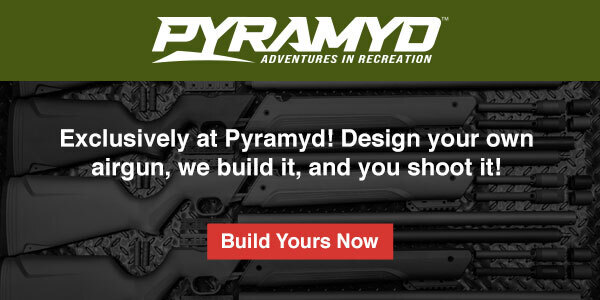 National Match trigger
A lot of you keyed in on what I said about the National Match trigger. So I thought I would show it to you.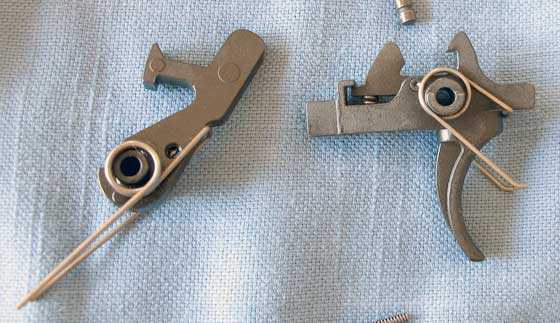 This is the Rock River National Match trigger. Once installed it broke at exactly 5 lbs. over 800 shots. Obviously it needed some gunsmithing that I did not do.
I replaced that trigger with a two-stage adjustable Geissele two-stage trigger that cost $275 several years ago. I'm sorry that I don't remember the model name but it is probably no longer being produced. I guessed that stage 1 was a pound and stage two was another 8 ounces. When I measured it stage one was 3 lbs. 5 oz and extremely short. Stage two broke at 3 lbs. 13 oz, which means the let-off was exactly the 8 oz. I estimated.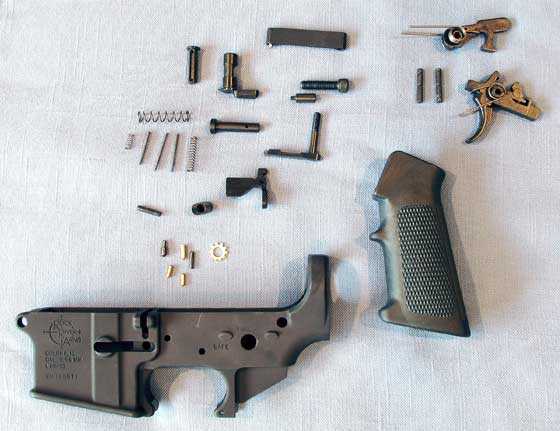 There are all the parts that were used to build the lower receiver. No special reason for showing them. I just thought you would like to see. The National Match trigger is at the upper right.
AR firearm
The AR-15 firearm I built is in .223 Remington caliber. With a Tasco Custom Shop 8-40X56 scope that I used to compete with in field target, it weighs 11 lbs. 9 oz.


My AR-15 in .223 Remington.
The beauty of the AR platform is that by removing two captive pins the upper can be swapped for any caliber that will cycle through the magazine. It will also accept the MAR 177.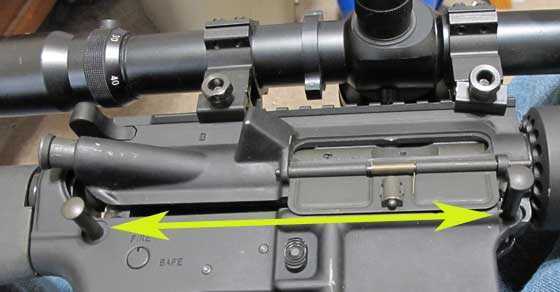 The two assembly pins that hold the upper to the lower have been tapped out (arrow). The receiver halves are beginning to separate.


The AR upper has been separated from the lower.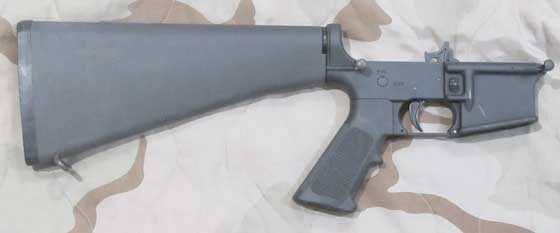 The lower is ready to accept any upper that will fit. It now has the Geissele trigger, so we are ready to rock!


And the MAR177 goes on just that easy. What's not to like? Yes, I left the carry handle off — both so you could see the flattop construction and mostly because I forgot about it!
The assembled air rifle weighs 9 lbs. on the nose — and that is with the carry handle installed. It's not a lightweight toy by any means! The extra weight helps stabilize the rifle during offhand firing.
There are sling swivels, and a sling is permitted in match competition, but I don't recommend it. A hasty sling will put a strain on any AR because of the aluminum two-part construction.
Crosman went to great lengths to keep the MAR from flexing. And the barrel is entirely free-floated. So, there should be good accuracy. Now, this is Part 2 and I haven't even fired one pellet yet. I guess I'm just having too much fun. But I want you all to stay interested, so let me show you what I did in 2012 with the first MAR I tested.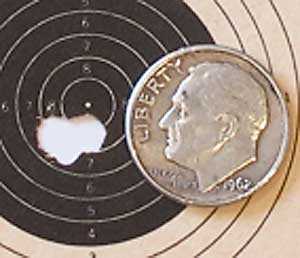 That's 5 RWS R10 7.7 grain pellets (obsolete) in 0.106-inches at 10 meters.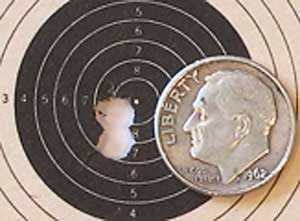 And 5 Crosman Super Match target pellets went into 0.144-inches at 10 meters.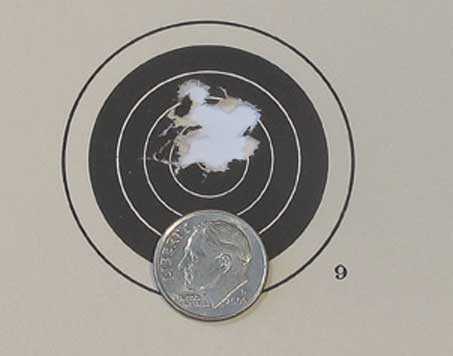 At 25 yards, when scoped, the first MAR put ten R10 pellets into 0.402-inches!
Summary
I told you when we started that this air rifle is a humdinger! I hope you have seen a little of that today. I do need to test the Webley Hurricane's accuracy, so I'll have to do that before we look at this one again, but I'm looking forward to testing the velocity, shot count and of course the accuracy of this jewel!