Walther LGR Universal: Part 3
by Tom Gaylord
Writing as B.B. Pelletier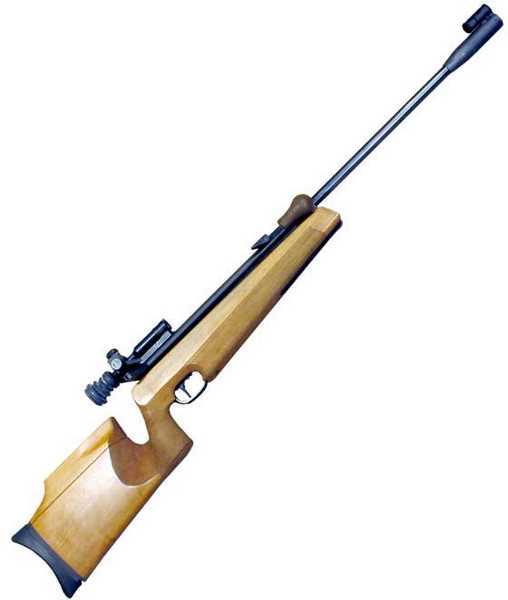 Walther LGR.
This report covers:
Off the track
RWS Hobby
Qiang Yuan Match Grade
RWS R10 Pistol
Could I do it again?
RWS Meisterkugeln Rifle
Shooting behavior
Summary
Today we test the Walther LGR for accuracy.
The test
I shot the rifle from 10 meters off a sandbag rest. Because the LGR is a pneumatic, it laid directly on the bag. I shot 5-shot groups at 10-meter air rifle targets. Let's get started.
Off the track
Do you ever have a shooting day when you just know you aren't doing your best? That was how I felt for for this test. I was just shooting at 90 percent instead of where I usually am. I tell you that to get you ready for some targets. I thought I did poorly but after measuring the groups I see it was better than I first thought.
RWS Hobby
I sighted-in and shot the first group with RWS Hobby pellets. As I've said many times Hobbys often surprise me with their accuracy and this was one such time. Since I'm shooting with target sights I can't blow my aim point away, so I adjusted the sights to hit the center of the bull. Once sighted in for Hobbys I didn't adjust the sights again. That 3.8mm clear front sight aperture is perfect!
Five Hobbys went into 0.186-inches between centers at 10 meters. For some reason the group looks larger than that so I measured it three times and took the largest measurement.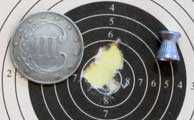 Five Hobbys went into 0.186-inches at 10 meters. Yes — it's below 0.2-inches so it's trimeworthy!
Qiang Yuan Match Grade
Next I tried 5 Qiang Yuan Match Grade pellets. These are the ones in the yellow box that don't seem to be available anymore. They are closer to the Olympic Grade than to the Training pellets. Five went into 0.182-inches, which is the smallest group of the test. It looked even better than that through the spotting scope but when I put a flap of paper back in place the group grew on me.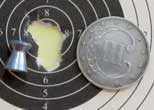 The LGR put 5 Qiang Yuan Match Grade pellets into 0.182-inches at 10 meters.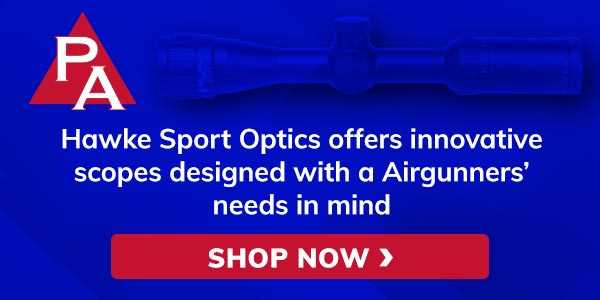 RWS R10 Pistol
The man who sold me the rifle said it likes RWS R10 Pistol pellets, so I had high hopes for the next group. Unfortunately I shot the second-largest group of the test — at 0.279-inches between centers.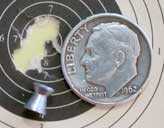 Five RWS R10 Pistol pellets went into a group that measures 0.279-inches between centers at 10 meters.
Could I do it again?
Clearly I wasn't shooting my best in this test. But the Qiang Yuan Match pellet did so well that I wondered whether I could do it again. Maybe I wasn't firing on all cylinders but was I at least consistent?
Another 5 Qiang Yuan pellets went into 0.199-inches at 10 meters. That's not as good as before, but, given that group of R10 Pistol pellets I just shot, it looks like I am consistent.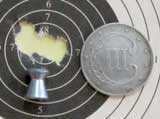 On the second try the LGR put five Qiang Yuan Match pellets in 0.199-inches at 10 meters.
RWS Meisterkugeln Rifle
The last pellet I tried was the RWS Meisterkugeln Rifle pellet. Five of them went into 0.298-inches at 10 meters, which was the largest group of the test.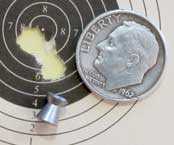 The LGR put five RWS Meisterkugeln pellets into 0.298-inches at 10 meters. It's the largest group of the test.
Shooting behavior
The LGR shoots like a fine 10-meter rifle. I expected to shoot some gold dollar groups (smaller than 0.15-inches) today, but it didn't happen.
The trigger is superb! Is it as "good" as an FWB 300 trigger? I think it is, but no amount of numbers (pull weight, etc.) is going to prove that to anybody. It's a subjective judgement call.
The LGR is recoilless. The 300 is not recoilless — it slides backwards inside the stock. You don't "feel" the recoil except where the eyeshade pushes against your eye or glasses. So, from that standpoint, the Walther LGR is easier to shoot than an FWB 300.
Summary
When I started this series I told you that the Walther LGR was the first 10-meter air rifle I ever saw and it is one I have wanted to shoot ever since. Now I have, but because I was off my game today I am still not satisfied. At some point in the future I will return to the LGR and hope to shoot better groups. I'm even toying with an FWB 300 versus Walther LGR test, though I don't know how that would go. Concentrating on targets takes a lot of effort, so how do I make such a test fair? I am giving it some thought.
This LGR is not shooting as fast as many of them do, but I did check it out and the piston is adjusted correctly. I see no reason to do anything to the rifle, other than shoot it and enjoy it.
Tom Gaylord is known as The Godfather of Airguns™ and has been an airgunner for over a half-century, but it was the 
Beeman
 company in the 1970s that awoke a serious interest in airguns. Until then, all he knew were the inexpensive American airguns. Through the pages of the Beeman catalog, he learned about adult airguns for the first time. In 1994, Tom started
The Airgun Letter
 with his wife, Edith. This monthly newsletter was designed to bring serious reports about airguns to the American public. The newsletter and
Airgun Revue
, a sister magazine about collectible airguns, was published from 1994 until 2002, when Tom started
Airgun Illustrated
-- the first American newsstand magazine about airguns. Tom worked for three years as technical director at
AirForce Airguns
, the makers of the 
Talon, Condor, and Escape
 precharged air rifles. Today, he writes about airguns and firearms for various publications and websites. He also makes videos, and you'll find short clips embedded in some of his artices on Pyramyd Air's website. Tom is a consultant to Pyramyd Air and writes under the name of B.B. Pelletier.