Crosman Challenger PCP 10-meter target rifle: Part 2
by Tom Gaylord
Writing as B.B. Pelletier
Edge Part 1
Edge Part 2
Edge Part 3
Edge Part 4
Edge Part 5
AirForce Edge 10-meter target rifle: Part 1
AirForce Edge 10-meter target rifle: Part 2
AirForce Edge 10-meter target rifle: Part 3
AirForce Edge 10-meter target rifle: Part 4
AirForce Edge 10-meter target rifle: Part 5
Airforce Edge 10-meter target rifle: Part 6
Challenger PCP: Part 1
This report covers:
Held for 11 years
H&N Finale Match High Speed.
Gamo Match
JSB Match Heavy Weight
RWS R10 Match Pistol
Shot count
Discussion
Summary
Today I check the velocity of the Chrosman Challenger youth 10-meter target rifle. In 2009, the last time I tested the rifle, I adjusted it to get lots of shots with H&N Finale Match High Speed pellets. They were 7-grain wadcutter pellets that are no longer available. Back then they averaged 545 f.p.s. for 116 shots on a fill. We will see where they are today — 11 years later.
Held for 11 years
By the way, I didn't mention in in Part 1 but this rifle has been holding air since I last shot it 11 years ago! That's for those who think that pneumatics have to leak.
The test
I filled the rifle to 2,000 psi and began with the pellet I had tuned it for last time — the H&N Finale Match High Speed.
H&N Finale Match High Speed.
Ten pellets averaged 565 f.p.s. The low was 555 and the high was 570 f.p.s. That's a difference of 15 f.p.s. I will use 555 f.p.s. as the cutoff velocity for the end of the test.
Gamo Match
Next up were Gamo Match pellets. Ten averaged 570 f.p.s. the spread ranged from a low of 566 to a high of 574 f.p.s. That's a difference of 8 f.p.s.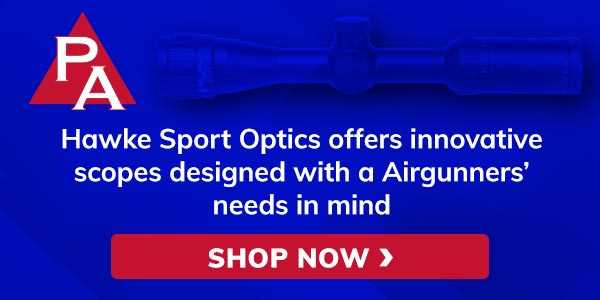 JSB Match Heavy Weight
I tried JSB Match Heavy Weight pellets next. At 8.26 grains they are much heavier than either the Finale Match High Speed or the RWS R-10 Pistol pellets, both of which weigh 7 grains. But still they averaged 560 f.p.s. for 10 shots. And the spread was an incredible three feet per second — from 559 to 562 f.p.s.! And this was done without a regulator!
RWS R10 Match Pistol
The last pellet I tested was the old reliable RWS R10 Match Pistol pellet. They averaged 581 f.p.s., with a range that went from 577 to 586 f.p.s. — a difference of 9 f.p.s.
Shot count
At this point in the test there were 44 shots on the fill. Four pellets had not registered on the chronograph. Now I started shooting blank shots with some Finale Match High Speed pellets at certain intervals.
Shot 51 went out at 574 f.p.s. Shot 60 was also 574. Shot 70 was 580 f.p.s. Shot 80 was also 580 f.p.s. Shot 90 went out at 570 f.p.s. And with shot 100 I started recording each shot's velocity.
Shot………….Vel.
100…………..563
101…………..558
102…………..561
103…………..563
104…………..561
105…………..561
106…………..562
107…………..559
108…………..559
109…………..559
110…………..556
111…………..552 end
I said I would stop shooting when the velocity of H&N Finale Match High Speed pellets dropped below 555 f.p.s., because that was the lowest velocity recorded in this string for this pellet at the beginning. That means that we got 110 good shots from this Challenger on a single fill. In 2009 this pellet got 116 shots that averaged 545 f.p.s. Now, eleven years later the same pellet got 110 shots at an average of about 560 f.p.s. on a single fill. In 2009 the maximum spread for all shots was 29 f.p.s. In this test the maximum spread was 25 f.p.s. What I'm telling you is the Challenger is holding up surprisingly well over the 11 years it has been operated.
Discussion
Those who are afraid of going to precharged pneumatics should pay attention to this test. You are seeing a PCP perform over a timeframe of more than a decade.
Those who believe that a regulator is needed to get lots of shots, pay attention. The Challenger has no regulator, yet gets 110 shots within a 25 f.p.s. power band.
Those who wonder if a PCP can be made to work with a hand pump pay attention. We are getting 110 shots on a fill of only 2,000 psi.
Summary
I am now ready to test the accuracy of the Crosman Challenger PCP. I hope you are as excited as I at the opportunity.
Tom Gaylord is known as The Godfather of Airguns™ and has been an airgunner for over a half-century, but it was the 
Beeman
 company in the 1970s that awoke a serious interest in airguns. Until then, all he knew were the inexpensive American airguns. Through the pages of the Beeman catalog, he learned about adult airguns for the first time. In 1994, Tom started
The Airgun Letter
 with his wife, Edith. This monthly newsletter was designed to bring serious reports about airguns to the American public. The newsletter and
Airgun Revue
, a sister magazine about collectible airguns, was published from 1994 until 2002, when Tom started
Airgun Illustrated
-- the first American newsstand magazine about airguns. Tom worked for three years as technical director at
AirForce Airguns
, the makers of the 
Talon, Condor, and Escape
 precharged air rifles. Today, he writes about airguns and firearms for various publications and websites. He also makes videos, and you'll find short clips embedded in some of his artices on Pyramyd Air's website. Tom is a consultant to Pyramyd Air and writes under the name of B.B. Pelletier.