by Tom Gaylord
Writing as B.B. Pelletier
This report covers:
A 2-cartridge CO2 reservoir
The test
RWS Hobby
JSB Exact RS
Didn't work
The Umarex 12-gram adaptor?
Back to the original 12-gram cartridge adaptor
RWS Hobbys a second time
JSB Exact RS a second time
H&N Baracuda Match
Magazine troubles
Summary
Today we look at the velocity of the Umarex Fusion 2 CO2 rifle. I read the customer reviews before testing the rifle, which I usually don't do. I did it to see if there was anything I should watch for. Well they were all over the place, with the most common complaints being about the 12-gram CO2 adaptor and a loose magazine that flops around. I will disregard the comments about CO2 costing too much. Guys — this rifle runs on CO2! What are you thinking?
But two comments mentioned the CO2 cartridges were hard to pierce, or they leaked down too fast. That I will watch for.
A 2-cartridge CO2 reservoir
What I'm about to say applies to all airguns that use two 12-gram CO2 cartridges. Most of them work the way they do in this Fusion 2. They go in nose-to-nose and the last cartridge you put in presses the first one down on a piercing pin. In the Fusion 2 manual the CO2 cartridge piercing assembly is called the "relief valve assembly" which is a confusing term to me, since piercing the cartridges is its primary function.
The test
I'm going to test the Fusion 2 with several pellets and there are already 9 shots on the two 12-gram cartridges that I installed 9 days ago. We will see how well the rifle holds CO2!
Since the magazine holds 9 pellets my strings will be 9 shots, rather than 10. Let's get started.
RWS Hobby
The first pellet tested was the RWS Hobby. The average for 9 shots was 651 f.p.s. but I will show every shot.
Shot………Vel.
1………….687
2………….675
3………….668
4………….657
5………….645
6………….640
7………….624
8………….615
9………….Nothing came out
As you can see, this isn't a standard shot string. These are shots 10 through 18 on two fresh 12-gram cartridges installed the previous week. But the velocity should be stable — not falling constantly.
What about shot number 9? Well, On the first shot the pellet did not want to enter the breech. I later found that pellet had been deformed by the bolt probe and was drawn back into the bolt pathway, where it lodged for awhile. I will have more to say about this in a bit.
JSB Exact RS
Next up was the JSB Exact RS dome. I won't give you an average but I will show the entire shot string.
Shot………Vel.
1………….601
2………….580
3………….565
4………….546
5………….518
6………….492
7………….455
8………….419
9………….368
Obviously the gun is running out of gas. I removed the CO2 cartridges and found that the last (top) one in had been pierced but the first (bottom) one had not been pierced. This is one of the complaints customers reported. These are both Umarex CO2 cartridges, as recommended.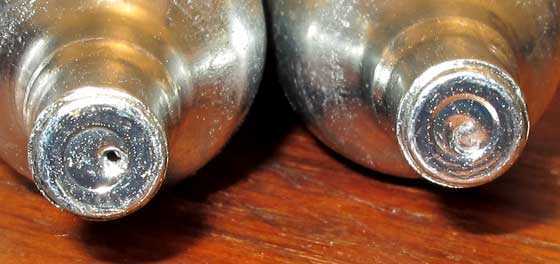 Both Umarex cartridges were in the Fusion but the one on the right wasn't pierced.
I know how to pierce 2-cartridges in a CO2 gun! I did everything right and it still didn't work! Okay, the 2-cartridge adaptor doesn't work very well — I'll put in an 88-gram cartridge! I didn't have Umarex cartridges but thankfully I did have a couple from Sig.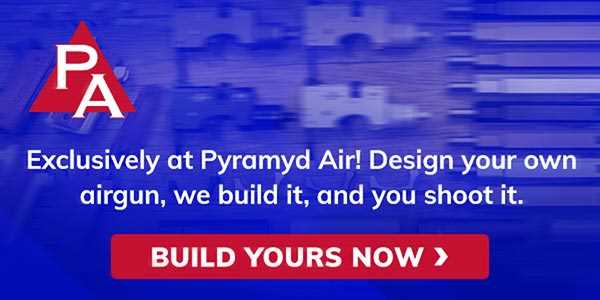 Didn't work
This big cartridge just screws in until it is pierced, but it also failed to pierce when screwed down tight. I even used ChannellLock pliers to tighten it down as far as it would go, but no luck.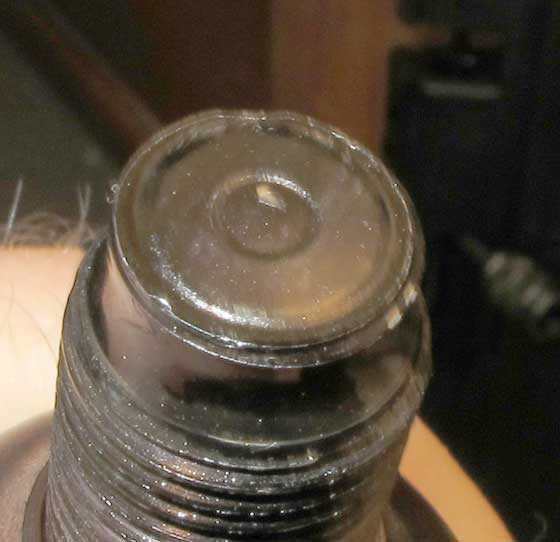 The 88-gram CO2 cartridge was not pierced. That round divot is where it was in contact with the piercing pin.
The Umarex 12-gram adaptor?
Umarex sent me a 2-cartridge adaptor for testing the Air Javelin. I gave that a try as well . Both cartridges pierced but the piercing pin inside the rifle did not open the valve in the adaptor.
Back to the original 12-gram cartridge adaptor
I was getting frustrated by this point, so I went back to the 12-gram adaptor that came with the Fusion 2. Umarex says not to use Crosman 12-gram cartridges because their necks are too small, but since Umarex cartridges didn't work I tried them anyway. This time I had success piercing both cartridges. I'll show that in a moment but first let's look at velocities again, now that the rifle is charged.
RWS Hobbys a second time
This time Hobbys gave an average of 658 f.p.s. with a spread of 25 f.p.s. It's large but acceptable. The low was 649 and the high was 674 f.p.s.
JSB Exact RS a second time
The second time with JSB RS pellets gave an average 665 f.p.s. The low was 662 the high was 672 f.p.s. I'll take a 10 f.p.s. spread!
H&N Baracuda Match
Now for Baracuda Match pellets. Instead of an average I'll show the string.
Shot………Vel.
1………….587
2………….576
3………….575
4………….578
5………….did not register
6………….565
7………….571
8………….dnr
9………….dnr
It seemed like the rifle was doing okay during this string, even though I missed the velocities of three of the nine shots. So I shot another 9-shot string of Hobbys, now that we have good data.
Shot………Vel.
1………….663
2………….649
3………….642
4………….637
5………….635
6………….632
7………….626
8………….621
9………….614
I think you can see that the rifle is running out of gas again — after just 36 shots! This rifle must be leaking pretty fast to run out of two 12-gram cartridges in only 36 shots at such low velocities. Let me show you the ends of the two Crosman cartridges.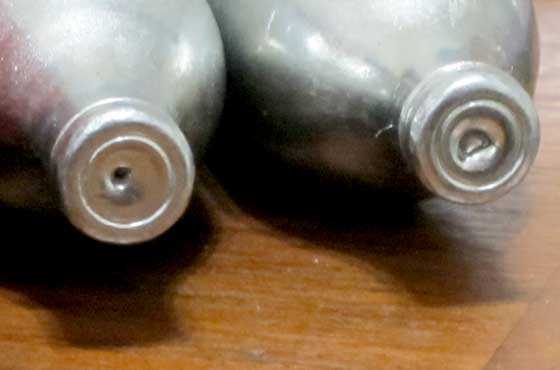 The Fusion was able to pierce both Crosman 12-gram cartridges. The one on the right is difficult to see but I examined it with a magnifying glass and it does have a large hole.
Magazine troubles
What I haven't mentioned yet is that while all this was happening I was also having problems with the rotary magazine. It doesn't like to be inserted into the receiver and even when it is, it moves around as the bolt pushes pellets out of it. Remember that first string of only 8 shots? Here is what happened. As I tried to seat the mag the first pellet popped up and got mangled. Look here.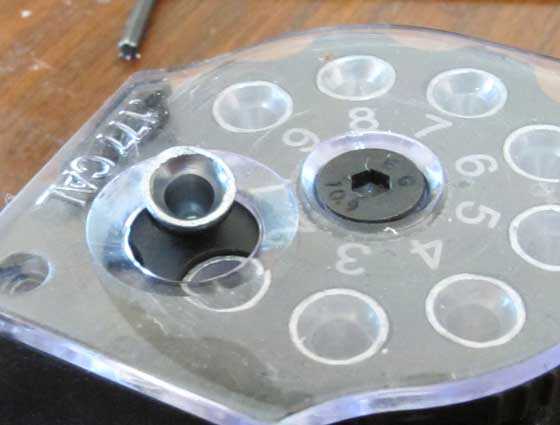 While inserting the magazine the first pellet popped up like this.
Clearing that jam tore the partition between two of the pellet chambers — ruining the magazine. I had to do this three times during today's testing.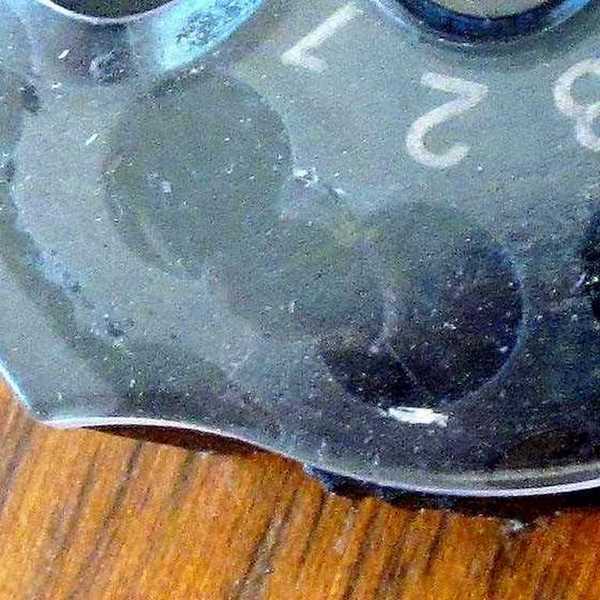 Clearing the jammed pellet(s) and magazine from the Fusion tore the partition between chambers 1 and 2.
Summary
This test disappoints me — not because there were problems with the test rifle, but because they are the same problems already reported by several owners. That tells me there is an entire shipment of Fusion 2 rifles that potentially have the same problems.
I will have to consider what to do next. I doubt I will ask for another rifle to test, because the possibility of the same things happening seems high. I could possibly test the accuracy of this rifle, which customers all agree is quite good. But I have to think about it.
One possibility, and this is a note to myself , is to try lubing the cartridges with ATF stop leak in hopes of repairing the seals inside the gun.