by Tom Gaylord
Writing as B.B. Pelletier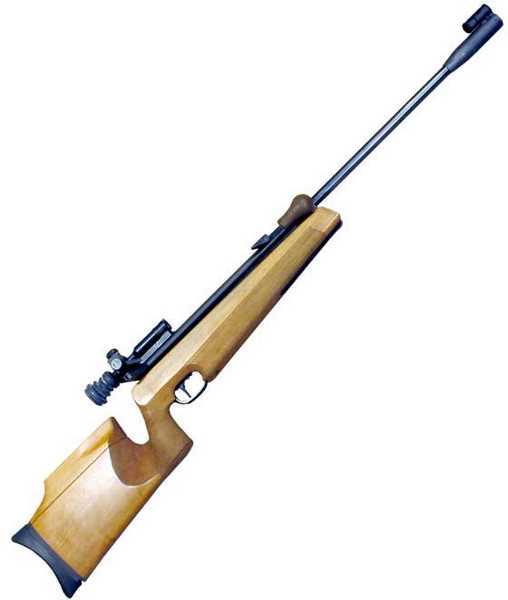 Walther LGR.
This report covers:
LGR Universal
Velocity RWS R10 Pistol pellets
Velocity Gamo Match pellets
Velocity RWS Meisterkugeln Rifle
What I didn't tell you
Oh phooey!
Pumping effort
Trigger
Summary
Today we look at the velocity and other performance of the Walther LGR Universal rifle. And the first thing to note is I have changed the model name.
LGR Universal
Reader Kevin pointed out that my rifle is an LGR Universal. What distinguishes it as a Universal are several things. The walnut stock was found on the Universal but not on the basic LGR. That one had a beech stock. The walnut Universal stock was also stippled at the pistol grip and on the forearm. The adjustable cheekpiece and buttpad also are only found on the Universal. The performance of both air rifles is the same, the Universal is just an upgraded model. We saw the same thing in the Weihrauch line of match rifles. The HW55 Custom Match was the top model and the HW55 SM was the standard. There is also a rare SF model HW55 that did not have the barrel lock that's found on all the other HW 55s, but that rifle — a cheapie in its day — is now the rarest HW55 of all!
Velocity RWS R10 Match Pistol pellets
The rifle I'm testing averaged 499 f.p.s. with RWS R10 Match Pistol pellets. The spread went from a low of 488 to a high of 515 f.p.s., a difference of 27 f.p.s. The spread is a little too high and the velocity is also too low for an LGR. I hasve more to say at the end of the report.
Velocity Gamo Match pellets
Next I tried 10 Gamo Match pellets. They averaged 468 f.p.s., with a low of 438 and a high of 483 f.p.s. — a spread of 45 f.p.s.
Velocity RWS Meisterkugeln Rifle
The last pellet I tested was the 8.2-grain RWS Meisterkugeln Rifle wadcutter. It averaged 448 f.p.s for 10 shots. The low was 423 and the high was 460 f.p.s. — a difference of 37 f.p.s.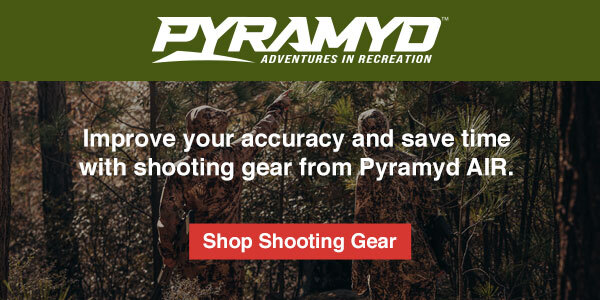 What I didn't tell you
I didn't tell you that two weeks ago I tested the LGR's velocity with R10 pellets and got a first shot speed of 399 f.p.s. Shot 2 was just over 400 f.p.s. and the fourth shot I fired went out at 436 f.p.s. From that I knew that the seals in the rifle were hard — something I have written about several times. Read Part 2 of my test of the IZH 46M. And I knew what to do about it. I stood the rifle on its butt and dropped about 5 drops of automatic transmission fluid sealant down the bore. I let it run down the barrel and through the transfer port for several days and then I shot the rifle several more times. I didn't chronograph it again until today — about two weeks after treating it, and you see what happened. The rifle increased in velocity significantly! But wait, there's more!
After running these tests and seeing the results, something dawned on me. The former owner of this LGR had sent me a small pack of breech seals for the flip up transfer port. He even wrote the size of 6.8 X 1.9mm on the package. When the rifle was unpacked I noticed that the o-ring on the flip-up air transfer port was missing and I hadn't found the packager of breech seals yet, so I went to my hiuge assortment of metric o-rings and found one that seemed to fit. Later I found the package of breech seals and thought — what the heck?
Well after this velocity test I remember that I had them so I removed the o-ring I had put in and replaced it with one that came with the rifle. Then I shot 10 more RWS R10 Pistol pellets. This time the average was 505 f.p.s. —p not that much faster than 499 f.p.s., but the spread was reduced from 27 f.p.s. to 16 f.p.s. (493 to 509 f.p.s.).
Oh phooey!
If I do it over for one I have to do it over for all.
So 10 more Gamo Match pellets averaged 463 f.p.s with a spread from 438 to 490 f.p.s. so, the average decreased by 5 f.p.s. by and the spread increased by 7 f.p.s. I don't think the LGR likes the Gamo Match pellet.
Ten more RWS Meisterkugeln Rifle pellets averaged 441 f.p.s. — 7 f.p.s. slower than before. The spread was 22 f.p.s., compared to 37 f.p.s. previously.
I think the new breech seal helped performance. It stabilized it, rather than speeding it up that much. But I do know a way to speed this rifle up. Pump the pump partially about 20 times for the first shot and you get a velocity with R10 Pistol pellets of 532 f.p.s. After that 3-5 partial pumps per shot keeps the velocity above 530 f.p.s. So, with fresh seals that's what you might expect — that or a little more.
Pumping effort
The LGR takes 19 pounds of force to close the pump arm. While that sound low, remember it happens between both hands, so it does wear on your arms.
Trigger
I measured the two stage trigger at 3.3 ounces for stage one and 5.5 ounces for stage two. And I didn't forget that question of how the trigger blade can be canted from side to side, so looky here.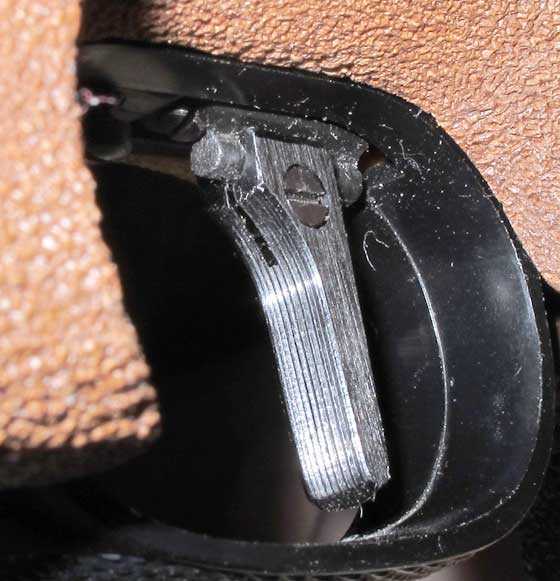 The same screw that loosens the trigger to slide back and forth on the round bar also allows it to swing from side to side — a little. It doesn't move that much!
Summary
This LGR is slow, but not enough to worry about. It will still shoot as well at these velocities as it would if it were 75 f.p.s. faster. I'm willing to live with that. If I need more speed Neal Stepp's store is about 25 miles from where I live.
I have wanted to shoot one of these for so many years and now I get the opportunity! Next time we check accuracy.