by Tom Gaylord
Writing as B.B. Pelletier

The Bulls Eye pistol (left) came first. Manufacture started in 1924 in Rawlins, Wyoming. The smaller Sharpshooter pistols at the right were made in Rawlins until sometime in World War II and then manufacture moved to La Jolla, California in 1946.
This report covers:
Cleanup
Companies that made and sold Sharpshooter pistols
Odd guns
Accuracy
Adjustable sights
Hard to get groups
Summary
Cleanup
Today I take a turn from my usual format. This is Day 2 where I normally report velocity, but instead of that I'm going to begin with accuracy. The reason for doing that is because when the pistol is adjusted for accuracy the velocity is affected.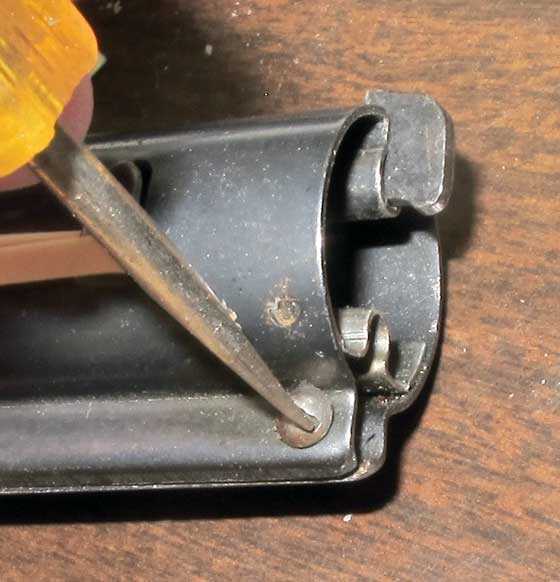 This screw pulls the two halves of the sheet metal together, pushing the front of the guide rail upward. That tightens the fit of the carrier on the rail — affecting both accuracy and velocity.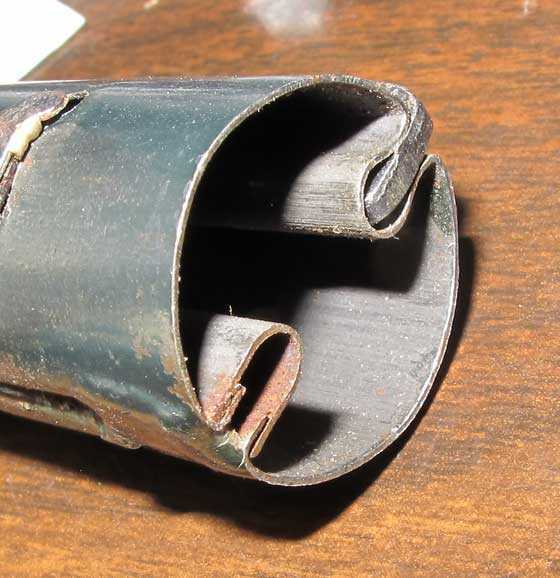 The earlier Bulls Eye gun rail was not adjustable. It was welded in place.
However, before I get to that I have some things to clear up. First, I said the plastic carriers/slides/launchers were introduced sometime after the 1960s. From what I have since learned, plastic carriers may have been installed in some La Jolla guns.
At sometime in the past I said that Sharpshooter pistols were made by five different companies. That all depends on what is meant by the verb "made." Let's look at the manufacturing history of these pistols.
Companies that made and sold Sharpshooter pistols
1924 – sometime in WW II — Dr. Bunten, the inventor, Bulls Eye Pistol Mfg. Co., Rawlins, Wyoming.
1946 – 1963 — John O. Beckwith, Bulls Eye Mfg. Corp, La Jolla, CA
Berry Brow Enterprises 1960?, Line Lexington, PA — they owned the rights but may not have made the parts of the guns. They announced restart of manufacture in American Rifleman in May of 1963.
Golden Key Enterprises, Sherman Oaks (and Van Nuys), CA — 1971-1980. Guns with plastic carriers.
1970 -'80s? — Doc Carlson bought the last 600 pistols from Golden Key. These can have odd boxes that measure 6 by 8 inches, for the original boxes were exhausted.
1980s — John Beckwith — about 100 Nickel Deluxe pistols were assembled from parts found in his brother Bud Beckwith's garage after he passed away. They were given as gifts and sold. Probably with cast metal carriers.
Odd guns
I discovered two odd guns while researching this subject. One seems to be a change in manufacturing, as it has a one-inch longer grip. It is a nickel deluxe gun. The grips are what is extended – not the frame of stamped steel. A 2-ounce lead weight sits between the grip panels at the bottom. This was thought to be a one-off, but I may have located a production sample to show you.

This Sharpshooter pistol with a long grip may have been a limited production item.
The other odd gun is a Bulls Eye pistol with a 6-ounce sheet of lead wrapped under the front of the pistol to add weight. This was done by Bud Beckwith on a single gun and was never manufactured. But it leads me to suspect that Bud Beckwith is also responsible for the Sharpshooter grip extension mentioned before.


This Bulls Eye pistol has 6 ounces of lead wrapped around its bottom.
Accuracy
It took me long enough to get to it but now let's look at Sharpshooter accuracy. The guns are amazingly accurate at short range. I wanted to play around with adjusting the tension on the rails to get the best accuracy possible. But after a morning of doing it I now suspect this is something that takes days and even longer. I will surprise you by telling you that Dr. Brunten tested each and every pistol he made before boxing it for sale. That's the kind of stuff some shooters mistakenly believe all gun manufacturers do, but it is exceedingly rare. After he sold the company to John Beckwith he paid a visit to the La Jolla works to see if they were maintaining his standards. He found they employed a young man with one leg to test their guns and he was hitting strings tied to light chains around the room where he was sitting!
Dean Fletcher proved the gun is accurate enough to hit houseflies when he wrote the article for Airgun Revue, but that wasn't the first time that was done. The first time was in 1925 on the inside of a vendor tent at Camp Perry, the site of the U.S. National Matches, where Major (later Major General) Julian S, Hatcher shot flies that landed on the inside of the tent canvas. Later, M.D. "Bud" Waite, former technical editor of the American Rifleman magazine and author of Trapdoor Springfield also shot flies, along with several world champion and Olympic Champion pistol shots. If you shot pistols in the 1920s, you owned a Bulls Eye or a Sharpshooter.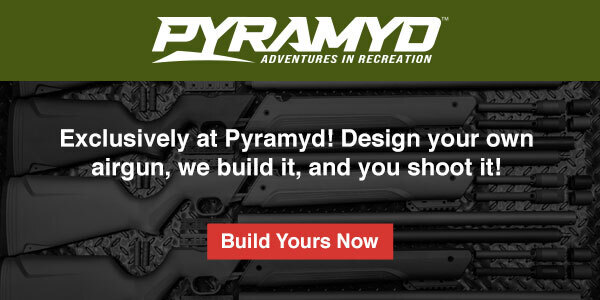 Adjustable sights
As inexpensive as these guns are, you don't expect them to have adjustable sights, but they do. The front sight blade is also the stopper that holds the shot inside the 58-shot tubular magazine on top of the pistol. A modification made in the 1930s puts a bump on the bottom of the blade so you can adjust elevation.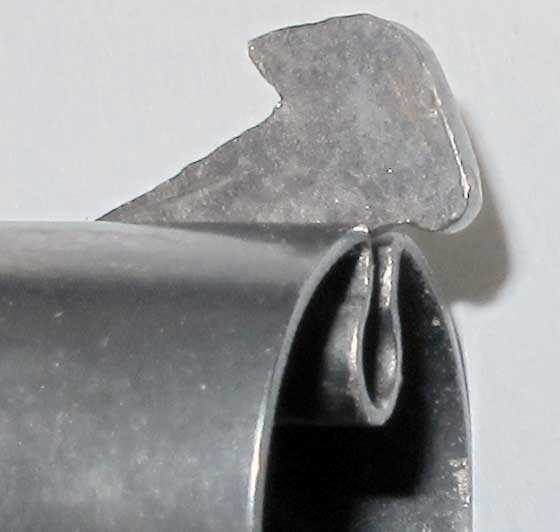 The front sight blade slides into the upper channel that holds the number 6 shot. The bump on the bottom of the blade is to control elevation. Or, flip it over and you have a very low front blade.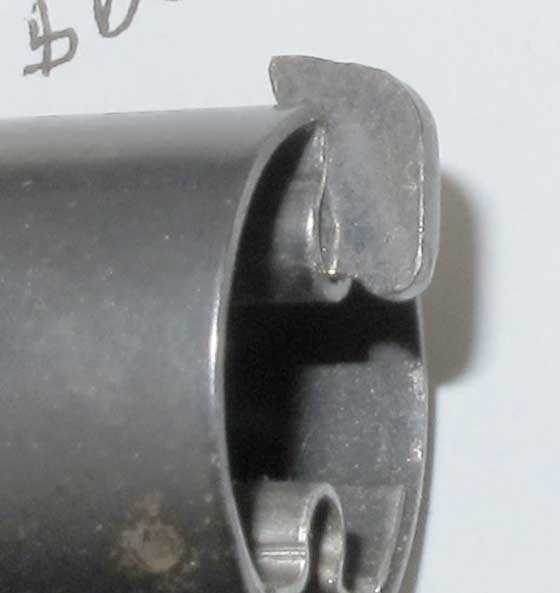 Here the front sight blade is set as low as it will go unless it is flipped over.
The rear sight slides side to side. When you see how it's made you have to praise the genius that thought up such a thing!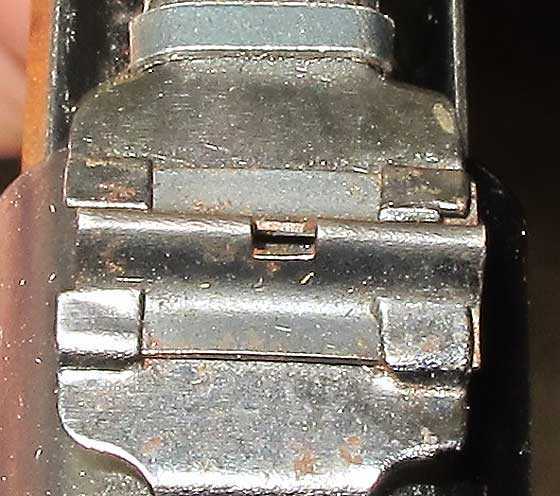 Metal tabs folded over the rear sight allow it to slide from side to side.
Hard to get groups
I wanted to show you some groups today, as well as to be able to compare group sizes based on my rail adjustments. But the Sharpshooter just doesn't have the punch to pierce paper. I even made a target out of aluminum foil, but all most shots did was push it out of the way without piercing the foil.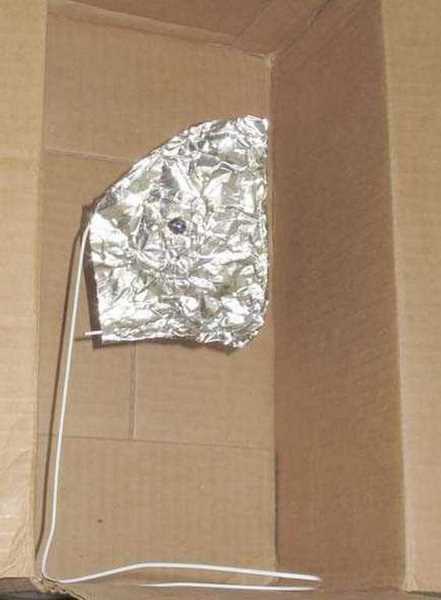 All this target did was make noise and dance around when hit. The shot left no record of where it hit.
I then made a spinner box, using the spinners that came in the box with a gun. But if you miss a spinner, where did the shot go?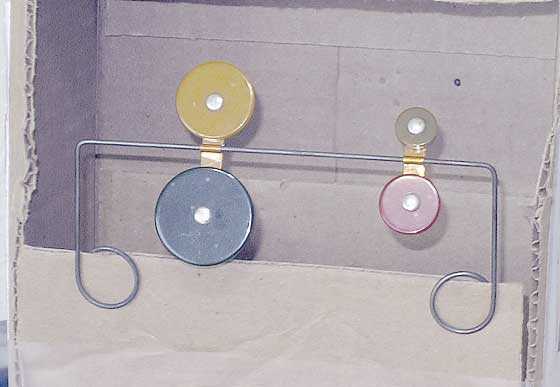 These spinners came in a Sharpshooter box. They work well, but if you miss, where did it go?
Finally I stretched aluminum foil over a plastic food container and held it tight with a rubber band. It's perfect for this work and I now have a permanent target in my office. No shot ever escapes and I have a great record of all shots.

Aluminum foil stretched over a food container and held with a rubber band worked the best.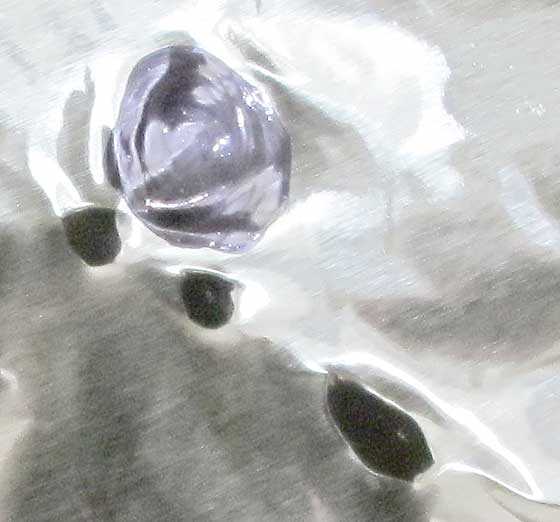 The black dot is the size of the trime, whose diameter is 14mm. There are 15 shots from three different pistols in this group. Yes, there is one at the top of the black dot from the Bulls Eye pistol. Shot at 7 feet.
The manufacturing machinery was never updated after Beckwith initially sold it. So, either La Jolla or nothing appears on all the guns made thereafter. The machinery was hauled off to the dump from the back yard of a relative in later years.
Summary
I hope this series is as interesting to you as it is to me. There is more to come.