by Tom Gaylord
Writing as B.B. Pelletier

The Bulls Eye pistol (left) came first. Manufacture started in 1924 in Rawlins, Wyoming. The smaller Sharpshooter pistols at the right were made in Rawlins until sometime in World War II and then manufacture moved to La Jolla, California in 1946.

This report covers:
Learned a lot!
Velocity
Three guns to test
Plain Blue pistol from La Jolla
Black DeLuxe pistol from Rawlins
Curses! — foiled by eBay
Summary
Here we go! This is probably the final installment of this series that started several weeks ago when the grand nephew of John Beckwith, George, sent me some carriers for Sharpshooter pistols that his grand uncle had given him. With one of them I was able to resurrect a Sharpshooter pistol I have owned for many years. Its plastic carrier broke and the gun has been silent for a long time, but thanks to George it's up and running again!
Learned a lot!
While researching this series I learned a lot about these curious pistols. I finally read several of the manuals I have and learned things about maintaining the gun that I never knew. As a result I hope to see impressive performance today in my velocity tests. Let's start there.
Velocity
Because they are powered by rubber bands these pistols get faster as stronger bands and more bands are added. But only to a point. Beyond that they start slowing down again as additional bands are added. Additional bands are difficult to attach, and they make the pistol harder to cock and the trigger harder to pull.
But in this series I learned that I should be oiling the carrier rails, both top and bottom, and greasing the pistol and bands with Vaseline Petroleum Jelly. When I did that the pistol started shooting number 6 shot through copier paper at 10 feet. So it's obviously going faster! Today I learn how much faster.
Three guns to test
I have selected three of my 4 Sharpshooter pistols to test for you. I will describe each one and tell you about the rubber bands they have. First up is the plain blue (black) pistol that was probably sold by either Berry Brow Enterprises or Golden key Enterprises — the last two major retailers of the pistols. I am not sure that the manufacturing didn't remain in California with John Beckwith, because there is no proof that either of those two companies ever made a gun.
This pistol is as plain as it gets. It has no grip panels — just the pressed steel of the gun that looks like grips to hold onto. This is the pistol that needed a carrier, and it went in easily. For a rubber band I used a thicker band that I got at my church. It's both thicker and shorter, but not as wide, so I figured it would be a magnum band. We shall see!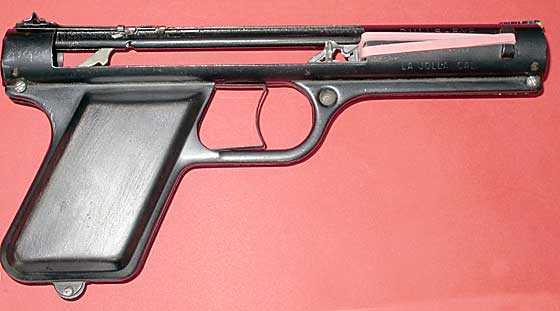 The plain pistol is as sparse as the title implies. Absolutely no finish work was done to the metal before bluing. This one has the donated carrier.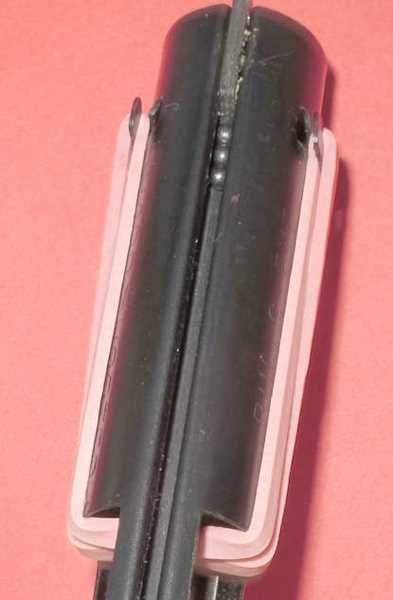 The rubber band on this pistol is thicker and shorter than what is supposed to be there. The pistol cocks harder and I think it will shoot faster.
This pistol was also missing its front sight. I made a replacement from a small rubber pad that I had on hand. It fits well, does the job and the pistol is quite accurate with it.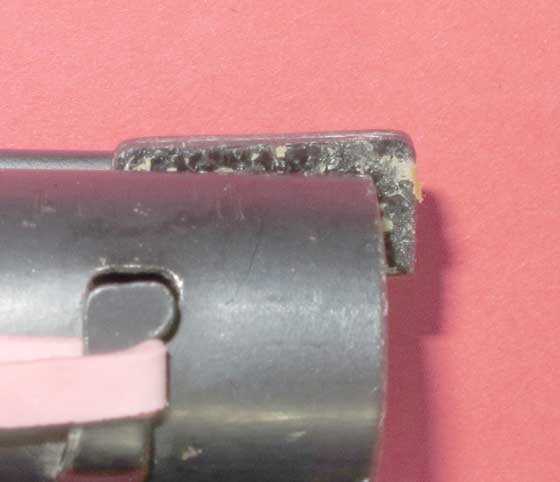 I cut a small piece of a rubber pad to use as a front sight. It does the job well.
This "magnum" pistol shoots at 100 f.p.s. I told you these guns weren't that fast. The stronger the rubber band the harder they are to cock and the harder the trigger pull becomes. This one with this rubber band has a single-stage trigger that breaks at 1 lb. 11 oz. The break is reasonably crisp.
Plain blue pistol from La Jolla
When John Beckwith made the Sharpshooter, he put more into them than either of the final two retailers. His plain blue pistol has unfinished wooden grip panels and is a much more attractive pistol. It also cocks and fires much smoother.
I put a smaller rubber band on this pistol because I made it a birthday gift for my buddy, Otho. He has arthritis in his hands and I wanted to make his easier to cock, which it is.

The plain blue pistol from La Jolla is much prettier than the other one.
This pistol fired at 62 f.p.s. Yes, that's slow but it's what the smaller rubber band gets you.
The trigger pull was 2 lbs. 4 oz, which surprised me. Maybe the carrier has something to do with it because that is what the sear grabs when the gun is cocked.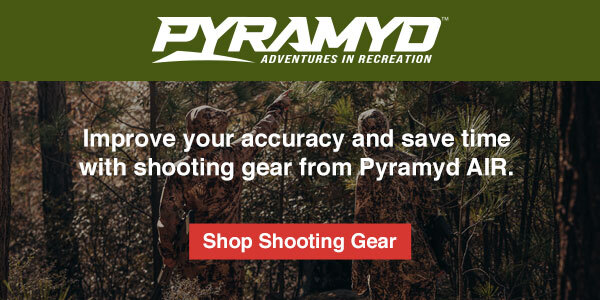 Black DeLuxe pistol from Rawlins
This is the pistol with the French writing on it and its box. That places its manufacture in the mid-30s. This is my smoothest Sharpshooter pistol and I have it strung with a heavy-duty postal rubber band. Unfortunately those bands are old and they break in a few shots. But I have new ones coming.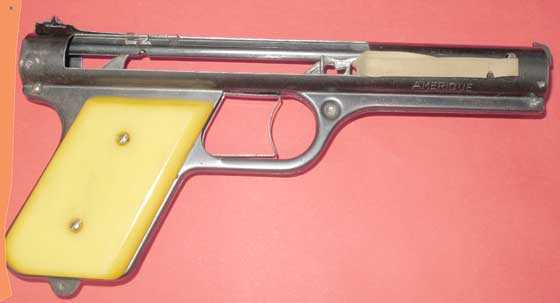 This Rawlins-made Black DeLuxe pistol is the nicest in my small collection.
I couldn't record a velocity with this pistol. The skyscreens just wouldn't trigger. But given how easily it cocks I believe it lies somewhere in between the two pistols I did chronograph — maybe 80 f.p.s. or so.
The trigger on this one breaks at 2 lbs. 3 oz. It feels lighter than the trigger on the first gun, but the test device doesn't lie.
Curses! — foiled by eBay
I had hoped to acquire a rare Sharpshooter with a long grip, but the eBay auction was cancelled before it ended. I planned to show that pistol to you and test it and then get it back to George from whom it was stolen years ago. Unfortunately unscrupulous eBay sellers are selling their auction items and ending the auction early. Too bad for this one, because he had no idea of how high I was willing to go!
Summary
I have told you a large part of the story of the Sharpshooter rubber band pistol. There are more bits and pieces, but we have hit most of the high spot s in this series.
My thanks to George for sending me the carrier. It prompted this series and made me a lot smarter about this odd little pistol series.
Final note — I did email the Bug-A-Salt people and told them the Sharpshooter pistol would make an idea product for them. I gave them the links to these reports. I don't know what their manufacturing capability is, but if they are able to make things this would be a natural for them!